Cycling videos
The latest cycling videos
Event
Notes
Six Days of Gent Track Cycling Videos
New: Day Five Videos
Cyclocross Videos
Latest: Superprestige Cyclocross Spa-Francorchamps
Mark Cavendish – Big Interview – Part 3
Downhill MTB Jam Session with Filip Polc
See also: Mountain Biking Videos
How To Train For Cyclocross
See also: Cyclocross Videos
Thomas Dekker's (Garmin-Sharp) Cervelo R5 race bike
How to check your bike - British Cycling's M Check
Mark Cavendish – Big Interview – Part 2
Ruben Van Gucht Hour Record Attempt Videos
Mountain Biking's The Dudes of Hazzard - Business as Usual Pt 1
See also: Mountain Biking Videos
Top 5 - Exciting 2015 Road Bikes
RockShox RS-1 suspension fork - First Impressions
How to check your bike - front wheel
Mark Cavendish – Big Interview – Part 1
Time Machine - Britney White -

Women's Cycling

See also: Mountain Biking Videos
How To Corner On A Cyclo-Cross Bike
See also: Cyclocross Videos
What Is The Most Efficient Pedalling Style? Flat Vs. Clipless Pedals
How to check your bike - cockpit
Cross News, Retro Brakes, Strava Club Milestone
Cross Conversation with Jeremy Powers and mechanic Tom Hopper
See also: Cyclocross Videos
Top 5 - Road Bike Accessories
Top 10 Descending Tips - Cycling Technique
How to check your bike - the frame
How To Fit Mountain Bike Grips
See also: Mountain Biking Videos
How To Set Up Your Cyclo-Cross Bike
See also: Cyclocross Videos
Daniel Lloyd – Meet The GCN Presenters
How to check your bike - front derailleur
Climbing The Col De La Madone
Warlike - A look behind the scenes at women's cyclocross

Women's Cycling

Jeremy Powers on his European cyclo-cross plans
See also: Cyclocross Videos
How to check your bike - saddle and seatpost
Top 5 - Road Cycling Shoes
Lotto-Belisol Team Bus Tour
How Did GCN's Top 10 Riders To Watch In 2014 Do?
Ride Like A Pro 2014 Team Sky Jaguar Challenge
How to check your bike - saddle and seatpost
Training Zones Explained
Top 5 - Enduro Bikes
Chris Horner – Big Interview – Part 4 (TDF – Part 2)
Chris Horner – Big Interview – Part 3 (TDF - Part 1)
Cyclo-cross riding techniques: How to perform a step back dismount
See also: Cyclocross Videos
How To Fit Tubeless Tires
Which Is Faster: An Aero Bike Or A Lightweight Climbing Bike?
Chris Horner – Big Interview – Part 2
Mountain bike techniques: How to perform a manual front wheel lift
See also: Mountain Biking Videos
Turbo Training Tips
Top 10 Cycling Excuses – For Climbing
Chris Horner – Big Interview – Part 1
Cyclocross technique: How to perform a step through dismount
See also: Cyclocross Videos
MTB Season review with 2014 Downhill WC Champ Josh Bryceland
See also: Mountain Biking Videos
Retro Helmets, New World Tour Team And Bicycle Speed Record!
Jonathan Vaughters – Big Interview Part 4
How To Ride An Alpine Climb
UCI Track Cycling World Cup Videos
Latest: Guadalajara, Mexico
Red Bull Velodux Highlights
Victoria Williamson is ready to battle for a team sprint spot

Women's Cycling

Cyclo-cross riding techniques: How to perform a bank dismount
See also: Cyclocross Videos
The Bike That Shifts Itself - BioShift First Ride
How To Change Your Gear Cables
Katie Compton (Trek) after two frustrating Cincy3 'cross races

Women's Cycling

Jonathan Vaughters – Big Interview Part 1
Jonathan Vaughters – Big Interview Part 2
Jonathan Vaughters – Big Interview Part 3
Catharine Pendrel on racing cyclo-cross

Women's Cycling

Top 5 - Best Looking Road Cycles
Always Summer Somewhere | New Zealand
See also: Mountain Biking Videos
How to check your bike - British Cycling's M Check - rear of the bike
New Hour Record, Alberto Contador + Unicycle Mania!
Cyclo-cross riding techniques: How to perform a running remount
See also: Cyclocross Videos
Philip Deignan's Team Sky Pinarello race bike
inCycle Teams: adidas & Movistar Team
Brook Watts on the new Pan American Cyclo-cross Championship
See also: Cyclocross Videos
Riders discuss their off-season plans
inCycle Riders: MTN Qhubeka's Songezo Jim
Is This The Future Of Gear Shifting On Bikes?
How To Get Off And On A Cyclocross Bike
See also: Cyclocross Videos
Dan Martin reflects on his 2014 racing season
How To Service Shimano Pedals
Top 10 Ways To Train Smarter
Hour Record Videos - Matthias Brändle attempt
See also: Hour Record LIVE
inCycle Asks Pro-Riders: Who would you like to be for one day?
How To Make A DIY Cyclocross Tubeless Setup - Ghetto Tubeless
See more: Cyclocross Videos
How To Climb Faster For Free - Tips To Improve Your Cycling Technique
Top 5 - Fat Bikes
UCI President Brian Cookson on the progress of women's cycling

Women's Cycling

Cadel Evans launches January road race
How To Fine Tune Cantilevers For Cyclocross
See also: Cyclocross Videos
2015 TDF Route And Jersey Unveiled + Retro Tech Corner With Matt
Cookson: UCI want to work with MPCC but WADA rules come first
Wiggle Honda at London Revolutions Part 1, Part 2

Women's Cycling

REVOLUTION Laura Trott makes it a clean sweep at Round 1 in London

Women's Cycling

The Revolution Longest Lap in London
Track Cycling
Riders provide their highlights of the 2014 racing season
Team Sky hit the waves with the British Sailing Team!
A message of thanks from Marcel Kittel for the 2014 support
How To Change Your Brake Cables
Six Days of Amsterdam Track Cycling Videos
See also: Six Days of Amsterdam LIVE
Top 10 Moments Of The 2014 Road Cycling Season
How To Get Into Mountain Biking
See also: Mountain Biking Videos
Hot Product: GoPro Hero
How To Change A Chainring
Saitama Criterium Videos
See also: Saitama Criterium LIVE
Tour de France Videos

See also:

Tour de France LIVE
How To Ride Cyclocross - An Introduction For Road Riders
See also: Cyclocross Videos
How To Cycle With Kids
A look at the Marianne Vos Experience

Women's Cycling

Road Tubeless Tires – Are They Worth It?
2015 Tour De France Route, Road Season Wrap Part 2
SLULU VOODOO -- "Bottle Feeding"

Women's Cycling

Top 5 - Ultralight Road Bikes
Top 10 Things Not To Drink While Cycling
Tour of Beijing Videos
See also: Tour of Beijing LIVE
Cyclo Cross, The Final Tour Of Beijing + Automatic Gears?! On A Bike?!
How To Set Up And Establish A Breakaway
Zwift - Online Interactive Turbo Trainer review
Paris-Tours Videos
How To Get Into Road Cycling
How To Reduce The Risk Of Getting Punctures
Women's Cycling: SLULU VOODOO -- "Skill Drill"

Women's Cycling

Christophe Le Mevél's Look 695
Andy Schleck's cycling career remembered
Bike Maintenance top 5 tips
Five facts about the new GoPro HERO4
Mont Ventoux - GCN's Epic Climbs
Andy Schleck retires from cycling
The UCI MTB World Cup Season Summary Clip
See also: Mountain Biking Videos
Women's Cycling: SLULU VOODOO -- "The Draft"

Women's Cycling

Gran Premio Città di Peccioli-Coppa Sabatini Highlights / Interviews
See also: Coppa Sabatini Photos
Playmobil Stop-Motion - Mountain bikers on the trails
See also: Mountain Biking Videos
'Big four' handed tour treble challenge
Highlights from the eventful career of Cadel Evans
How To Set Up Front Suspension Forks
How To Get Into Cyclocross
See also: Cyclocross Videos
Il Lombardia, Strava Art + Club Of The Week
Top 5 - 2015 Mountain Bikes
See also: Mountain Biking Videos
SLULU VOODOO -- "Pinning it"
Women's Cycling

Giro d'Italia Videos
See also: Giro d'Italia LIVE
Alberto Contador aiming to complete double in 2015
Welcome to Cyclo-cross Season
See also: Cyclocross Videos
How To Fit Road Tubeless Tires
Giro di Lombardia Videos
See also: Il Lombardia LIVE
Top 10 Things The UCI Have Banned
How To Replace A Crankset
GCN Presenters Bikes - Daniel Lloyd's Cervelo S3
How To Jump - MTB Skills
See also: Mountain Biking Videos
How To Check Your Bike For Damage After A Crash
Carlos Betancur's Focus Izalco Max
UCI Road World Championships Videos
See also: UCI Road World Championships LIVE
How To Ride In A Group - Group Riding Etiquette
Bike Lights Buyer's Guide
Top 10 Cycling Tools You Should Own
Milano-Torino Videos
Team Sky announce new signings
This week in cycling: Big World Championship Roundup
Oval Chainrings & Qhubeka Bikes
US Cyclocross champ Jeremy Powers on his 2014-15 season aspirations
See also: Cyclocross Videos
How To Prevent Saddle Sores
ORICA GreenEDGE tribute to Coldplay's "A Sky Full Of Stars"
Gerald Ciolek's Trek Emonda
Col Du Tourmalet - GCN's Epic Climbs
The 1 Hour Tune Up - How To Make Your Bike Feel Like New
BMC 2015 Concept Bikes
Kids' Bike Buyer's Guide (ages 6-9)
What Are The Worst Conditions For Cycling? Ask The Pros
BMC 2015 Mountain Bike Range
See also: Mountain Biking Videos
Cadel Evans Retirement anouncement
How To Replace A Bike Chain
Alpe D'Huez - GCN's Epic Climbs
How To Treat Road Rash
Best 2015 Road Bikes Bikes & Tech
Grand Prix de Wallonie Videos
See also: Grand Prix de Wallonie LIVE

Vuelta a Espana Videos

See also: Vuelta a Espana LIVE
Tour of Britain Videos
See also: Tour of Britain LIVE
Grand Prix Cycliste de Québec and Montreal Videos
Jens Voigt to attempt the hour record
Tour Of Britain, Vuelta, Dowsett Instagram + Dan's Epic Fail
Jack Bauer: How to wheelie
BMC 2015 Road Bike Range
Top 10 Ways To Save Money Through Cycling
How To Fit & Adjust A Cycle Helmet
Top 5 - Road Superbikes
Cube 2015 Range
Tour of Alberta Videos
See also: Tour of Alberta LIVE
UCI Mountain Bike World Championships Videos
See also: UCI MTB World Championships LIVE
Christian Prudhomme on the future of the Tour de France
Rock Steps - MTB Skills
See also: Mountain Biking Videos
Kids' Bike Buyer's Guide (under 4)
Vuelta A España & The Ice Bucket Challenge
Top 10 Things Not To Wear While Cycling
inCycle: The highlights of the 2014 racing season
The 30 Minute Bike Wash - How To Clean & Degrease Your Bike
How To Fix A Bike Chain
Lampre-Merida Bus Tour
How To Improve Your Bike Handling - 5 Key Cycling Skills
Dan Craven's Colnago V1-R
Inside The Team Sky Bus
How To Fit A Road Bike
Tony Martin's TT Bike - Specialized S-Works Shiv
Tour du Poitou-Charentes Videos
Kids' Bike Buyer's Guide (ages 4-6)
The 5 Minute Bike Wash - How To Clean Your Bike In A Hurry
Chris Froome's Pinarello Dogma F8
Stagiaires (Trainees)
inCycle Riders: Laurens ten Dam feature
How To Improve Your Position On The Bike
Trek Factory Racing – Bike technology
Top 5 - Pro Cycling Helmets
Open de Suède Vargarda Women Road World Cup Videos

Women's cycling

LeMond of Cycling: The invention which revolutionised cycling
Faster Cornering - MTB Skills
See also: Mountain Biking Videos
inCycle Technology: Trek Factory Racing
How To Use A Puncture Repair Kit – Roadside Maintenance
Froome Vs. Contador At The Vuelta
inCycle Riders: Johan Museeuw - A look back
How To Replace Hydraulic Disc Brake Pads
Simon Richardson's Specialized Tarmac SL3
USA Pro Challenge Videos
See also: USA Pro Challenge LIVE
Top 10 Climbing Tips - Climb Like A Pro
inCycle UCI: Timekeepers
Lauf TR29 - First Impressions
Women's Cycling with SLULU VOODOO -- "Race Face"

Women's cycling

Tour du Limousin Videos
Mauro Finetto won the 2014 edition
How To Pump - MTB Skills
See also: Mountain Biking Videos
NFTO Pro Cycling Team Feature
Michael Valgren Neo Pro Diaries
Jens Voigt To Retire, Race Roundup & Something Extreme!
SLULU VOODOO -- "Echelon of Awesome"

Women's cycling

How To Improve Your Braking
Top 5 - Pro Cycling Sunglasses
Ladies Tour of Norway Videos

Women's cycling

Eneco Tour Videos
See also: Eneco Tour LIVE
Vuelta a Burgos Videos

See also:

Vuelta a Burgos LIVE
Arctic Race of Norway Videos
See also: Arctic Race of Norway LIVE
How To Adjust Your Gears On A Ride - Roadside Maintenance
SRAM Force CX1: QuickLook
Top 10 Rider Impersonations
SLULU VOODOO -- "The Wave"

Women's cycling

Hybrid Bike Buyers Guide
How To Replace An External Bottom Bracket
Race News, Transfer News + It's Dan's Birthday!
Disc Brakes On Road Bikes – Are They Worth It?
Sylvain Chavanel's Scott Addict HMX
Zdenek Stybar - Czech cyclo-cross star turning road cyclist
Top 10 Road Bike Upgrades
Tour of Utah Videos

See also:

Tour of Utah LIVE
Tour of Portugal Videos

See also:

Tour of Portugal LIVE
RideLondon-Surrey Classic Videos

See also:

RideLondon-Surrey Classic LIVE
Tour de Guadeloupe Videos

See also:

Tour de Guadeloupe LIVE
Tour of Poland Videos

See also:

Tour de Pologne LIVE
Tour of Denmark Videos
Post Tour de France criterium, Profronde van Lommel
The Wales Open Criterium
UCI Womens Road WC Rd 6 Sparkassen Giro Extended Highlights

Women's cycling

Points ace Peter Sagan joins Tinkoff-Saxo
Specialized McLaren S-Works Tarmac
MTB Skills - Perfect Attack Position
See also: Mountain Biking Videos
inCycle Riders: Daniel Teklehaimanot
Meet the WIGGLE Medallists

Women's cycling

How To Improve Your Descending
Shimano XTR Di2 - First Ride
Fabio Casartelli - Tribute
Summer Cycling Gear Buyer's Guide
Will Peter Sagan Go To Tinkoff-Saxo? Other Transfers & News
How To Service Hub Bearings
Wiggle Honda at the Women's WC: the Sparkassen Giro

Women's cycling

Marianne Vos wins the 6th WC round: the Sparkassen Giro

Women's cycling

How To Adjust Your Brakes On A Ride - Roadside Maintenance
Astana Pro Cycling - Acupuncture
Ask The Pros - What Do You Always Travel With?
Bauke Mollema's Bianchi Oltre XR2
Clasica San Sebastian videos

See also:

Clasica San Sebastian LIVE
How To Bunny Hop
How To Improve Your Cornering
Mobilize Me - World Bicycle Relief
Luca Paolini's Canyon Ultimate CF SLX
Top 10 Rider Impersonations
How To Check Your Bike Is Race Ready | Racesmart
Hoy backs Wiggins for Rio gold
How To Replace Headset Bearings
Tour de Wallonie Videos
See also: Tour de Wallonie LIVE
UCI BMX World Championships Videos
How To Build A Bike From Chain Reaction Cycles
Marcel Kittel's Giant Propel
Tour De France Highlights + Simon's Epic Fail
Geraint Thomas signs a new two year deal with Team Sky
How To Corner In A Bunch | Racesmart
Cannondale Trigger 27.5 Carbon Black Inc. - First Look
Sylvain Chavanel's Scott Addict
The climbs of the Tour: Galibier, An act of adoration
Michał Kwiatkowski's Specialized S-Works McLaren Tarmac
Carbon Fiber Or Aluminium Handlebars?
Top 10 Tips For Cycling Tours & Holidays
How To Build A Bike From Wiggle
How To Improve Your Sprinting
Bike Locks Buyer's Guide
How To Descend | Racesmart
Thomas Frischknecht: Disruptors Series
Tour de France News, Thüringen Rundfahrt & Mark Cavendish
How To Corner In A Line Of Riders | Racesmart
The Cost Of Pro Cycling - World Tour Team Budgets
How To Fit Road Bike Cleats
Alejandro Valverde's Canyon Ultimate CF SLX
The climbs of the Tour: Mont Ventoux: The Witches' Cauldron
Mark Cavendish: Disruptors Series
Wash Your Bike Like A Pro In 4 Minutes
Joaquim Rodriguez: Disruptors Series
Chris Horner Feature
Top 10 Things Not To Eat While Cycling
inCycle Technology: Giro Helmet
News: Two year ban for Jonathan Tiernan-Locke
Pro Bike - Yuri Trofimov's Canyon Aeroad CF SLX
How To Ride Through And Off | Racesmart
Should You Use a Power Washer to Clean Your Bike?
Jens Voigt feature - Believe
How To Improve Gear Selection
The Pinarello Dogma F8 - Team Sky
Mountain Bike Helmet Buyer's Guide
Giro Rosa Videos

Women's Cycling

Nibali On Form And Froome & Contador Out
How To Fix A Flat Tire - Fix A Road Bike Puncture
How to Fit Clipless MTB Pedals
See also: Mountain Biking Videos
Andrew Talansky's Cervelo R5 Pro Bike
Pro Mechanics' Top Tips
Road trip with Marianne VOS
How To Travel Abroad With Your Bike
The climbs of the Tour: Alpe d'Huez, The Hollywood Climb
Top 10 Training Camp Tips
Frankie Andreu on How to Race on Cobbles
Specialized's 2015 Tarmac Race Bike
Giant Shimano Team Bus Tour
Trek Factory Racing Team Bus Tour
How To Choose The Right Time To Attack | Racesmart
Road Bike Helmet Buyer's Guide
How To Ride The Cobbles And Pavé Of Paris-Roubaix
Tour De France News plus Giro Rosa
Best New Bikes And Tech
The Making Of 'Cycling Under The Sea'
'Cycling Under The Sea', Chris Froome, Team Sky and Jaguar
How To Eat And Drink In A Race | Racesmart
How To Pack A Cardboard Bike Box
Music video: Live Your Dream - SerVaaS and André Greipel
Castelli Sanremo Speedsuit
Mark Cavendish's Custom Specialized S-Work Venge
The Best & Worst Things About Being A Pro Cyclist
Sprint formation explained
BELIEVE by Geraint Thomas
The Chronicles of the Green Machine - Ted King
NEW Trek Emonda - Lightest Production Road Bike
How To Improve Your Pedalling Efficiency
How To Cope With Contact | Racesmart
Tour De France Teams & National Championship Winners
National Cycling Championships Videos
See also: National Cycling Championships LIVE
How To Get Into Road Racing | Racesmart
Chris Froome - Climbing Masterclass
Sean Kelly's - Trophy Room Tour
How To Pack A Bike Bag
Klaas Lodewyck's BMC Impec
Thor Hushovd to retire at end of the season
Tom Boonen, OPQS and the "Hell of the North"
Women's UCI World Cup: What are their superstitions?
Greg LeMond: Disruptors Series feature
Top 10 Ways To Motivate Yourself
inCycle Riders: Michal Kwiatkowski
Tour de Suisse Videos
See also: Tour de Suisse LIVE
How To Communicate With Signals In A Bunch | Racesmart
How To Choose Sunglasses For Cycling
Tour De Suisse, Brand New Colnago Frame & ZLM Tour
How To Position Yourself For A Sprint | Racesmart
How To Adjust Bike Gears
USA Gravity MTB National Downhill Championships Videos
Route du Sud Videos
How To Pack A Bike Box
inCycle Riders: Michael Valgren
Top 10 Pros To Follow On Strava
WWI anniversary remembered with cycling event in Sarajevo
Women's Cycling: SLULU VOODOO - "Balancing Act"

Women's Cycling

inCycle Riders: Jens Voigt
Tony Martin open to Hour Record challenge
Women's Cycling: SLULU VOODOO -- "Podium Prowess"

Women's Cycling

How To Hold Your Position In A Bunch | Racesmart
Andy Hampsten: Disruptors Series feature
Belkin To Withdraw Sponsorship From Cycling & Race News
Cycling Legend Gino Bartali Helped Save Jews During WWII
Criterium du Dauphine Videos
See also: Criterium du Dauphine LIVE
Tour de Beauce Videos
UCI BMX Supercross World Cup Berlin Videos
A look back at the Peace Race
How To Sprint | Racesmart
GCN's Bloopers
How To Set Up A Breakaway | Racesmart
inCycle Riders: Time trial specialist Tony Martin
Top 5 - Pro Team Kits 2014
How To Race In Strong Winds | Racesmart
Matrix Fitness – Vulpine Women's Cycling Team - Season Update
How To Race In A Bunch | Racesmart
How To Move Up In A Bunch | Racesmart
How To Chase Down A Breakaway | Racesmart
The R Word | Racesmart
Wiggins & Froome, Critérium Du Dauphiné And 'The Shelfie'
Look. Think. Communicate. | Racesmart
What Is Racesmart?
How To Ride In The Heat
USA Cycling National Championships Videos
See also: USA Cycling Nationals LIVE
Lemond of Cycling: Episode 3
Top 10 Common Cycling Mistakes
Giro D'Italia, Bayern Rundfahrt & Tour Of Belgium
Ask The Pros - Cycling Heroes?
How to Catch a Bike Thief
Tour of Belgium Videos

See also:

Tour of Belgium LIVE
Bayern Rundfahrt Videos
Tour of Norway Videos
See also: Tour of Norway LIVE
World Ports Classic Videos
See also: World Ports Classic LIVE
UCI MTB World Cup Nove Mesto Videos
An Post Ras Videos
Vuelta a Castilla y Leon Videos
Tour of California Videos

See also:

Tour of California LIVE
Friends Life Women's Tour Videos

Women's Cycling

Four Days of Dunkirk Videos
See also: Four Days of Dunkirk LIVE
Team Sky v ORICA-GreenEDGE - Round 5
Yannick Eijssen's BMC Time Machine TMR01
How To Be A Gentleman Cyclist
Tour de Romandie Videos
See also: Tour de Romandie LIVE
Tour of Turkey Videos
See also: Tour of Turkey LIVE
Taylor Phinney on his career so far and hopes for the TDF
Introducing the chronicles of The Green Machine
Garmin Edge 1000 And Fleche Wallone
Liege-Bastogne-Liege Videos
See also: Liege-Bastogne-Liege LIVE
Fleche Wallonne Videos
See also: Fleche Wallonne LIVE
Team Sky v ORICA-GreenEDGE - Round 4
Amstel Gold, Jens Voigt's Book And Johan Bruyneel
Giro del Trentino Videos
See also: Giro del Trentino LIVE
Winston-Salem Cycling Classic Videos
See also: Winston-Salem Cycling Classic LIVE
Amstel Gold Race Videos
See also: Amstel Gold Race LIVE
De Brabantse Pijl Videos
See also: De Brabantse Pijl LIVE
Paris Roubaix, Tour Of The Basque Country & MTB World Cup
Paris-Roubaix Videos
See also: Paris-Roubaix LIVE
What Is The Team Sky Service Course?
How To Climb In A Group
Tour of the Basque Country Videos
See also: Tour of the Basque Country LIVE
Fabian Cancellara's Super-Fans
Sep Vanmarcke on his goals for 2014
Scheldeprijs Videos
See also: Scheldeprijs LIVE
Tour Of Flanders, Three Days Of De Panne, Strava, And Tech
Team Sky v ORICA-GreenEDGE - Round 3
How To Prepare For A Climb
Tour of Flanders Videos
See also: Tour of Flanders LIVE
Redlands Classic Videos
See also: Redlands Classic LIVE
Volta Limburg Classic videos
See also: Volta Limburg Classic LIVE
Fabian Cancellara talks about the 2014 Spring Classics
Classics, Volta A Catalunya And The Criterium International
Three Days of De Panne Videos
See also: Three Days of De Panne LIVE
Cape Epic Videos
Trofeo Binda Videos
Cycling humor - Iljo Keisse With Another Exciting Escape!
Sir Dave Brailsford on Team Sky's killer instinct
How To Get Aero On A Road Bike Like A Pro
Gent-Wevelgem Videos
See also: Gent-Wevelgem LIVE

Women's Gent-Wevelgem highlights

Women's Cycling

Volta a Catalunya Videos
See also: Volta a Catalunya LIVE
Criterium International Videos
See also: Criterium International LIVE
Tour de Perth Videos
Settimana Internazionale Coppie Bartali Videos
See also: Settimana Internazionale Coppie Bartali LIVE
E3 Harelbeke Videos
See also: E3 Harelbeke LIVE
Dwars door Vlaanderen Videos
See also: Dwars door Vlaanderen LIVE
Cycling humor: Team Sky v ORICA-GreenEDGE - Round 2
How To Replace A Campagnolo Cassette
Milan-San Remo Videos
See also: Milan-San Remo LIVE
BMC Racing Team Sizzle Reel
What Is A Monument?
Road Bike Of The Year 2014 - The Top 3
Nokere Koerse Videos
See also: Nokere Koerse LIVE
Fabian Cancellara on his goals and the Classics
Top 5 - Bike Computers
How To Set Up Your fi'zi:k Saddle
Tirreno-Adriatico Videos
See also: Tirreno-Adriatico LIVE
Paris-Nice, Tirreno-Adriatico and GCN Cycling Kit
Bike of the Year 2014 Contender - BMC Team Machine SLR02
Paris-Nice Videos
See also: Paris-Nice LIVE
Ronde van Drenthe
See also: Ronde van Drenthe LIVE
World Champion Rui Costa's Merida Reacto Evo
Anatomy Of A Bicycle - GCN's Maintenance Mondays
Wiggins, Horner, Farrar & Swift on their mistakes
Women's UCI World Cup is set to roll

Women's Cycling

Sitting in with Frankie Andreu
Track Cycling talk with Jason Kenny and Ed Clancy
How To Unclip Like A Pro - Use Clipless Or SPD Pedals
How To Sprint Train with Marcel Wüst
Recaps: Strade Bianche, Roma Maxima And Paris-Nice
Cycling humor: Team Sky v ORICA-GreenEDGE - Round 1
Jens Voigt's Trek Madone 7 Team Issue
How To Thread Internal Cables - The Easy Way
Roma Maxima Videos

See also: Roma Maxima LIVE
Strade Bianche Videos
See also: Strade Bianche LIVE
Tour de Langkawi Videos
See also: Tour de Langkawi LIVE
Vuelta Mexico Videos
See also: Vuelta Mexico
Xu Gang has landed in Europe (Team Lampre-Merida)
What Is A One Day Race?
Team Sky vs. ORICA-GreenEDGE Teaser
Le Samyn Videos
See also: Le Samyn LIVE
Fuel Your Winter Training - How To Re-Fuel On Winter Rides
Cycling humor: How (Not) To Unclip Like A Pro
Tour De Langkawi, World Track Championships and One Day Races
Kuurne-Brussels-Kuurne videos
UCI Track Cycling World Championships Videos
See also: UCI Track Cycling World Championships LIVE
Omloop Het Nieuwsblad Videos
See also: Omloop Het Nieuwsblad LIVE
How To Repair A Broken Spoke
How A Campagnolo Chain Is Made
Stuart O'Grady on his soon to be released autobiography
Marcel Kittel's Giant Propel Advanced SL
Volta ao Algarve Videos
Fabian Cancellara on the Spring Classics and the Hour Record
How To Descend - Tuck Like A Pro
Ben King on 2015 road Worlds course in Richmond, Virginia
Stage Races, Women's Cycling, Pantani & Pioneer Powermeter
Broken Rear Derailleur? How to Make a Singlespeed
GP Souvenir Jean Masse Highlights
Tour of Oman Videos
See also: Tour of Oman
Vuelta a Andalucia Ruta Ciclista del Sol Videos
See also: Vuelta a Andalucia LIVE
BPost Bank Trophy Cyclocross at Oostmalle Videos
Tour du Haut Var Videos
See also: Tour du Haut Var

Tou Down Under Documentary with Jens Voigt and more
Joaquim Rodríguez's Team Katusha - Canyon Aeroad CF
Trofeo Laigueglia Videos
Tour of California Press Conference
Tour of California The Route
Top 10 Training Camp Locations
How To Train For Mountains If You Don't Live Near Any
David Millar's Garmin-Sharp Cervelo S3 race bike
Tour Of Qatar, SuperPrestige Cyclocross and Tour Of Oman
How To Fix A Buckled Wheel On A Bike
Tour Mediterraneen videos
See also: Tour Mediterraneen

Tour of Qatar Videos
See also: Tour of Qatar LIVE
Superprestige Cyclocross Middelkerke - All events
Elite Men, Women, U23, Juniors
Javier Moreno's Canyon Ultimate CF SLX
Zdenek Stybar turns his attention to the Spring Classics
Powermeters In The Pro Cycling Peloton
Bradley Wiggins on his Paris-Roubaix & Olympic track dreams
Cyclo-Cross: How To Ride In Sand
Dubai Tour, Ladies Tour Of Qatar & Tech News
Mallorca Challenge Videos
Superprestige Cyclocross Hoogstraten - All events
Elite Men, Women, U23, Juniors
Dubai Tour Videos
See also: Dubai Tour LIVE
Etoile de Besseges Videos
See also: Etoile de Besseges
Jayco Herald Sun Tour Videos
BPost Bank Trophy Cyclocross Lille Videos
Elite Women, Junior/U23/Elite Men
Simple Ways To Keep Your Bike Safe When You Stop
2014 Team Bikes - Who Will Be Riding What?
Tour De France, Cyclo Cross Worlds And Transfer News
40 Minute Intense Cycle Training Workout - Hill Intervals
How To Corner Like A Cyclocross Pro With Bart Wellens
Ladies Tour of Qatar videos
See also: Ladies Tour of Qatar LIVE
How To Lock Your Bike - Secure Your Bicycle From Thieves
Grand Prix Cycliste la Marseillaise Highlights
more on GP La Marseillaise
GP Costa degli Etruschi Highlights
GP Costa degli Etruschi Race finish and interview with winner
GP Costa degli Etruschi Official Presentation
UCI Cyclocross World Championships Videos
Australian Track National Championships Videos
Tour de San Luis Videos
Overall winner: Quintana
Tour Down Under Videos
Overall winner: Gerrans
More videos below...
Cycling videos
Submitted by admin on Sun, 01/10/2010 - 17:54
- At the sites below, you will find video clips from various 2010 Cyclocross National Championships. More videos to come... (Thanks, Bernie)
Switzerland (02:22, TSR)
Luxembourg (06:44, RTL)
Netherlands (05:45, NOS)
Submitted by admin2 on Thu, 09/24/2009 - 14:25
Submitted by admin on Fri, 07/03/2009 - 13:48

Follow cyclingfans on Twitter and never miss a race. Cyclingfans.com: The #1 source on the internet for live race coverage.
Armstrong and Tour de France ready to rock and roll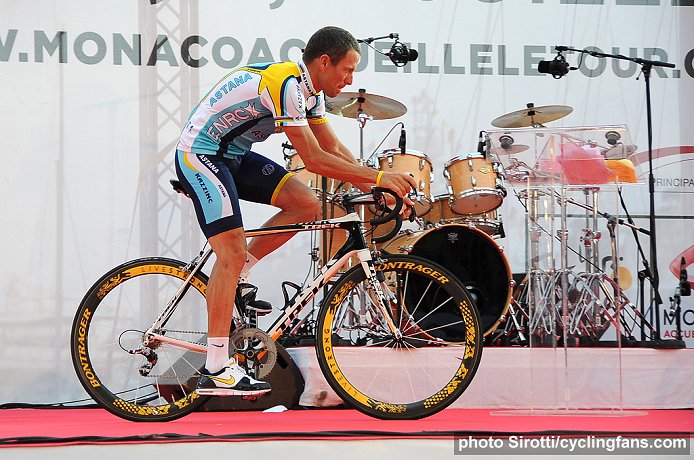 2009 Tour de France Teams Presentation: Lance Armstrong (Astana) rides on the podium
after being presented to the public in Monaco Thursday.
photo Copyright © 2009 Fotoreporter Sirotti/cyclingfans.com
- Tour de France Teams Presentation photos, Monaco: We're still waiting for pics from Sirotti but in the meantime you'll find pics here.
- TDF in Monaco videos: It's not the first time the Tour de France has visited Monaco but it is the first time the Tour has started there. Below are some historical video clips as well as videos from the 2009 TDF Teams Presentation.
Submitted by admin on Wed, 02/04/2009 - 02:00
- 2009 Tour of California video highlights (Currently listed here.)
- GP d'Ouverture La Marseillaise (The European season gets underway. Watch from time position 13:49 to 14:32 of France3 evening news program)
- 2009 UCI Cyclo-Cross World Championships:
Women (07:36, NOS), Women (06:16, Sporza), Men (04:38, NOS), Men (03:17, Sporza)
Submitted by admin on Mon, 01/26/2009 - 14:34
Lance Armstrong Comeback/Tour Down Under Videos