2018 Giro d'Italia LIVE stream, Preview, Start List, Route Details, Results, Photos, Stage Profiles
Submitted by admin on Fri, 12/01/2017 - 12:49

Follow cyclingfans on Twitter and never miss a race. Cyclingfans.com: The #1 destination on the internet for live race coverage.
- 2017 Giro d'Italia Live Online Coverage Guide -
- Giro d'Italia LIVE -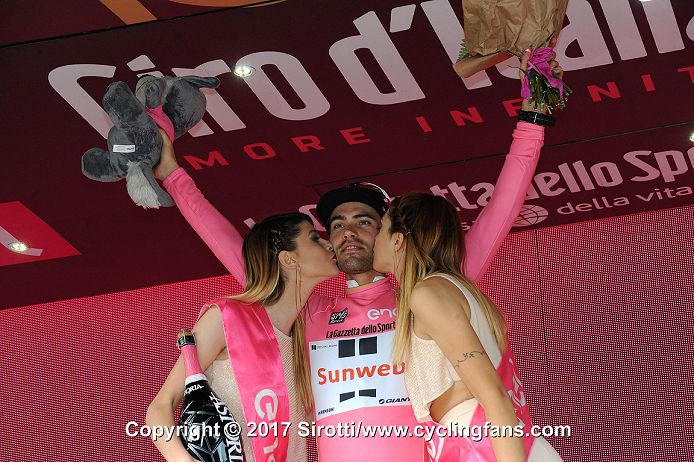 Tom Dumoulin (Team Sunweb) won the 2017 Giro d'Italia.
- Click for high resolution - more Giro d'Italia photos -
photo Copyright © 2017 Fotoreporter Sirotti/cyclingfans.com
Cyclingfans.com Giro TourTracker w/live profile, GPS tracking, gaps, etc.

(TourTracker currently unavailable)
Notes: (latest notes always appear at the top)

- News: A history of Giro-Tour double failures. (Cyclingnews) - Ahead of Froome's challenge Cyclingnews looks back at attempts that went wrong.

- News: Chris Froome confirms Giro d'Italia participation. (Cyclingnews) - Team Sky rider to attempt Giro-Tour double in 2018.

- News: Giro d'Italia 2018: Five key stages. (Cyclingnews) - Zoncolan, the Rovereto time trial and the Alpine denouement.

- News: Giro d'Italia removes reference to 'West Jerusalem' following Israeli protest. (Cyclingnews) - Israeli ministers had threatened to pull backing over wording on official maps.

- News: 2018 Giro d'Italia route revealed. (Cyclingnews) - Eight summit finishes and 44km of time trialling from Israel to Rome.

- Full route details for the 2018 Giro d'Italia here.

- LIVE video here and here. (English, Giro d'Italia)

- LIVE video here. (Rai 2, geo-restricted)

- The route for the 2018 Giro d'Italia will be unveiled Wednesday, November 29. You can watch the presentation live online as we will have live streams for the event, starting at 5pm CET (11am U.S. Eastern). Full 2018 Giro stage details will be available after the presentation.

- News: Sky and the Giro d'Italia: The highs and lows since 2010. (Cyclingnews) - Charting the British team's relationship with the Italian race.

- News: Signs point to a Giro d'Italia - Tour de France double for Froome. (Cyclingnews) - Nibali, Aru, Dumoulin confirmed for presentation on Wednesday.

- News: Fabio Aru calls on Chris Froome to ride 2018 Giro d'Italia. (Cyclingnews) - 'It'd give the race more prestige and I like the big show down' says Sardinian.

- News: Vegni still working on bringing Froome and Dumoulin to the Giro d'Italia. (Cyclingnews) - Giro boss open to discussing a two-week race.

- Viewers in U.S.A. and Canada: You can watch the Giro d'Italia (and many other races throughout the season) in HD LIVE and On Demand via Fubo TV. (List of races and more info here.)

- Videos: Giro d'Italia Videos

- This page will be updated throughout the race.




- Results: Giro d'Italia Results

- Photos: Giro d'Italia Photos

- Art: Giro d'Italia Art

- LIVE video here. (2018 Giro d'Italia start route presentation)

- The route for the 2018 Giro d'Italia "Big Start" (3 stages in Israel) will be unveiled on Monday, September 18, starting at around 11:00am CET (5:00am U.S. Eastern). We'll have live streams for this event, LIVE from Jerusalem.

- News: 2018 Giro d'Italia confirmed for Jerusalem start, Vatican finish. (Cyclingnews) -Wales bidding for future Giro.

- News: Stage 21 finish line quotes. (Cyclingnews) -Dumoulin, Van Emden, ten Dam and more.

- News: Tom Dumoulin wins the Giro d'Italia. (Cyclingnews) -Van Emden takes the final stage.

- Stage 21 route details in table below.

- Sunday's Giro d'Italia Stage 21, a 29.3km Individual Time Trial from Monza to Milan, gets underway at 1:45pm CET (7:45am U.S. Eastern) with the departure of the first rider. Giro d'Italia live streaming video should get underway at around 1:05pm CET (7:05am U.S. Eastern).


- Jos van Emden (LottoNL-Jumbo) won the Stage 21 Individual Time Trial. Tom Dumoulin (Team Sunweb) wins the 2017 Giro d'Italia.

- 2017 Giro d'Italia Stage Previews, Towns, Timetables, Profiles:

Stage details
Stage profiles
Stage 1: Friday, May 5
Alghero/Olbia (206 km)
Map, timetable, preview and more here.
Stage 2: Saturday, May 6
Olbia/Tortolì (221 km)
Map, timetable, preview and more here.
Stage 3: Sunday, May 7
Tortolì/Cagliari (148 km)
Map, timetable, preview and more here.
Rest Day: Monday, May 8
Stage 4: Tuesday, May 9
Cefalù/Etna (181 km)
Map, timetable, preview and more here.
Stage 5: Wednesday, May 10
Pedara/Messina (159 km)
Map, timetable, preview and more here.
Stage 6: Thursday, May 11
Reggio Calabria/Terme Luigiane (217 km)
Map, timetable, preview and more here.
Stage 7: Friday, May 12
Castrovillari/Alberobello (Vallée d'Itria) (224 km)
Map, timetable, preview and more here.
Stage 8: Saturday, May 13
Molfetta/Peschici (189 km)
Map, timetable, preview and more here.
Stage 9: Sunday, May 14
Montenero di Bisaccia/Blockhaus (152 km)
Map, timetable, preview and more here.
Rest Day: Monday, May 15
Stage 10: Tuesday, May 16
Foligno/Montefalco (39.8 km Individual Time Trial)
Map, timetable, preview and more here.
Stage 11: Wednesday, May 17
Firenze (Ponte a Ema)/Bagno di Romagna (161 km)
Map, timetable, preview and more here.
Stage 12: Thursday, May 18
Forlì/Reggio Emilia (234 km)
Map, timetable, preview and more here.
Stage 13: Friday, May 19
Reggio Emilia/Tortona (167 km)
Map, timetable, preview and more here.
Stage 14: Saturday, May 20
Castellania/Oropa (Biella) (131 km)
Map, timetable, preview and more here.
Stage 15: Sunday, May 21
Valdengo/Bergamo (199 km)
Map, timetable, preview and more here.
Rest Day: Monday, May 22
Stage 16: Tuesday, May 23
Rovetta/Bormio (222 km)
Map, timetable, preview and more here.
Stage 17: Wednesday, May 24
Tirano/Canazei (Val di Fassa) (219 km)
Map, timetable, preview and more here.
Stage 18: Thursday, May 25
Moena (Val di Fassa)/Ortisei-St. Ulrich (Val Gardena) (137 km)
Map, timetable, preview and more here.
Stage 19: Friday, May 26
San Candido (Innichen)/Piancavallo (191 km)
Map, timetable, preview and more here.
Stage 20: Saturday, May 27
Pordenone/Asiago (190 km)
Map, timetable, preview and more here.
Stage 21: Sunday, May 28
Monza/Milano (29.3 km Individual Time Trial)
Map, timetable, preview and more here.

- Stage 21 Individual Time Trial Start Order and Times.

- During the stage, Official tracking/ticker LIVE here. Cyclingnews ticker LIVE here.

- LIVE video here. (English, HD quality, DVR/On Demand feature, available U.S.A. and Canada) More info here.

- LIVE video here. (Rai Sport, geo-restricted) - LIVE video here. (L'Équipe, geo-restricted) - LIVE video here. (Eitb, geo-restricted) - LIVE video here. (Señal Colombia, geo-restricted) - LIVE video here. (Rai 2, geo-restricted)

- LIVE video here. (English, HD quality, U.S.A. & Canada)

- Thibaut Pinot (FDJ) won Stage 20 ahead of Ilnur Zakarin and Vincenzo Nibali. Nairo Quintana (Movistar) retained the overall race lead.

- News: Mollema: I've not been at my best in this Giro d'Italia. (Cyclingnews) -Trek-Segafredo rider set for seventh place finish.

- News: Landa and Gaviria earn first Giro d'Italia jerseys. (Cyclingnews) -Mountains, points jerseys already secure ahead of final stage.

- News: Preview: Can Dumoulin hold his nerve and win the Giro d'Italia?. (Cyclingnews) -Dutchman needs to gain at least 1.8 seconds per kilometre to take maglia rosa.

- News: Zakarin eyes Giro d'Italia podium after going on the offensive on stage 20. (Cyclingnews) -Russian looks to climb overall leaderboard on final stage.

- News: Quintana: 'My lead is not a lot but it could be enough'. (Cyclingnews) -Giro d'Italia leader insists he gave all he had trying to pick up time on stage 20.

- News: Yates and Jungels to battle for best young rider prize in final time trial. (Cyclingnews) -'I'll try my best but I'm realistic and it's probably unlikely,' admits Orica-Scott rider.

- News: Pinot: This is why I'm a bike rider. (Cyclingnews) -Frenchman crowns Giro d'Italia debut with stage win.

- News: Nibali in a fight for a final podium place in Milan. (Cyclingnews) -'The time trials are the decisive factor in this Giro'.

- News: Friendship brings benefits for Dumoulin in the mountains. (Cyclingnews) -'I'm forever grateful for the work Mollema, Jungels and Yates did for me'.

- News: Dumoulin said ready to extend with Sunweb through 2021. (Cyclingnews) -German team also said to have re-signed support riders; Sky interested in Dumoulin?.

- News: Pinot claims stage 20. (Cyclingnews) -Quintana holds onto pink on final mountain stage, but Dumoulin limits damage.

- Saturday's Giro d'Italia Stage 20 departs Pordenone at 11:55am CET (5:55am U.S. Eastern) and is expected at the finish at Asiago at around 5:14pm CET (11:14am U.S. Eastern). Giro d'Italia live streaming video should get underway at around 1:05pm CET (7:05am U.S. Eastern).

- Mikel Landa (Team Sky) won Stage 19 after soloing away from a breakaway. Nairo Quintana (Movistar) is once again overall leader. He leads Tom Dumoulin (38 seconds back) and Vincenzo Nibali (at 43 seconds). Thibaut Pinot is currently fourth overall at 53 seconds.

- News: Dumoulin loses pink jersey but not his chance for overall victory in Milan. (Cyclingnews) -'With good legs it would have been possible to stay with them, but the legs were just not there'.

- News: Kruijswijk abandons with stomach problems. (Cyclingnews) -LottoNL-Jumbo captain puts an end to difficult race.

- News: Persistence pays off for Landa with stage victory. (Cyclingnews) -'I think I've shown that I can still try to win a Grand Tour'.

- News: Pinot a danger man as Giro d'Italia reaches its final weekend. (Cyclingnews) -Frenchman within a minute of pink after Piancavallo attack.

- News: Nibali promises to fight all the way to Milan. (Cyclingnews) -'This Giro d'Italia will be decided by just a few seconds'.

- News: Quintana back in maglia rosa but not yet back to his best. (Cyclingnews) -Colombian leads Giro d'Italia into final weekend.

- News: Landa finally gets his win in Piancavallo. (Cyclingnews) -Dumoulin distanced on final climb, loses maglia rosa to Quintana.

- News: Dumoulin and Nibali kiss and make up after war of words. (Cyclingnews) -'We need to talk with the legs and not with the mouth' says Dumoulin.

- Top 25 in the overall following Stage 19:

| | | | | |
| --- | --- | --- | --- | --- |
| | Name | Nation | Team | Time |
| 1 | Nairo QUINTANA | Colombia | MOV | 85:02:40 |
| 2 | Tom DUMOULIN | Netherlands | SUN | +38 |
| 3 | Vincenzo NIBALI | Italy | TBM | +43 |
| 4 | Thibaut PINOT | France | FDJ | +53 |
| 5 | Ilnur ZAKARIN | Russia | KAT | +1:21 |
| 6 | Domenico POZZOVIVO | Italy | ALM | +1:30 |
| 7 | Bauke MOLLEMA | Netherlands | TFS | +2:48 |
| 8 | Adam YATES | Great Britain | ORS | +6:35 |
| 9 | Bob JUNGELS | Luxembourg | QST | +7:03 |
| 10 | Steven KRUIJSWIJK | Netherlands | TLJ | +7:37 |
| 11 | Davide FORMOLO | Italy | CDT | +8:37 |
| 12 | Jan POLANC | Slovenia | UAD | +14:13 |
| 13 | Maxime MONFORT | Belgium | LTS | +14:32 |
| 14 | Jan HIRT | Czech Republic | CCC | +17:38 |
| 15 | Dario CATALDO | Italy | AST | +19:15 |
| 16 | Sébastien REICHENBACH | Switzerland | FDJ | +26:04 |
| 17 | Mikel LANDA MEANA | Spain | SKY | +31:44 |
| 18 | Patrick KONRAD | Austria | BOH | +32:39 |
| 19 | Hubert DUPONT | France | ALM | +33:22 |
| 20 | Andrey AMADOR BIKKAZAKOVA | Costa Rica | MOV | +33:37 |
| 21 | Franco PELLIZOTTI | Italy | TBM | +45:09 |
| 22 | Tejay VAN GARDEREN | United States | BMC | +50:19 |
| 23 | Pierre ROLLAND | France | CDT | +56:04 |
| 24 | Rui Alberto FARIA DA COSTA | Portugal | UAD | +56:13 |
| 25 | Stef CLEMENT | Netherlands | TLJ | +57:13 |

- Start List here.

- Art: 2017 Giro d'Italia Stage 19 Art

- Art: 2017 Giro d'Italia Stage 17 Art

- Art: 2017 Giro d'Italia Stage 15 Art

- Art: 2017 Giro d'Italia Stage 14 Art

- Art: 2017 Giro d'Italia Stage 13 Art

- Art: 2017 Giro d'Italia Stage 9 Art

- Art: 2017 Giro d'Italia Stage 8 Art

- Art: 2017 Giro d'Italia Stage 6 Art

- Art: 2017 Giro d'Italia Stage 5 Art

- Art: 2017 Giro d'Italia Stage 4 Art

- Art: 2017 Giro d'Italia Stage 3 Art

- Art: 2017 Giro d'Italia Stage 2 Art

- Friday's Giro d'Italia Stage 19 departs San Candido (Innichen) at 12:00pm CET (6:00am U.S. Eastern) and is expected at the finish at Piancavallo at around 5:15pm CET (11:15am U.S. Eastern). Giro d'Italia live streaming video should get underway at around 1:05pm CET (7:05am U.S. Eastern).

- Tejay van Garderen (BMC Racing) won Stage 18 ahead of Mikel Landa. Tom Dumoulin (Team Sunweb) remains leader in the general classification.

- News: Mollema gains time on hard day in the Dolomites. (Cyclingnews) -Trek-Segafredo rider consolidates seventh place overall.

- News: Quintana not impressed with Dumoulin's criticism. (Cyclingnews) -"We know we must attack again and Piancavallo is another chance".

- News: Landa disappointed with another close loss. (Cyclingnews) -Team Sky rider focused on keeping KOM jersey all the way to Milan.

- News: Pinot moves closer to Giro d'Italia podium in the Dolomites. (Cyclingnews) -Frenchman gains a minute on Dumoulin, Quintana and Nibali.

- News: After a slow spring, Dombrowski building form in Giro d'Italia's third week. (Cyclingnews) -'There's plenty of racing in cycling. You can always come back and fix things.'.

- News: Van Garderen: I know I can do GC in a Grand Tour. (Cyclingnews) -American salvages Giro d'Italia with Dolomite victory.

- News: Yates distances Jungels as white jersey competition comes alive. (Cyclingnews) -Orica-Scott rider locked in a close fight with Luxembourger and Formolo.

- News: Nibali annoyed by Dumoulin's 'cocky' criticism of tactics. (Cyclingnews) -Tempers flare with Giro d'Italia third week polemics.

- News: Giro d'Italia leader Tom Dumoulin 'a little too cocky', says Vicenzo Nibali. (BBC) -.

- News: Dumoulin: I really hope Quintana and Nibali lose their podium spots. (Cyclingnews) -Nibali: 'Does he know what karma is? What goes around comes around'.

- News: Van Garderen wins in St. Ulrich. (Cyclingnews) -Pinot chips away at the podium, Jungels slips out of white.

- Aike Visbeek (Team Sunweb D.S.): "Today was a really hard day, especially after another tough day yesterday. The guys fought really hard to put Tom in a good position and keep him there. There was a lot of pressure from the other teams but Tom stayed cool and calm and the final went well. We can look back and be proud of how we dealt with what was a tough stage."

- After Stage 18, Dumoulin said "I felt really good today and I'm really happy that I didn't lose any time. When the attacks came I just kept my cool, rode my own climb things came back together. I also tried my luck on the approach to the finish but nothing stuck and in the end I rolled across the line with the other favourites. I'm glad to have survived another day and look forward to tomorrow."

- Thursday's Giro d'Italia Stage 18 departs Moena (Val di Fassa) at 1:00pm CET (7:00am U.S. Eastern) and is expected at the finish at Ortisei-St. Ulrich (Val Gardena) at around 5:12pm CET (11:12am U.S. Eastern). Giro d'Italia live streaming video should get underway at around 1:05pm CET (7:05am U.S. Eastern).

- Pierre Rolland (Cannondale-Drapac) won Stage 17. Tom Dumoulin (Team Sunweb) remains overall race leader.

- News: 'Three one-day races' for Landa. (Cyclingnews) -Team Sky rider determined to salvage his Giro with a stage win.

- News: UAE Team Emirates animate Giro d'Italia on road to Canazei. (Cyclingnews) -Team roll the dice but come up empty handed on stage 17.

- News: Preview: Dumoulin and Sunweb face their toughest challenge in the Dolomites. (Cyclingnews) -Stage 18 to Ortisei includes four major climbs in just 137km.

- News: Sciandri: Van Garderen showed condition was there on stage 17. (Cyclingnews) -BMC hunting breakaways after recalibrating Giro goals.

- Aike Visbeek (Sunweb team coach) after Stage 17: "Today was a hard day. We tried to stay in control of the situation with the break and the guys did a good job defending the jersey. The team brought Tom to the finish safe and with as much energy reserved as possible for what is set to be a tough day tomorrow."

- News: Nibali could find common ground with Quintana in Dolomites. (Cyclingnews) -'The energy you have left at the end will be crucial,' says Bahrain-Merida leader.

- News: Rolland steps up and wins big for Cannondale-Drapac. (Cyclingnews) -'I prefer to race hard, as if there's no tomorrow,' says French winner of stage 17.

- News: Dumoulin: 'We don't know exactly what the problem was'. (Cyclingnews) -Dutchman shows no signs of distress on day after Umbrailpass toilet stop.

- News: Rolland takes solo victory on stage 17. (Cyclingnews) -Frenchman wins first Grand Tour stage in five years.

- Tom Dumoulin (Team Sunweb): "We weren't too worried today, we needed to chase harder than we had expected but we also knew that it was in a lot of other teams best interest to chase with us.
The team did a really good job to protect the jersey and were on the front all day chasing the break. Overall it was a good day and we look forward to another good day tomorrow."

- Wednesday's Giro d'Italia Stage 17 departs Tirano at 11:15am CET (5:15am U.S. Eastern) and is expected at the finish at Canazei (Val di Fassa) at around 5:11pm CET (11:11am U.S. Eastern). Giro d'Italia live streaming video should get underway at around 1:05pm CET (7:05am U.S. Eastern).

- Vincenzo Nibali (Bahrain-Merida) won Stage 16 ahead of Mikel Landa (Team Sky). Nairo Quintana (Movistar) finished third, 12 seconds back. Tom Dumoulin (Team Sunweb) retained the overall race lead. Quintana gained time on the stage and now sits just 31 seconds back in second place overall.

- News: A mixed day for Yates on Giro d'Italia queen stage. (Cyclingnews) -Orica-Scott believe better is to come.

- News: Pinot: I didn't have the legs to follow Nibali. (Cyclingnews) -FDJ still confident Pinot can bounce back from time loss

- News: Landa goes close after conquering the Stelvio. (Cyclingnews) -'I was right on the limit in the final kilometres of the last climb'

- News: Sunweb takes heart from Dumoulin's solo Stelvio pursuit. (Cyclingnews) -

- News: Nibali: 'I never expect anybody to wait for me when I stop'. (Cyclingnews) - Sicilian claims stage win and moves up to third overall.

- News: Quintana closes in on Dumoulin on Giro d'Italia queen stage. (Cyclingnews) - Movistar rider's gain comes not from aggression but from circumstance.

- News: Dumoulin: The Giro d'Italia is not over. (Cyclingnews) - Maglia rosa doesn't blame rivals for attacking after his toilet stop.

- News: Nibali wins queen stage of Giro d'Italia. (Cyclingnews) - Dumoulin loses time after comfort break before Umbrailpass.

- News: Peloton honour Hayden, Viellehner and Manchester bombing victims. (Cyclingnews) - Minute's silence ahead of race's queen stage.

- Aike Visbeek (Sunweb directeur sportif): "Looking at everything apart from Tom's stop, everything was great. The team were strong, the tactical plan worked and everything was good. Tom was also strong on the climb, fast on the descent and going just as well as the other guys in front. We lost some of the lead but Tom is still in pink, which is the most important thing. Looking ahead we still have a time trial in Milan and over the coming days we have more good opportunities for Tom."

- Tom Dumoulin post-Stage 16 talked about his nature break: "At that moment I needed to stop to answer nature's call. When I was chasing back I decided to fight and not give up and then see where we were at after the finish. It was tough out there on my own and of course it's dissapointing. The legs were good and I feel like I could have been up there with the other GC group but that's not how it worked out, it's too bad."

- Tuesday's Giro d'Italia Stage 16 departs Rovetta at 10:25am CET (4:25am U.S. Eastern) and is expected at the finish at Bormio at around 5:12pm CET (11:12am U.S. Eastern). Giro d'Italia live streaming video should get underway at around *12:20pm CET (*6:20am U.S. Eastern). * Fubo TV is scheduled to start at this time, as is Rai. Other feeds will start around 10-40 minutes later.


- Bob Jungels (Quick Step-Floors) won Stage 15 ahead of Nairo Quintana and Thibaut Pinot. Tom Dumoulin (Team Sunweb) remains overall leader. With his second place finish on the stage, Quintana was able to knock six seconds off of Dumoulin's lead.

- News: Preview: Showdown on the Stelvio. (Cyclingnews) - Can Dumoulin survive on the queen stage of the Giro 100?.

- News: Dumoulin primed for 'day of suffering' on Mortirolo and Stelvio. (Cyclingnews) - Dutchman returns to scene of pre-Vuelta training camp.

- News: Dumoulin primed for 'day of suffering' on Mortirolo and Stelvio. (Cyclingnews) - Dutchman returns to scene of pre-Vuelta training camp.

- News: Giro d'Italia analysis: Dumoulin dominant but not unbeatable. (Cyclingnews) - Quintana, Pinot and Nibali with ground to recoup in final week.

- News: Nibali promises to keep fighting in Giro d'Italia's final week. (Cyclingnews) - Italian not pessimistic, but realistic.

- News: Quintana: Let's see how Dumoulin goes in the high mountains. (Cyclingnews) - 'At least 40 seconds' needed on Dutchman ahead of Giro d'Italia final time trial.

- News: Analysing the GC contenders ahead of the final week. (Cyclingnews) - Cyclingnews looks at the overall standings ahead of the mountains.

- Monday is the final rest day at the Giro d'Italia. The race resumes Tuesday with Stage 16.

- News: Nibali admits a third Giro d'Italia victory could be out of reach. (Cyclingnews) - 'The Giro d'Italia isn't over but I'm quite far behind Dumoulin now'.

- News: Dumoulin shows his sporting side after Quintana crashes. (Cyclingnews) - 'I don't need to be the boss of the peloton, I don't think that way'.

- News: Kangert abandons Giro d'Italia after crashing into traffic island. (Cyclingnews) - Estonian suffers displaced fracture of right elbow.

- News: Jungels celebrates his big day out in Bergamo. (Cyclingnews) - 'It was the first sprint I've won in a race like this'.

- News: Quintana survives Giro d'Italia crash scare to place second in Bergamo. (Cyclingnews) - Colombian claws back six seconds on Dumoulin.

- News: Yates continues comeback after Blockhaus crash. (Cyclingnews) - Orica-Scott rider 13th in GC after sixth in Oropa.

- News: Jungels best in Bergamo. (Cyclingnews) - Dumoulin keeps race lead in aggressive finale.

- Aike Visbeek (Sunweb d.s.) post-Stage 15: "Today was a tricky, fast stage. The speeds averaged 50kph in the first two hours so it was really crazy. The team looked after pink really well and controlled things well on the climbs along with Orica. It was once again great team work and I am proud of the teams efforts today."

- Tom Dumoulin after Stage 15: "Today has shown that there aren't going to be anymore rest days for the GC contenders. I expected today to be a little bit easier but it was a really fast and hectic stage. The breakaway went late and there were lots of attacks in the final. The team stayed calm throughout everything and we were there when we needed to be so it was a good day."

- Sunday's Giro d'Italia Stage 15 departs Valdengo at 12:10pm CET (6:10am U.S. Eastern) and is expected at the finish at Bergamo at around 5:14pm CET (11:14am U.S. Eastern). Giro d'Italia live streaming video should get underway at around 1:05pm CET (7:05am U.S. Eastern).

- Race leader Tom Dumoulin (Team Sunweb) won Stage 14, adding to his lead over Nairo Quintana in the general classification.

- Aike Visbeek (Team Sunweb directeur sportif): "Today (Stage 14) is the first of a series of GC deciding stages. We knew that on a stage like this there were chances for Tom to take some extra time. The team positioned him well at the bottom of the climb and he was really smart going into the ascent. Tom rode at his own pace up the climb and he came back strong, finishing off a great job from the whole team. Today is a real morale boost for Tom and the team. I am really proud of the team and really happy for them to be rewarded once again with this victory."

- News: Zakarin bounces back on Oropa. (Cyclingnews) - Second place finish moves Katusha-Alpecin rider into fifth overall.

- News: Landa fights to third at Oropa. (Cyclingnews) - Team Sky rider showing signs of recovery after stage 9 crash.

- News: Pinot limits the damage on Oropa to stay in podium fight. (Cyclingnews) - Frenchman moves up to third but concedes ground to Dumoulin.

- News: Nibali escapes growing questions after stumbling on the climb to Oropa. (Cyclingnews) - 'A one-off climb is less favored for me'.

- News: Dumoulin: 'The third week will be very different'. (Cyclingnews) - Giro d'Italia leader acknowledges challenges yet to come.

- News: Quintana puts a positive spin on his stage 14 defeat. (Cyclingnews) - 'I think I made a great attack on the climb but it was not enough'.

- News: Dumoulin triumphs atop Oropa. (Cyclingnews) - Dutchman extends his race lead with stage 14 victory ahead of Zakarin, Landa.

- Tom Dumoulin (Sunweb) following his Stage 14 victory: "I really didn't expect this, it's something I had always dreamed about but I didn't think I could do it. It was a really tough climb and when I couldn't follow Quintana I remained focused, relaxed and rode at my own pace. At the end I still had something left it was incredible. It's a good advantage to go into the last week with but we will see how things go and the last week will be much different. It's still a long way to Milan."

- Saturday's Giro d'Italia Stage 14 departs Castellania at 1:40pm CET (7:40am U.S. Eastern) and is expected at the finish at Oropa (Biella) at around 5:12pm CET (11:12am U.S. Eastern). Giro d'Italia live streaming video should get underway at around *1:05pm CET (*7:05am U.S. Eastern). *Rai's pre-race coverage goes live at this time. Other TV broadcasters go live at 1:30pm CET (7:30am U.S. Eastern), 10 minutes before the stage start time. In other words, there will be start to finish live TV coverage.


- Fernando Gaviria (QuickStep Floors) won Stage 13 ahead of Sam Bennett and Jasper Stuyven. Tom Dumoulin (Team Sunweb) remains overall leader.

- News: The history maker: Fernando Gaviria. (Cyclingnews) - Colombian feted after four wins in Grand Tour debut.

- News: Preview: Will the climb to Oropa open up the Giro d'Italia?. (Cyclingnews) - Nibali concedes that the single climb to the finish suits Dumoulin.

- News: Gaviria's dramatic comeback brings fourth Giro d'Italia stage victory. (Cyclingnews) - 'They send me to the gym, but I don't go. Don't tell anyone.'.

- News: Ewan left frustrated after hectic sprint in Tortona. (Cyclingnews) - Orica-Scott sprinter to ride into mountains before any decision on heading home.

- News: Fourth win for Gaviria on stage 13. (Cyclingnews) - Dumoulin sails through another stage in maglia rosa.

- Aike Visbeek (Team Sunweb d.s.): "Although a flat stage, today was really nervous and the team did a great job in keeping Tom safe. We were focused on all of the important sections and looked for opportunities in the crosswinds but nothing worked out. The team are feeling motivated ahead the coming mountain stages, there's a good vibe with a lot of focus and we are all looking forward to the coming days."

- Tom Dumoulin (Team Sunweb) after Stage 13: "Today was once again a great job from the team. Looking ahead to tomorrow, things will be pretty steady during the day and then it will be full gas onto the last climb. The coming week will be more tricky but we just have to stay calm, stay sharp and hope for the best."

- Friday's Giro d'Italia Stage 13 departs Reggio Emilia at 1:20pm CET (7:20am U.S. Eastern) and is expected at the finish at Tortona at around 5:18pm CET (11:18am U.S. Eastern). Giro d'Italia live streaming video should get underway at around 1:05pm CET (7:05am U.S. Eastern).

- Aike Visbeek: "We didn't have to work so much today as we knew the sprinters teams would take control. The team did a great job of protecting Tom all day, there was a section where potential splits could have formed as a result of crosswinds but everybody stayed alert, focused and in position. Once we knew that Tom was safe, Phil (Bauhaus) was able to do a really good sprint and took fourth on the stage."

- Tom Dumoulin: "Today (Stage 12) was a pretty relaxed stage so it was a good day. There was a tailwind in the final which made it really fast, but the team had positioned me well to stay out of any trouble. Tomorrow is another sprint day so we aim to keep safe again and look forward to the mountain stages coming up at the weekend."

- Fernando Gaviria (QuickStep Floors) won Stage 12 ahead of Jakub Mareczko and Sam Bennett. Tom Dumoulin (Team Sunweb) remains leader on G.C.

- News: Nibali and Quintana can be allies of circumstance against Dumoulin. (Cyclingnews) - Three minute lead needed on Dutchman before final time trial, says Slongo.

- News: Thomas abandons the Giro d'Italia. (Cyclingnews) - Team Sky rider succumbs to injuries sustained in stage 9 crash.

- News: Thomas loses more time in Giro d'Italia due to crash injuries. (Cyclingnews) - Sky leader cedes 31 seconds to rivals on flat finale.

- News: Sam Bennett: 'We came to win stages, not run podiums'. (Cyclingnews) - Another third place for Irishman at Giro d'Italia.

- News: Gaviria continues dream Giro d'Italia debut with third stage win. (Cyclingnews) - Colombian gives another present to his family in Italy.

- News: Sunweb forget Geschke at team hotel before Giro d'Italia stage 12. (Cyclingnews) - Dumoulin itching for the mountains after 'boring' stage of Giro d'Italia.

- News: Gaviria gets his hat-trick on stage 12. (Cyclingnews) - Dumoulin holds race lead.

- Thursday's Giro d'Italia Stage 12 departs Forlì at 11:35am CET (5:35am U.S. Eastern) and is expected at the finish at Reggio Emilia at around 5:13pm CET (11:13am U.S. Eastern). Giro d'Italia live streaming video should get underway at around 1:05pm CET (7:05am U.S. Eastern).

- Omar Fraile (Team Dimension Data) won Stage 11 ahead of Rui Costa and Pierre Rolland. Tom Dumoulin (Team Sunweb) retained the pink jersey as overall leader.

- News: Thomas loses more time in stage 11 finale. (Cyclingnews) - Sky rider slips to 14th overall in Bagno di Romagna.

- News: BMC to reassess van Garderen's Giro d'Italia options after third tough stage. (Cyclingnews) - American gives up over 20 minutes on stage 11.

- Aike Visbeek (Team Sunweb directeur sportif): "We knew today would be really difficult for the GC but we stayed calm and stuck to the plan. There were some good numbers and names in the first group but we had Laurens up there. The plan was for Laurens to wait on the last climb for Tom, so he always had someone with him."

- Tom Dumoulin, after Stage 11: "I took it easy on the first part of the last descent so I could get back to Laurens (Ten Dam) and he could pull so I wasn't too stressed about the attacks that came then. The guys did a great job, it was amazing team work from everybody and I'm really happy."

- News: Dumoulin: The team was always in control. (Cyclingnews) - Giro d'Italia leader glides through first day in maglia rosa.

- News: Boomerang stage for Landa with long-distance break followed by time loss. (Cyclingnews) - After Blockhaus crash, Spaniard looking 'for new reasons to stay in the race'.

- News: Nibali expected a Quintana attack that never came on stage 11. (Cyclingnews) - Sicilian looks to test Dumoulin on first day in the maglia rosa.

- News: Fraile clinches Dimension Data's first Giro d'Italia stage win with long break. (Cyclingnews) - Spaniard thanks Cavendish for morale boost after Manxman visits before stage.

- News: Yates comes through first multi-climb mountain stage in good shape. (Cyclingnews) - Briton remains 16th overall after responding comfortably to attacks by Pinot and Nibali.

- News: Fraile cleans up in Bagno di Romagna. (Cyclingnews) - Breakaway sticks on frantic day in Tuscany.

- Race leader Tom Dumoulin (Team Sunweb) post-Stage 11: "We weren't thinking about the riders up the road in the break today, we just focused on what we were doing and went at our own pace. I knew if we carried on doing that all day that we would be fine. It was also in other team's benefit to help bring the gap down, which of course was good for us."

- Wednesday's Giro d'Italia Stage 11 departs Firenze at 12:20pm CET (6:20am U.S. Eastern) and is expected at the finish at Bagno di Romagna at around 5:11pm CET (11:11am U.S. Eastern). Giro d'Italia live streaming video should get underway at around 1:05pm CET (7:05am U.S. Eastern).

- Tom Dumoulin (Team Sunweb) won the Stage 10 ITT and took the pink jersey as new race leader. Previous race leader Nairo Quintana dropped to second overall.

- News: Nizzolo abandons Giro d'Italia. (Cyclingnews) - Italian champion throws in the towel before stage 11

- News: Jungels rides back into maglia bianca. (Cyclingnews) - Former pink jersey holder back into top-ten on GC after Montefalco time trial

- News: Giro d'Italia analysis: Dumoulin a true contender after race of truth. (Cyclingnews) - Quintana and Nibali to be allies of circumstance?

- News: Pinot's hopes of Giro d'Italia lead evaporate with poor time trial. (Cyclingnews) - Frenchman drops to fourth on overall leaderboard.

- News: Quintana loses Giro d'Italia lead in worse-than-expected time trial defeat. (Cyclingnews) - Movistar Team rider loses nearly three minutes to Dumoulin.

- News: Dumoulin: My rivals will need to attack in the mountains, and they know it. (Cyclingnews) - Dutchman enjoys a hefty GC advantage after dominant time trial performance.

- News: Geraint Thomas: I've worked too hard to give up. (Cyclingnews) - Sky rider places second in Montefalco time trial and makes big gains.

- News: Nibali in the dark during Giro d'Italia's Montefalco time trial. (Cyclingnews) - Sicilian gains on Quintana but is now 2:47 off Dumoulin.

- News: Dumoulin surges to pink in stage 10 time trial. (Cyclingnews) - Thomas rebounds, Nibali gains time, Quintana faces an uphill battle.

- Team Sunweb directeur sportif Aike Visbeek: "Tom did a splendid time trial, he had a tremendous amount of pressure and there were a lot of expectations. The whole day went really smoothly and we are all incredibly proud. This is a great moment for the team, and to have the jersey for two years in a row makes it extra special. We are looking forward to doing the jersey proud tomorrow."

- Tom Dumoulin after Stage 10 where he took the maglia rosa as race leader: "Before I started the stage I actually didn't have a good feeling but now I see the result I realise that wasn't the case. Today I didn't give up, I fought with myself until the end and gave it all that I had. Its nice to go into the mountains with a good advantage but like the Vuelta showed me, you can lose everything in one day. We have some really tough stages coming up and it's still a long way to go."

- Tuesday's Giro d'Italia Stage 10, a 39.8km Individual Time Trial from Foligno to Montefalco, gets underway at 12:45pm CET (6:45am U.S. Eastern) with the departure of the first rider. Giro d'Italia live streaming video should get underway at around 1:05pm CET (7:05am U.S. Eastern).


- Nairo Quintana (Movistar) won Stage 9 and took over the lead in the general classification.

- Stage 10 Start Order and Times.

- News: Pinot not afraid of the pink jersey. (Cyclingnews) - "On a good day, I could take it".

- News: Dumoulin: If I can take Giro lead on Tuesday, I will. (Cyclingnews) - Dutchman not looking at power data for climbs.

- News: Kelderman abandons Giro d'Italia after crash with motorbike. (Cyclingnews) - Team Sunweb rider will need surgery on broken finger.

- News: Vegni regrets Blockhaus crash but defends role of Italian police. (Cyclingnews) - "It was perhaps an error of judgement and a tragic event," says race director.

- News: Robert Millar blog: Rating the Giro d'Italia contenders. (Cyclingnews) - Movistar paying back Team Sky for the 2012 Vuelta.

- News: Analysing the GC contenders after Blockhaus. (Cyclingnews) - Cyclingnews looks at the overall standings on the second rest day.

- News: Quintana: Montefalco time trial will suit the specialists. (Cyclingnews) - Colombian looks to challenge of defending pink jersey when Giro resumes Tuesday.

- News: Formolo ready to fight for best young rider's jersey. (Cyclingnews) - 'We've still got about a hundred climbs to cover'.

- News: Team Sky pick up the pieces as Giro d'Italia hopes take a battering. (Cyclingnews) - Brailsford keeping Thomas, Landa from over-reacting to Blockhaus disaster.

- News: Nibali: I went into crisis a little bit on Blockhaus. (Cyclingnews) - Defending champion loses a minute to Quintana in Giro d'Italia stage 9.

- News: White furious at Movistar failure to ease back after big Giro d'Italia crash. (Cyclingnews) - Adam Yates loses over four minutes after caught up in crash at foot of Blockhaus.

- Monday is a rest day at the Giro d'Italia. The race resumes Tuesday with Stage 10.

- News: Landa's Giro d'Italia in doubt after crash with motorbike. (Cyclingnews) - Spaniard sent for scans.

- News: Quintana powers to Giro d'Italia lead with stunning Blockhaus display. (Cyclingnews) - Movistar leader dispatches Nibali, but fears Dumoulin for Tuesday time trial.

- News: Quintana conquers Blockhaus. (Cyclingnews) - Sky's hopes evaporate in a crash.

- News: Thomas, Landa & Yates crash en route to Blockhaus. (Cyclingnews) - Team Sky's Giro d'Italia comes crashing down.

- Sunday's Giro d'Italia Stage 9 departs Montenero di Bisaccia at 1:00pm CET (7:00am U.S. Eastern) and is expected at the finish at Blockhaus at around 5:17pm CET (11:17am U.S. Eastern). Giro d'Italia live streaming video should get underway at around 1:05pm CET (7:05am U.S. Eastern).

- Gorka Izagirre (Movistar) won Stage 8 ahead of Giovanni Visconti and Luis Leon Sanchez. Bob Jungels (Quick-Step Floors) remains leader on G.C.

- News: Sanchez fights to third in Peschici. (Cyclingnews) - Aggressive showing on stage 8 from Astana rider.

- News: Jungels overcomes crash to retain Giro d'Italia lead. (Cyclingnews) - 'It's about time for the main favourites to show themselves'.

- News: Brailsford: Landa's Giro d'Italia attack 'keeps them guessing'. (Cyclingnews) - Team Sky Principal underlines advantages of dual leadership for Sky.

- Saturday's Giro d'Italia Stage 8 departs Molfetta at 12:25pm CET (6:25am U.S. Eastern) and is expected at the finish at Peschici at around 5:12pm CET (11:12am U.S. Eastern). Giro d'Italia live streaming video should get underway at around 1:05pm CET (7:05am U.S. Eastern).

- Caleb Ewan (Orica-Scott) won Stage 7 ahead of Fernando Gaviria and Sam Bennett. Bob Jungels (Quick-Step Floors) remains leader in the general classification.

- Caleb Ewan post-Stage 7: "This win has probably brought me more joy than any other. Everyday I didn't get a win, I felt the pressure build so to finally get the victory it feels pretty good. This is the best way to repay my teammates who have been working so hard for me. We went early, but that was the plan, and they just stayed so confident and so calm. They did a fantastic job today. It was probably one of the more hectic finals I've done at the Giro. We knew we wanted to be in front in those final corners so I hit out earlier than I usually would. It meant I could take the best line to the finish and luckily I held on. Even after the past days I knew it wasn't my form that was in doubt, I just needed a bit of luck. Today the team were awesome again and all I had to do was that last sprint to the line."

- Friday's Giro d'Italia Stage 7 departs Castrovillari at 11:50am CET (5:50am U.S. Eastern) and is expected at the finish at Alberobello at around 5:13pm CET (11:13am U.S. Eastern). Giro d'Italia live streaming video should get underway at around 1:05pm CET (7:05am U.S. Eastern).

- Silvan Dillier (BMC Racing) won Stage 6 in a two-man sprint with Jasper Stuyven. Bob Jungels (Quick-Step Floors) remains leader on G.C.

- Thursday's Giro d'Italia Stage 6 departs Reggio Calabria at 11:30am CET (5:30am U.S. Eastern) and is expected at the finish at Terme Luigiane at around 5:11pm CET (11:11am U.S. Eastern). Giro d'Italia live streaming video should get underway at around 1:05pm CET (7:05am U.S. Eastern).

- Fernando Gaviria (QuickStep Floors) won Stage 5 ahead of Jakub Mareczko and Sam Bennett. Bob Jungels (Quick-Step Floors) retained the overall race lead.

- Wednesday's Giro d'Italia Stage 5 departs Pedara at 1:15pm CET (7:15am U.S. Eastern) and is expected at the finish at Messina at around 5:13pm CET (11:13am U.S. Eastern). Giro d'Italia live streaming video should get underway at around 1:05pm CET (7:05am U.S. Eastern).

- Jan Polanc (UAE Abu Dhabi) won Stage 4. Bob Jungels (Quickstep Floors) is new leader in the general classification.

- Tuesday's Giro d'Italia Stage 4 departs Cefalù at 12:00pm CET (6:00am U.S. Eastern) and is expected at the finish at Etna at around 5:16pm CET (11:16am U.S. Eastern). Giro d'Italia live streaming video should get underway at around 12:00pm CET (6:00am U.S. Eastern).

- Fernando Gaviria (QuickStep Floors) won Stage 3 ahead of Rudiger Selig and Giacomo Nizzolo and is new overall leader.

- Monday is a rest day at the Giro d'Italia. The race resumes Tuesday with Stage 4.

- Sunday's Giro d'Italia Stage 3 departs Tortolì at 1:35pm CET (7:35am U.S. Eastern) and is expected at the finish at Cagliari at around 5:12pm CET (11:12am U.S. Eastern). Giro d'Italia live streaming video should get underway at around 1:15pm CET (7:15am U.S. Eastern).

- Andre Greipel (Lotto-Soudal) won Stage 2 ahead of Roberto Ferrari and Jasper Stuyven. Greipel is new overall leader.

- Official tracking/ticker LIVE here. Cyclingnews ticker LIVE here.

- LIVE video here. (English, HD quality, DVR/On Demand feature, available U.S.A. and Canada) More info here.

- When does Giro d'Italia Stage 2 start? Saturday's Giro d'Italia Stage 2 departs Olbia at 11:40am CET (5:40am U.S. Eastern) and is expected at the finish at Tortoli at around 5:12pm CET (11:12am U.S. Eastern). Giro d'Italia live streaming video should get underway at around 1:00pm CET (7:00am U.S. Eastern).

- Lukas Postlberger (Bora-Hansgrohe) won Stage 1 ahead of sprinters Caleb Ewan and Andre Greipel. Postlberger is first leader in the general classification.

- When does Giro d'Italia Stage 1 start? Friday's Giro d'Italia Stage 1 departs Alghero at 12:10pm CET (6:10am U.S. Eastern) and is expected at the finish at Olbia at around 5:13pm CET (11:13am U.S. Eastern). Giro d'Italia live streaming video should get underway at around 12:00pm CET (6:00am U.S. Eastern).

- The 2017 Giro d'Italia Teams Presentation is being held Thursday, May 4, on the eve of the race start. The opening ceremony and teams presentation will be broadcast and streamed LIVE starting at 6:20pm CET (12:20pm U.S. Eastern). We'll list live streams here just before the start.

- Preview: Giro d'Italia 2017: The essential guide. CN previews the 2017 Giro here. (Cyclingnews) - A detailed look at the race route and riders to watch for in this year's 100th edition.

- Vincenzo Nibali (Astana) won the 2016 Giro d'Italia.

- Art: Cycling Art

- Photos: Giro d'Italia Photos

-

- NOTE: If you believe you may not be seeing the latest content on this page, try clearing your browser's cache (or try a different browser).

- For the 13th consecutive year, you can follow the Giro d'Italia live on cyclingfans.com.

- Recent Giro d'Italia winners:

2016: Vincenzo Nibali
2015: Alberto Contador
2014: Nairo Quintana
2013: Vincenzo Nibali
2012: Ryder Hesjedal
2011: Michele Scarponi
2010: Ivan Basso
2009: Denis Menchov
2008: Alberto Contador
2007: Danilo Di Luca
2006: Ivan Basso
2005: Paolo Savoldelli
2004: Damiano Cunego
2003: Gilberto Simoni
2002: Paolo Savoldelli
2001: Gilberto Simoni
2000: Stefano Garzelli
1999: Ivan Gotti
1998: Marco Pantani

- More info and links to come.

- We will update here with the best and latest live feeds at broadcast time.

- Welcome to our live coverage guide for the 2017 Giro d'Italia (Tour of Italy or Tour d'Italie en direct) .

2017 Giro d'Italia LIVE
May 5-28, Italy
Official Website
Start List

Stage 21 starts at 1:45pm CET
(7:45am U.S. Eastern)

Finish at around 5:10pm CET
(11:10am U.S. Eastern)

Live video from 1:05pm CET
(7:05am U.S. Eastern)




---

Giro d'Italia Live Coverage

More Giro broadcasters to come before the race start.

Links to come as available


(Fubo TV in HD, English)
(U.S.A. and Canada)
(Free trial. More info here.)


(Eurosport live stream)
(-- CET)
(-- Eastern)
Alternative
Alternative


(Rai Sport 2 live stream)
(geo-restricted)
(--)
(--)
Alternative
Alternative
Alternative


(gazzetta.it live stream)
(Gazzetta TV is now geo-restricted)


(--)
(May be geo-restricted)
(--)
(--)

- more links to come -

(watch Giro d'Italia online)

Live audio streaming:

(--)
(Listen online)

Radio Tour graphics:


(Not active for time trial stages)

Live tickers:


(live profile, tracking and tickers in multiple languages)


- More tickers to come -

Apps:

TourTracker (Apple)
TourTracker (Android)

News and photos:


(cycling news)
Yahoo photo gallery (AP/AFP)

Copyright © 2017 www.cyclingfans.com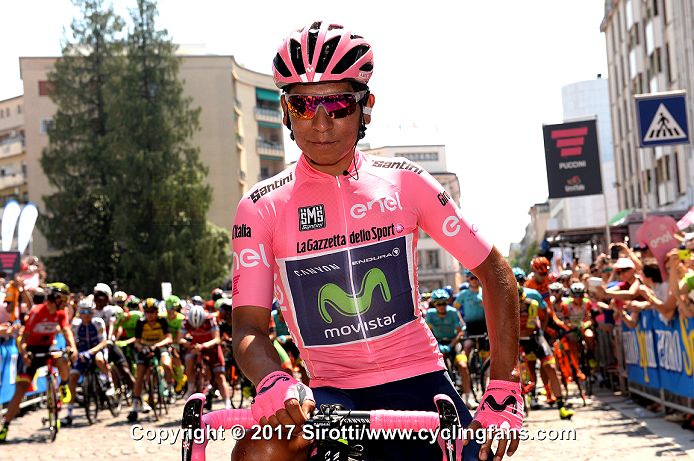 Called up front ahead of the peloton, race leader Nairo Quintana (Movistar) awaits the Stage 20 start in Pordenone. His goal for the day: gain more time on Tom Dumoulin ahead of Sunday's Individual Time Trial.
- Click for high resolution - more Giro d'Italia photos -
photo Copyright © 2017 Fotoreporter Sirotti/cyclingfans.com
- WATCH Stage 20 "The Movie" - more Giro d'Italia videos -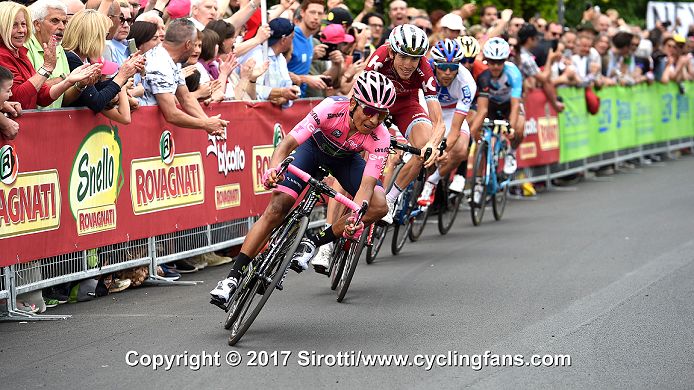 Race leader Nairo Quintana (Movistar) leads an attack group into the Stage 20 finish town of Asiago. Ilnur Zakarin, Thibaut Pinot, Vincenzo Nibali, and Domenico Pozzovivo are also there.
- Click for high resolution - more Giro d'Italia photos -
photo Copyright © 2017 Fotoreporter Sirotti/cyclingfans.com
- WATCH Stage 20 Official English Highlights - more Giro d'Italia videos -

Tom Dumoulin (Team Sunweb) leads a chase group in Asiago on Stage 20. Dumoulin is limiting the damage ahead of the final stage ITT where he is favored to take back the leader jersey on the final day.
- Click for high resolution - more Giro d'Italia photos -
photo Copyright © 2017 Fotoreporter Sirotti/cyclingfans.com
- WATCH final 10 kilometers of Stage 20 - more Giro d'Italia videos -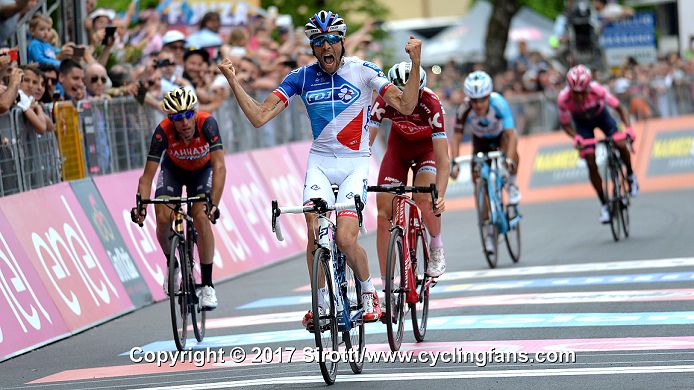 Thibaut Pinot (FDJ) wins Stage 20 in Asiago. Pinot moved up to third overall heading into the final stage.
- Click for high resolution - more Giro d'Italia photos -
photo Copyright © 2017 Fotoreporter Sirotti/cyclingfans.com
- WATCH interview with Stage 20 winner Thibaut Pinot - more Giro d'Italia videos -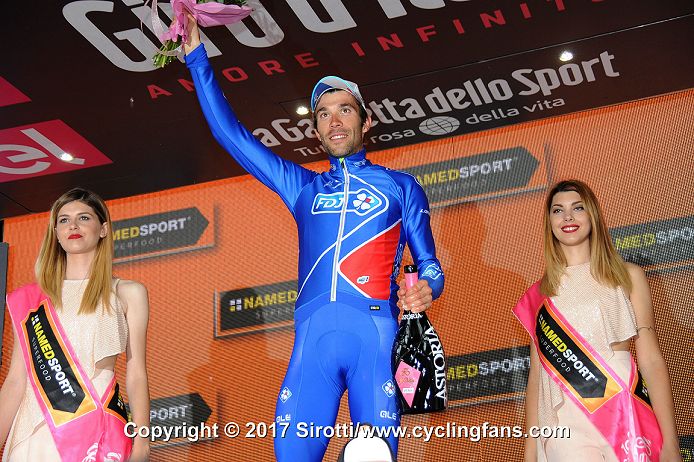 Thibaut Pinot (FDJ) celebrates on the Stage 20 victory podium.
- Click for high resolution - more Giro d'Italia photos -
photo Copyright © 2017 Fotoreporter Sirotti/cyclingfans.com
- WATCH interview in French with Thibaut Pinot following Stage 20 - more Giro d'Italia videos -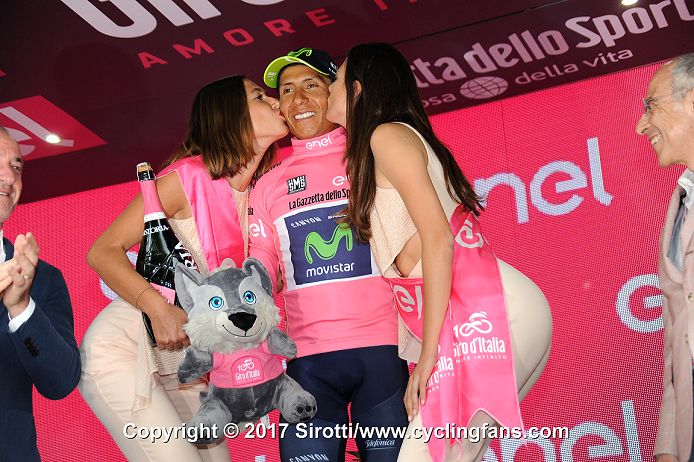 A smiling race leader Nairo Quintana (Movistar) has another pink jersey following Stage 20. Is it his last one? Most observers believe Quintana's 53 seconds lead over Dumoulin won't be enough. Quintana will no doubt give it his all but he also has to deal with Vincenzo Nibali, just 39 seconds back and Thibaut Pinot at 43 seconds. All three podium spots are up for grabs on the final day of the 100th Giro d'Italia!
- Click for high resolution - more Giro d'Italia photos -
photo Copyright © 2017 Fotoreporter Sirotti/cyclingfans.com
- WATCH interview with race leader Nairo Quintana after Stage 20 - more Giro d'Italia videos -
2017 Giro d'Italia Stage 21 Profile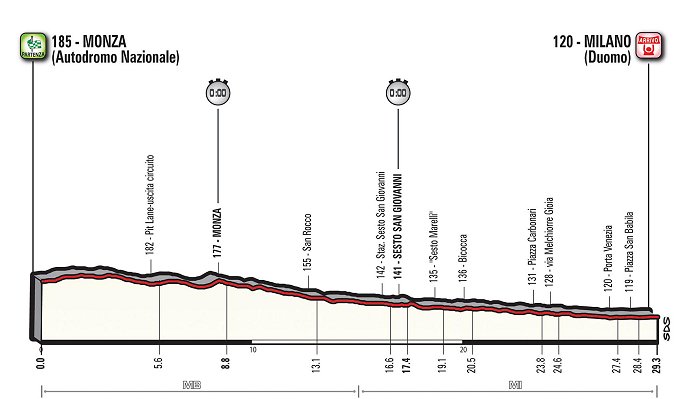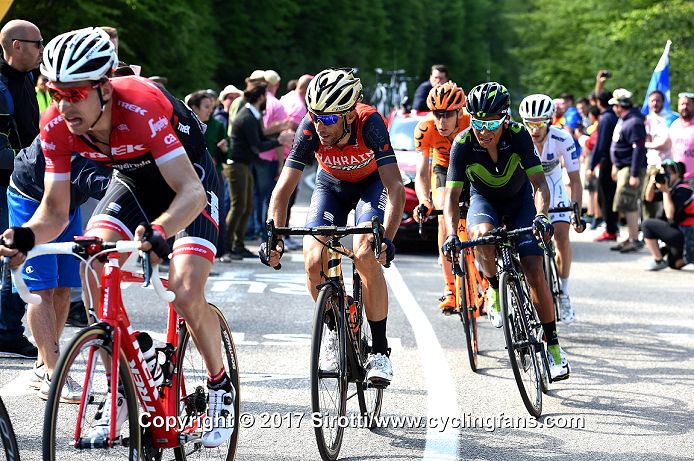 Vincenzo Nibali (Bahrain-Merida) and Nairo Quintana (Movistar) are on the attack on Stage 19 as they arrive in Piancavallo. They are putting time into race leader Tom Dumoulin.
- Click for high resolution - more Giro d'Italia photos -
photo Copyright © 2017 Fotoreporter Sirotti/cyclingfans.com
- WATCH Stage 19 "The Movie" - more Giro d'Italia videos -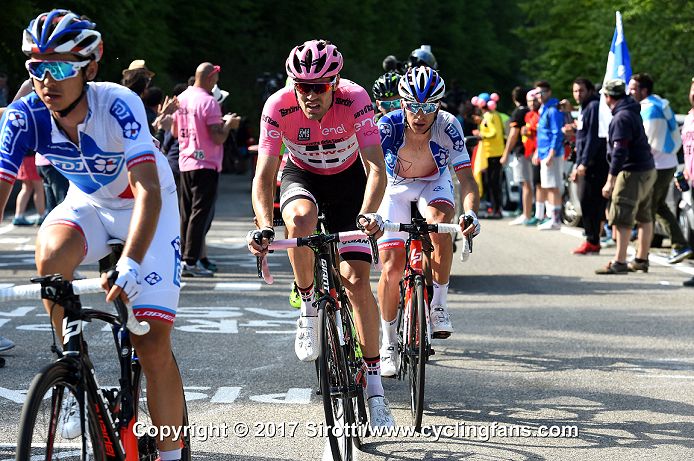 Dropped on the final climb, race leader Tom Dumoulin (Team Sunweb) arrives in Piancavallo. He lost the pink jersey to Quintana. He will look to rebound in Saturday's final mountain stage with hopes of grabbing back the maglia rosa and overall victory in Sunday's final stage individual time trial.
- Click for high resolution - more Giro d'Italia photos -
photo Copyright © 2017 Fotoreporter Sirotti/cyclingfans.com
- WATCH Tom Dumoulin "I made a rookie mistake" - more Giro d'Italia videos -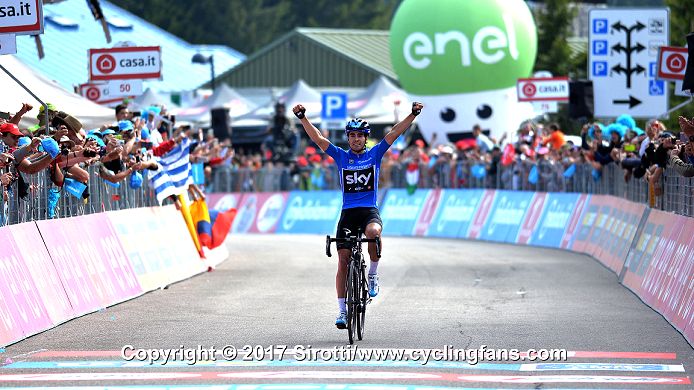 Mikel Landa (Team Sky) wins Stage 19 in Piancavallo.
- Click for high resolution - more Giro d'Italia photos -
photo Copyright © 2017 Fotoreporter Sirotti/cyclingfans.com
- WATCH interview with Stage 19 winner Mikel Landa - more Giro d'Italia videos -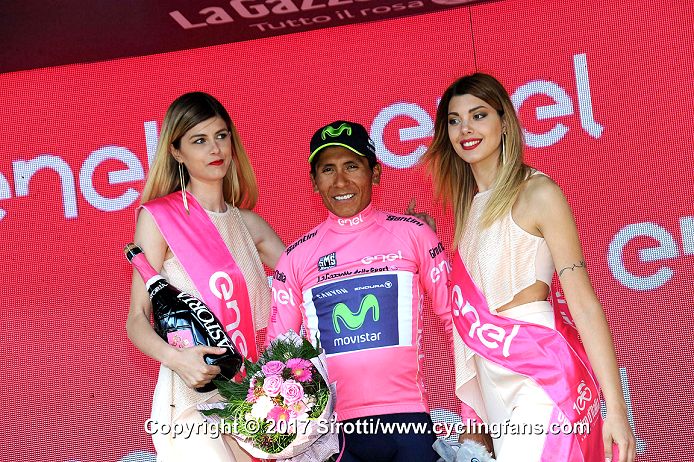 Nairo Quintana (Movistar) is back in the pink jersey as race leader following Stage 19. He leads previous race leader Tom Dumoulin by 38 seconds and will almost certainly need to gain more time in Saturday's mountain stage before the final stage ITT.
- Click for high resolution - more Giro d'Italia photos -
photo Copyright © 2017 Fotoreporter Sirotti/cyclingfans.com
- WATCH interview with race leader Nairo Quintana (Spanish) - more Giro d'Italia videos -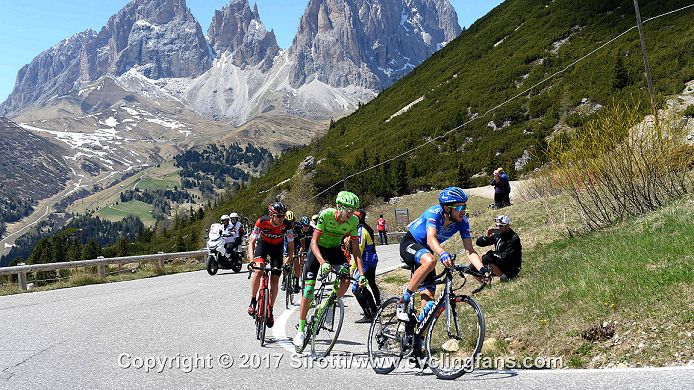 Stage 18's main breakaway climbs on the Passo Pordoi. The breakaway included Alexander Foliforov, Joe Dombrowski, Tejay van Garderen, Mikel Landa and Andrey Amador, among others.
- Click for high resolution - more Giro d'Italia photos -
photo Copyright © 2017 Fotoreporter Sirotti/cyclingfans.com
- WATCH Stage 18 Official Highlights in English - more Giro d'Italia videos -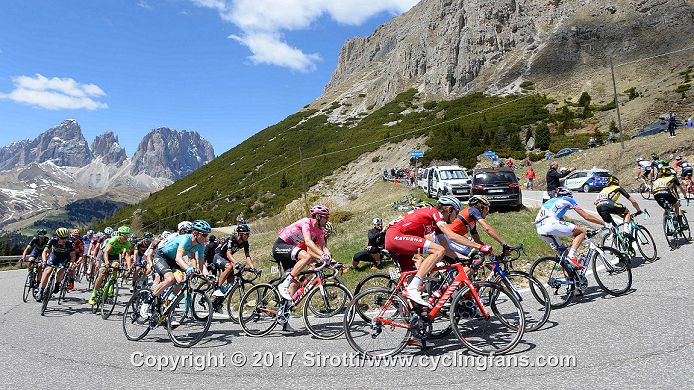 Race leader Tom Dumoulin (Team Sunweb) and the peloton climb the Passo Pordoi.
- Click for high resolution - more Giro d'Italia photos -
photo Copyright © 2017 Fotoreporter Sirotti/cyclingfans.com
- WATCH interview with Tom Dumoulin at Stage 18 start - more Giro d'Italia videos -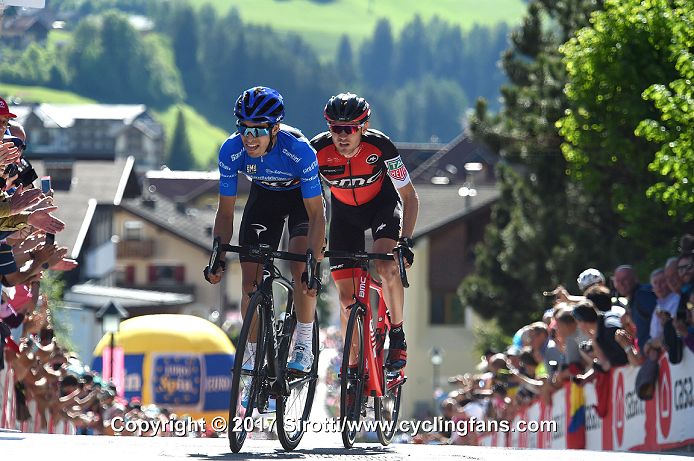 Mikel Landa (Team Sky) and Tejay van Garderen (BMC Racing) are alone off the front on the final ascent and will battle it out for the stage victory.
- Click for high resolution - more Giro d'Italia photos -
photo Copyright © 2017 Fotoreporter Sirotti/cyclingfans.com
- WATCH the final 7 kilometers of Stage 18 - more Giro d'Italia videos -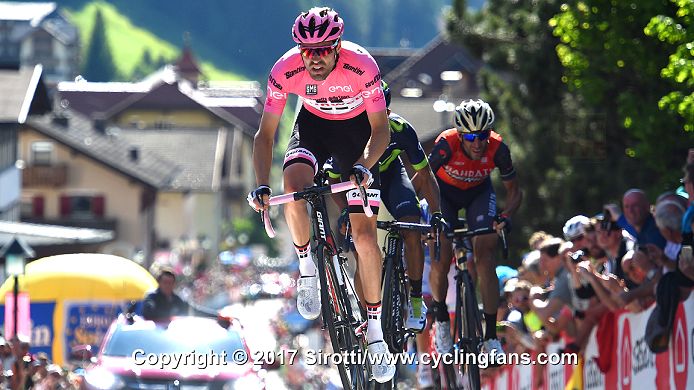 A powerful Tom Dumoulin (Team Sunweb), in pink as overall leader, powers up the climb in the finale ahead of Nairo Quintana (Movistar) and Vincenzo Nibali (Bahrain-Merida).
- Click for high resolution - more Giro d'Italia photos -
photo Copyright © 2017 Fotoreporter Sirotti/cyclingfans.com
- WATCH Tom Dumoulin comment on Quintana and Nibali race tactics - more Giro d'Italia videos -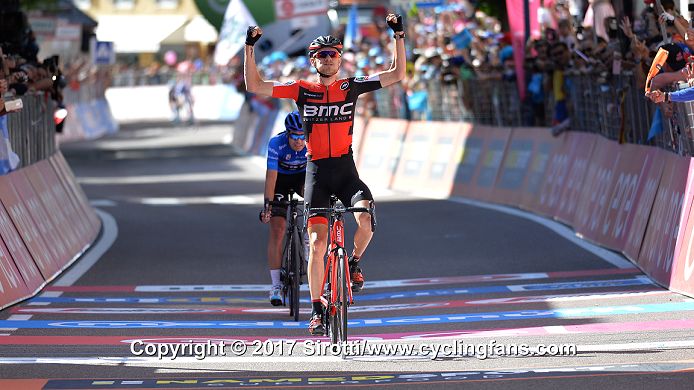 Tejay van Garderen (BMC Racing) wins Stage 18. It was the American's first stage win in a Grand Tour.
- Click for high resolution - more Giro d'Italia photos -
photo Copyright © 2017 Fotoreporter Sirotti/cyclingfans.com
- WATCH interview with Stage 18 winner Tejay van Garderen - more Giro d'Italia videos -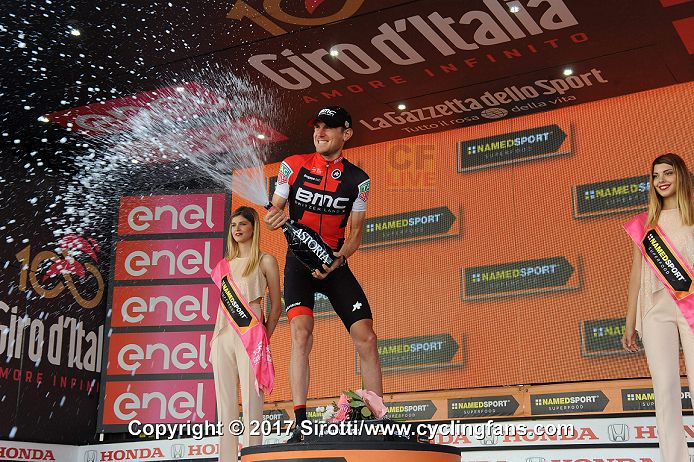 Tejay van Garderen (BMC Racing) sprays champagne from the Stage 18 victory podium.
- Click for high resolution - more Giro d'Italia photos -
photo Copyright © 2017 Fotoreporter Sirotti/cyclingfans.com
- WATCH Tejay van Garderen "It's been a rough couple of years but this is incredible" - more Giro d'Italia videos -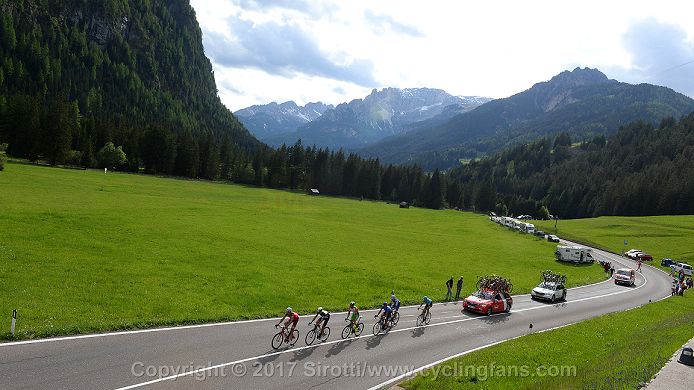 The Giro d'Italia passes into scenic Canazei (Val di Fassa) on Stage 17.
- Click for high resolution - more Giro d'Italia photos -
photo Copyright © 2017 Fotoreporter Sirotti/cyclingfans.com
- WATCH Stage 17 Highlights in English - more Giro d'Italia videos -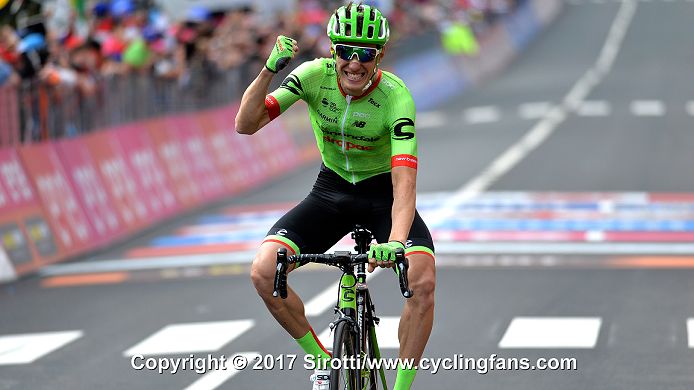 Pierre Rolland (Cannondale-Drapac) solos to victory on Stage 17.
- Click for high resolution - more Giro d'Italia photos -
photo Copyright © 2017 Fotoreporter Sirotti/cyclingfans.com
- WATCH final 10 kilometers of Stage 17 - more Giro d'Italia videos -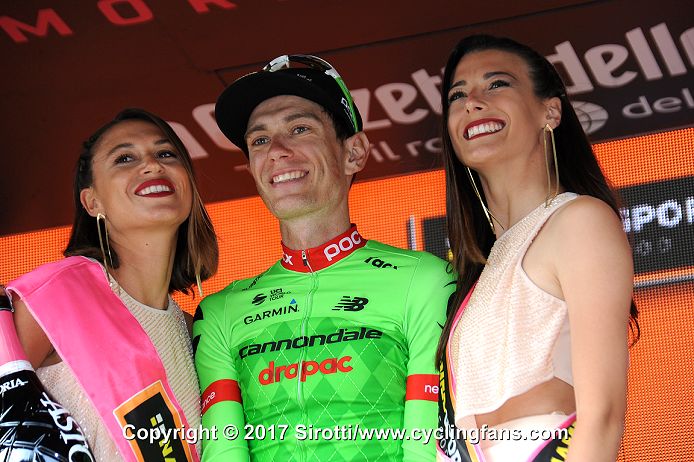 Pierre Rolland (Cannondale) smiles from the Stage 17 victory podium.
- Click for high resolution - more Giro d'Italia photos -
photo Copyright © 2017 Fotoreporter Sirotti/cyclingfans.com
- WATCH Pierre Rolland interview following Stage 17 - more Giro d'Italia videos -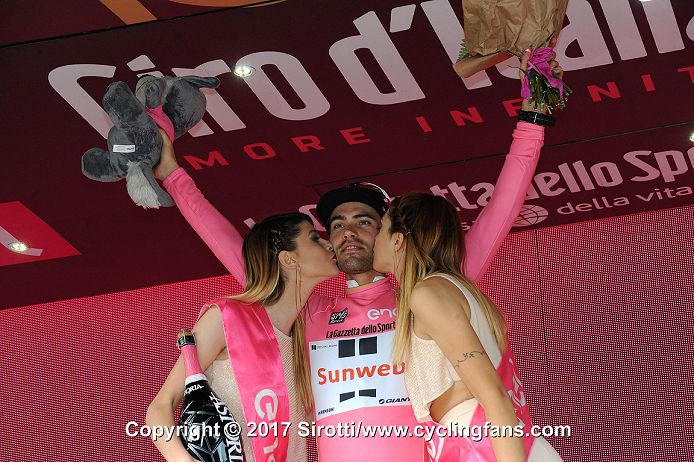 Race leader Tom Dumoulin (Team Sunweb) appeared in a better mood on the podium following Stage 17 than he did after Stage 16.
- Click for high resolution - more Giro d'Italia photos -
photo Copyright © 2017 Fotoreporter Sirotti/cyclingfans.com
- WATCH interview with Tom Dumoulin after Stage 17 - more Giro d'Italia videos -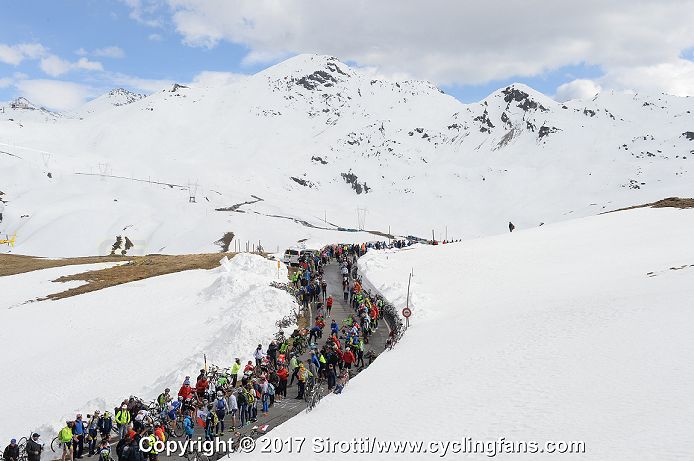 The race passes through a snowy scene on the Umbrail Pass on Stage 16.
- Click for high resolution - more Giro d'Italia photos -
photo Copyright © 2017 Fotoreporter Sirotti/cyclingfans.com
- WATCH Stage 16 Highlights in English - more Giro d'Italia videos -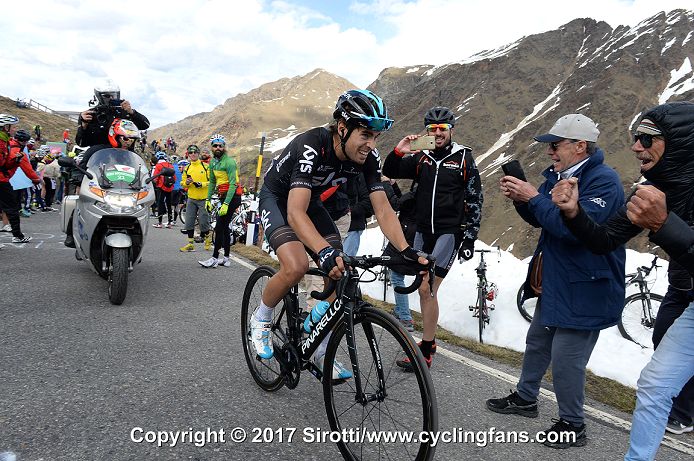 Part of an earlier breakaway, Mikel Landa (Team Sky) is now alone off the front of the race on the Umbrail Pass.
- Click for high resolution - more Giro d'Italia photos -
photo Copyright © 2017 Fotoreporter Sirotti/cyclingfans.com
- WATCH Stage 16 interview with Mikel Landa - more Giro d'Italia videos -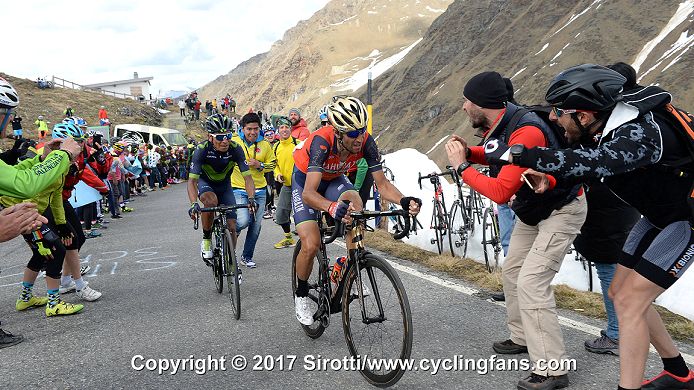 Vincenzo Nibali (Bahrain-Merida) and Nairo Quintana (Movistar) are on the attack on the Umbrail Pass. Nibali started the day 4th overall in the general classification. A stage win is within reach as is a placing in the top three of the overall. Quintana is looking to put as much time into race leader Tom Dumoulin as possible.
- Click for high resolution - more Giro d'Italia photos -
photo Copyright © 2017 Fotoreporter Sirotti/cyclingfans.com
- WATCH Vincenzo Nibali attack with 20 kilometers to go - more Giro d'Italia videos -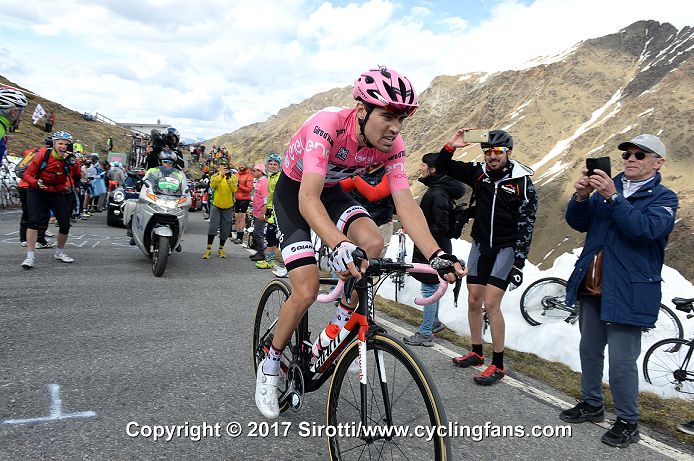 Race leader Tom Dumoulin (Team Sunweb), seen here on the Umbrail Pass, had to dismount his bike on the approach to the climb for a "nature break". The racing went on without him and though he would manage to retain the overall race lead, he lost significant time to his rivals at the finish. He now leads Quintana by just 31 seconds in the overall with lots more mountains to come.
- Click for high resolution - more Giro d'Italia photos -
photo Copyright © 2017 Fotoreporter Sirotti/cyclingfans.com
- WATCH Stage 16 post-race interview/explanation with Tom Dumoulin - more Giro d'Italia videos -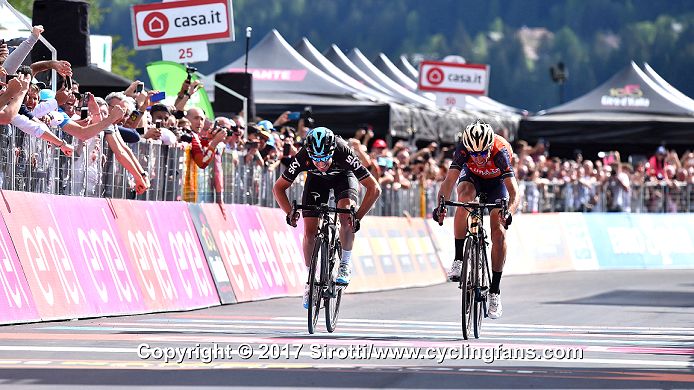 Vincenzo Nibali (Bahrain-Merida) caught Mikel Landa (Team Sky) on the descent of the Umbrailpass. The two would sprint for the line, with Nibali taking the stage victory.
- Click for high resolution - more Giro d'Italia photos -
photo Copyright © 2017 Fotoreporter Sirotti/cyclingfans.com
- WATCH Stage 16 finish as Mikel Landa and Vincenzo Nibali battle for the stage win - more Giro d'Italia videos -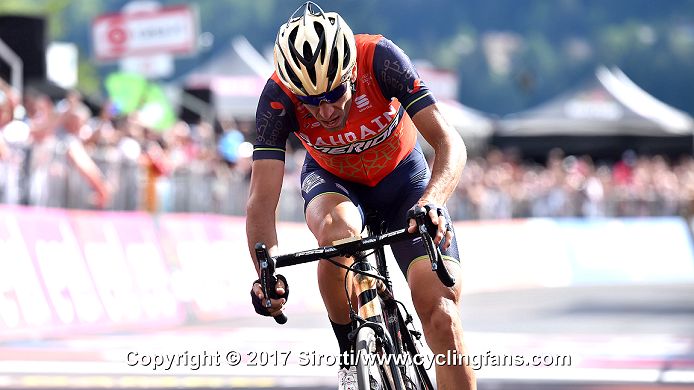 Vincenzo Nibali (Bahrain-Merida) wins Stage 16 in Bormio and moves into third place overall.
- Click for high resolution - more Giro d'Italia photos -
photo Copyright © 2017 Fotoreporter Sirotti/cyclingfans.com
- WATCH interview with Stage 16 winner Vincenzo Nibali - more Giro d'Italia videos -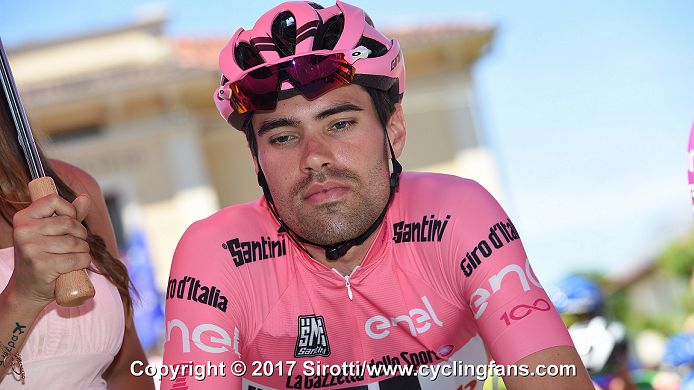 The race leader: Tom Dumoulin (Team Sunweb), appearing in a contemplative mood before Stage 15, has been brilliant so far in this 100th Giro d'Italia. How long will this last as the Giro heads into the final, mountains-heavy week? We'll see but even if he loses the jersey, Dumoulin can count on the final stage Individual Time Trial to get back time. It should be a great final week.
- Click for high resolution - more Giro d'Italia photos -
photo Copyright © 2017 Fotoreporter Sirotti/cyclingfans.com
- WATCH Tom Dumoulin talk about why he stopped the peloton after the Quintana crash - more Giro d'Italia videos -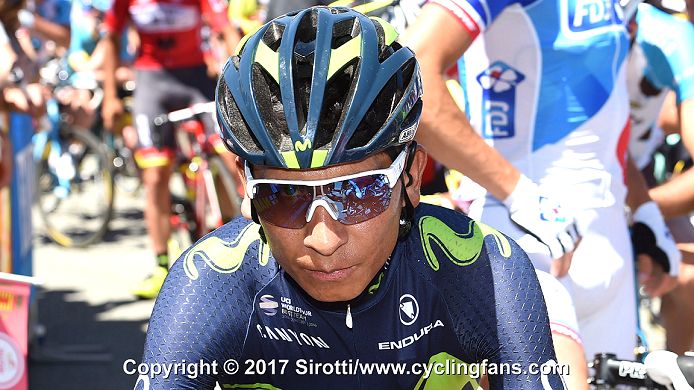 The challenger: He was the favorite and now entering the Giro's final week, 2014 Giro winner Nairo Quintana will need to attack, and drop, Tom Dumoulin in the mountains. If he can grab the pink jersey back from Dumoulin, he'll likely still need a couple of minutes lead heading into the final stage ITT if he is going to win the Giro. There should be plenty of fireworks this week.
- Click for high resolution - more Giro d'Italia photos -
photo Copyright © 2017 Fotoreporter Sirotti/cyclingfans.com
- WATCH Rest Day 3 press conference with Nairo Quintana - more Giro d'Italia videos -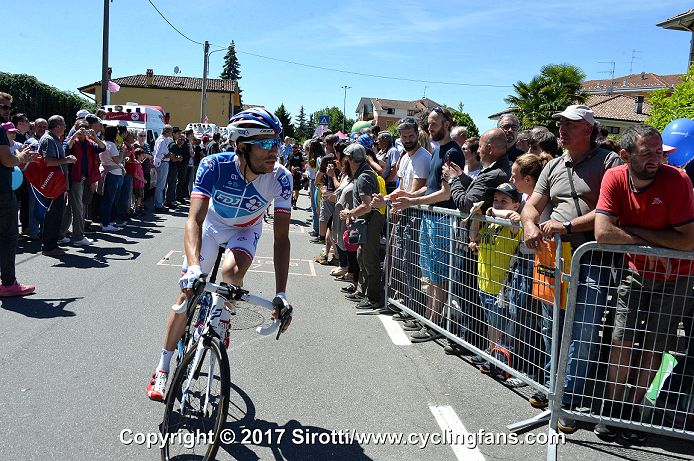 Third overall, for the moment: Thibaut Pinot (FDJ), pictured riding at the start of Stage 15, has just a 19 seconds advantage on Vincenzo Nibali, 4th overall heading into Tuesday's Stage 16.
- Click for high resolution - more Giro d'Italia photos -
photo Copyright © 2017 Fotoreporter Sirotti/cyclingfans.com
- WATCH Rest Day 3 interview with Thibaut Pinot (French) - more Giro d'Italia videos -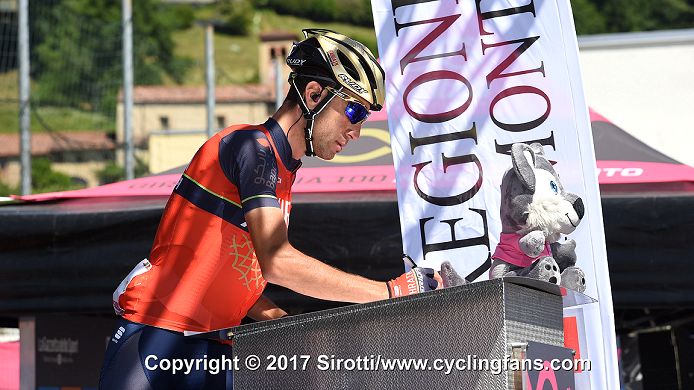 The Shark, aka the descender: Vincenzo Nibali signs in before the start of Stage 15. Nibali should help dynamite things in this final week, particularly on the descents where he excels. The podium is within reach.
- Click for high resolution - more Giro d'Italia photos -
photo Copyright © 2017 Fotoreporter Sirotti/cyclingfans.com
- WATCH interview with Vincenzo Nibali after Stage 15 (Italian) - more Giro d'Italia videos -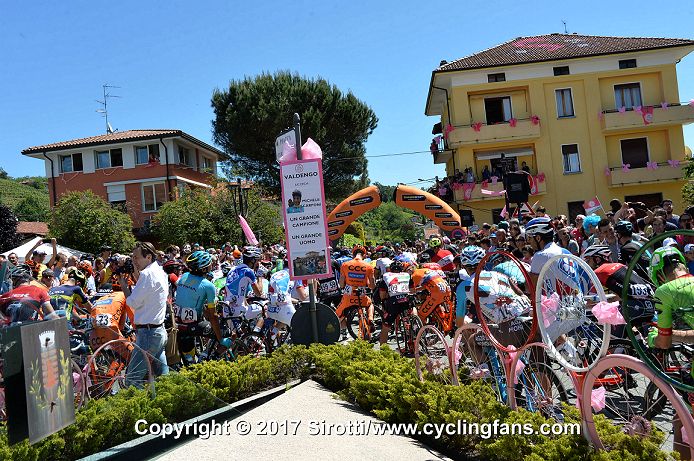 The peloton awaits the start of Stage 15 in a festive Valengo. And Michele Scarponi is not forgotten...
- Click for high resolution - more Giro d'Italia photos -
photo Copyright © 2017 Fotoreporter Sirotti/cyclingfans.com
- WATCH Orica-Scott Stage 15 pre-race Backstage Pass - more Giro d'Italia videos -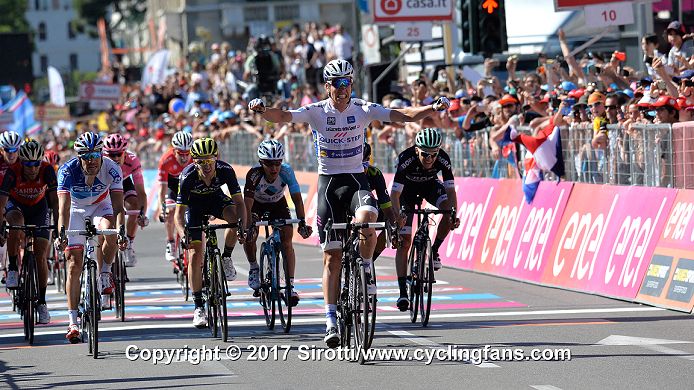 Previous race leader Bob Jungels (Quick-Step Floors) wins Stage 15 in Bergamo.
- Click for high resolution - more Giro d'Italia photos -
photo Copyright © 2017 Fotoreporter Sirotti/cyclingfans.com
- WATCH Stage 15 finish - more Giro d'Italia videos -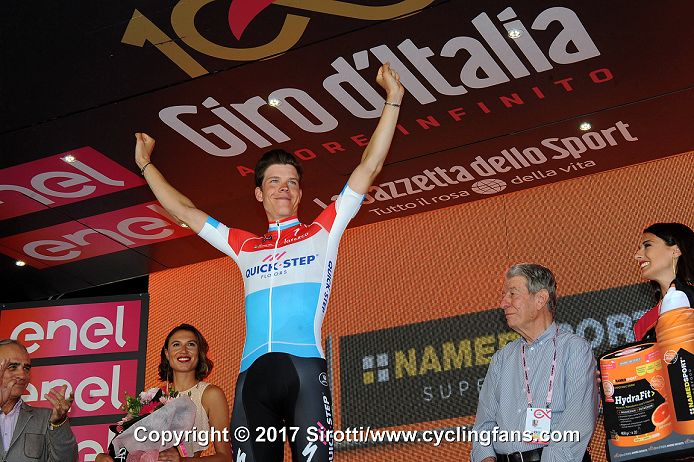 Bob Jungels (QuickStep Floors) raises his arms on the Stage 15 victory podium.
- Click for high resolution - more Giro d'Italia photos -
photo Copyright © 2017 Fotoreporter Sirotti/cyclingfans.com
- WATCH interview with Bob Jungels after Stage 15 - more Giro d'Italia videos -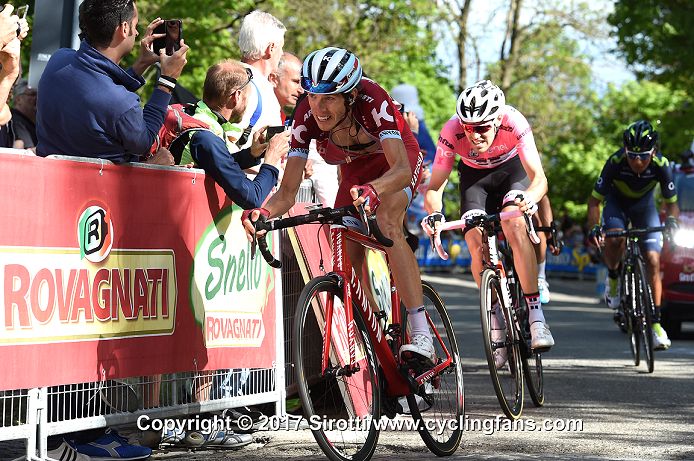 As expected, there were fireworks on Stage 14 to Oropa, with Ilnur Zakarin (Katusha-Alpecin), left, and Nairo Quintana (Movistar) lighting things up. But race leader Tom Dumoulin (Team Sunweb), middle, controlled things perfectly and even went on to win the stage.
- Click for high resolution - more Giro d'Italia photos -
photo Copyright © 2017 Fotoreporter Sirotti/cyclingfans.com
- WATCH final Stage 14 Official Highlights in English - more Giro d'Italia videos -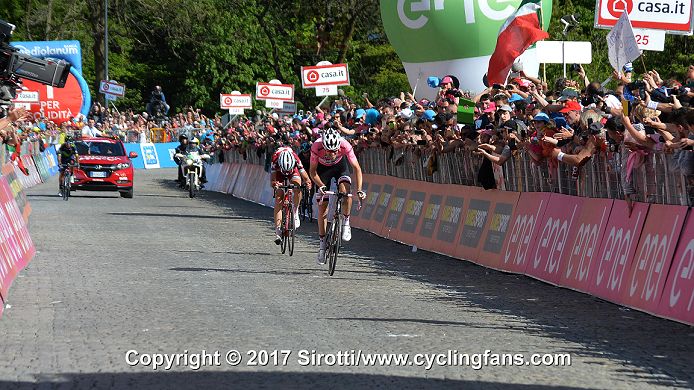 Race leader Tom Dumoulin (Team Sunweb), in pink, races to the line and wins Stage 14 atop Oropa.
- Click for high resolution - more Giro d'Italia photos -
photo Copyright © 2017 Fotoreporter Sirotti/cyclingfans.com
- WATCH final 10 kilometers of Stage 14 - more Giro d'Italia videos -

Climber Nairo Quintana (Movistar) finished 4th on the day and lost time to Dumoulin. He will look to the final, mountain-heavy week to try and grab back the leader jersey.
- Click for high resolution - more Giro d'Italia photos -
photo Copyright © 2017 Fotoreporter Sirotti/cyclingfans.com
- WATCH Nairo Quintana interview following Stage 14 - more Giro d'Italia videos -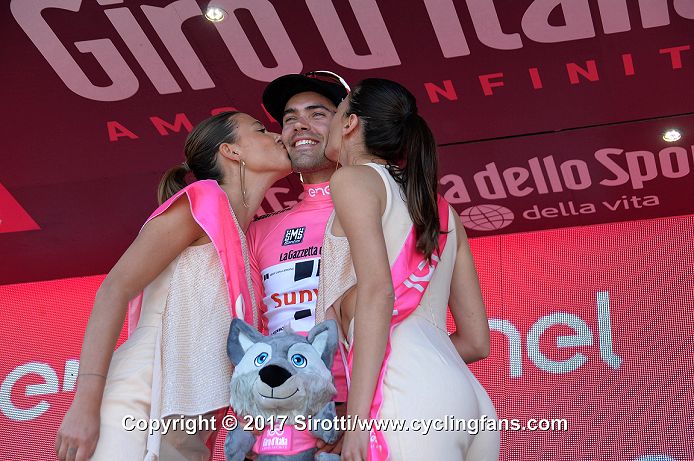 Tom Dumoulin enjoys another visit to the race leader podium.
- Click for high resolution - more Giro d'Italia photos -
photo Copyright © 2017 Fotoreporter Sirotti/cyclingfans.com
- WATCH final Stage 14 interview with race leader Tom Dumoulin - more Giro d'Italia videos -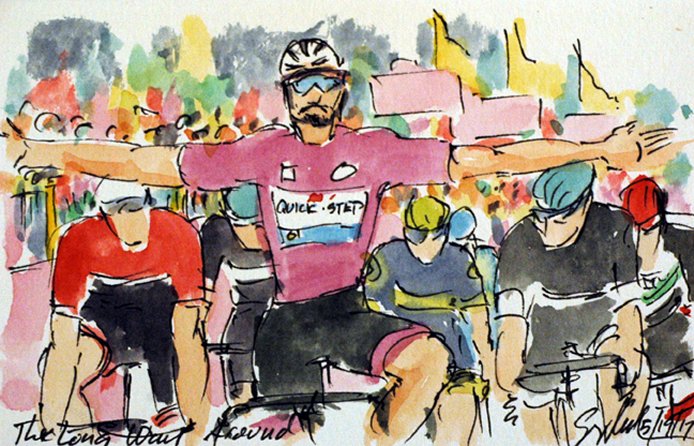 2017 Giro d'Italia Stage 13 art: "The Long Way Around - Fernando Gaviria (Quickstep), Jasper Stuyven (Trek-Segafredo), Sam Bennett, Rudiger Selig (Bora-Hansgrohe), Roberto Ferrari (UAE Team Emirates), Caleb Ewan (Orica-Scott)" by Greig Leach. More The Art of Cycling -
Sponsored by Richeson Art -
Copyright © 2017 Greig Leach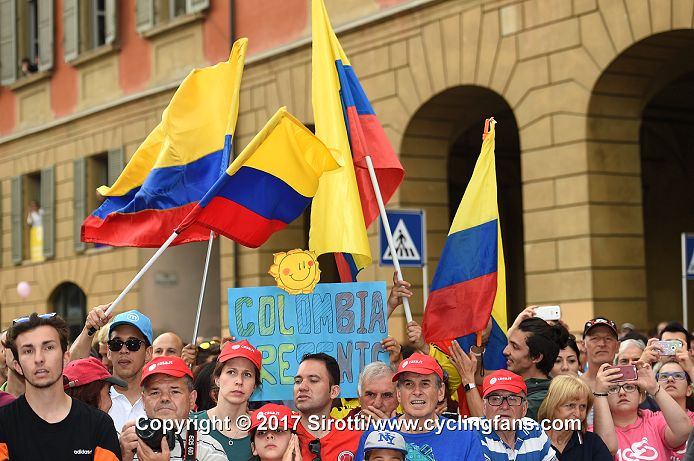 Colombia cycling fans make their presence known at the start of Stage 13 in Reggio Emilia. They have plenty to cheer for as Colombian Fernando Gaviria is the sprint star of the 2017 Giro and Nairo Quintana, currently second overall, aims to re-gain the race lead in the mountains.
- Click for high resolution - more Giro d'Italia photos -
photo Copyright © 2017 Fotoreporter Sirotti/cyclingfans.com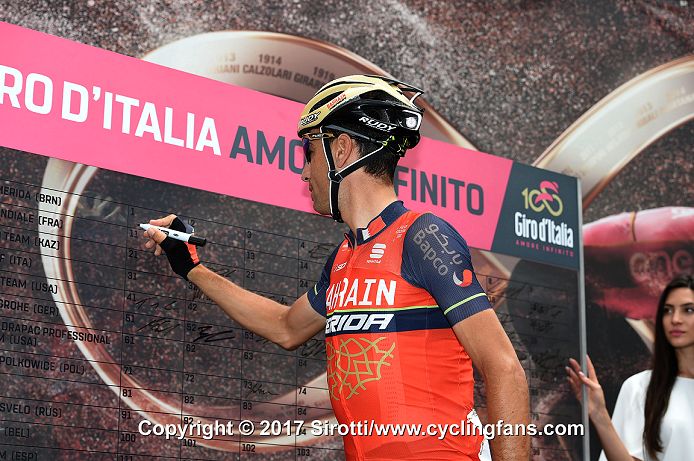 Defending Giro champion Vincenzo Nibali (Bahrain-Merida) signs in at the start of Stage 13. Nibali is 5th overall as the Giro heads back into the mountains.
- Click for high resolution - more Giro d'Italia photos -
photo Copyright © 2017 Fotoreporter Sirotti/cyclingfans.com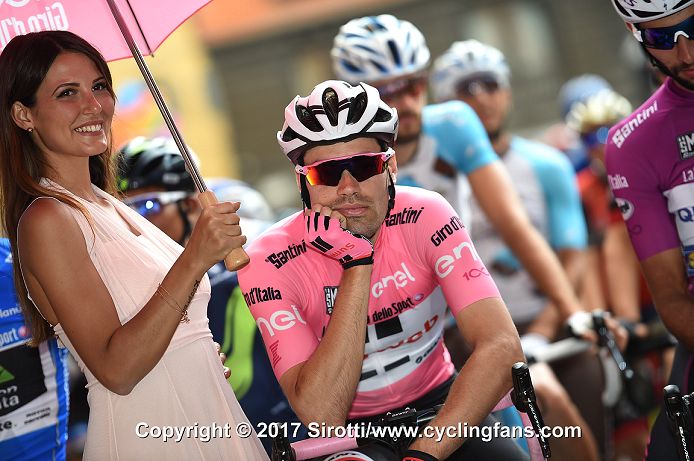 Race leader Tom Dumoulin, who described transition stages as boring, looks bored before the start of Stage 13. Things should get significantly less boring with Stage 14 on Saturday.
- Click for high resolution - more Giro d'Italia photos -
photo Copyright © 2017 Fotoreporter Sirotti/cyclingfans.com
- WATCH final Stage 13 Official Highlights in English - more Giro d'Italia videos -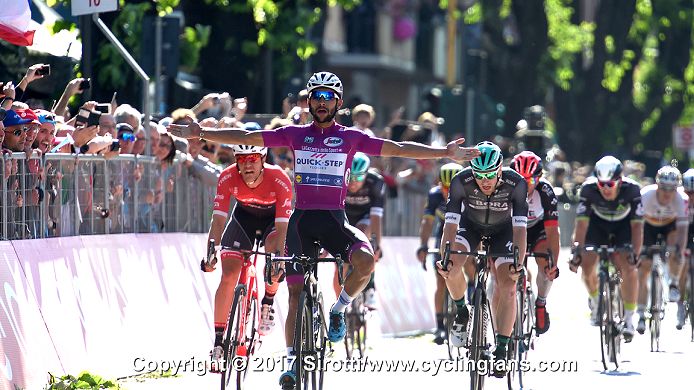 Fernando Gaviria (Quick-Step Floors) wins Stage 13. It was his second consecutive stage win and his fourth overall in this Giro.
- Click for high resolution - more Giro d'Italia photos -
photo Copyright © 2017 Fotoreporter Sirotti/cyclingfans.com
- WATCH Stage 13 final sprint - more Giro d'Italia videos -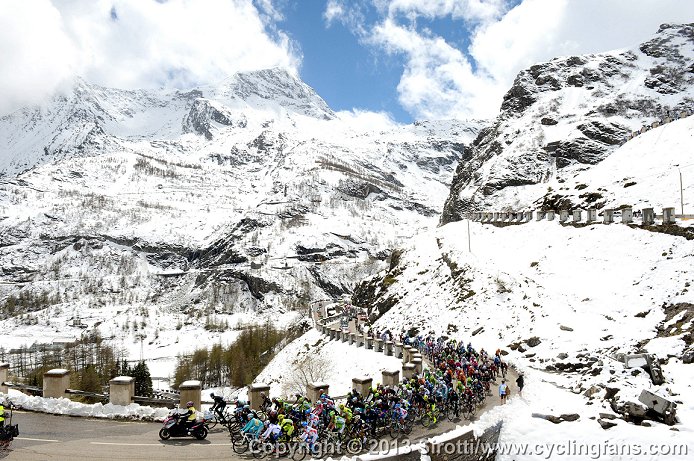 2017 Giro d'Italia LIVE coverage. 13th consecutive year at CF! At cyclingfans.com, you can watch and follow the Giro live for free from your desktop computers, tablets (including iPad, Samsung), smartphones (iPhone, Android) and other devices. If you have problems, contact me via email or Twitter. - Pete
- Click for high resolution -
photo Copyright © 2013 Fotoreporter Sirotti/cyclingfans.com