2018 Giro d'Italia LIVE stream, Preview, Start List, Route Details, Results, Photos, Stage Profiles, On Demand online
Submitted by admin on Sun, 05/20/2018 - 16:15

Follow cyclingfans on Twitter and never miss a race. Cyclingfans.com: The #1 destination on the internet for live race coverage.
- 2018 Giro d'Italia Live Online Coverage Guide -
- Giro d'Italia LIVE -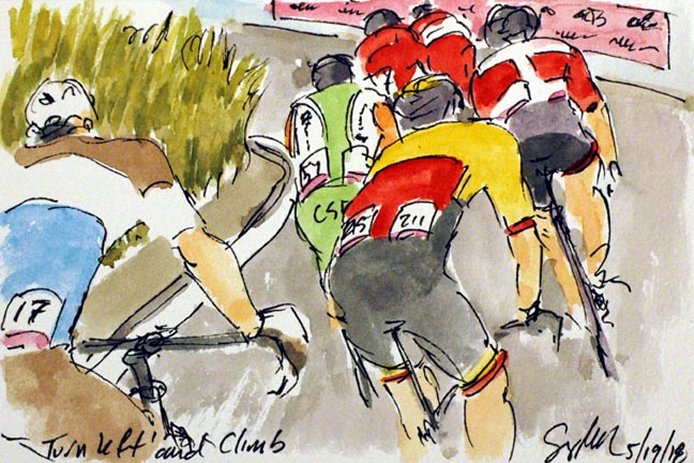 2018 Giro d'Italia art: The Giro in the mountains - Stage 14 Gallery - by Greig Leach. More The Art of Cycling -
Sponsored by Richeson Art -
Copyright © 2018 Greig Leach
2018 Giro d'Italia Stage 16 Profile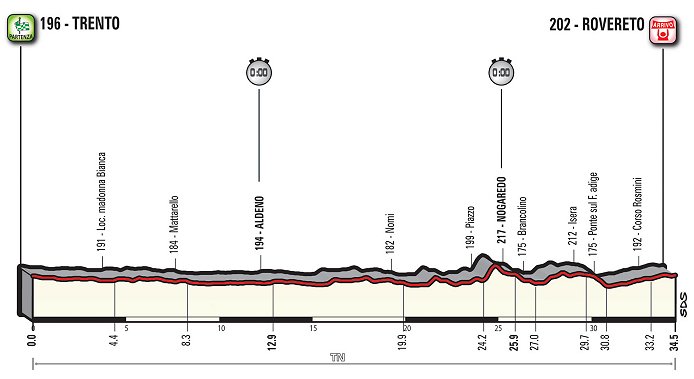 Cyclingfans.com Giro TourTracker w/live profile, GPS tracking, gaps, etc.

Notes: (latest notes always appear at the top)

- Viewers in U.S.A. and Canada: Watch it LIVE or watch it later. You can watch the Tour de France (USA only), Giro d'Italia and many other races throughout the season in HD LIVE and On Demand via Fubo TV. 7-day Free trial. (List of races and more info here.) Also, see Fubo Cycling Schedule.

- Monday is a rest day at the Giro d'Italia. The race resumes Tuesday with Stage 16.

- News: Simon Yates: The finale was the hardest 15km of my life. (Cyclingnews) - Briton joins Merckx, Simoni and Pantani after taking third stage win in maglia rosa at the Giro d'Italia.

- News: Simon Yates takes his third stage win in Sappada. (Cyclingnews) - Mitchelton-Scott rider extends overall lead, Dumoulin loses time.

- Art: 2018 Giro d'Italia Stage 14 Gallery. (by Greig Leach)

- Videos: Giro d'Italia Videos

- This page will be updated throughout the race.




- Results: Giro d'Italia Results

- Photos: Giro d'Italia Photos

- Art: Giro d'Italia Art

- Stage 16 route details in table below.

- Race leader Simon Yates (Mitchelton-Scott) won Stage 15.

- 2018 Giro d'Italia Stage Previews, Towns, Timetables, Profiles:

Stage details
Stage profiles
Stage 1: Friday, May 4
Jerusalem/Jerusalem (9.7 km ITT)
Map, timetable, preview and more here.
Stage 2: Saturday, May 5
Haifa/Tel Aviv (167 km)
Map, timetable, preview and more here.
Stage 3: Sunday, May 6
Be'er Sheva/Eilat (229 km)
Map, timetable, preview and more here.
Rest Day: Monday, May 7
Stage 4: Tuesday, May 8
Catania/Caltagirone (191 km)
Map, timetable, preview and more here.
Stage 5: Wednesday, May 9
Agrigento/Santa Ninfa (Valle del Belice) (152 km)
Map, timetable, preview and more here.
Stage 6: Thursday, May 10
Caltanissetta/Etna (163 km)
Map, timetable, preview and more here.
Stage 7: Friday, May 11
Pizzo/Praia a Mare (159 km)
Map, timetable, preview and more here.
Stage 8: Saturday, May 12
Praia a Mare/Montevergine di Mercogliano (208 km)
Map, timetable, preview and more here.
Stage 9: Sunday, May 13


Pesco Sannita/Gran Sasso d'Italia (Campo Imperatore)

(224 km)
Map, timetable, preview and more here.
Rest Day: Monday, May 14
Stage 10: Tuesday, May 15
Penne/Gualdo Tadino (239 km)
Map, timetable, preview and more here.
Stage 11: Wednesday, May 16
Assisi/Osimo (156 km)
Map, timetable, preview and more here.
Stage 12: Thursday, May 17
Osimo/Imola (213 km)
Map, timetable, preview and more here.
Stage 13: Friday, May 18
Ferrara/Nervesa della Battaglia (180 km)
Map, timetable, preview and more here.
Stage 14: Saturday, May 19
San Vito al Tagliamento/Monte Zoncolan (181 km)
Map, timetable, preview and more here.
Stage 15: Sunday, May 20
Tolmezzo/Sappada (176 km)
Map, timetable, preview and more here.
Rest Day: Monday, May 21
Stage 16: Tuesday, May 22
Trento/Rovereto (34.5 km ITT)
Map, timetable, preview and more here.
Stage 17: Wednesday, May 23
Riva del Garda/Iseo (155 km)
Map, timetable, preview and more here.
Stage 18: Thursday, May 24
Abbiategrasso/Prato Nevoso (196 km)
Map, timetable, preview and more here.
Stage 19: Friday, May 25
Venaria Reale/Bardonecchia (181 km)
Map, timetable, preview and more here.
Stage 20: Saturday, May 26
Susa/Cervinia (214 km)
Map, timetable, preview and more here.
Stage 21: Sunday, May 27
Rome/Rome (118 km)
Map, timetable, preview and more here.

- Start List here (provisional).

- Race winner Simon Yates (Mitchelton-Scott) following his Stage 15 victory: "It was a bit of instinct. When we came off the descent I saw there was a little gap to a few guys so I asked Jack (Haig) to really push the pace. Then George Bennett (LottoNL-Jumbo) attacked so it was basically really hard from the very bottom, but I still felt good so I chose my moment to go. They responded the first time so I gave it everything the second time to get away and finally managed to get away. I am super happy, I am a bit emotional after today, I really gave it everything. Yesterday it was extremely difficult and today was the same. I knew everybody would be tired today. I was also really tired but, at the same time, I was very motivated to take as much time as I could on Tom [Dumoulin] before the time trial."

- Official tracking/ticker LIVE here. Cyclingnews ticker LIVE here.

- LIVE video here. (English, U.S.A. & Canada, Watch it LIVE + On Demand via in-the-cloud DVR feature, FuboTV Cycling Channel, HD quality) More info here.

- LIVE video here. (Rai Sport, geo-restricted) - LIVE video here. (L'Équipe, geo-restricted) - LIVE video here. (Eitb, geo-restricted) - LIVE video here. (Señal Colombia, geo-restricted) - LIVE video here. (Sky Sport, geo-restricted) - LIVE video here. (SuperSport, geo-restricted) - LIVE video here. (Rai 2, geo-restricted) - LIVE video here. (Rsi La2, geo-restricted)

- LIVE video here. (English, U.S.A. & Canada, FuboTV Cycling, HD)

- LIVE video here. (Hebrew, Sport5)

- LIVE video here and here. (French, L'Équipe)

- LIVE video here. (Italian, Rai 2)

- LIVE video here. (Italian, Rsi La2)

- LIVE video here and here. (Italian, Rai Sport) - switched to Rai 2

- News: Saturday in Hell: Monte Zoncolan leaves its mark on the Giro d'Italia. (Cyclingnews) - Santa Claus, dinosaurs and a line of Alpini on the iconic summit.

- News: Stage 14 finish line quotes. (Cyclingnews) - Gaps begin to widen on Monte Zoncolan.

- News: Chris Froome conquers Monte Zoncolan. (Cyclingnews) - Yates keeps maglia rosa, Dumoulin limits his losses.

- Results: Giro d'Italia Stage 14 Top 40 results:

1
2
3
4
5
6
7
8
9
10
11
12
13
14
15
16
17
18
19
20
21
22
23
24
25
26
27
28
29
30
31
32
33
34
35
36
37
38
39
40
FROOME Chris
YATES Simon Philip
POZZOVIVO Domenico
LOPEZ Miguel Angel
DUMOULIN Tom
PINOT Thibaut
POELS Wout
REICHENBACH Sebastien
BILBAO P.
WOODS Michael
KONRAD Patrick
BENNETT George
CARAPAZ Richard
BETANCUR Carlos
OOMEN Sam
O'CONNOR Ben
ARU Fabio
FORMOLO Davide
DENNIS Rohan
CICCONE Giulio
GENIEZ Alexandre
HENAO Sergio
HAIG Jack
PREIDLER Georg
GROSSSCHARTNER Felix
SCHACHMANN Maximilian
GESINK Robert
DE LA CRUZ David
ULISSI Diego
CHEREL Mikael
CONTI Valerio
DUPONT Hubert
GONCALVES Jose'
MEINTJES Louis
BIDARD Francois
POLANC Jan
TORRES Rodolfo Andre
ANTON HERNANDEZ Igor
HIRT Jan
DE LA PARTE Victor
TEAM SKY
MITCHELTON - SCOTT
BAHRAIN - MERIDA
ASTANA PRO TEAM
TEAM SUNWEB
GROUPAMA - FDJ
TEAM SKY
GROUPAMA - FDJ
ASTANA PRO TEAM
EF EDUCATION FIRST
BORA - HANSGROHE
TEAM LOTTO NL - JUMBO
MOVISTAR TEAM
MOVISTAR TEAM
TEAM SUNWEB
TEAM DIMENSION DATA
UAE TEAM EMIRATES
BORA - HANSGROHE
BMC RACING TEAM
BARDIANI CSF
AG2R LA MONDIALE
TEAM SKY
MITCHELTON - SCOTT
GROUPAMA - FDJ
BORA - HANSGROHE
QUICK-STEP FLOORS
TEAM LOTTO NL - JUMBO
TEAM SKY
UAE TEAM EMIRATES
AG2R LA MONDIALE
UAE TEAM EMIRATES
AG2R LA MONDIALE
TEAM KATUSHA ALPECIN
TEAM DIMENSION DATA
AG2R LA MONDIALE
UAE TEAM EMIRATES
ANDRONI GIOCATTOLI-SIDERMEC
TEAM DIMENSION DATA
ASTANA PRO TEAM
MOVISTAR TEAM

- Race leader Simon Yates (Mitchelton-Scott) following Stage 14: "I tried to go for the stage. I did my best to catch Chris. I just didn't have enough to get it. But as far as the Maglia Rosa is concerned, it's all good to be second here. As expected, the gaps aren't massive. I'm still happy with the gap to Tom [Dumoulin] and the rest of the guys behind. I wasn't more nervous than the other days, as much as I am sure that Tom is confident ahead of time trials. I couldn't follow Froome – he went at a really good moment. He put in a really strong acceleration. It was still a long way to go. I rode my own tempo at that moment – he didn't get a huge gap. I tried to bridge but that's ok. I did the best I could."

- Chris Froome (Team Sky) won Stage 14 to Monte Zoncolan. Simon Yates (Mitchelton-Scott) retained the overall race lead.

- News: Viviani wins stage 13 in Nervesa della Battaglia. (Cyclingnews) - Simon Yates stays in the maglia rosa.

- Elia Viviani (Quick-Step Floors) following his victory on Stage 13: "This is the nicest and the most emotional victory of the three I got. We rode over some roads I knew from when I started my career and which brought back the memories, so this makes today's win even more special."

- Elia Viviani (Quick-Step Floors) won Stage 13. Simon Yates (Mitchelton-Scott) remains overall leader.

- News: Simon Yates: There are no easy days here at the Giro d'Italia. (Cyclingnews) - Mitchelton-Scott leader avoids the split on the rain-soaked road to Imola.

- News: Rain, punishing finale put GC contenders on the defensive in Imola. (Cyclingnews) - Carapaz, López and Pozzovivo fight back from late split after 10-kilometre chase.

- News: Sam Bennett goes the distance to double up at Giro d'Italia. (Cyclingnews) - Irishman claims second stage win with long sprint in Imola.

- News: Stage 12 finish line quotes. (Cyclingnews) - Bennett catches them by surprise in Imola.

- News: Sam Bennett wins stage 12 in Imola. (Cyclingnews) - Simon Yates finishes safely in maglia rosa in rain-soaked finish.

- Sam Bennett (Bora-Hansgrohe) following his victory on Stage 12: "The way it happened, that I had to go so early and I pulled it off – that's a nice way to win. It gives me confidence. We still had two guys in front. I didn't know how much energy they had left, but I didn't want another stage getting away from me, so I decided to go early. I didn't know if I could hold it or not. I think I caught some guys by surprise, so it worked to my advantage. The guys did an unbelievable job today, especially in the final kilometres. The victory wouldn't have happened without them, today was a real team effort."

- Sam Bennett (Bora-Hansgrohe) won Stage 12. Simon Yates (Mitchelton-Scott) retained the lead on G.C.

- Art: 2018 Giro d'Italia Stage 10 Gallery. (by Greig Leach)

- News: Simon Yates: My Everest is next week's time trial. (Cyclingnews) - Briton gains more time on Dumoulin and other Giro d'Italia rivals with second stage win.

- News: Stage 11 finish line quotes. (Cyclingnews) - Reaction from Froome, Yates, and others in Osima.

- News: Yates wins again in Osimo. (Cyclingnews) - Froome loses even more time as maglia rosa rips up final climb.

- Results: Giro d'Italia Stage 11 Top 30 results:

1
2
3
4
5
6
7
8
9
10
11
12
13
14
15
16
17
18
19
20
21
22
23
24
25
26
27
28
29
30
YATES
DUMOULIN
FORMOLO
GENIEZ
POZZOVIVO
KONRAD
PINOT
SCHACHMANN
DENNIS
ARU
CARAPAZ
BENNETT
ULISSI
BETANCUR
LOPEZ
WELLENS
OOMEN
BATTAGLIN
GONÇALVES
BILBAO
O'CONNOR
KREUZIGER
FROOME
BRAMBILLA
CHEREL
POELS
CATTANEO
VLIEGEN
DUPONT
NEILANDS
Simon
Tom
Davide
Alexandre
Domenico
Patrick
Thibaut
Maximilian
Rohan
Fabio
Richard
George
Diego
Carlos
Miguel A.
Tim
Sam
Enrico
José
Pello
Ben
Roman
Chris
Gianluca
Mikael
Wout
Mattia
Loïc
Hubert
Krists
MITCHELTON - SCOTT
TEAM SUNWEB
BORA - HANSGROHE
AG2R LA MONDIALE
BAHRAIN - MERIDA
BORA - HANSGROHE
GROUPAMA - FDJ
QUICK - STEP FLOORS
BMC RACING TEAM
UAE TEAM EMIRATES
MOVISTAR TEAM
TEAM LOTTO NL - JUMBO
UAE TEAM EMIRATES
MOVISTAR TEAM
ASTANA PRO TEAM
LOTTO SOUDAL
TEAM SUNWEB
TEAM LOTTO NL - JUMBO
TEAM KATUSHA ALPECIN
ASTANA PRO TEAM
TEAM DIMENSION DATA
MITCHELTON - SCOTT
TEAM SKY
TREK - SEGAFREDO
AG2R LA MONDIALE
TEAM SKY
ANDRONI GIOCATTOLI
BMC RACING TEAM
AG2R LA MONDIALE
ISRAEL CYCLING ACADEMY
3:25:53
3:25:55
3:25:58
3:26:01
3:26:01
3:26:01
3:26:01
3:26:04
3:26:11
3:26:14
3:26:16
3:26:16
3:26:19
3:26:23
3:26:23
3:26:26
3:26:26
3:26:29
3:26:29
3:26:29
3:26:29
3:26:29
3:26:33
3:26:33
3:26:33
3:26:33
3:26:33
3:26:37
3:26:41
3:26:49

- Race leader Simon Yates (Mitchelton-Scott) following his Stage 11 victory: "I only just won. He (Dumoulin) was chasing me all the way in the final there, it was an extremely difficult final. I am super happy and I would like to have a few easy days now before we get to the mountains. There was a plan from the beginning. The overall plan from the start in the bus was that we wouldn't chase through the stage because usually there are guys faster than me in a finish like that. We just let it happen and if it came back then I would obviously go for it. We would try to get to the right hander at the front and then I would do what I could from there and that actually worked out perfectly. As for Tom behind me, I didn't actually know until we crested the climb a little bit towards the top because I was just going full gas and I don't like to look behind, if I did I wasn't paying attention to who it was."

- Race leader Simon Yates (Mitchelton-Scott) won Stage 11.

- News: White: We're still trying to win the Giro d'Italia. (Cyclingnews) - Mitchelton-Scott management puts on a brave face as Chaves' GC hopes evaporate.

- News: Giro d'Italia 2018: Stage 10 finish line quotes. (Cyclingnews) - Mohoric thanks Pozzovivo, Yates sole leader, Chaves loses time, Sky strategy.

- News: Simon Yates: I'm very disappointed for Esteban. (Cyclingnews) - Maglia rosa picks up time bonuses in 10th stage at the Giro d'Italia, teammate loses time.

- News: Chris Froome 'feeling better' after tough Giro d'Italia stage. (Cyclingnews) - Sky leader happy not to lose any time.

- News: Mohoric wins stage 10. (Cyclingnews) - Chaves loses major time.

- Race leader Simon Yates (Mitchelton-Scott) following Stage 10: "You don't really know how the body responds after a rest day, I am very dissapointed for him (Chaves) but hopefully he can bounce back and get a few stage wins. I was going to go for the bonus seconds, and once I saw Pinot was lining up with the team to do a lead out for the sprint I came behind him and managed to beat him in the sprint. I am going to need every second I can so maybe I need to start sprinting for more than bonus seconds. We will still approach the race in the same way, there's many more difficult stages to come so we will see how it goes."

- Matej Mohoric (Bahrain-Merida) following his Stage 10 victory: "It's such a special day. It was a very long and tough stage. I marked in red it when I saw the route of this year's Giro. We planned to go in the break of the day and I tried at the start with a group of seventeen riders, but then when the peloton saw that Esteban Chaves dropped, they began the chase full gas. In the final I still felt great and I asked to Pozzovivo the permission to go. It was quite hard and I was not so confident to be able to win, but I'm tried my best in the final sprint. I did it and I'm super happy for me and for Team BAHRAIN MERIDA. A stage win was one of the aim here at the Giro, together with the General Classification. Now I will focus on helping our leader Domenico in the next days."

- Matej Mohoric (Bahrain-Merida) won Stage 10. Simon Yates (Mitchelton-Scott) remains overall leader.

- News: Rest Day 2 Recap. (Cyclingnews) - Mitchelton-Scott take control in early mountains.

- News: Tom Dumoulin: I have to climb well to win this Giro d'Italia. (Cyclingnews) - Dutchman feeling upbeat on the second rest day.

- Art: 2018 Giro d'Italia Stage 9 Gallery. (by Greig Leach)

- Results: General classification following Stage 9:

1
2
3
4
5
6
7
8
9
10
11
12
13
14
15
16
17
18
19
20
YATES
CHAVES RUBIO
DUMOULIN
PINOT
POZZOVIVO
CARAPAZ
BENNETT
DENNIS
BILBAO
WOODS
FROOME
KONRAD
LOPEZ MORENO
O'CONNOR
ARU
BETANCUR
OOMEN
HENAO MONTOYA
SCHACHMANN
GENIEZ
Simon Philip
Jhoan Esteban
Tom
Thibaut
Domenico
Richard
George
Rohan
Pello
Michael
Chris
Patrick
Miguel Angel
Ben
Fabio
Carlos
Sam
Sergio Luis
Maximilian
Alexandre
MITCHELTON - SCOTT
MITCHELTON - SCOTT
TEAM SUNWEB
GROUPAMA - FDJ
BAHRAIN - MERIDA
MOVISTAR TEAM
TEAM LOTTO NL - JUMBO
BMC RACING TEAM
ASTANA PRO TEAM
TEAM EF EDUCATION FIRST
TEAM SKY
BORA - HANSGROHE
ASTANA PRO TEAM
TEAM DIMENSION DATA
UAE TEAM EMIRATES
MOVISTAR TEAM
TEAM SUNWEB
TEAM SKY
QUICK - STEP FLOORS
AG2R LA MONDIALE
37:37:15
37:37:47
37:37:53
37:38:00
37:38:12
37:38:35
37:38:48
37:39:20
37:39:20
37:39:40
37:39:42
37:39:49
37:39:49
37:39:51
37:39:51
37:40:01
37:40:09
37:40:29
37:40:52
37:41:27

- Davide Formolo (Bora-Hansgrohe) following Stage 9: "What can I say, I hoped for a better result but as the other climbers increased the pace in the final metres I couldn't follow them or overtake them. But I achieved another top ten result and didn't lose much time in the overall. Tomorrow is rest day, where I will relax and charge my batteries for the next part in this Giro d´Italia."

- News: As Aru suffers, Pozzovivo emerges as Italy's best hope for Giro d'Italia podium. (Cyclingnews) - Bahrain-Merida climber impresses on early mountain finishes.

- News: A busy rest day at the Giro d'Italia - Gallery. (Cyclingnews) - Recovery rides, press conferences and staff football.

- News: Pinot: Yates and Dumoulin are the Giro d'Italia favourites. (Cyclingnews) - Frenchman on the Tour, the Giro and keeping things in perspective.

- News: Simon Yates not surprised by Giro d'Italia showing. (Cyclingnews) - 'It's hard to put a number on it, but I need more time' says race leader.

- News: Simon Yates: I'll need minutes on Dumoulin before time trial. (Cyclingnews) - Briton extends Giro d'Italia lead with Gran Sasso victory.

- News: Portal: Chris Froome's battle to win the Giro d'Italia continues. (Cyclingnews) - Sky director says crashes not to blame for Sunday's poor performance.

- News: Chris Froome: Giro d'Italia victory is not likely but stranger things have happened. (Cyclingnews) - Team Sky rider admits Jerusalem crash has held him back but vows to fight on.

- Monday is a rest day at the Giro d'Italia. The race resumes Tuesday with Stage 10.

- Art: 2018 Giro d'Italia Stage 8 Gallery. (by Greig Leach)

- News: Simon Yates wins at Gran Sasso d'Italia. (Cyclingnews) - Froome, Aru distanced, Dumoulin drops to third.

- Race leader Simon Yates (Mitchelton-Scott) following his Stage 9 victory: "That one was for the boys, the big guys who've been riding on the front all day. They've had a couple of tough days, always riding on the front on some really long stages. That's for those guys. From the beginning of the stage today, we were always thinking that if we kept the break close enough then it might be possible for the stage. Once Astana showed some interest in the stage then I knew it was possible. You never know deep into the final. It was a very long stage, a hard race in the end, I'm really tired but I'm happy that I managed to win the stage. I said from the beginning that we came here to win."

- Stage 9 Top 20 Results:

1
2
3
4
5
6
7
8
9
10
11
12
13
14
15
16
17
18
19
20
YATES
PINOT
CHAVES RUBIO
POZZOVIVO
CARAPAZ
FORMOLO
BENNETT
DUMOULIN
LOPEZ MORENO
CICCONE
O'CONNOR
WOODS
KONRAD
BILBAO
BETANCUR
MEINTJES
POELS
REICHENBACH
GENIEZ
OOMEN
Simon Philip
Thibaut
Jhoan Esteban
Domenico
Richard
Davide
George
Tom
Miguel Angel
Giulio
Ben
Michael
Patrick
Pello
Carlos
Louis
Wout
Sébastien
Alexandre
Sam
MITCHELTON - SCOTT
GROUPAMA - FDJ
MITCHELTON - SCOTT
BAHRAIN - MERIDA
MOVISTAR TEAM
BORA - HANSGROHE
TEAM LOTTO NL - JUMBO
TEAM SUNWEB
ASTANA PRO TEAM
BARDIANI CSF
TEAM DIMENSION DATA
TEAM EF EDUCATION FIRST
BORA - HANSGROHE
ASTANA PRO TEAM
MOVISTAR TEAM
TEAM DIMENSION DATA
TEAM SKY
GROUPAMA - FDJ
AG2R LA MONDIALE
TEAM SUNWEB
5:54:13
5:54:13
5:54:13
5:54:17
5:54:17
5:54:23
5:54:25
5:54:25
5:54:25
5:54:37
5:54:39
5:54:49
5:54:51
5:55:05
5:55:05
5:55:13
5:55:15
5:55:15
5:55:15
5:55:15

- Race leader Simon Yates (Mitchelton-Scott) won Stage 9.

- Art: 2018 Giro d'Italia Stage 6 Gallery. (by Greig Leach)

- News: Carapaz makes history with Giro d'Italia stage win. (Cyclingnews) - Froome has another minor crash on wet final climb.

- Race leader Simon Yates (Mitchelton-Scott) following Stage 8: "We wanted to be in front for the climb. We knew, because of the rain in the final, the hairpins would be very slippery. We wanted to take them in the front. We rode an even tempo. It was a very hard start, so maybe the breakaway didn't have good enough legs to stay away. Maybe I would have liked to take some bonus seconds in the final, but I got a little boxed in and I couldn't get out to sprint. It's one of those things. The climb wasn't that difficult. It would have been very hard to make a big difference. Tomorrow is a much more difficult climb. We'll have to see - if I have legs, I'll try. If not, I won't."

- Richard Carapaz (Movistar) won Stage 8. Simon Yates (Mitchelton-Scott) remains leader on G.C.

- News: Sam Bennett wins stage 7 in Praia a Mare. (Cyclingnews) - Bora-Hansgrohe rider out-paces Viviani, Bonifazio.

- Sam Bennett (Bora-Hansgrohe) following his victory on Stage 7: "It's a big relief! I was close so many times at the Giro, but today to get the timing right was key. It's not easy to pass Viviani, but I knew my time would come, even there might be some people who thought it will never come. A big thanks to my team BORA - hansgrohe, all the guys support me really well all the time. Today my plan was to take the wheel from Viviani instead of doing all the lead out for him like the first stages. But I needed patience because I didn't want to be early again, and then a was closed at some point, but in the end the timing was perfect and everybody could see how fast I am."

- Sam Bennett (Bora-Hansgrohe) won Stage 7. Simon Yates (Mitchelton-Scott) remains overall leader.

- News: Dumoulin tests Froome on Mount Etna. (Cyclingnews) - 'Froome is doing fine and I'm expecting him to go for the win' says Dutchman.

- News: Chris Froome meets goal of staying with rivals on Mount Etna. (Cyclingnews) - 'I'm just happy to tick this day off' Team Sky leaders says of first summit finish.

- News: Simon Yates cuts to the chase at Mount Etna. (Cyclingnews) - Briton moves into overall lead after searing attack.

- News: Stage 6 finish line quotes. (Cyclingnews) - Chaves and Yates speak of the Mount Etna finish.

- News: Chaves wins on Mount Etna. (Cyclingnews) - 1-2 for Mitchelton-Scott, Simon Yates takes maglia rosa.

- Esteban Chaves (Mitchelton-Scott) following his victory on Stage 6: "It's unbelievable, this is the best start for the Giro d'Italia. I knew we had to be up front, we had a very hard stage to Etna. I made the break with Jack and I want to say thank you to him - he pulled so much in the breakaway. In the finale I rode with Simon and I was first, and he claimed the maglia rosa. How unbelievable is that? I think also I'm in the king of the mountains jersey - it's like a dream. Now we go to the mainland, we're super excited, and we will keep on dreaming."

- Esteban Chaves (Mitchelton-Scott) won Stage 6. Simon Yates (Mitchelton-Scott) is new leader in the general classification.

- News: Lopez suffers second Giro d'Italia setback after late crash. (Cyclingnews) - Astana team say rider is uninjured, but lost nearly another minute.

- News: Chris Froome looks to begin Giro d'Italia fightback on Mount Etna. (Cyclingnews) - Briton with ground to make up after troubled start.

- News: Chris Froome expects a full-blown battle on the slopes of Mount Etna. (Cyclingnews) - Team Sky leader aims to pull back time in the overall classification.

- News: Take two for Mount Etna at the Giro d'Italia - Preview. (Cyclingnews) - Tiralongo outlines the lie of the land in Sicily.

- Art: 2018 Giro d'Italia Stage 4 Gallery. (by Greig Leach)

- News: Battaglin wins stage 5 in Santa Ninfa. (Cyclingnews) - Dennis keeps maglia rosa as Goncalves climbs up with time bonus.

- Rohan Dennis (BMC Racing) after Stage 5, his fourth day in the maglia rosa: "It was a nice day on the bike and it was actually quite an easy day in comparison to yesterday. I didn't expect that with the cross-headwind and headwind for most of the day. There was a little bit of stress now and then but we got to sit back a little bit because other teams wanted to fight for the stage so it was a good day in the end."

- Enrico Battaglin (LottoNL-Jumbo) following his victory on Stage 5: "I'm very, very happy with this win. My last victory was four years ago already, also in the Giro. The fact that I win a stage in the Giro again, means a lot to me and makes it even more beautiful. I'm very proud to be part of Team LottoNL-Jumbo. The team did a perfect job today. Yesterday it didn't work out, but today I could reward their confidence in me with a victory. I hope to continue my form for the rest of the Giro. After yesterday I wanted to set something right. I made a small mistake after which I finished third. Today, everything went according to plan. I can't describe the joy I feel."

- Enrico Battaglin (LottoNL-Jumbo) won Stage 5. Rohan Dennis (BMC Racing) remains leader on G.C.

- News: Not just Etna: The Giro d'Italia gets serious in Sicily. (Cyclingnews) - First three Italian stages present a range of challenges.

- News: Woods: I knew I was going to be on a good one today. (Cyclingnews) - Canadian places second behind Wellens in Caltagirone.

- News: Wellens: I proved I have very good legs at the Giro d'Italia. (Cyclingnews) - Lotto Fix All rider aims for more stage wins after victory in Caltagirone.

- News: Dennis: I need to try to learn from this Giro d'Italia. (Cyclingnews) - Australian follows Dumoulin at Caltagirone to maintain overall lead.

- News: Simon Yates aims to steal more time after moving up to third overall. (Cyclingnews) - 'It's always good when you're gaining, even if it's only seconds' says director White.

- News: Chris Froome loses more time in Giro d'Italia. (Cyclingnews) - Team Sky leader blames time loss on hold up close to the last kilometre.

- News: Wellens wins stage 4. (Cyclingnews) - Dennis stays in pink after punchy stage to Caltagirone, Froome loses time.

- News: Adam Hansen to break Grand Tour streak after Giro d'Italia. (Cyclingnews) - Australian confirms he'll be missing Tour de France this July.

- Tim Wellens (Lotto Fix All) won Stage 4. Rohan Dennis (BMC Racing) remains overall leader.

- Art: 2018 Giro d'Italia Stage 3 Gallery. (by Greig Leach)

- Race leader Rohan Dennis (BMC Racing) following Stage 4: "It is great to keep the Maglia Rosa for another day. The team did everything possible to put me in the best position and then I had a couple of guys around me until the final bit. It was a bit stressful but I managed to stay up there. We were hoping that if I was feeling good, I could try and take the sprint but with 250m to go, I knew it wasn't possible, so I just made sure there were no big gaps."

- News: Dennis: I'm going to race as if I'm trying to win the Giro d'Italia. (Cyclingnews) - Future of BMC Racing remains uncertain.

- News: Stage 3 finish line quotes. (Cyclingnews) - 'It's nice to take pink to Italy' says Dennis.

- News: Viviani takes second consecutive sprint victory. (Cyclingnews) - Dennis to bring maglia rosa to Italy.

- Monday is a rest day at the Giro d'Italia. The race resumes in Italy with Stage 4 on Tuesday.

- Rohan Dennis (BMC Racing) following Stage 3: "It was very stressful today but I'm glad it's done. It was a hard day., it was long, and we were somewhat lucky that it was a tailwind. The wind was very strong. The last 40 or 50km, when we were chasing the breakaway and especially the last 20km, we were sitting on 70km an hour so we couldn't go any faster. It was super fast and we were lucky that it wasn't a crosswind. Once again, the team did a great job and kept me up the front."

- Elia Viviani (Quick-Step Floors) following his victory on Stage 3: "We stayed together in this crazy final and did a great job. The guys were incredible today and this victory is for them. I can't tell you how happy I am to have such a fantastic team around me."

- Elia Viviani (Quick-Step Floors) won Stage 3. Rohan Dennis (BMC Racing) retained the pink jersey as overall leader.

- Art: 2018 Giro d'Italia Stage 2 Gallery. (by Greig Leach)

- Art: 2018 Giro d'Italia Stage 1 Gallery. (by Greig Leach)

- News: Viviani wins high-speed sprint in Tel Aviv. (Cyclingnews) - Dennis moves into overall lead after winning intermediate time bonus.

- News: Chris Froome: The Giro d'Italia isn't won in the prologue. (Cyclingnews) - Sky rider reports 'only superficial wounds' ahead of stage 2.

- News: Viviani: My first goal is to win a stage. (Cyclingnews) - Quick-Step Floors sprinter eyes finish in Tel Aviv and points jersey.

- News: Simon Yates beats expectations in Giro d'Italia opener. (Cyclingnews) - Mitchelton-Scott rider is seventh overall, 20 seconds behind Dumoulin.

- News: Giro d'Italia GC analysis: Dumoulin lays down marker, Froome concedes ground. (Cyclingnews) - How the GC contenders fared on stage 1.

- News: Siutsou out for three months after vertebrae fracture in Giro d'Italia TT recon crash. (Cyclingnews) - Bahrain-Merida rider heads home wearing a neck brace.

- Rohan Dennis (BMC Racing) following Stage 2, where he took the pink jersey as race leader: "The plan was to just play it by ear initially. We knew that the second sprint was the one with bonus time and we thought that if it was within grasp, and the breakaway wasn't too far away, we would try. About 40km or 50km from the sprint, they asked me if I wanted to do and I said not really but we did it anyway and I thought that I can't not put 100% into it. The team delivered me exactly where I needed to be for the sprint and all I had to do was go as hard as I could and there was no way I couldn't win it. Then after that, it was about making sure I didn't lose time in the splits in the final. It was massive teamwork."

- Elia Viviani (Quick-Step Floors) won Stage 2. Rohan Dennis (BMC Racing) is new leader in the general classification.

- Team Sunweb coach Marc Reef following Tom Dumoulin's Stage 1 victory: "We had a really good preparation period and the atmosphere in the team is really good, relaxed and focused which helped us to get the win today. The course here in Jerusalem was quite difficult; they were hard parcours which were constantly up and down with really warm temperatures. Technically Tom did a really good TT and in the end, whilst some guys had problems keeping the pace high, he could continue strong. We are all very happy and proud of this victory."

- News: Chris Froome ready to battle on in Giro d'Italia despite crash and TT setback. (Cyclingnews) - Briton clearly defeated by Dumoulin in first time trial, 37 seconds back.

- News: Pinot underwhelmed by solid opening Giro d'Italia TT performance. (Cyclingnews) - French star says he had expected more in race against clock.

- News: Dennis: I did everything I could but Dumoulin was better. (Cyclingnews) - Australian pipped to first maglia rosa in Giro d'Italia's opening TT.

- News: Tom Dumoulin: The victory was more important than the time gained. (Cyclingnews) - Dutchman starts Giro d'Italia defence on winning note.

- News: Tom Dumoulin wins stage 1, Chris Froome out of the top 20. (Cyclingnews) - Dutchman takes first leader's jersey in Jerusalem, Dennis second.

- Tom Dumoulin (Team Sunweb) following his victory in the Stage 1 individual time trial: "It's been quite a cool few days in Israel and today tops it off with the win. I knew that I felt good but you have to see how things go during the race. We've worked really hard over the last few months, so I'm really happy with the win because it confirms that all of the work has paid off. The course was really good for me; it was really technical and I'm good on the corners. I could go full gas, then recover, then go full gas and recover again. It's nice to be in the Maglia Rosa but it will be hard to keep it for three weeks. We aren't planning on defending it every day so we will see what we do with that in the coming days."

- Tom Dumoulin (Team Sunweb) won the Stage 1 ITT in Jerusalem ahead of Rohan Dennis and Victor Campenaerts.

- News: Plaza hunting first Giro d'Italia stage win. (Cyclingnews) - Veteran Spaniard needs a Giro victory to complete his Grand Tour set.

- News: Siutsou out of Giro d'Italia after TT recon crash. (Cyclingnews) - Bahrain-Merida rider suffers fractured vertebra.

- News: Chris Froome crashes in Giro d'Italia time trial recon. (Cyclingnews) - Team Sky rider suffers abrasions but 'no significant damage'.

- News: Giro d'Italia time trial analysis: Not one for the power specialists. (Cyclingnews) - 9.7km course dips and rolls around Jerusalem's city streets.

- News: Giro d'Italia: Stage 1 time trial start times. (Cyclingnews) - Sabatini first rider down the ramp in Jerusalem, Dumoulin off last.

- Ralph Denk (Bora-Hansgrohe) before the start of the 2018 Giro d'Italia: "Our expectations are high coming into the Giro. After taking the first stage last year, we want to achieve kind of the same things this year, and we will give our best to make this happen. I think, we have a strong line up at this Giro d´Italia, all our riders had a good training period, are in a good shape and the most important thing, we have a special spirit within our team. Therefore, I look confident that we will have a good first Grand Tour 2018."

- News: Upbeat Simon Yates 'chomping at the bit' for Giro d'Italia debut. (Cyclingnews) - Mitchelton-Scott rider concerned about heat of early stages.

- News: Expectation nothing new for Aru ahead of Giro d'Italia. (Cyclingnews) - Italian champion leads home challenge.

- News: Mullen aiming high in time trial on unfamiliar terrain. (Cyclingnews) - Irishman makes Grand Tour debut.

- News: No limits for Pozzovivo ahead of Giro d'Italia. (Cyclingnews) - Italian reaches corsa rosa buoyed by April form.

- News: Vegni adamant Chris Froome's 2018 Giro d'Italia result will stand regardless of salbutamol verdict. (Cyclingnews) - Giro director sought assurances from Lappartient in March.

- News: Brailsford: I'm constantly thinking, 'Am I the right person to support the team?'. (Cyclingnews) - Sky manager declines to say whether zero tolerance policy will be applied if Froome found guilty.

- Photos: Part 2: 2018 Giro d'Italia pre-race press conference photos.

- Photos: Part 1: 2018 Giro d'Italia pre-race press conference photos.

- Preview: Giro d'Italia 2018: The Essential Guide. (Cyclingnews) - A detailed look at the route and riders to watch for the 101st edition of the corsa rosa.

- The 2018 Giro d'Italia Teams Presentation is Thursday, May 3. We should have live streams starting at around 6pm local (5pm CET, 11am U.S. Eastern).

- Carlos Betancur (Movistar) pre-race comments: "My preparations for the Giro have been - well, basically riding hard for the last two months! I had to start my season late because the ankle was still hurting from my injuries in the Vuelta, and it's just logical that I've found better legs with every race I've completed. I'm feeling in good condition before this race. I'm really eager to do well in this race - I'm yet to see what my real condition is, but on the psychological side, I feel really strong. The Etna mountain-top finish should be the one letting us know what we can really aim for in this race. My goal before the start, though, is trying to stay with the top contenders."

- News: Giro d'Italia 2018: Five key stages. (Cyclingnews) - Zoncolan, the Rovereto time trial and the Alpine denouement.

- Maximilian Sciandri (BMC Racing directeur sportif): "Our first goal comes on day one with the time trial. It's a technical course, lots of turns, and a good time trial profile for Rohan Dennis. We want to start the Giro d'Italia with a good result there and then move on to our other objectives. In terms of the General Classification, Rohan is motivated to see how far he can go and we plan to take things week by week. There are quite a few uphill finishes in the first ten days so we will know more by then and of course, the time trial from Trento is also a good one for him."

- EF Education First-Drapac for the Giro d'Italia:

Nate Brown (USA)
Hugh Carthy (GBR)
Mitch Docker (AUS)
Joe Dombrowski (USA)
Sacha Modolo (ITA)
Tom Scully (NZL)
Mike Woods (CAN)
Tom Van Asbroeck (BEL)

- Mike Woods (EF Education First): "My big goal for this Giro is to get a stage win. I haven't won a WorldTour race yet, and with 21 stages on tap, I'm hoping I can win one of them."

- Juanma Garate (EF Education First directeur sportif): "The Giro is going to be another step in Mike's career. After a difficult start for him this season, I think he arrives in Israel exactly as we wanted. If he enjoys every day, if he continues to feel like he is living his dream, I believe this next month will be a really successful one."

- News: Israel Cycling Academy riding Giro d'Italia to inspire next generation. (Cyclingnews) - Team focused on bringing two Israeli riders to the finish in Rome.

- News: Giro d'Italia: 10 non-GC riders to watch. (Cyclingnews) - We take a look at the key sprinters, breakaway men and rising stars.

- News: Giro d'Italia fills Boeing 747 cargo plane with bikes and equipment bound for Israel. (Cyclingnews) - Complex logistics operation underway ready for Friday's opening stage.

- News: Fabio Aru flies the flag for Italy at the Giro d'Italia. (Cyclingnews) - 'I've got a lot of respect for Froome and Dumoulin but I'm not afraid of them'.

- News: Quick-Step Floors target Giro d'Italia sprints with Viviani. (Cyclingnews) - Belgian team built round Italian with no leader for overall classification.

- News: Dennis and Roche lead BMC at Giro d'Italia. (Cyclingnews) - Roelandts, Drucker, De Marchi target stage victories.

- News: No pressure for Miguel Angel Lopez at debut Giro d'Italia. (Cyclingnews) - 'It will be a magnificent year for the team" says Astana's climbing Colombian.

- News: Woods aiming to give Canadians someone to cheer for again at Giro d'Italia. (Cyclingnews) - Stage wins remain the focus for Liege-Bastogne-Liege runner-up.

- Gallery: Giro d'Italia retro gallery. (Cyclingnews) - Iconic photos from the previous 10+ years of the Italian Grand Tour.

- Quick-Step Floors for the Giro:

Eros Capecchi (ITA)
Rémi Cavagna (FRA)
Michael Mørkøv (DEN)
Fabio Sabatini (ITA)
Maximilian Schachmann (GER)
Florian Sénéchal (FRA)
Zdenek Stybar (CZE)
Elia Viviani (ITA)

- Davide Bramati (Quick-Step Floors directeur sportif): "We've had a fantastic first part of the season, but that is history now and we don't plan to rest on our laurels. The Giro d'Italia is one of the most important races of the season, one where we have always enjoyed tremendous success, winning stages, distinctive jerseys and being up there in the general classification, so it's only natural to be motivated and ambitious for this fresh challenge. Our roster has a mix of youth and experience, and Elia will be the leader for the next three weeks, but this doesn't mean we won't try to be in the mix also in other stages and grab every opportunity we'll be presented with."

- News: Sunweb announce team that will support Dumoulin's Giro d'Italia defence. (Cyclingnews) - Haga and ten Dam return from 2017 Giro roster.

- News: Third time the charm? George Bennett returns to the Giro d'Italia. (Cyclingnews) - New Zealander on the right path despite being hit by car.

- News: Chris Froome defiant despite looming salbutamol case. (Cyclingnews) - Team Sky leader preparing for the unexpected at Giro.

- News: Team Sky announce Giro d'Italia team to support Chris Froome. (Cyclingnews) - Poels, Henao and Elissonde named in strong line-up.

- News: Top 10 contenders for the 2018 Giro d'Italia. (Cyclingnews) - Giro d'Italia countdown: 10 days to go.

- News: Tom Dumoulin 'feels better than last year' ahead of Giro d'Italia defence. (Cyclingnews) - Dutchman finishes 15th at Liège-Bastogne-Liège.

- Trek-Segafredo for the 2018 Giro d'Italia:

Gianluca Brambilla (IT)
Laurent Didier (LUX)
Niklas Eg (DK)
Markel Irizar (SP)
Ryan Mullen (IRL)
Jarlinson Pantano (COL)
Mads Pedersen (DK)
Boy van Poppel (NED)

- Luca Guercilena, General Manager Trek-Segafredo: "We are bringing a mixture of experience and young riders to the start, with the main goal to support Gianluca Brambilla in his chase for a great result. I am confident our 8 riders will make each other stronger and motivate one another to perform well as we also hunt for stage wins. I think we can be proud of our line-up for the first Grand Tour of the season."

- Marc Reef (Team Sunweb coach): "We go into the 101st Giro with similar targets to last year; looking for a GC result with Tom. Lining up as defending champions will bring special dynamics into both the team and the race, and we will be prepared for that. Fighting for a GC result is entirely different in comparison to a stage success focus – everybody in the team needs to be completely focused for three weeks in-a-row, which is very demanding for all. We learned a lot from last year and we will bring this experience into the mix for this edition."

- BMC Racing for the 2018 Giro, as of April 25:

61 DENNIS Rohan
62 BETTIOL Alberto
63 DE MARCHI Alessandro
64 DRUCKER Jean-Pierre
65 FRANKINY Kilian
66 ROCHE Nicolas
67 ROELANDTS Jurgen
68 VENTOSO ALBERDI Francisco

- Team Sunweb roster for the 2018 Giro d'Italia, as of April 25:

1 DUMOULIN Tom
2 CURVERS Roy
3 HAGA Chad
4 HAMILTON Christopher
5 HOFSTEDE Lennard
6 OOMEN Sam
7 TEN DAM Laurens
8 VERVAEKE Louis

- News: Hermans aiming for a stage win at Giro d'Italia. (Cyclingnews) - Israel Cycling Academy rider growing in optimism at Tour of the Alps.

- News: Pinot shows form for the Giro d'Italia despite limited racing days. (Cyclingnews) - Groupama-FDJ rider up to second overall at Tour of the Alps.

- Preview: Cyclingnews initial 2018 Giro d'Italia preview here.

- News: George Bennett showing signs of Giro d'Italia form at Tour of the Alps. (Cyclingnews) - LottoNL-Jumbo rider echoes complaints about race motorbikes.

- News: Chris Froome's Giro d'Italia Pinarello Dogma F10 X-Light - Gallery. (Cyclingnews) - Team Sky leader finalises position and bike spec at the Tour of the Alps.

- News: Meintjes frustrated by inconsistent pre-Giro d'Italia progress. (Cyclingnews) - South African looking for confirmation of form at Tour of the Alps.

- News: Pinot confirms 2018 Giro d'Italia participation. (Cyclingnews) - Frenchman to tackle Giro-Tour double after reducing early-season racing.

- News: Lappartient: Chris Froome's case will not be resolved before the Giro d'Italia. (Cyclingnews) - UCI talks about reforms, stopping corticoid abuse in L'Equipe interview.

- News: Chris Froome begins Giro d'Italia countdown with recon trip to Italy. (Cyclingnews) - Team Sky leader to ride Zoncolan and Trento TT before Tour of the Alps.

- Tom Dumoulin (Team Sunweb) won the 2017 Giro d'Italia.

- When does Giro d'Italia Stage 1 start? Friday's (May 4) Giro d'Italia Stage 1 departs Jerusalem at -- (-- U.S. Eastern) and is expected at the finish at Jerusalem at around -- (-- U.S. Eastern). Giro d'Italia live streaming video should get underway at around -- (-- U.S. Eastern).

- Art: Cycling Art

- Photos: Giro d'Italia Photos

- The 2018 Giro d'Italia is being held May 4-27.

- NOTE: If you believe you may not be seeing the latest content on this page, try clearing your browser's cache (or try a different browser).

- For the 14th consecutive year, you can follow the Giro d'Italia live on cyclingfans.com.

- Recent Giro d'Italia winners:

2017: Tom Dumoulin
2016: Vincenzo Nibali
2015: Alberto Contador
2014: Nairo Quintana
2013: Vincenzo Nibali
2012: Ryder Hesjedal
2011: Michele Scarponi
2010: Ivan Basso
2009: Denis Menchov
2008: Alberto Contador
2007: Danilo Di Luca
2006: Ivan Basso
2005: Paolo Savoldelli
2004: Damiano Cunego
2003: Gilberto Simoni
2002: Paolo Savoldelli
2001: Gilberto Simoni
2000: Stefano Garzelli
1999: Ivan Gotti
1998: Marco Pantani

- More info and links to come.

- We will update here with the best and latest live feeds at broadcast time.

- Welcome to our live coverage guide for the 2018 Giro d'Italia (Tour of Italy or Tour d'Italie en direct) .

2018 Giro d'Italia LIVE
May 4-27, Italy
Official Website
Start List (provisional)

Stage 16 starts at 1:20pm CET
(7:20am U.S. Eastern)

Finish at around 5:15pm CET
(11:15am U.S. Eastern)

Live video from 1:40pm CET
(7:40am U.S. Eastern)




---

Giro d'Italia Live Coverage

More Giro broadcasters to come before the race start.

Links to come as available


(Fubo TV in HD, English)
(U.S.A. and Canada)
(Free trial.)


(Eurosport live stream)
(-- CET)
(-- Eastern)
Alternative
Alternative


(Rai Sport 2 live stream)
(geo-restricted)
(--)
(--)
Alternative
Alternative
Alternative


(gazzetta.it live stream)
(Gazzetta TV is now geo-restricted)


(--)
(May be geo-restricted)
(--)
(--)

- more links to come -

(watch Giro d'Italia online)

Live audio streaming:

(--)
(Listen online)

Radio Tour graphics:


(Not active for time trial stages)

Live tickers:


(live profile, tracking and tickers in multiple languages)


- More tickers to come -

Apps:

-- (Apple)
-- (Android)

News and photos:


(cycling news)
Yahoo photo gallery (AP/AFP)

Copyright © 2018 www.cyclingfans.com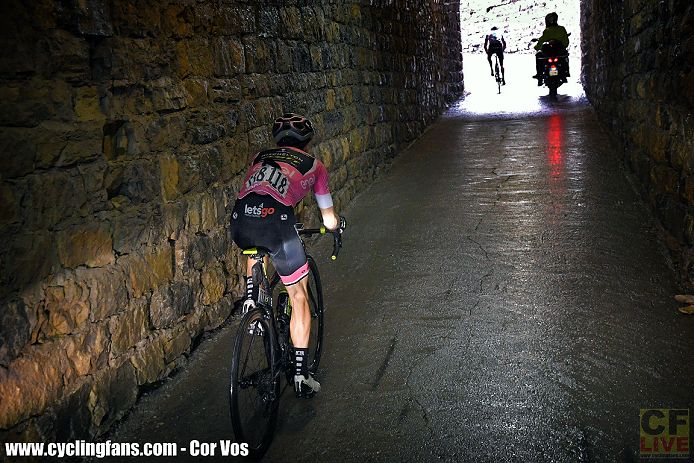 Chris Froome (Team Sky) has attacked on Monte Zoncolan and race leader Simon Yates (Mitchelton-Scott) is in pursuit.
- Click for high resolution -
photo Copyright © 2018 Cor Vos/cyclingfans.com
- WATCH Giro d'Italia Stage 14 Highlights in English - more Giro d'Italia videos -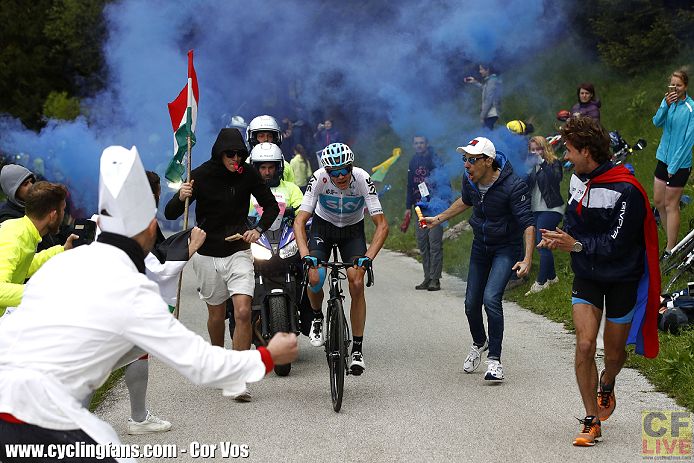 Chris Froome on the attack on Stage 14, on the summit finish at Monte Zoncolan
- Click for high resolution -
photo Copyright © 2018 Cor Vos/cyclingfans.com
- WATCH Giro d'Italia Stage 14 Final 5 kilometers - more Giro d'Italia videos -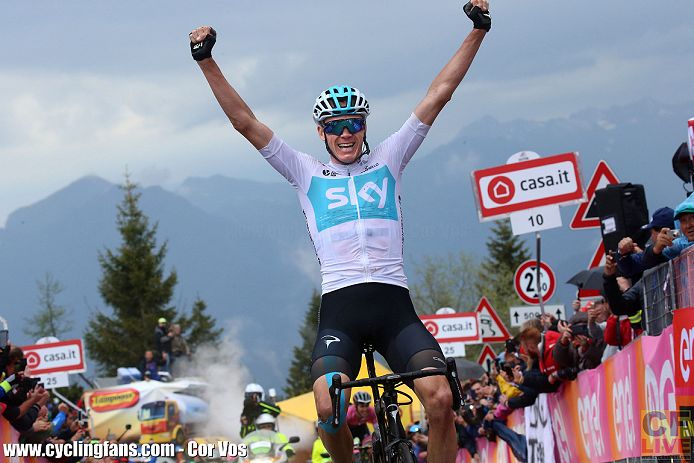 Chris Froome (Team Sky) wins Stage 14.
- Click for high resolution -
photo Copyright © 2018 Cor Vos/cyclingfans.com
- WATCH the finish of Giro d'Italia Stage 14 - more Giro d'Italia videos -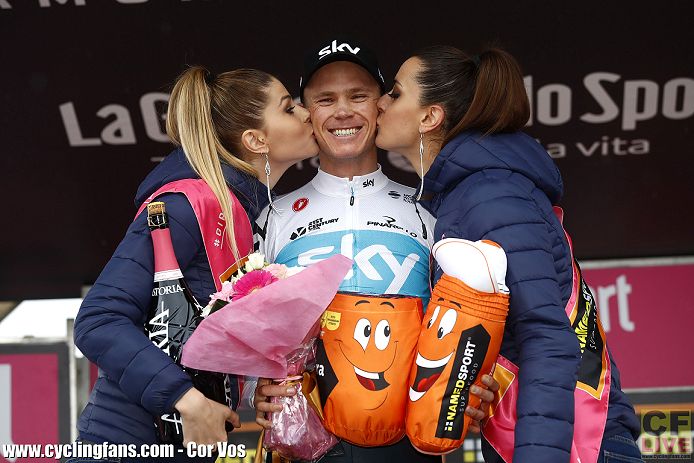 Chris Froome (Team Sky) enjoys his time on the podium following his Stage 14 victory.
- Click for high resolution -
photo Copyright © 2018 Cor Vos/cyclingfans.com
- WATCH interview with Stage 14 winner Chris Froome - more Giro d'Italia videos -
2018 Giro d'Italia Stage 15 Profile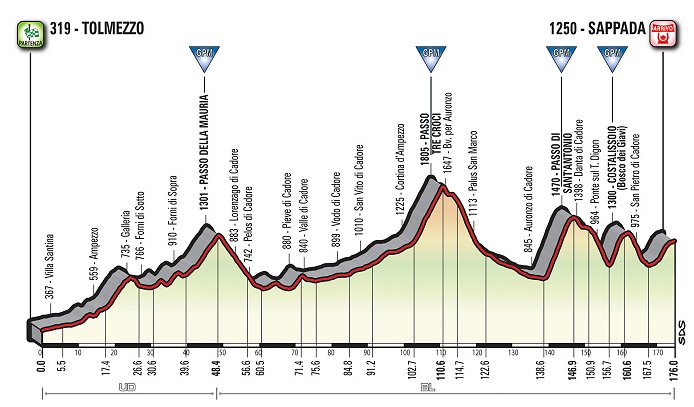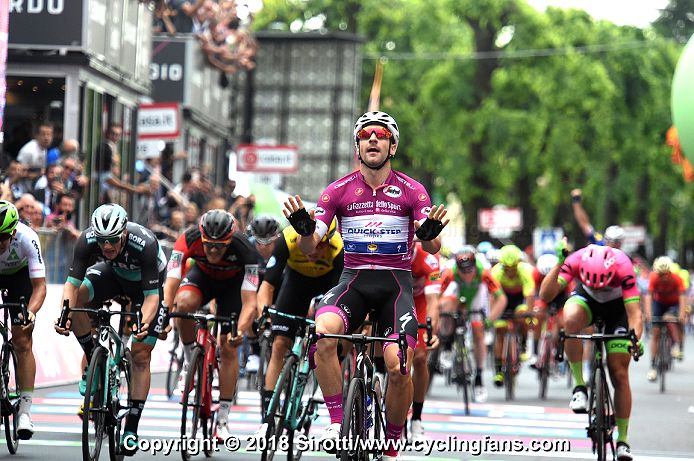 Elia Viviani (Quick-Step Floors) wins Stage 13.
- Click for high resolution -
photo Copyright © 2018 Fotoreporter Sirotti/cyclingfans.com
- WATCH Giro d'Italia Stage 13 Official Highlights in English - more Giro d'Italia videos -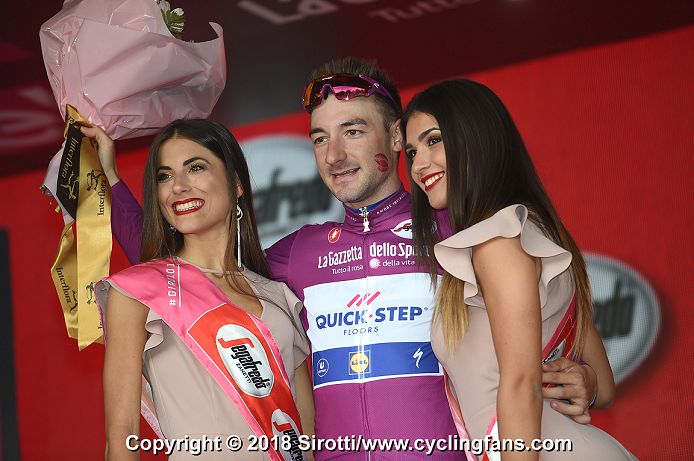 Elia Viviani (Quick-Step Floors) smiles on the podium following his victory on Stage 13.
- Click for high resolution -
photo Copyright © 2018 Fotoreporter Sirotti/cyclingfans.com
- WATCH interview with Stage 13 winner Elia Viviani - more Giro d'Italia videos -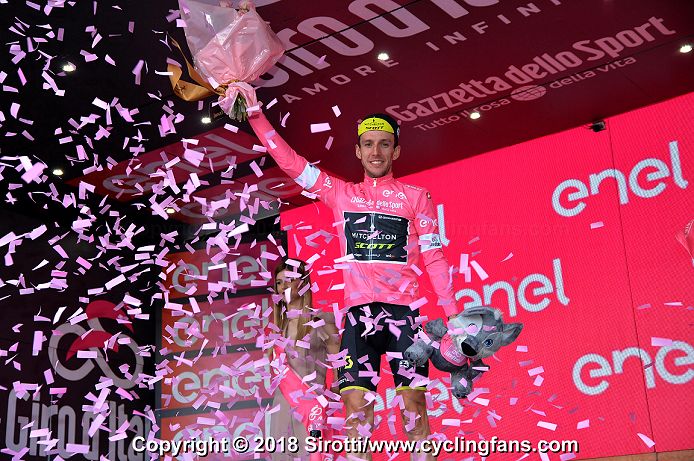 Simon Yates (Mitchelton-Scott), still in pink ahead of Saturday's big mountain stage to Monte Zoncolan
- Click for high resolution -
photo Copyright © 2018 Fotoreporter Sirotti/cyclingfans.com
- WATCH interview with race leader Simon Yates after Stage 13 - more Giro d'Italia videos -
2018 Giro d'Italia Stage 14 Profile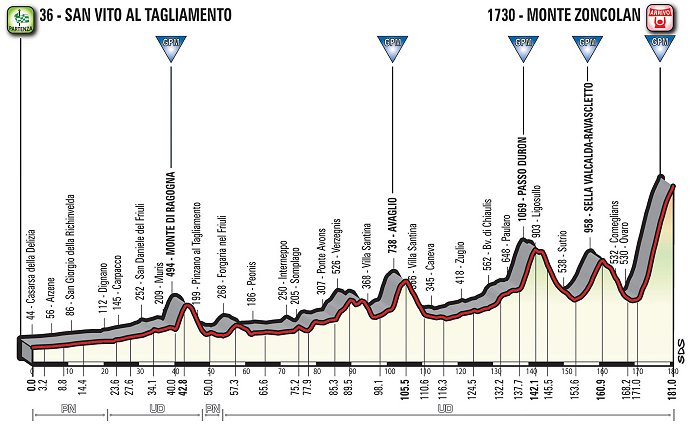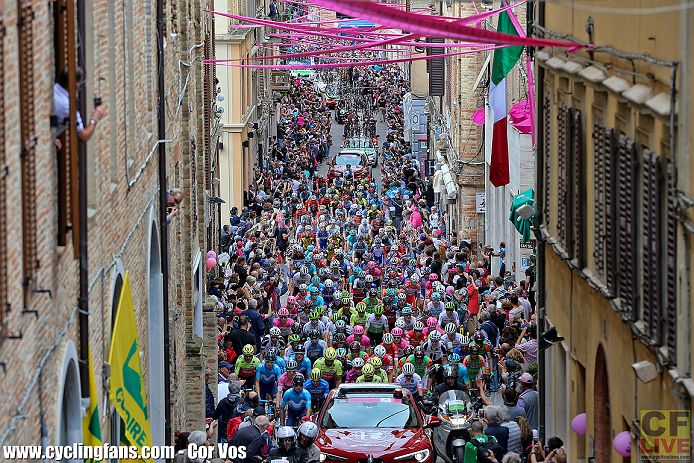 The peloton departs Osimo at the start of Stage 12.
- Click for high resolution -
photo Copyright © 2018 Cor Vos/cyclingfans.com
- WATCH Giro d'Italia Stage 12 The Movie - more Giro d'Italia videos -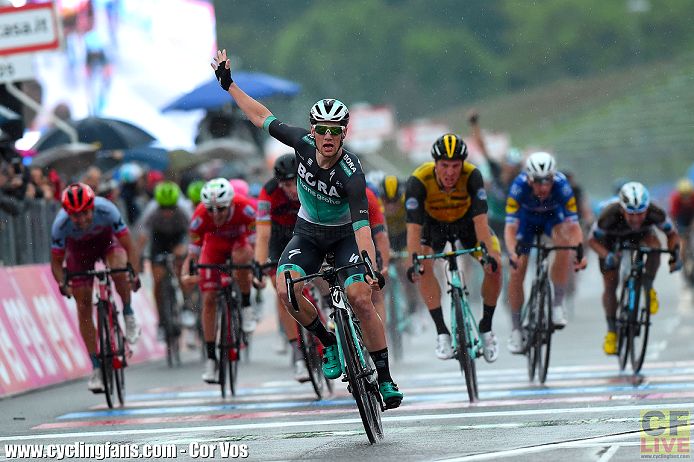 Sam Bennett (Bora-Hansgrohe) wins Stage 12.
- Click for high resolution -
photo Copyright © 2018 Cor Vos/cyclingfans.com
- WATCH final 3 kilometers of Stage 12 - more Giro d'Italia videos -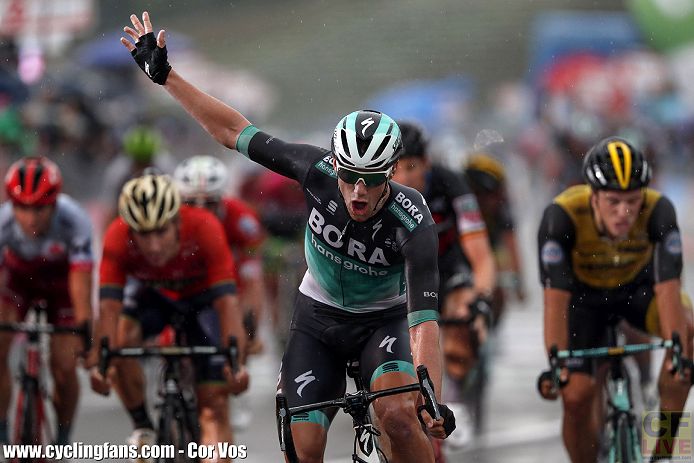 Sam Bennett (Bora-Hansgrohe) wins.
- Click for high resolution -
photo Copyright © 2018 Cor Vos/cyclingfans.com
- WATCH interview with Stage 12 winner Sam Bennett - more Giro d'Italia videos -
2018 Giro d'Italia Stage 13 Profile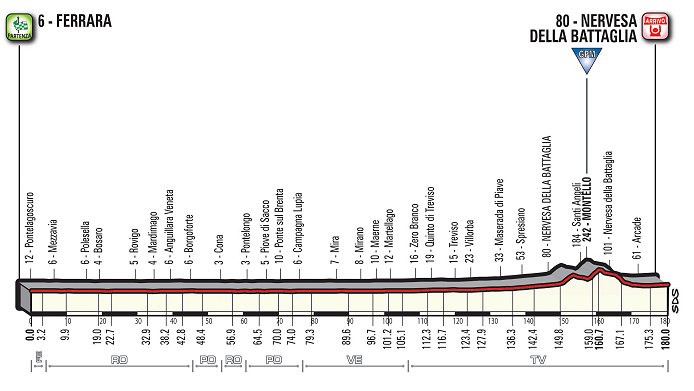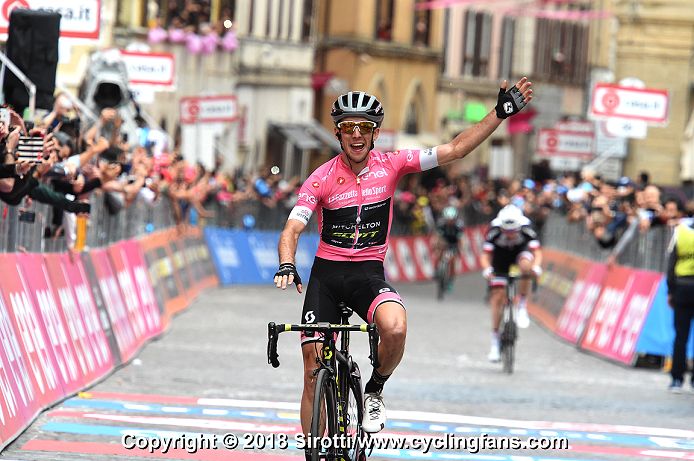 Race leader Simon Yates (Mitchelton-Scott) wins again, taking Stage 11 in Osimo.
- Click for high resolution -
photo Copyright © 2018 Fotoreporter Sirotti/cyclingfans.com
- WATCH Giro d'Italia Stage 11 Highlights in English - more Giro d'Italia videos -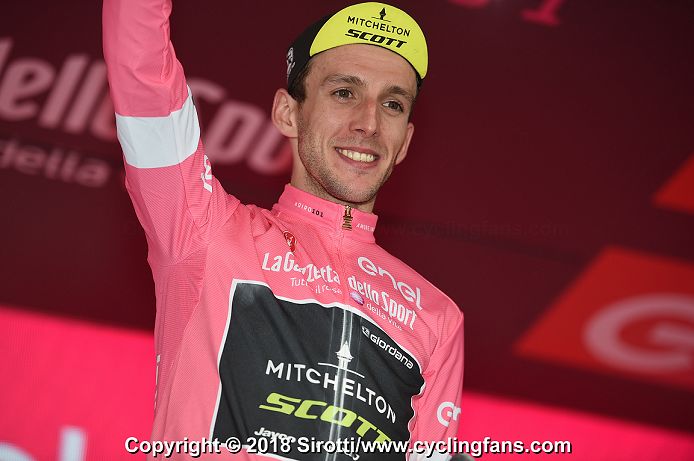 Race leader Simon Yates (Mitchelton-Scott) celebrates on the podium following Stage 11.
- Click for high resolution -
photo Copyright © 2018 Fotoreporter Sirotti/cyclingfans.com
- WATCH interview with race leader Simon Yates after Stage 11 - more Giro d'Italia videos -
2018 Giro d'Italia Stage 12 Profile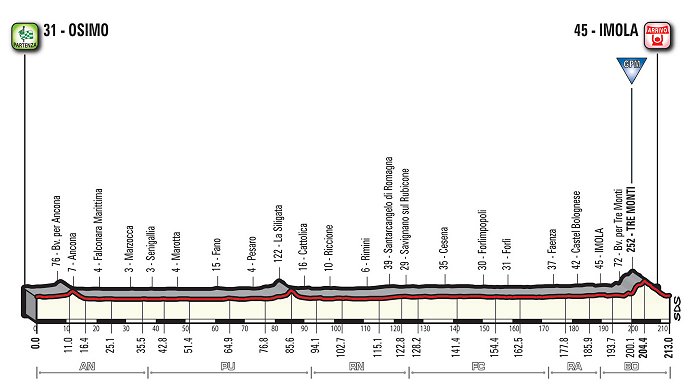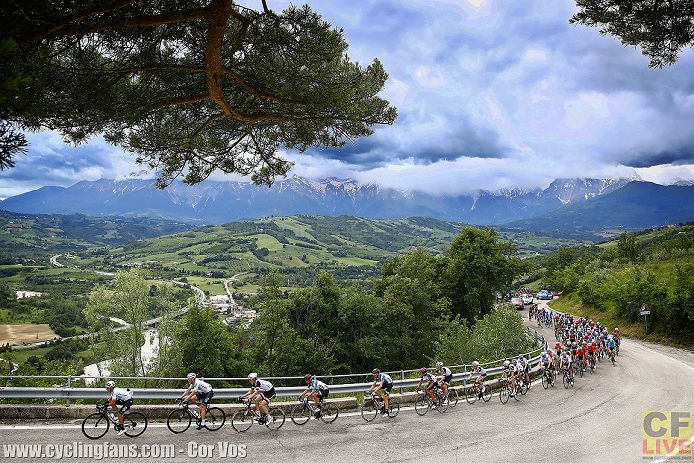 The peloton on a scenic Stage 10
- Click for high resolution -
photo Copyright © 2018 Cor Vos/cyclingfans.com
- WATCH Giro d'Italia Stage 10 Official Highlights in English - more Giro d'Italia videos -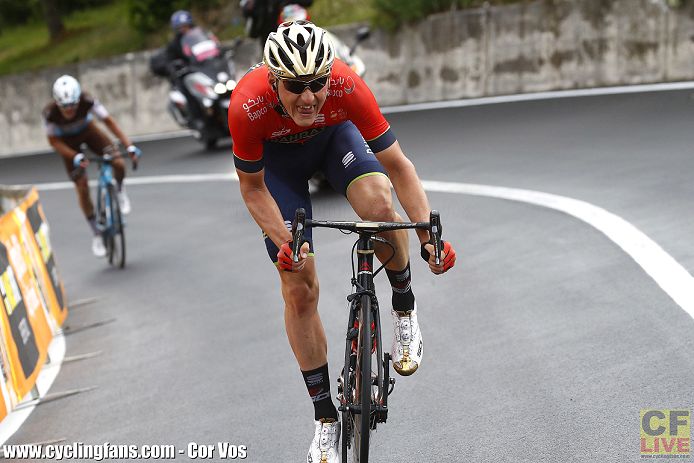 Part of the early breakaway, Matej Mohoric (Bahrain-Merida) is on the attack in the finale.
- Click for high resolution -
photo Copyright © 2018 Cor Vos/cyclingfans.com
- WATCH Giro d'Italia Stage 10 The Movie - more Giro d'Italia videos -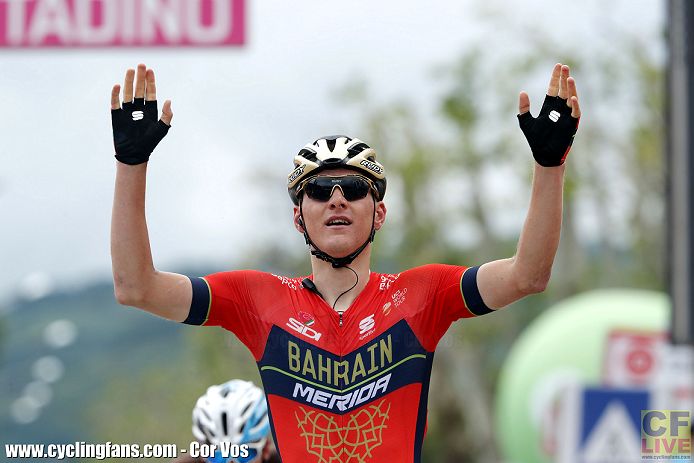 Matej Mohoric (Bahrain-Merida) wins Stage 10.
- Click for high resolution -
photo Copyright © 2018 Cor Vos/cyclingfans.com
- WATCH Interview with Stage 10 winner Matej Mohoric - more Giro d'Italia videos -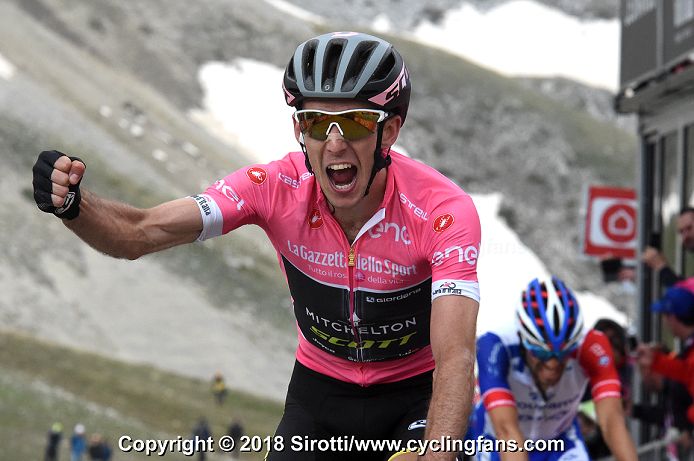 Race leader Simon Yates (Mitchelton-Scott) wins Stage 9 ahead of Thibaut Pinot and Esteban Chaves.
- Click for high resolution -
photo Copyright © 2018 Fotoreporter Sirotti/cyclingfans.com
- WATCH Giro d'Italia Stage 9 The Movie - more Giro d'Italia videos -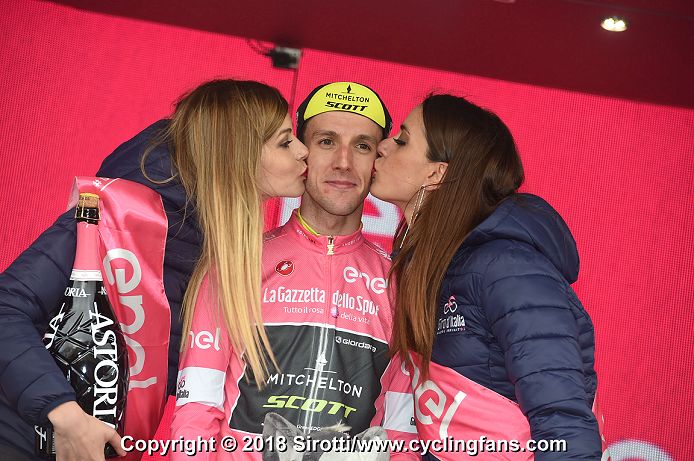 Another pink jersey for race leader Simon Yates (Mitchelton-Scott) following Stage 9
- Click for high resolution -
photo Copyright © 2018 Fotoreporter Sirotti/cyclingfans.com
- WATCH Stage 9 Backstage Pass by Mitchelton-Scott - more Giro d'Italia videos -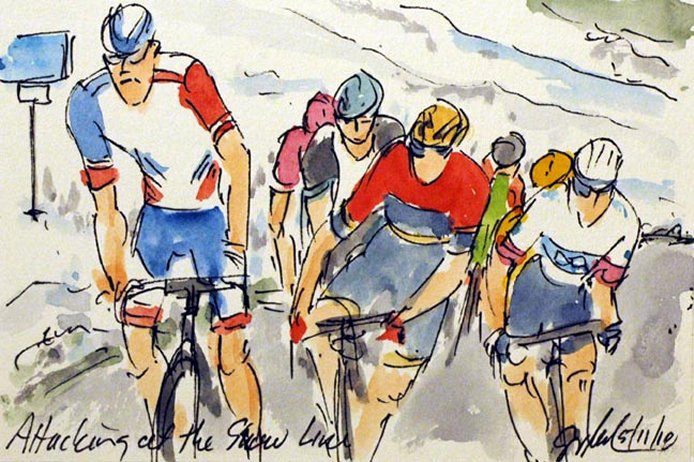 2018 Giro d'Italia Stage 9 art: "Attacking at the Snow Line - Thibaut Pinot (Groupama-FDJ), Domenico Pozzovivo (Bahrain Merida), Richard Carapaz (Movistar)" - More Giro Stage 9 art - by Greig Leach. More The Art of Cycling -
Sponsored by Richeson Art -
Copyright © 2018 Greig Leach
2018 Giro d'Italia Stage 10 Profile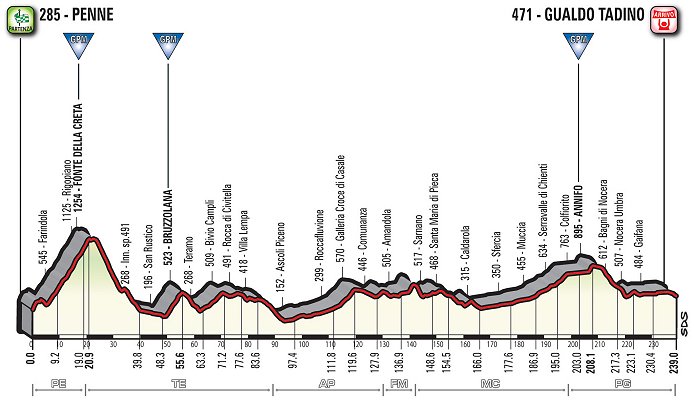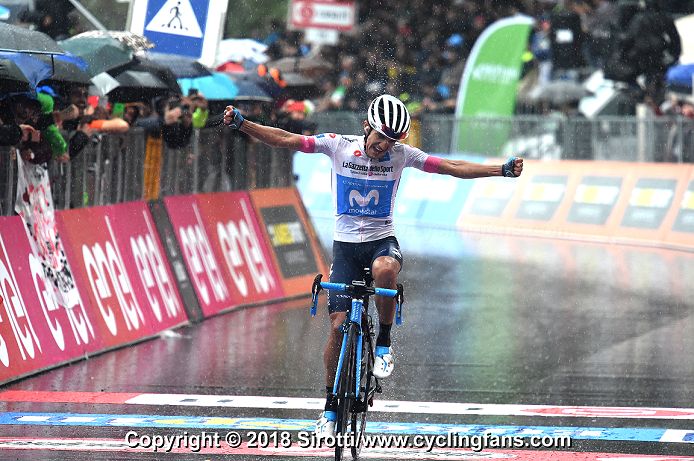 Richard Carapaz (Movistar Team) wins Stage 8 in the rain.
- Click for high resolution -
photo Copyright © 2018 Fotoreporter Sirotti/cyclingfans.com
- WATCH Giro d'Italia Stage 8 official highlights in English - more Giro d'Italia videos -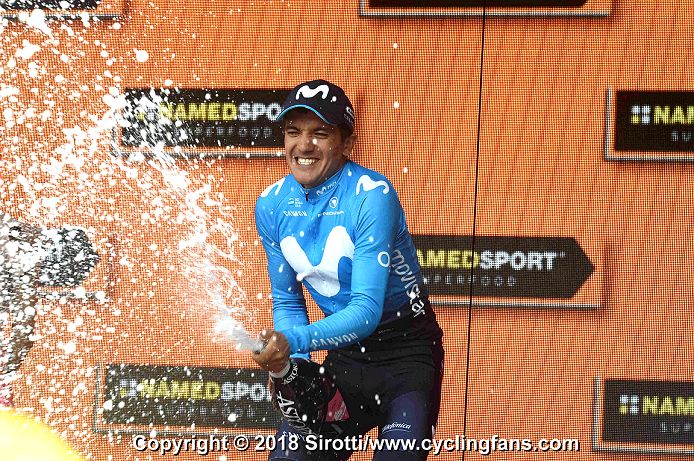 Stage 8 winner Richard Carapaz (Movistar) sprays champagne from the podium.
- Click for high resolution -
photo Copyright © 2018 Fotoreporter Sirotti/cyclingfans.com
- WATCH interview with Stage 8 winner Richard Carapaz - more Giro d'Italia videos -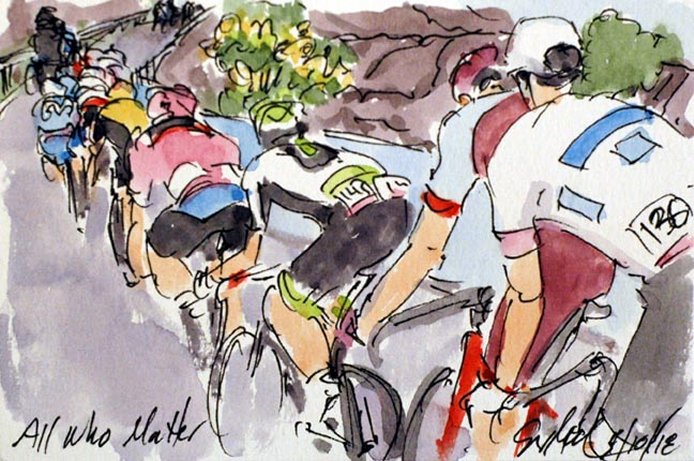 The Giro d'Italia in the mountains, more 2018 Giro Stage 6 Art - by Greig Leach. More The Art of Cycling -
Sponsored by Richeson Art -
Copyright © 2018 Greig Leach
2018 Giro d'Italia Stage 9 Profile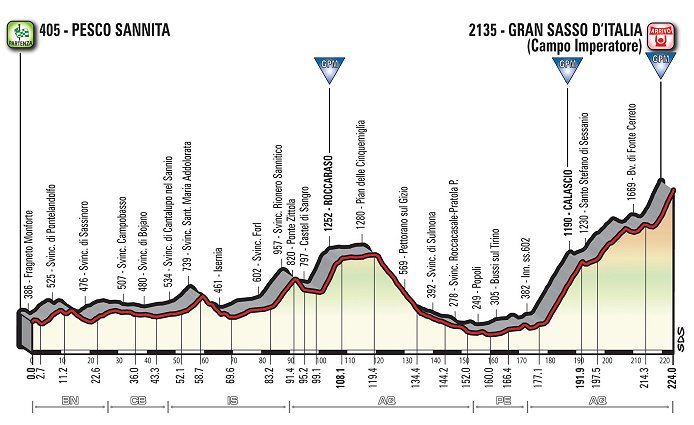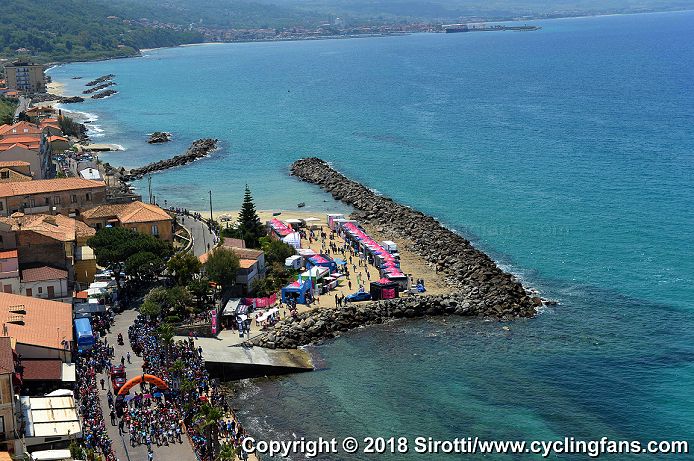 There was beautiful scenery at the start of Stage 7 in Pizzo as the peloton, lower left, assembed on the start line.
- Click for high resolution -
photo Copyright © 2018 Fotoreporter Sirotti/cyclingfans.com
- WATCH Giro d'Italia Stage 7 official highlights in English - more Giro d'Italia videos -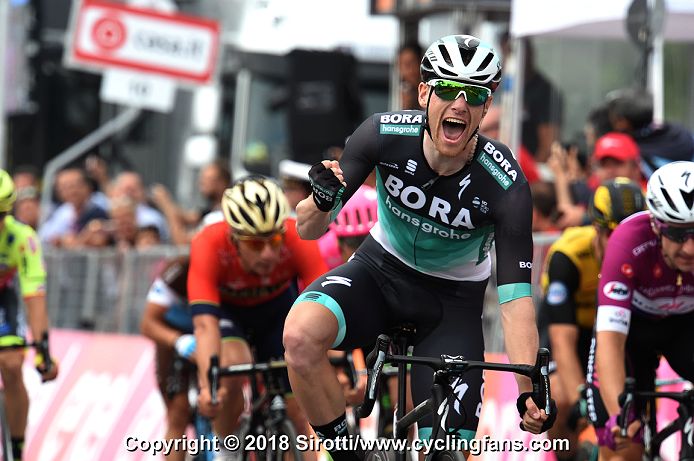 Sam Bennett (Bora-Hansgrohe) wins Stage 7.
- Click for high resolution -
photo Copyright © 2018 Fotoreporter Sirotti/cyclingfans.com
- WATCH interview with Stage 7 winner Sam Bennett - more Giro d'Italia videos -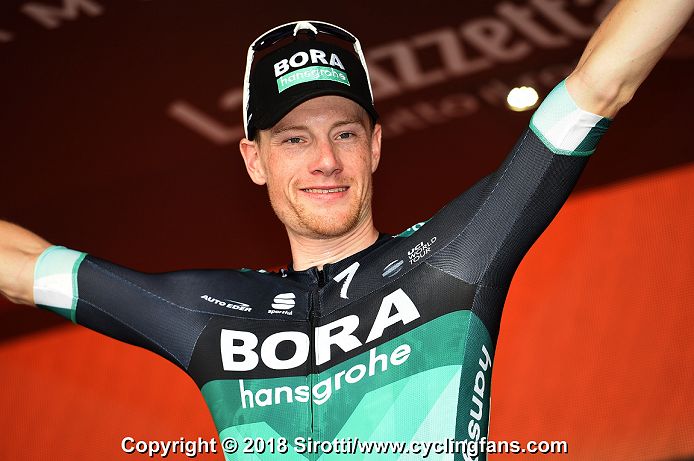 Sam Bennett (Bora-Hansgrohe) on the podium following his victory on Stage 7
- Click for high resolution -
photo Copyright © 2018 Fotoreporter Sirotti/cyclingfans.com
- WATCH podium presentation with Stage 7 winner Sam Bennett - more Giro d'Italia videos -
2018 Giro d'Italia Stage 8 Profile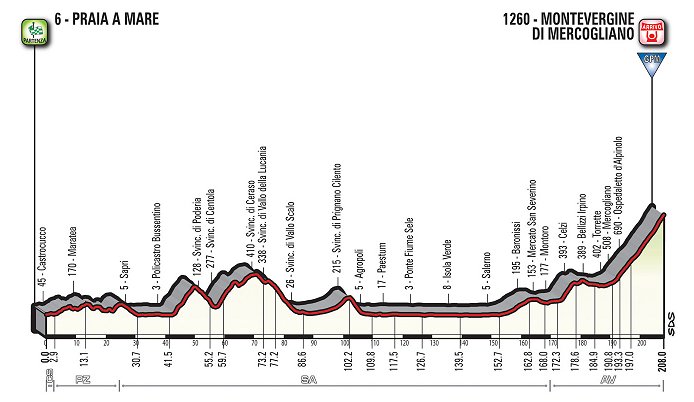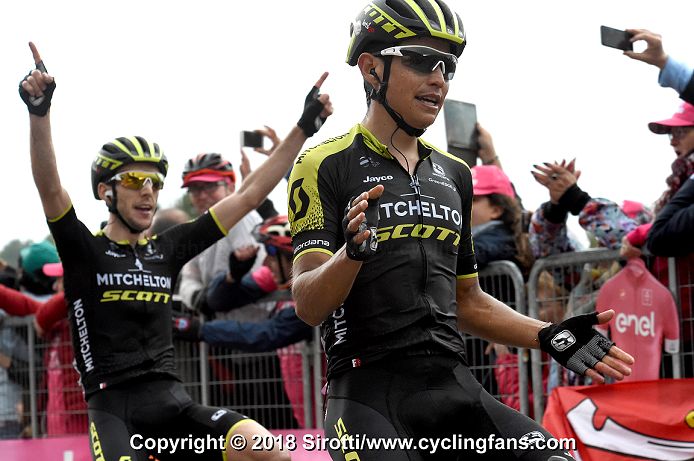 Esteban Chaves wins Stage 6 atop Mount Etna ahead of teammate Simon Yates, new race leader, on a great day for Mitchelton-Scott.
- Click for high resolution -
photo Copyright © 2018 Fotoreporter Sirotti/cyclingfans.com
- WATCH Giro d'Italia Stage 6 official highlights in English - more Giro d'Italia videos -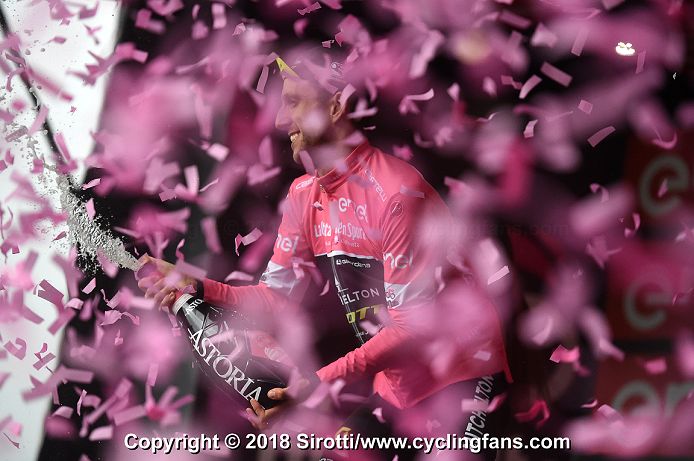 New race leader Simon Yates (Mitchelton-Scott) sprays champagne from the podium, surrounded by pink confetti.
- Click for high resolution -
photo Copyright © 2018 Fotoreporter Sirotti/cyclingfans.com
- WATCH interview with new race leader Simon Yates following Stage 6 - more Giro d'Italia videos -
2018 Giro d'Italia Stage 7 Profile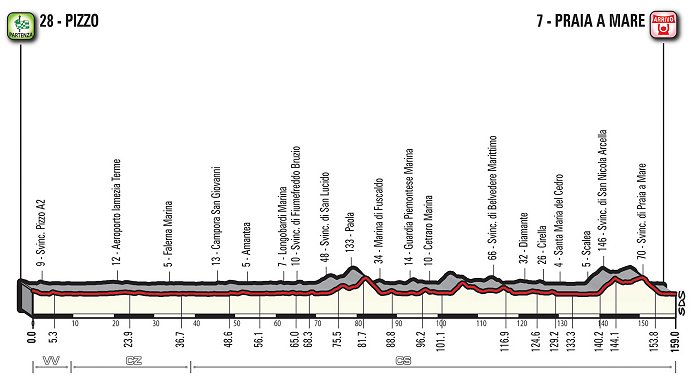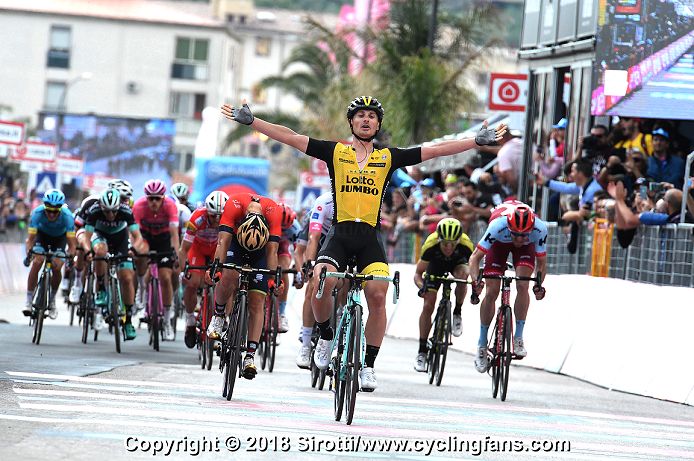 Enrico Battaglin (LottoNL-Jumbo) wins Stage 5.
- Click for high resolution -
photo Copyright © 2018 Fotoreporter Sirotti/cyclingfans.com
- WATCH Giro d'Italia Stage 5 official highlights in English - more Giro d'Italia videos -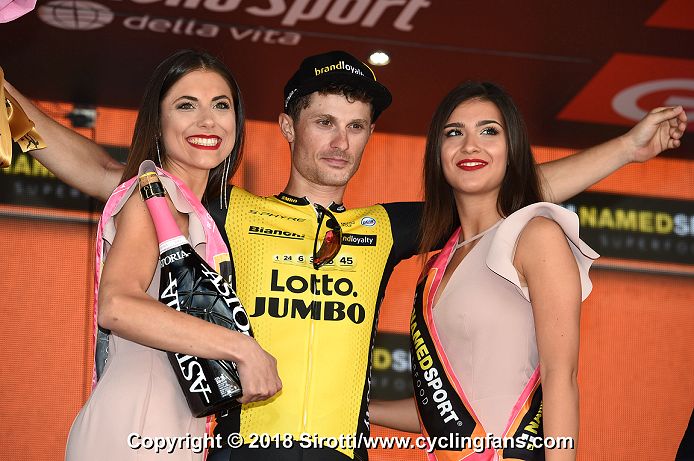 Enrico Battaglin (LottoNL-Jumbo) on the podium following his Stage 5 victory
- Click for high resolution -
photo Copyright © 2018 Fotoreporter Sirotti/cyclingfans.com
- WATCH interview with Stage 5 winner Enrico Battaglin - more Giro d'Italia videos -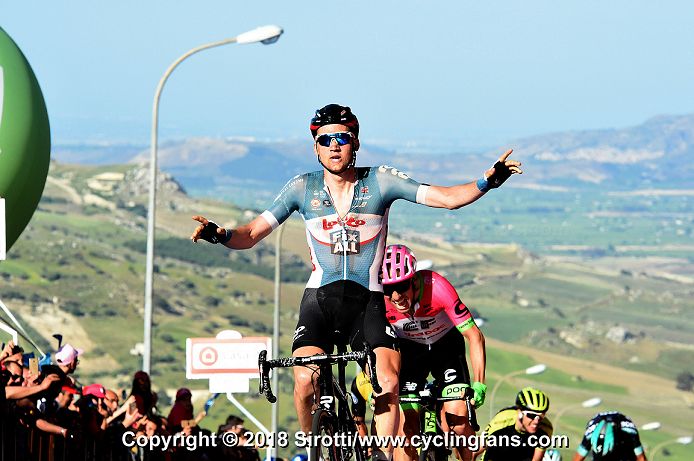 Tim Wellens (Lotto Fix All) wins Stage 4 ahead of Michael Woods and Enrico Battaglin.
- Click for high resolution -
photo Copyright © 2018 Fotoreporter Sirotti/cyclingfans.com
- WATCH Giro d'Italia Stage 4 official highlights in English - more Giro d'Italia videos -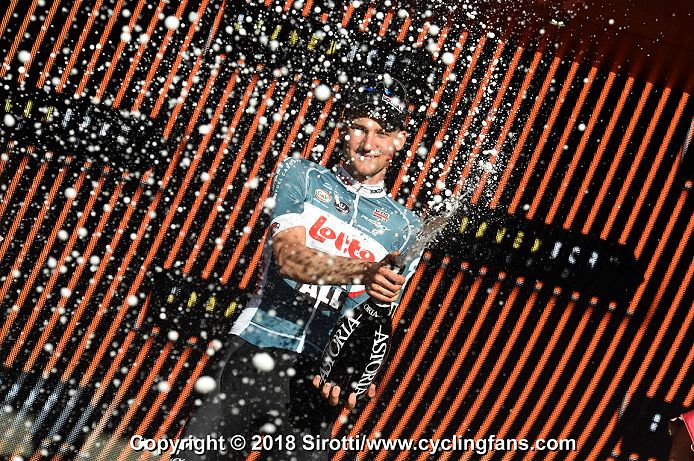 Tim Wellens (Lotto Fix All) celebrates his Stage 4 victory with champagne on the podium.
- Click for high resolution -
photo Copyright © 2018 Fotoreporter Sirotti/cyclingfans.com
- WATCH interview with Stage 4 winner Tim Wellens - more Giro d'Italia videos -
2018 Giro d'Italia Stage 5 Profile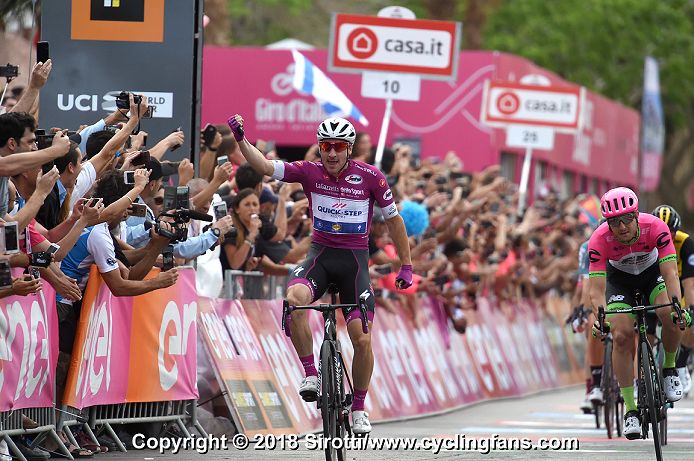 Elia Viviani (Quick-Step Floors) wins Stage 3, his second consecutive stage victory.
- Click for high resolution -
photo Copyright © 2018 Fotoreporter Sirotti/cyclingfans.com
- WATCH Giro d'Italia Stage 3 official highlights in English - more Giro d'Italia videos -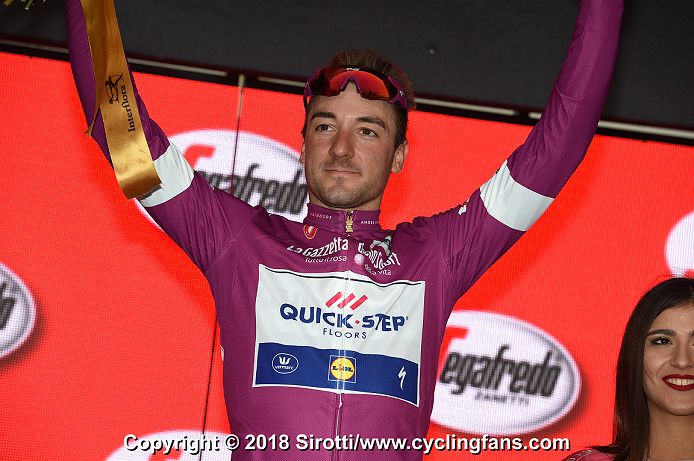 Elia Viviani (Quick-Step Floors) celebrates on the podium following his Stage 3 win.
- Click for high resolution -
photo Copyright © 2018 Fotoreporter Sirotti/cyclingfans.com
- WATCH interview with Stage 3 winner Elia Viviani - more Giro d'Italia videos -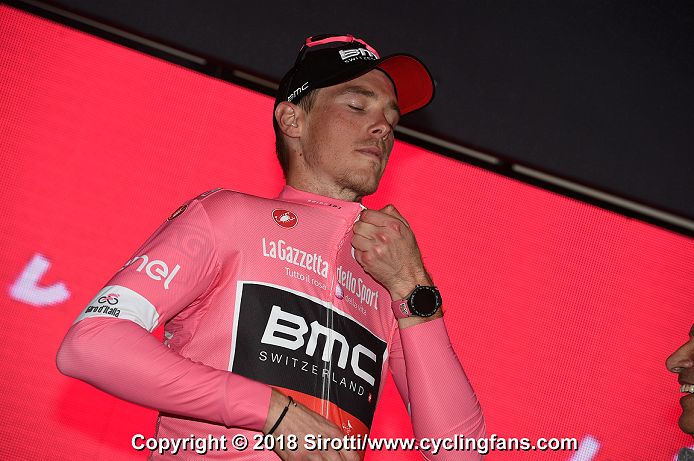 Rohan Dennis (BMC Racing) zips up another maglia rosa as race leader following Stage 3.
- Click for high resolution -
photo Copyright © 2018 Fotoreporter Sirotti/cyclingfans.com
- WATCH interview with race leader Rohan Dennis after Stage 3 - more Giro d'Italia videos -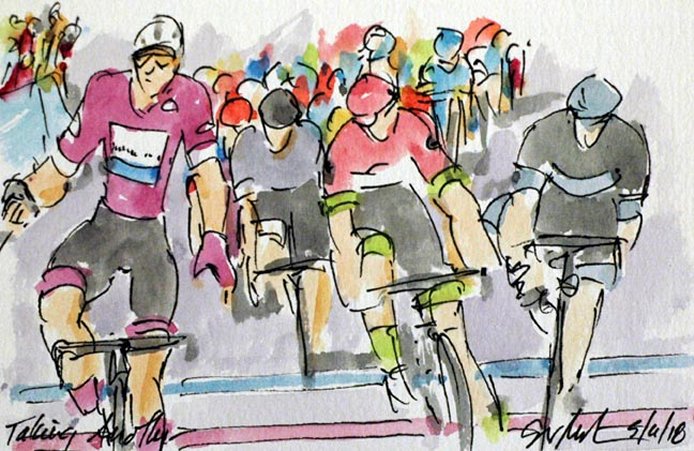 2018 Giro d'Italia Stage 3 art: Second consecutive win by Elia Viviani by Greig Leach. More 2018 Giro d'Italia Stage 3 Art. More The Art of Cycling -
Sponsored by Richeson Art -
Copyright © 2018 Greig Leach
2018 Giro d'Italia Stage 4 Profile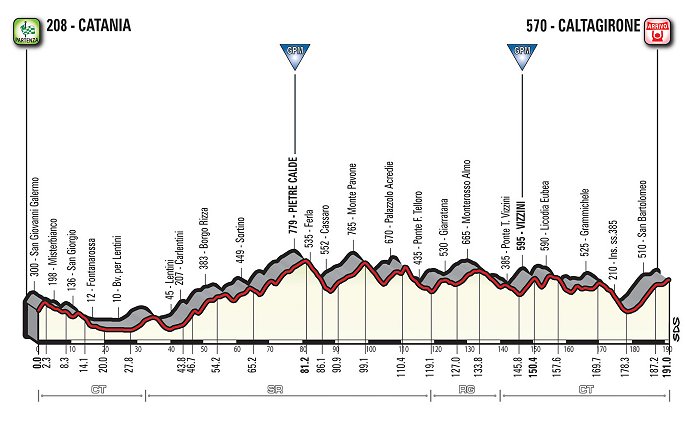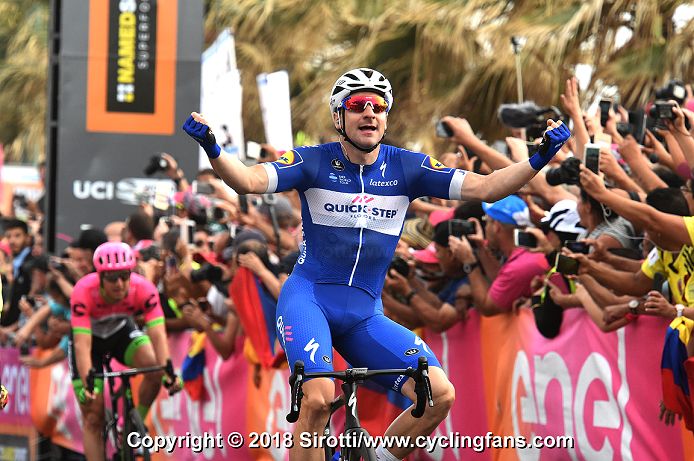 Elia Viviani (Quick-Step Floors) wins Stage 2.
- Click for high resolution -
photo Copyright © 2018 Fotoreporter Sirotti/cyclingfans.com
- WATCH Giro d'Italia Stage 2 final 2 kilometers - more Giro d'Italia videos -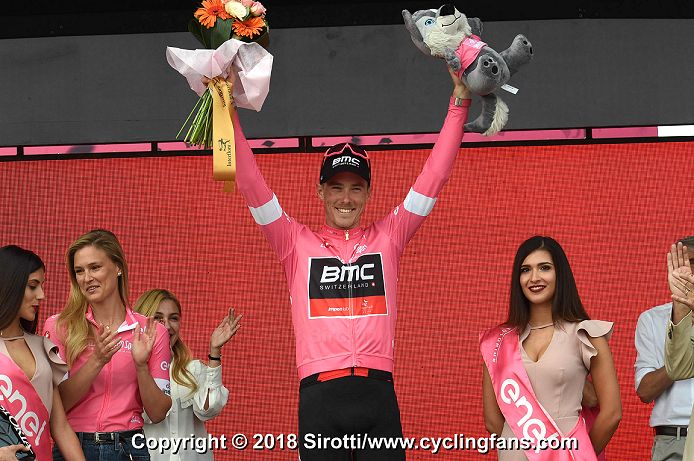 Rohan Dennis (BMC Racing) is new overall leader following Stage 2. Israeli model, actress and businesswoman Bar Refaeli, left, made an appearance at the Giro.
- Click for high resolution -
photo Copyright © 2018 Fotoreporter Sirotti/cyclingfans.com
- WATCH interview with race leader Rohan Dennis following Stage 2 - more Giro d'Italia videos -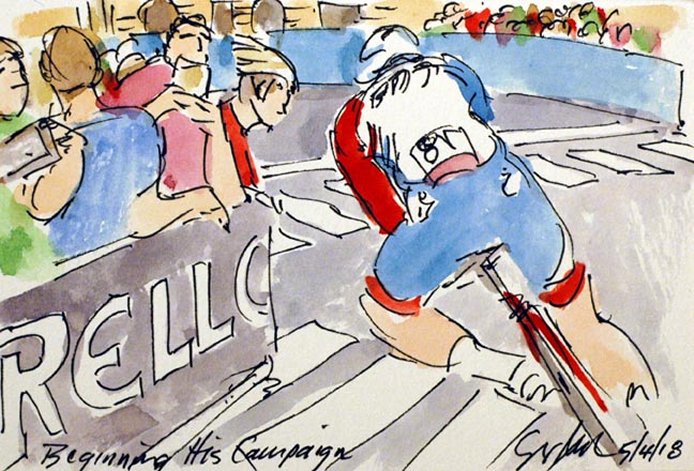 Artist Greig Leach is once again painting the Giro d'Italia. Check out the Giro Stage 1 Gallery by Greig Leach. More The Art of Cycling -
Sponsored by Richeson Art -
Copyright © 2018 Greig Leach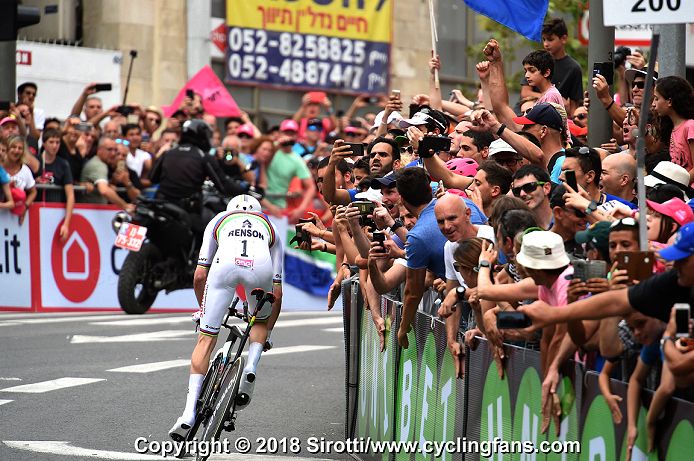 Tom Dumoulin (Team Sunweb) on his way to victory in the Stage 1 individual time trial in Jerusalem
- Click for high resolution -
photo Copyright © 2018 Fotoreporter Sirotti/cyclingfans.com
- WATCH Giro d'Italia Stage 1 official highlights in English - more Giro d'Italia videos -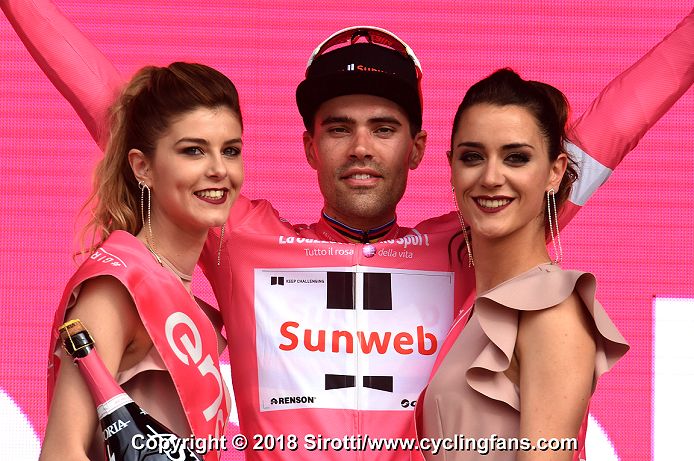 Tom Dumoulin (Team Sunweb) is first overall leader following his victory in the Stage 1 ITT.
- Click for high resolution -
photo Copyright © 2018 Fotoreporter Sirotti/cyclingfans.com
- WATCH interview with race leader Tom Dumoulin following Stage 1 - more Giro d'Italia videos -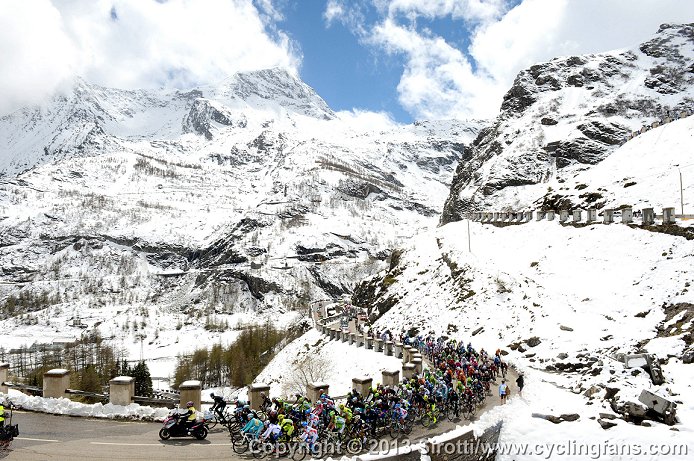 2018 Giro d'Italia LIVE coverage. 14th consecutive year at CF! At cyclingfans.com, you can watch and follow the Giro live for free from your desktop computers, tablets (including iPad, Samsung), smartphones (iPhone, Android) and other devices. If you have problems, contact me via email or Twitter. - Pete
- Click for high resolution -
photo Copyright © 2013 Fotoreporter Sirotti/cyclingfans.com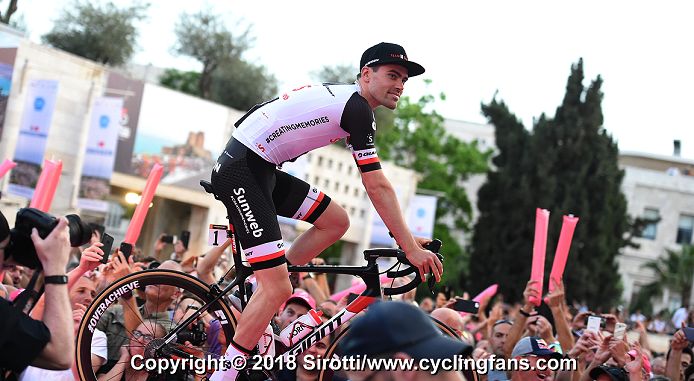 Defending Giro d'Italia champion Tom Dumoulin (Team Sunweb) rides on the stage at Thursday's teams presentation.
- Click for high resolution -
photo Copyright © 2018 Fotoreporter Sirotti/cyclingfans.com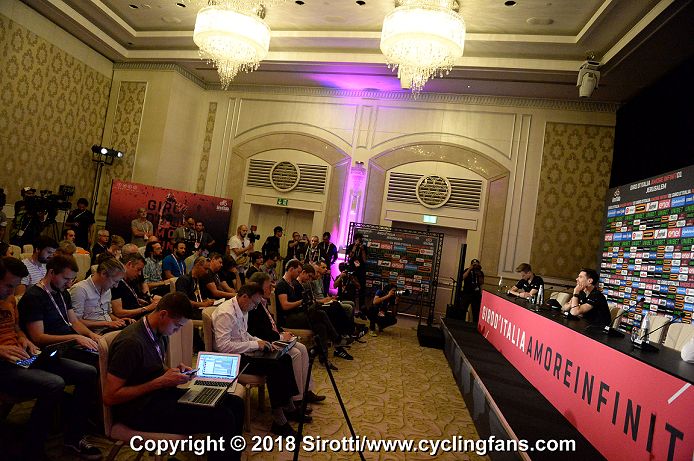 Defending Giro d'Italia champion Tom Dumoulin (Team Sunweb), right, answered questions from the media on Wednesday, two days before the start of the 2018 race.
- Click for high resolution - more 2018 Giro d'Italia pre-race press conference photos -
photo Copyright © 2018 Fotoreporter Sirotti/cyclingfans.com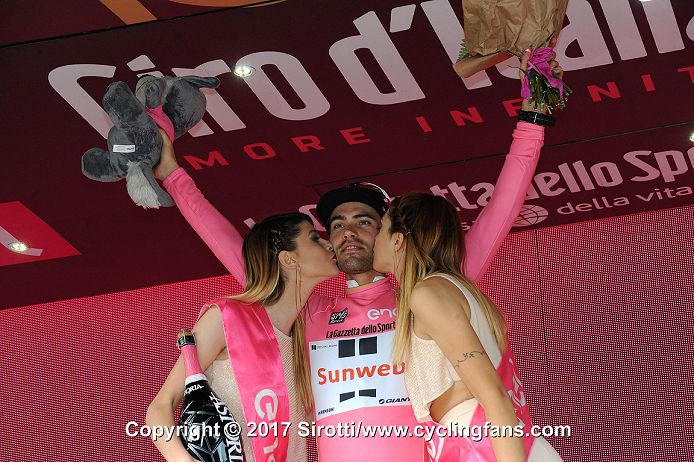 Tom Dumoulin (Team Sunweb) won the 2017 Giro d'Italia.
- Click for high resolution - more Giro d'Italia photos -
photo Copyright © 2017 Fotoreporter Sirotti/cyclingfans.com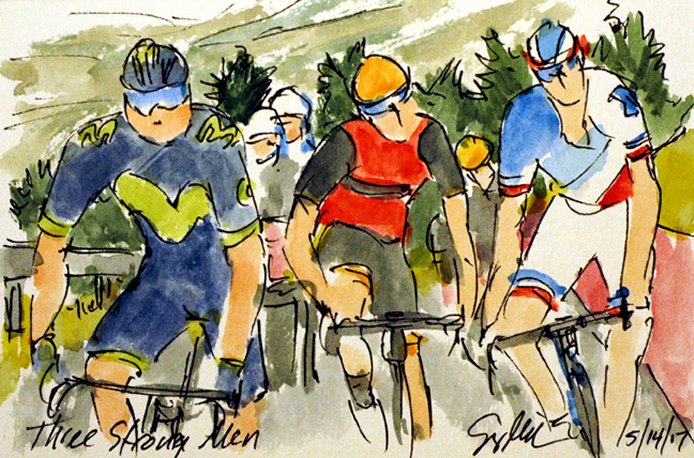 2017 Giro d'Italia Stage 9 art: Artist Greig Leach painted the 2017 Giro d'Italia. This watercolor is titled "Three Strong Men - Nairo Quintana (Movistar), Vincenzo Nibali (Bahrain-Merida), Thibaut Pinot (FDJ)" by Greig Leach. More The Art of Cycling -
Sponsored by Richeson Art -
Copyright © 2017 Greig Leach