Lance Armstrong
Submitted by admin on Sun, 07/25/2010 - 15:06

Follow cyclingfans on Twitter and never miss a race. Cyclingfans.com: The #1 destination on the internet for live race coverage.
- Note: High resolution versions of all photos can be viewed by clicking the "high resolution" link under each photo.
Photos by Fotoreporter Sirotti and Reuters - Editor: Pete Geyer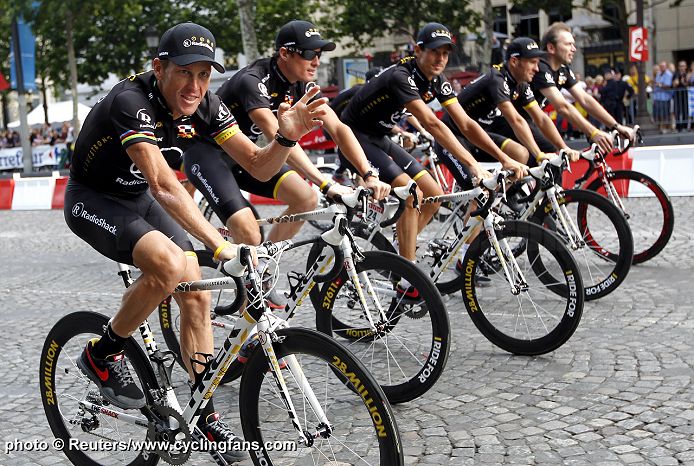 2010 Tour de France: Lance Armstrong, his RadioShack teammates, and team manager Johan Bruyneel ride on the Champs-Elysees during the post-stage parade of teams.
- Click for high resolution -
photo Copyright © 2010 Reuters/cyclingfans.com
More photos below
Submitted by admin on Sat, 05/22/2010 - 00:50
- French sports daily L'Equipe Saturday is reporting that Lance Armstrong will arrive in France Monday to begin preparing for the Tour de France (July 3-25). While Armstrong was not expected to compete in the Dauphiné Libéré (June 6-13), L'Equipe reports that a source tells them the Tour de Suisse (June 12-20) is also unlikely. Armstrong is expected to begin training in and around his European base at Saint-Jean-Cap-Ferrat near Nice.
Submitted by admin on Mon, 11/23/2009 - 18:21
- Team RadioShack manager, Johan Bruyneel, today announced the final roster for the 2010 squad - 26 riders from 16 different countries.
The riders, in alphabetical order:
Submitted by admin on Thu, 10/01/2009 - 15:23
- American Tyler Farrar (Garmin-Slipstream) won Stage 1 today of the Circuit Franco-Belge (to October 4). Stage 2 Tuesday starts in Maubeuge and finishes in Poperinge. The official website is here. Live ticker here.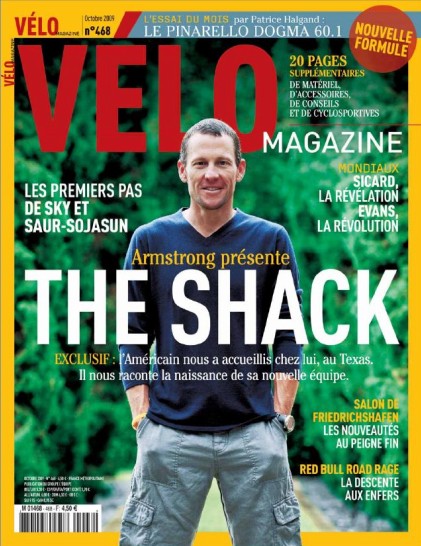 Lance Armstrong's 2010 season schedule is starting to take form...
The October issue of Velo Magazine (French) just hit newsstands and the cover story is an interview with Lance Armstrong regarding his new team, RadioShack, and his plans for the 2010 season.
Velo Magazine and its publisher, L'Equipe, continue to refer to Armstrong's new team as "The Shack" but all indications (most notably UCI press releases) are that the team will be known as RadioShack. Velo Magazine asked Armstrong what the name will be and he said he believes it will indeed be known as RadioShack. The jersey colors are expected to be black, red and white. (These are the longtime colors of RadioShack logos.)
As previously reported, Armstrong's 2010 season will begin in Australia with the Tour Down Under (January 19-24). His first 2010 race in Europe may be the Tour of Murcia (Spain, March 3-7) "or possibly Paris-Nice" (March 7-14) Armstrong told Velo Magazine. (Also, as we reported last February, Armstrong told Eddy Merckx he would race in the 2010 Tour of Qatar (February 7-12).)
In April, Armstrong may race some of the spring classics; "La Fleche Wallonne, Liege-Bastogne-Liege, we're not sure". Armstrong noted the May conflict between the Giro d'Italia (May 8-30) and the Tour of California (May 16-23, previously in February); "RadioShack is an American sponsor but the Giro is good preparation for the Tour de France." The Tour of California will already suffer from less world media exposure going head to head with the Giro; Armstrong racing the Giro would be a huge blow to the American race.
Having previously commented that he would not repeat his 2009 pre-TDF preparation in the U.S., Armstrong told Velo Magazine that in 2010, "June will be more traditional, in Europe." (the Dauphine Libere (June 6-13) has been his favored pre-TDF race in the past but depending on what he does in May, the Tour of Switzerland (June 12-20) or even just training and reconnaissance may be more likely).
Submitted by admin on Thu, 08/20/2009 - 14:01

2009 Oslo Grand Prix Official Poster

2009 Oslo Grand Prix Videos and Photos


Oslo Grand Prix and Lecture Videos

Oslo Grand Prix Photos


2009 Oslo Grand Prix: Lance Armstrong (Livestrong)
takes the microphone. More photos
photo Copyright © 2009 Trygve Tømta

- Lance Armstrong in Oslo videos: Armstrong interviews/Hushovd victory at the 2009 Oslo Grand Prix. A Google-translated article here also has above interview videos embedded in story with photo from 1993 World Championships. Some videos require Microsoft Silverlight plug-in.

- The Oslo Grand Prix has ended. Video clips to come...

Update: Oslo Grand Prix LIVE now. Links below.

The Oslo Grand Prix is this evening and riders expected on the start line include 7-time Tour de France champion Lance Armstrong, Thor Hushovd, Kurt Asle Arvesen and Edvald Boasson Hagen.

Run on a 1km long circuit in the Oslo city center, the race is scheduled to begin at 19:15 CET (1:15pm U.S. Eastern) and will run for 90 minutes.

Lance Armstrong became World Champion in Oslo in 1993.

Armstrong will be giving a lecture tomorrow on cancer awareness.

More info and links as race time approaches...

Note: Some feeds will alternate between the Oslo Grand Prix and track and field worlds.

Update: Oslo Grand Prix LIVE here. Also LIVE here. Possibly LIVE here too. More links to come if available...

Big thanks to Trygve of Norway for tipping us off about the race coverage.