Lance Armstrong
Submitted by admin on Thu, 08/20/2009 - 10:57

Follow cyclingfans on Twitter and never miss a race. Cyclingfans.com: The #1 destination on the internet for live race coverage.

2009 Oslo Grand Prix: Lance Armstrong (Livestrong) speaks to the crowd.
photo Copyright © 2009 Trygve Tømta
More photos below

Submitted by admin on Mon, 07/13/2009 - 20:21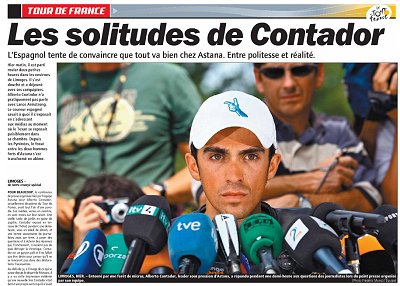 Tour de France, L'Equipe, Tuesday July 14:
"Contador is alone, or nearly so, but he can't allow himself to admit it."
(photo shows Contador at rest day press conference)
- Tuesday's Tour de France Stage 10 departs Limoges at 12:30 CET (6:30am U.S. Eastern) and is expected in Issoudun between 16:59 and 17:25 CET (10:59am and 11:25am U.S. Eastern). Tour de France live coverage on Versus TV is scheduled to begin at 8:30am U.S. Eastern (8:00am U.S. Eastern for the Versus live streaming). Live coverage on Eurosport is scheduled to begin at 13:45 CET (7:45am U.S. Eastern).
- More Tour de Cycling - Monday to come...
- Tour de France: Today is the first of two rest days.
- Many news outlets are referencing Lance Armstrong's comments Sunday, in a post-Stage 9 interview on French TV, regarding his likely return to race another Tour de France in 2010. Appearing with two-time Tour champion and current broadcaster Laurent Fignon, currently undergoing treatment for cancer, Armstrong also comments on the possibility of creating a new team with Johan Bruyneel (Nike may be involved but they are looking for a title sponsor) and answers a question assessing his interest in one day becoming president of the UCI ("That job is harder than doing the Tour. And I'd have to live in Switzerland!") He also talks about Livestrong in France (all monies collected from bracelet sales remain in France). Fignon comments that he sees that Armstrong is getting "better and better" throughout the Tour. Armstrong states that though the Tour is approaching halfway point, in terms of racing "we're only 25% done". Armstrong also acknowledges there is some tension on the team related to his rivalry with teammate Alberto Contador. Actor/director Ben Stiller tells Armstrong to bug off while he (Stiller) prepares for the TTT. And show host Gerard Holtz calls Armstrong a geek, due to his love of Twitter, etc. The show also includes highlights from the first week of race action. You can watch the full show online (21:08), link below. -Pete
Watch Lance Armstrong's Sunday interview on France TV
- 2009 Tour de France "probably not" his last Tour -
- Tour at about halfway point but in terms of racing, "we're only 25% done" -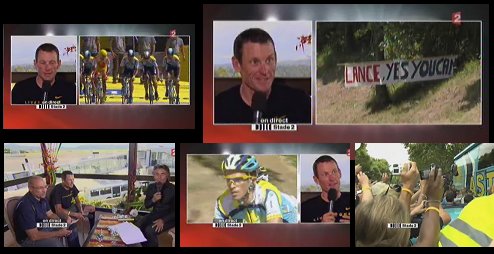 Click here to watch Armstrong interview in media player. (21:08)
Submitted by admin on Mon, 06/29/2009 - 03:12
-
Watch Lance Armstrong on Vivement Dimanche (France 2 TV) with Michel Drucker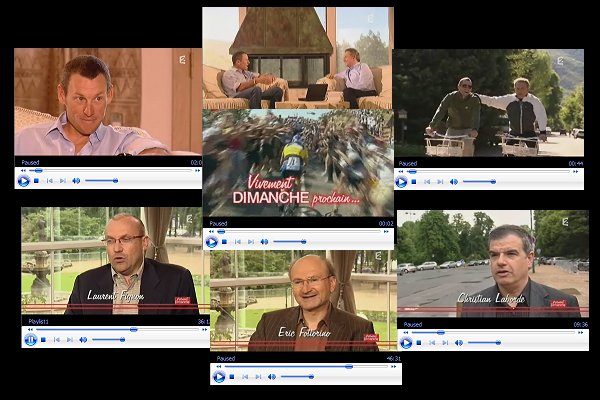 - Lance Armstrong was featured on the popular Vivement Dimanche program on France 2 television yesterday. Hosted by the highly respected Michel Drucker, the program includes guest commentary and questions from a number of celebrities including 5-time Tour champion Eddy Merckx, 2-time TDF champ Laurent Fignon, Eric Fottorino (writer and director of Le Monde), and French writer Christian Laborde (longtime Armstrong fan and author of the book "Champion" about Armstrong). Drucker recently travelled to Aspen, Colorado for the feature which includes highlights from Armstrong's career, accompanied by a variety of song clips from the Alan Parsons Project's Sirius (the music long used to introduce the Chicago Bulls players before home games) to John Denver's Rocky Mountain High. The program is a full hour long and you can watch it online here. (Armstrong mostly speaks in English, sometimes dubbed in French, sometimes with sub-titles.) Nicely done.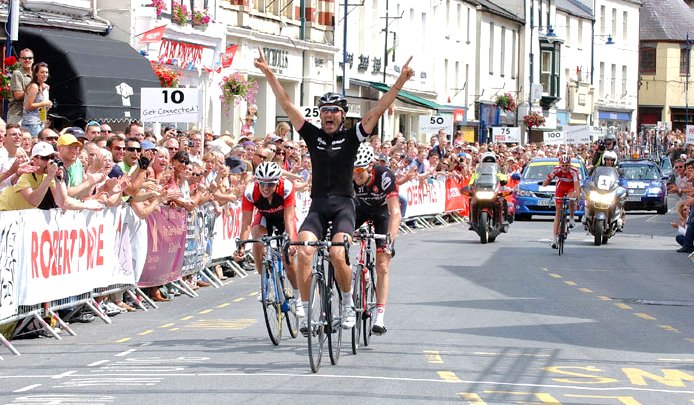 2009 Men's British National Road Race Championships: British born and American raised (Texas),
Kristian House (Rapha Condor) wins in Abergavenny, Wales.
Copyright © 2009 Dave O'Nyons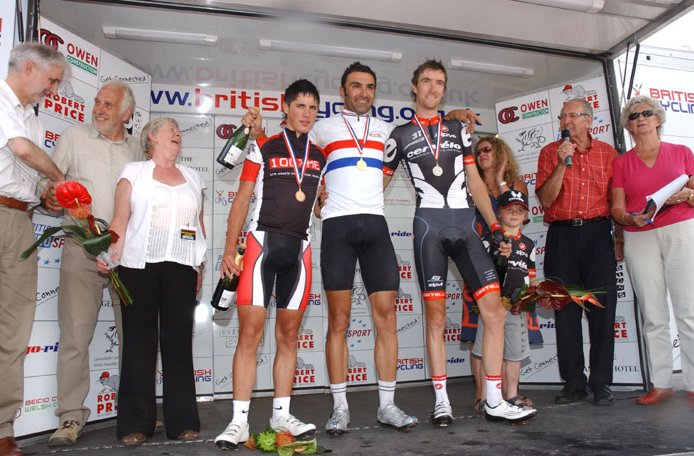 2009 Men's British National Road Race Championships: Peter Kennaugh (100% ME, third),
Kristian House (Rapha Condor, first) and Daniel Lloyd (Cervelo Test Team, second) on the podium.
Copyright © 2009 Dave O'Nyons
Submitted by admin on Wed, 06/24/2009 - 21:17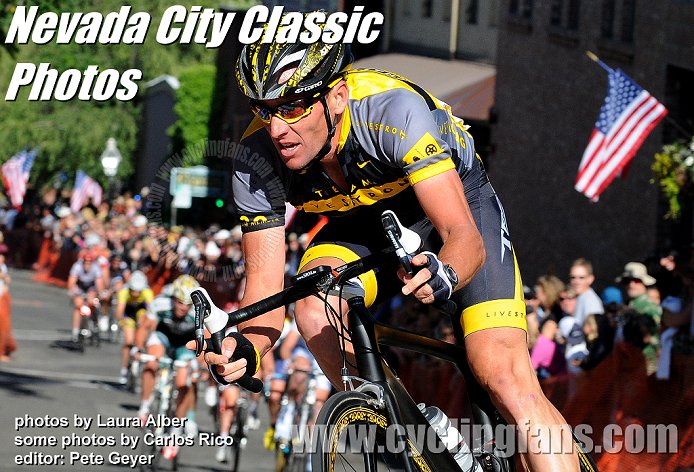 2009 Nevada City Classic: Lance Armstrong's last race before the Tour de France.
Photos Copyright © 2009 Laura Alber and Carlos Rico/www.cyclingfans.com
Submitted by admin on Fri, 04/24/2009 - 11:26
Update: The AFLD has confirmed that the case is closed with a statement on its website here. (French, .pdf) In short, they met on the matter yesterday, took Armstrong's version of events into consideration, and closed the case without proceeding with testing of the hair sample. (Blood and urine tests were clean.)
7-time Tour de France champion Lance Armstrong has just reported via Twitter that he has heard from the French Anti-Doping Agency (AFLD) regarding the testing of blood, urine and hair samples he gave while in France in March. "Case closed, no penalty, all samples clean," wrote Armstrong.