Live race coverage
Submitted by admin on Sat, 07/11/2009 - 21:51
Sunday's Tour de France Stage 9 Profile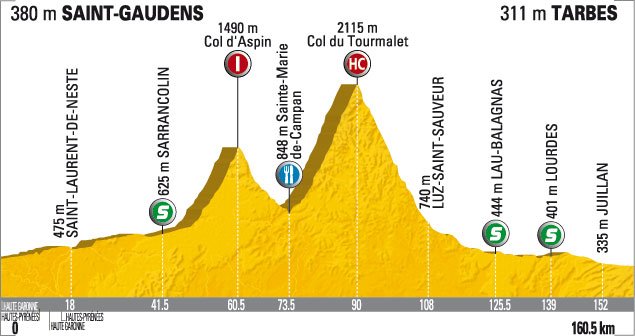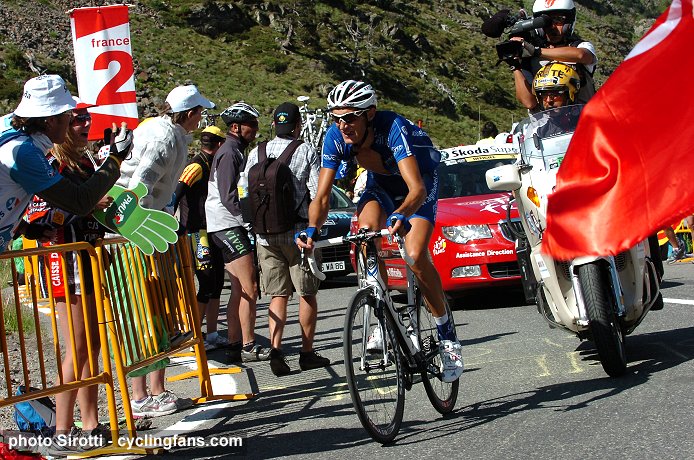 2009 Tour de France: Brice Feillu (Agritubel) on his way to winning Stage 7 on Arcalis.
photo Copyright © 2009 Fotoreporter Sirotti/cyclingfans.com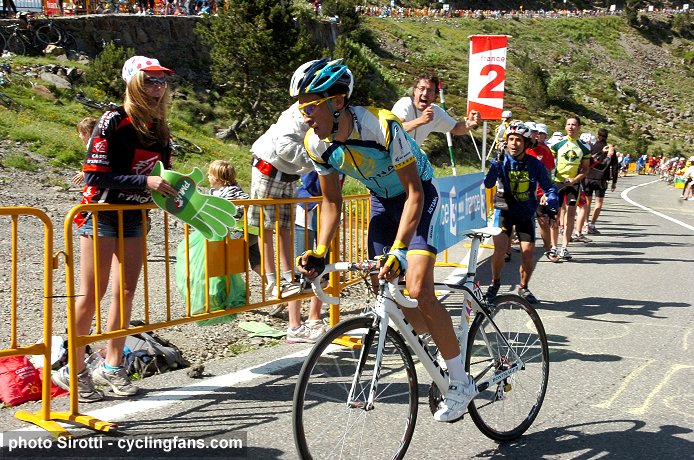 2009 Tour de France: Alberto Contador (Astana) attacked the chase group of contenders
and moved up to second overall at just 6 seconds. Teammate Lance Armstrong dropped
to third place, two seconds behind Contador.
photo Copyright © 2009 Fotoreporter Sirotti/cyclingfans.com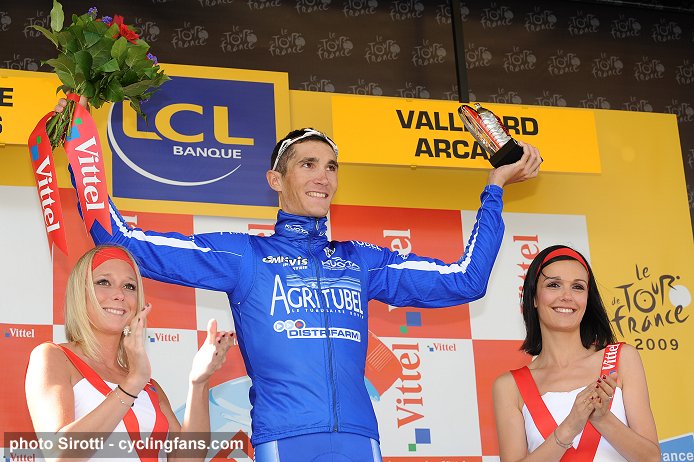 2009 Tour de France: Feillu on the victory podium.
photo Copyright © 2009 Fotoreporter Sirotti/cyclingfans.com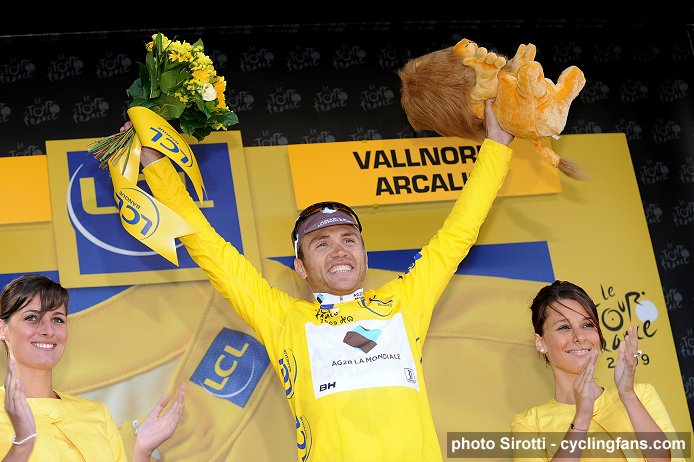 2009 Tour de France: Rinaldo Nocentini's 4th place on the stage was good enough
to put the AG2R-La Mondiale rider into the race lead.
photo Copyright © 2009 Fotoreporter Sirotti/cyclingfans.com
Notes: (latest notes always appear at the top, below sticky notes)

Follow cyclingfans on Twitter and never miss a race. Cyclingfans.com: The #1 source on the internet for live race coverage.

- Please help spread the word:
Tweet cyclingfans.com Thanks. -Pete

- Sunday's Tour de France Stage 9 departs Saint-Gaudens at 12:25 CET (6:25am U.S. Eastern) and is expected in Tarbes between 16:30 and 16:55 CET (10:30am and 10:55am U.S. Eastern). Tour de France live coverage on Versus TV is scheduled to begin at 7:00am U.S. Eastern (6:20am U.S. Eastern for the Versus live streaming). Live coverage on Eurosport is scheduled to begin at 12:30 CET (6:30am U.S. Eastern).

- NEW! Tour de France Online game. Free to play. You get to play the directeur sportif. Create your cycling team, train it and compete against players from all over the world on the official stages of the 2009 Tour de France. From the makers of Pro Cycling Manager, Tour de France Online 2009 is much more than the typical cycling fantasy league game and they are offering prize money to the winners. Click banner below or here for more info and to sign up.




- Versus Tour de France LIVE stream working well. Link at right.

- TDF LIVE via Eurosport Germany.

- Tour de France LIVE on Rai Due.

- Le Tour LIVE via France 2.

- Tour de France LIVE video streaming on Versus, before the TV broadcast. Link at right.

- Tour de France Stage 8 departs Andorre-la-Vielle at 12:20 CET (6:20am U.S. Eastern) and is expected in Saint-Girons between 16:55 and 17:24 CET (10:55am and 11:24am U.S. Eastern). Tour de France live coverage on Versus is scheduled to begin at 7:30am U.S. Eastern. Live coverage on Eurosport is scheduled to begin at 12:15 CET (6:15am U.S. Eastern).

Tour de France Stage 8 Profile

- For Tour de France via satellite info, MJ Ray has you covered in our cycling via satellite blog here.

- We recommend you open our Twitter feed in a separate window now. If ever we have a server outage, we will update on Twitter and direct you to a live coverage page on another server.

- Welcome to our live coverage guide for the 2009 Tour de France.

2009 Tour de France LIVE
July 4-26
Official Website
Start List

Stage 8 start: 12:20 CET

Finish: 16:55-17:24 CET
(4:55pm-5:24pm CET)





Tour de France Online Game
(Be your own Team Director, train your riders, race the 2009 TDF stages. Cash prizes for winners.)

---


(7:30am U.S. Eastern)


(13:25 CET (7:25am U.S. Eastern))


(No live coverage scheduled today)


(Geo-restricted)


(Belgium only)


(Belgium only)


Alternative
(UK)


(France only)


(Netherlands only)


(Italy only)

(more links to come)

(more video links to come if available)

Live audio streaming:

(English)
---
Deutsch - Español
Français - Italiano
Russian
---
Check schedule




Live tickers:


(English)
Deutsch - Español
Français - Italiano




News and photos:


(cycling news)
Yahoo photo gallery (AP/AFP)

Copyright © 2009 www.cyclingfans.com
Submitted by admin on Fri, 07/10/2009 - 19:30
Saturday's Tour de France Stage 8 Profile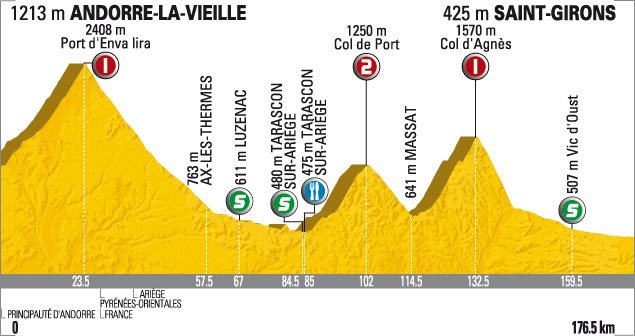 Notes: (latest notes always appear at the top, below sticky notes)

Follow cyclingfans on Twitter and never miss a race. Cyclingfans.com: The #1 source on the internet for live race coverage.

- Please help spread the word:
Tweet cyclingfans.com Thanks. -Pete

- Tour de France Stage 8 departs Andorre-la-Vielle at 12:20 CET (6:20am U.S. Eastern) and is expected in Saint-Girons between 16:55 and 17:24 CET (10:55am and 11:24am U.S. Eastern). Tour de France live coverage on Versus is scheduled to begin at 7:30am U.S. Eastern. Live coverage on Eurosport is scheduled to begin at 12:15 CET (6:15am U.S. Eastern).

- NEW! Tour de France Online game. Free to play. You get to play the directeur sportif. Create your cycling team, train it and compete against players from all over the world on the official stages of the 2009 Tour de France. From the makers of Pro Cycling Manager, Tour de France Online 2009 is much more than the typical cycling fantasy league game and they are offering prize money to the winners. Click banner below or here for more info and to sign up.




- TDF LIVE via France 2.

- Le Tour LIVE via Eurosport.

- Tour de France LIVE via TDP. (Thanks, Ken!)

- Eurosport LIVE audio feeds playing in English, Deutsch, Español, and Russian. Can be combined with video feeds (mute audio). Links in "Live audio streaming" section at right.

- Versus LIVE feed (link at right) working pretty well.

- Tour LIVE via Eurosport Poland.

- Tour de France LIVE streaming now on Versus. Link at right.

- The race is officially underway. Tickers: The cyclingnews, official site, and some Eurosport tickers are live. (Links in Live tickers section at right.)

- The peloton has left the start line and is riding through the neutral zone. The official site live ticker is reporting mild conditions with the sun shining. (see Live tickers section at right)

- Tour de France Stage 7 departs Barcelona at 10:50 CET (4:50am U.S. Eastern) and is expected at Andorre Arcalis between 16:46 and 17:23 CET (10:46am and 11:23am U.S. Eastern). Tour de France live coverage on Versus is scheduled to begin at 8:00am U.S. Eastern. Live coverage on Eurosport is scheduled to begin at 13:45 CET (7:45am U.S. Eastern).

Tour de France Stage 7 Profile

- For Tour de France via satellite info, MJ Ray has you covered in our cycling via satellite blog here.

- We recommend you open our Twitter feed in a separate window now. If ever we have a server outage, we will update on Twitter and direct you to a live coverage page on another server.

- Welcome to our live coverage guide for the 2009 Tour de France.

2009 Tour de France LIVE
July 4-26
Official Website
Start List

Stage 7 start: 10:50 CET

Finish: 16:46-17:23 CET
(4:46pm-5:23pm CET)





Tour de France Online Game
(Be your own Team Director, train your riders, race the 2009 TDF stages. Cash prizes for winners.)

---


(8:00am U.S. Eastern)


(14:30 CET (8:30am U.S. Eastern))


(14:40 CET (8:40am U.S. Eastern))


(Geo-restricted)


(Belgium only)


(Belgium only)


Alternative
(UK)


(France only)


(Netherlands only)


(Italy only)

(more links to come)

(more video links to come if available)

Live audio streaming:

(English)
---
Deutsch - Español
Français - Italiano
Russian
---
Check schedule




Live tickers:


(English)
Deutsch - Español
Français - Italiano




News and photos:


(cycling news)
Yahoo photo gallery (AP/AFP)

Copyright © 2009 www.cyclingfans.com
Submitted by admin on Thu, 07/09/2009 - 17:30
Friday's Tour de France Stage 7 Profile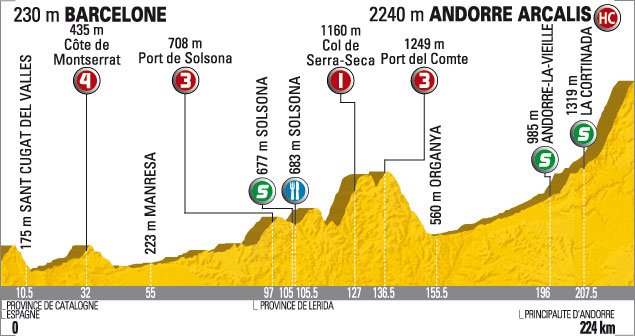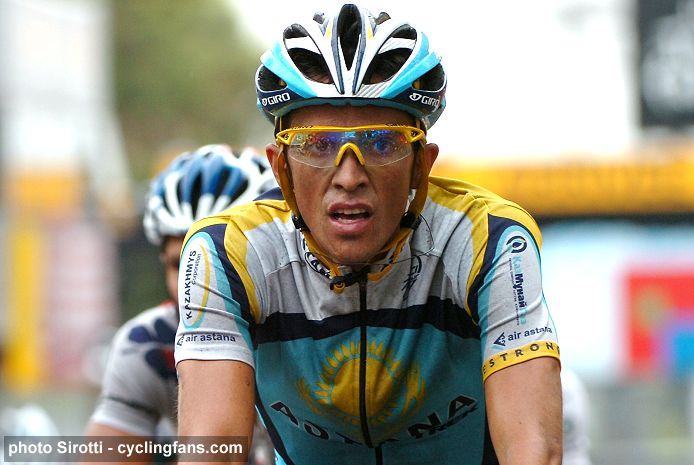 2009 Tour de France: It has not been an easy week for top favorite Alberto Contador, seen above arriving at the Stage 6 finish. Under normal circumstances, Contador should look forward to Friday's first mountain stage. But with teammate and 7-time Tour champion Lance Armstrong back racing the Tour, what exactly will be Astana's strategy? We'll soon know.
photo Copyright © 2009 Fotoreporter Sirotti/cyclingfans.com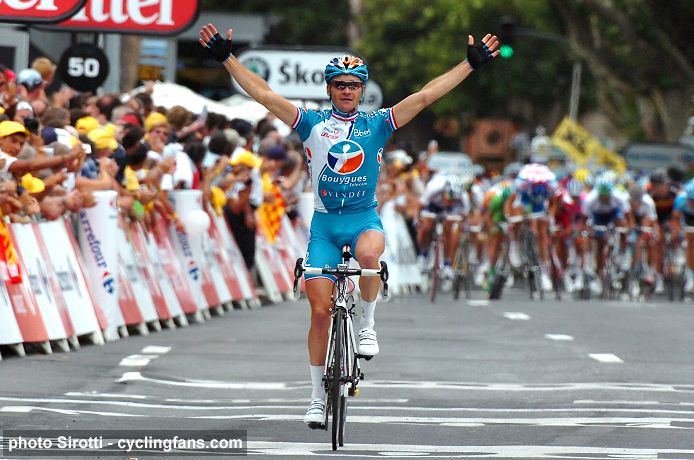 2009 Tour de France, Stage 5: Thomas Voeckler (Bbox Bouygues Telecom) finally
wins a stage in the Tour de France.
photo Copyright © 2009 Fotoreporter Sirotti/cyclingfans.com


2009 Tour de France: Voeckler raids the PowerBar stand before the start;
he would be in a breakaway early, from kilometer 29, and all day long.
photo Copyright © 2009 Fotoreporter Sirotti/cyclingfans.com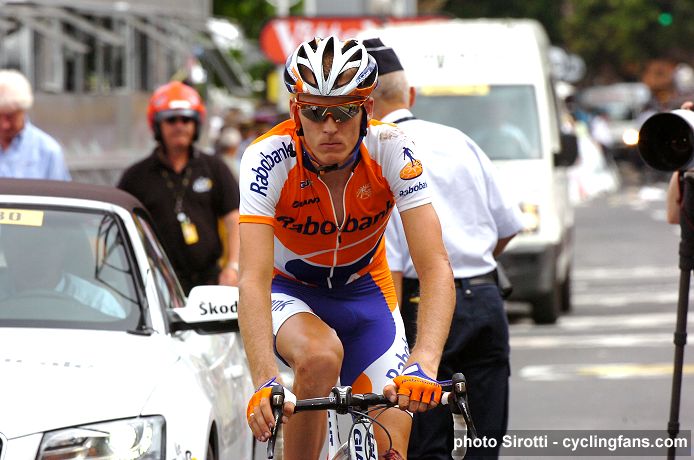 2009 Tour de France: Robert Gesink (Rabobank) finished the stage with a
broken wrist suffered in a crash. He is out of the race.
photo Copyright © 2009 Fotoreporter Sirotti/cyclingfans.com
Notes: (latest notes always appear at the top, below sticky notes)

Follow cyclingfans on Twitter and never miss a race. Cyclingfans.com: The #1 source on the internet for live race coverage.

- Please help spread the word:
Tweet cyclingfans.com Thanks. -Pete

- Friday's Tour de France Stage 7 departs Barcelona at 10:50 CET (4:50am U.S. Eastern) and is expected at Andorre Arcalis between 16:46 and 17:23 CET (10:46am and 11:23am U.S. Eastern). Tour de France live coverage on Versus is scheduled to begin at 8:00am U.S. Eastern. Live coverage on Eurosport is scheduled to begin at 13:45 CET (7:45am U.S. Eastern).

- NEW! Tour de France Online game. Free to play. You get to play the directeur sportif. Create your cycling team, train it and compete against players from all over the world on the official stages of the 2009 Tour de France. From the makers of Pro Cycling Manager, Tour de France Online 2009 is much more than the typical cycling fantasy league game and they are offering prize money to the winners. Click banner below or here for more info and to sign up.




- Tour de France LIVE via TDP.

- Tour de France LIVE audio feeds playing in English, Deutsch, Español, Russian. Audio feeds can be played simultaneously with video feeds (mute the audio on a video feed). Links in "Live audio streaming" section at right.

- Le Tour LIVE via France 2. (Thanks, Yonathan.)

- Tour de France LIVE via Rai Due. (Live coverage should follow highlights of yesterday's stage) Link at right.

- Tour de France LIVE video streaming via Versus. Link at right.

- Tour de France Stage 6 departs Girona, Spain at 12:45 CET (6:45am U.S. Eastern) and is expected in Barcelona between 17:03 and 17:27 CET (11:03am and 11:27am U.S. Eastern). Tour de France live coverage on Versus is scheduled to begin at 8:30am U.S. Eastern. Live coverage on Eurosport is scheduled to begin at 14:15 CET (8:15am U.S. Eastern).

Tour de France Stage 6 Profile

- For Tour de France via satellite info, MJ Ray has you covered in our cycling via satellite blog here.

- We recommend you open our Twitter feed in a separate window now. If ever we have a server outage, we will update on Twitter and direct you to a live coverage page on another server.

- Welcome to our live coverage guide for the 2009 Tour de France.

2009 Tour de France LIVE
July 4-26
Official Website
Start List

Stage 6 start: 12:45 CET

Finish: 17:03-17:27 CET
(5:03pm-5:27pm CET)





Tour de France Online Game
(Be your own Team Director, train your riders, race the 2009 TDF stages. Cash prizes for winners.)

---


(8:30am U.S. Eastern)


(14:45 CET (8:45am U.S. Eastern))


(Geo-restricted now?)


(Belgium only)


(Belgium only)


Alternative
(UK)


(France only)


(Netherlands only)


(Italy only)

(more links to come)

(more video links to come if available)

Live audio streaming:

(English)
---
Deutsch - Español
Français - Italiano
Russian
---
Check schedule




Live tickers:


(English)
Deutsch - Español
Français - Italiano




News and photos:


(cycling news)
Yahoo photo gallery (AP/AFP)

Copyright © 2009 www.cyclingfans.com
Submitted by admin on Wed, 07/08/2009 - 19:48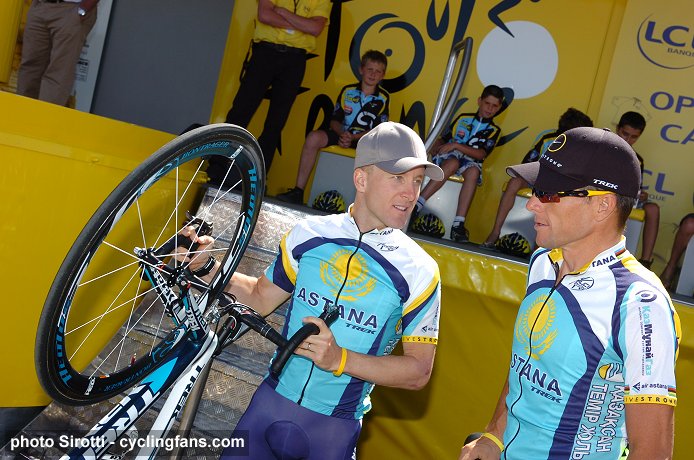 2009 Tour de France: Astana's Levi Leipheimer and Lance Armstrong before Stage 5.
photo Copyright © 2009 Fotoreporter Sirotti/cyclingfans.com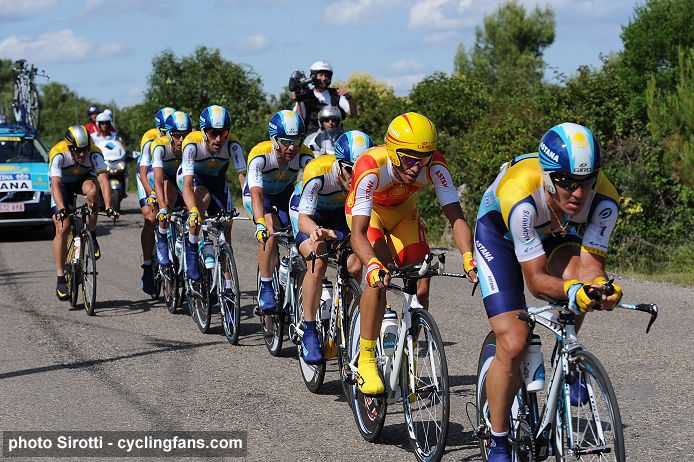 2009 Tour de France, Stage 4: Astana on their way to winning the Montpellier Team Time Trial. The win put Lance Armstrong within a fraction of a second of taking the yellow jersey from Fabian Cancellara.
photo Copyright © 2009 Fotoreporter Sirotti/cyclingfans.com

Notes: (latest notes always appear at the top, below sticky notes)

Follow cyclingfans on Twitter and never miss a race. Cyclingfans.com: The #1 source on the internet for live race coverage.

- Please help spread the word:
Tweet cyclingfans.com Thanks. -Pete

- Thursday's Tour de France Stage 6 departs Girona, Spain at 12:45 CET (6:45am U.S. Eastern) and is expected in Barcelona between 17:03 and 17:27 CET (11:03am and 11:27am U.S. Eastern). Tour de France live coverage on Versus is scheduled to begin at 8:30am U.S. Eastern. Live coverage on Eurosport is scheduled to begin at 14:15 CET (8:15am U.S. Eastern).

Thursday's Tour de France Stage 6 Profile

- NEW! Tour de France Online game. Free to play. You get to play the directeur sportif. Create your cycling team, train it and compete against players from all over the world on the official stages of the 2009 Tour de France. From the makers of Pro Cycling Manager, Tour de France Online 2009 is much more than the typical cycling fantasy league game and they are offering prize money to the winners. Click banner below or here for more info and to sign up.




- More Tour de France Stage 5 videos to come...

2009 Tour de France videos

- TDF LIVE via TDP.

- Tour de France LIVE via Rai Due. (Italian)

- Tour de France LIVE video streaming on Versus. Link at right.

- Tour de France LIVE on Eurosport France.

- Just like with Stage 3, today's Stage 5 goes inland, then back to the coast. Wind a factor again?


Tour de France Stage 5 map courtesy A.S.O.

- Tour de France Stage 5 departs Le Cap d'Agde at 12:25 CET (6:25am U.S. Eastern) and is expected in Perpignan between 17:01 and 17:26 CET (11:01am and 11:26am U.S. Eastern). Tour de France live coverage on Versus is scheduled to begin at 8:30am U.S. Eastern. Live coverage on Eurosport is scheduled to begin at 14:15 CET (8:15am U.S. Eastern).

- For Tour de France via satellite info, MJ Ray has you covered in our cycling via satellite blog here.

- We recommend you open our Twitter feed in a separate window now. If ever we have a server outage, we will update on Twitter and direct you to a live coverage page on another server.

- Welcome to our live coverage guide for the 2009 Tour de France.

2009 Tour de France LIVE
July 4-26
Official Website
Start List

Stage 5 start: 12:25 CET

Finish: 17:01-17:26 CET
(5:01pm-5:26pm CET)





Tour de France Online Game
(Be your own Team Director, train your riders, race the 2009 TDF stages. Cash prizes for winners.)

---


(8:30am U.S. Eastern)


(14:45 CET (8:45am U.S. Eastern))


(Geo-restricted now?)





(Belgium only)


(Belgium only)


Alternative
(UK)


(France only)


(Netherlands only)


(Italy only)

(more links to come)

(more video links to come if available)

Live audio streaming:

(English)
---
Deutsch - Español
Français - Italiano
Russian
---
Check schedule

Live tickers:


(English)
Deutsch - Español
Français - Italiano

News and photos:


(cycling news)
Yahoo photo gallery (AP/AFP)

Copyright © 2009 www.cyclingfans.com
Submitted by admin on Tue, 07/07/2009 - 03:50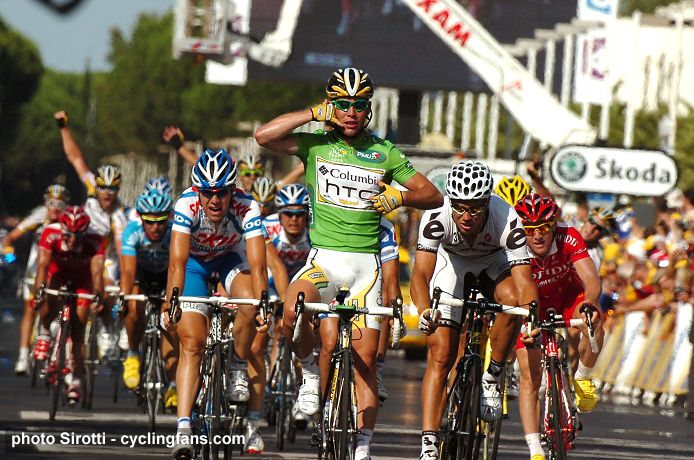 2009 Tour de France, Stage 3: Mark Cavendish (Team Columbia-HTC) wins a second consecutive stage after his team took advantage of strong winds to blow apart the peloton on a dramatic day that left top contenders for overall victory, including Alberto Contador and Cadel Evans, in a chase group that would lose 41 seconds. Lance Armstrong, ever vigilant, was near the front when the split took place and moved up to third place overall, just ahead of teammate Contador.
photo Copyright © 2009 Fotoreporter Sirotti/cyclingfans.com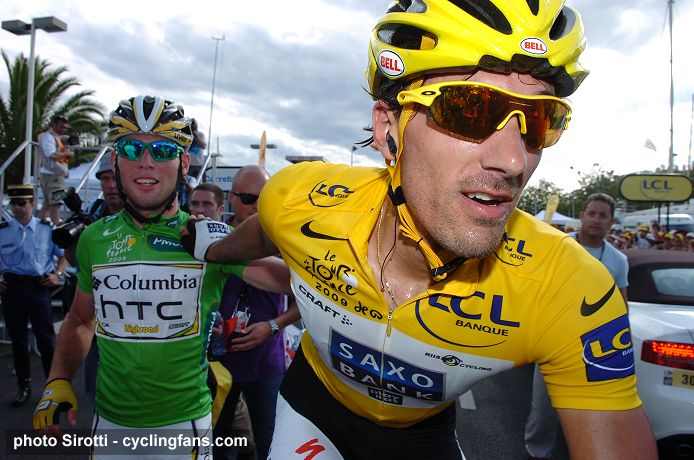 2009 Tour de France: Stage winner Cavendish in green and Cancellara still in yellow had plenty to celebrate.
photo Copyright © 2009 Fotoreporter Sirotti/cyclingfans.com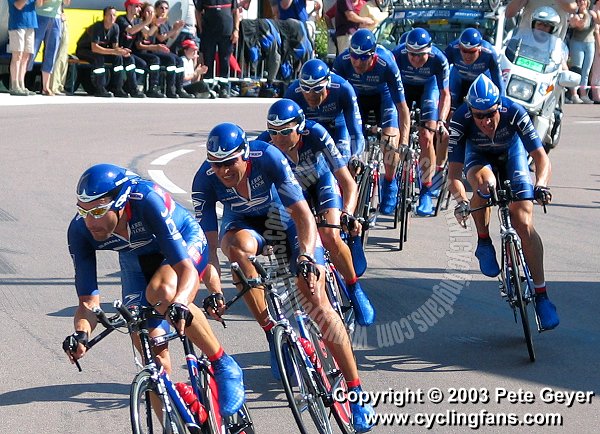 Flashback: 2003 Tour de France 69km Team Time Trial: July 9, 2003. Cycling's Team Time Trial is one of the most spectacular events in all of sports. Speed, strength, endurance, coordination. In the above photo, Lance Armstrong (right) has pulled off the front as USPS reaches the final intermediate time check point at Eclaron (kilometer 59). At 18km, USPS had only the 7th best time. At 44.5km, they'd moved up to second best time. With teammate Victor Hugo Pena highest in the G.C., Armstrong yells at him, "Do you want to be in yellow tonight or not?" Here, they record the best time and go on to win the Centenary Tour de France TTT, the first time a Lance Armstrong team has won this event.
photo Copyright © 2003 Pete Geyer/cyclingfans.com
Notes: (latest notes always appear at the top, below sticky notes)

Follow cyclingfans on Twitter and never miss a race. Cyclingfans.com: The #1 source on the internet for live race coverage.

- Please help spread the word:
Tweet cyclingfans.com Thanks. -Pete

- NEW! Tour de France Online game. Free to play. You get to play the directeur sportif. Create your cycling team, train it and compete against players from all over the world on the official stages of the 2009 Tour de France. From the makers of Pro Cycling Manager, Tour de France Online 2009 is much more than the typical cycling fantasy league game and they are offering prize money to the winners. Click banner below or here for more info and to sign up.




- More Tour de France Stage 4 videos to come...

2009 Tour de France videos

- Tour de France LIVE on Rai Sport Piu.

- Tour de France LIVE video streaming has begun on Versus. Link at right.

- Montpellier Team Time Trial Start Order and Times here.


Flashback: 2004 Tour de France Team Time Trial
USPS, led by Lance Armstrong, departed in a torrential
downpour but placed Armstrong into yellow.
Copyright © 2004 Pete Geyer/cyclingfans.com


April, 2009: Place de la Comedie, Montpellier
Site for the start of today's Team Time Trial.
Copyright © 2009 Pete Geyer/cyclingfans.com

- Tour de France Stage 4 Team Time Trial at Montpellier starts when the first team (Caisse d'Epargne) departs at 14:30 CET (8:30am U.S. Eastern). Tour de France live coverage on Versus is scheduled to begin at 8:30am U.S. Eastern. Live coverage on Eurosport should also get underway by that time (14:30 CET).

Tour de France Stage 4 Team Time Trial Profile

- For Tour de France via satellite info, MJ Ray has you covered in our cycling via satellite blog here.

- We recommend you open our Twitter feed in a separate window now. If ever we have a server outage, we will update on Twitter and direct you to a live coverage page on another server.

- Welcome to our live coverage guide for the 2009 Tour de France.

2009 Tour de France LIVE
July 4-26
Official Website
Start List

Stage 4 start: 14:30 CET
(2:30pm CET)






Tour de France Online Game
(Be your own Team Director, train your riders, race the 2009 TDF stages. Cash prizes for winners.)

---


(8:30am U.S. Eastern)


(Geo-restricted now?)


(Eurosport)



(Belgium only)


(Belgium only)


(UK)


(France only)


(Netherlands only)


(Italy only)

(more links to come)

(more video links to come if available)

Live audio streaming:

(English)
---
Deutsch - Español
Français - Italiano
Russian
---
Check schedule

Live tickers:


(English)
Deutsch - Español
Français - Italiano

News and photos:


(cycling news)
Yahoo photo gallery (AP/AFP)

Copyright © 2009 www.cyclingfans.com
Submitted by admin on Mon, 07/06/2009 - 20:29

2009 Tour de France, Stage 2: Mark Cavendish (Team Columbia-HTC) wins ahead of
American Tyler Farrar (Garmin-Slipstream), Romain Feillu (Agritubel), and
Thor Hushovd (Cervelo Test Team). It was the 5th career Tour stage win for the Brit
(he had four stage wins in 2008). Three more and he ties the British record held by Barry Hoban.
photo Copyright © 2009 Fotoreporter Sirotti/cyclingfans.com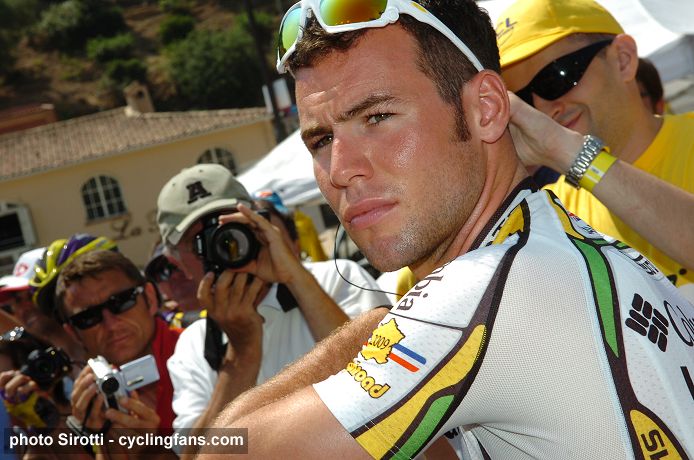 2009 Tour de France: Cavendish before Stage 2. He knows the stage is for him.
He likes the profile for today's Stage 3 as well. In addition to winning stages, he
has set reaching Paris as a goal.
photo Copyright © 2009 Fotoreporter Sirotti/cyclingfans.com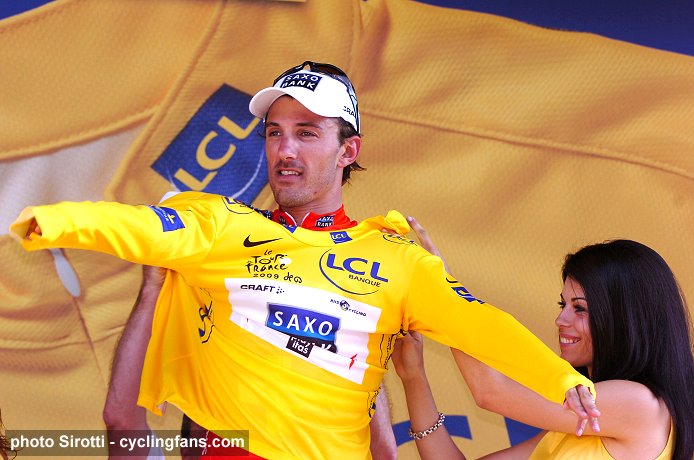 2009 Tour de France, Stage 2: Fabian Cancellara gets another yellow jersey.
photo Copyright © 2009 Fotoreporter Sirotti/cyclingfans.com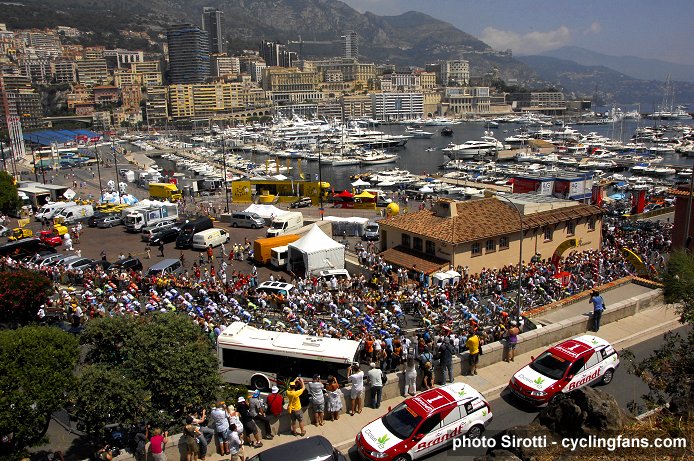 2009 Tour de France, Stage 2: The peloton departs Monaco.
photo Copyright © 2009 Fotoreporter Sirotti/cyclingfans.com

Notes: (latest notes always appear at the top, below sticky notes)

Follow cyclingfans on Twitter and never miss a race. Cyclingfans.com: The #1 source on the internet for live race coverage.

- Please help spread the word:
Tweet cyclingfans.com Thanks. -Pete

- Tuesday's Tour de France Stage 4 Team Time Trial at Montpellier starts when the first team (Caisse d'Epargne) departs at 14:30 CET (8:30am U.S. Eastern). You'll find a complete TTT Start Order and Times here. Tour de France live coverage on Versus is scheduled to begin at 8:30am U.S. Eastern. Live coverage on Eurosport should also get underway by that time (14:30 CET).

Tour de France Stage 4 Team Time Trial Profile

- NEW! Tour de France Online game. Free to play. You get to play the directeur sportif. Create your cycling team, train it and compete against players from all over the world on the official stages of the 2009 Tour de France. From the makers of Pro Cycling Manager, Tour de France Online 2009 is much more than the typical cycling fantasy league game and they are offering prize money to the winners. Click banner below or here for more info and to sign up.




- BBC LIVE audio stream here.

- Tour de France LIVE.

- For Tour de France LIVE audio options, see the "Live audio streaming" section at right. Some Eurosport live audio feeds are now playing. (Thanks to the cycling fan in Russia for sending us an updated Eurosport Russia stream link.)

- Tour de France LIVE video streaming on Versus. Buffering. Link in gray section at right.

- Another hot day. Will winds be a factor? If there are splits in the peloton, will any contenders get caught behind?


A house built into the rock at Les-Baux-de-Provence. The peloton travels further into scenic Provence today, reaching this location at kilometer 101.5.
Copyright © 2009 Pete Geyer/cyclingfans.com


View from the top of the Roman arena at Arles. Vincent Van Gogh completed many of his best known paintings in Arles. The peloton passes through Arles today at kilometer 118.5.
Copyright © 2009 Pete Geyer/cyclingfans.com

- Tour de France Stage 3 departs Marseille at 12:40 CET (6:40am U.S. Eastern) and is expected in La Grande-Motte between 17:06 and 17:28 CET (11:06am and 11:28am U.S. Eastern). Tour de France live coverage on Versus is scheduled to begin at 8:30am U.S. Eastern. Live coverage on Eurosport is scheduled to begin at 14:00 CET (8am U.S. Eastern).

Tour de France Stage 3 Profile

- For Tour de France via satellite info, MJ Ray has you covered in our cycling via satellite blog here.

- We recommend you open our Twitter feed in a separate window now. If ever we have a server outage, we will update on Twitter and direct you to a live coverage page on another server.

- Welcome to our live coverage guide for the 2009 Tour de France.

2009 Tour de France LIVE
July 4-26
Official Website
Start List

Stage 3 start: 12:40 CET

Finish: 17:06-17:28 CET
(5:06pm-5:28pm CET)





Tour de France Online Game
(Be your own Team Director, train your riders, race the 2009 TDF stages. Cash prizes for winners.)

---


(8:30am U.S. Eastern)


(Geo-restricted now?)


(Eurosport)


(Belgium only)


(Belgium only)


Alternative
(UK)


(France only)


(Netherlands only)


(Italy only)

(more links to come)

(more video links to come if available)

Live audio streaming:

(English)
---
Deutsch - Español
Français - Italiano
Russian
---
Check schedule




Live tickers:


(English)
Deutsch - Español
Français - Italiano




News and photos:


(cycling news)
Yahoo photo gallery (AP/AFP)

Copyright © 2009 www.cyclingfans.com
Submitted by admin on Sun, 07/05/2009 - 16:58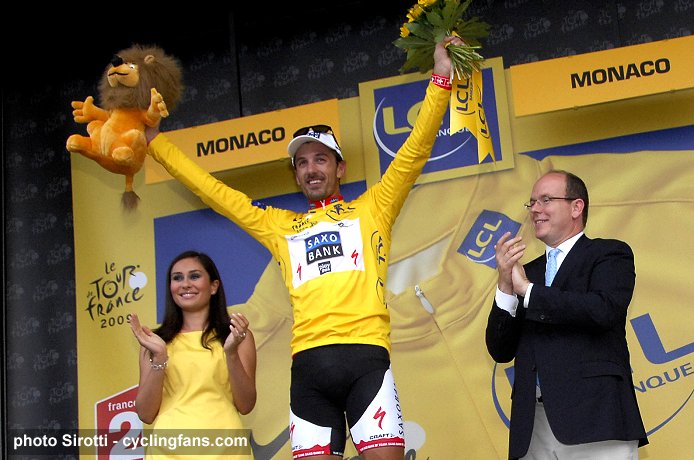 2009 Tour de France: Fabian Cancellara (Team Saxo Bank) on the podium after winning
the Stage 1 Time Trial. Prince Albert of Monaco, right, applauds.
photo Copyright © 2009 Fotoreporter Sirotti/cyclingfans.com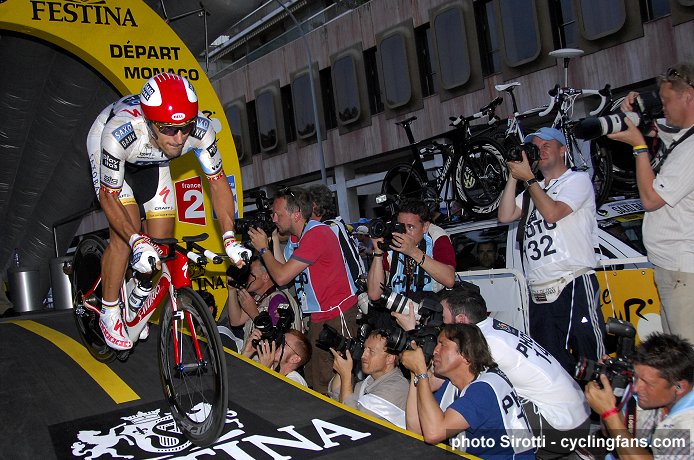 2009 Tour de France: Cancellara explodes out of the start house to a flurry of shutter clicks.
photo Copyright © 2009 Fotoreporter Sirotti/cyclingfans.com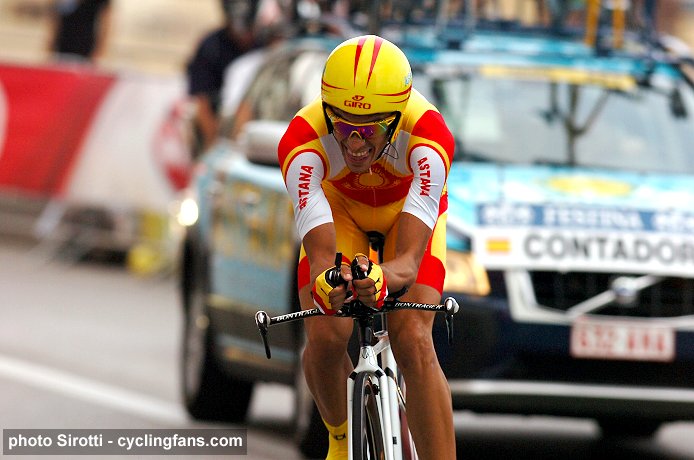 2009 Tour de France: Alberto Contador (Astana) wore his recently-earned Spanish time trial
champion kit to second place, 18 seconds behind Cancellara.
photo Copyright © 2009 Fotoreporter Sirotti/cyclingfans.com

2009 Tour de France: Lance Armstrong (Astana) had to settle for 10th place at 40 seconds.
photo Copyright © 2009 Fotoreporter Sirotti/cyclingfans.com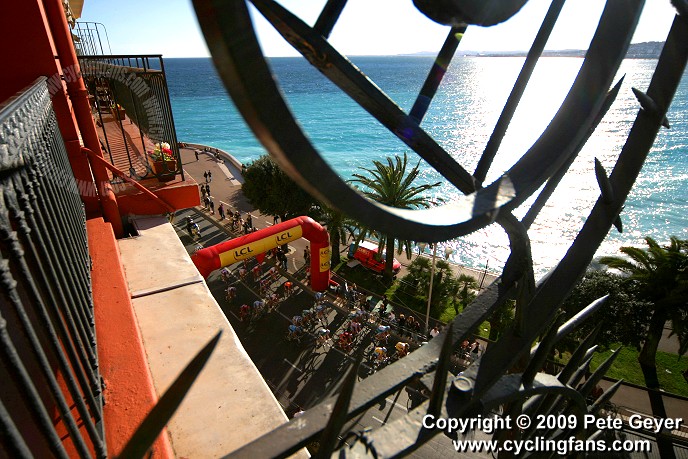 The peloton today will ride from Monaco along the Mediterranean through Nice. (file photo: 2008 Paris-Nice)
photo Copyright © 2009 Pete Geyer/cyclingfans.com
Notes: (latest notes always appear at the top, below sticky notes)

Follow cyclingfans on Twitter and never miss a race. Cyclingfans.com: The #1 source on the internet for live race coverage.

- Please help spread the word:
Tweet cyclingfans.com Thanks. -Pete

- Monday's Tour de France Stage 3 departs Marseille at 12:40 CET (6:40am U.S. Eastern) and is expected in La Grande-Motte between 17:06 and 17:28 CET (11:06am and 11:28am U.S. Eastern). Tour de France live coverage on Versus is scheduled to begin at 8:30am U.S. Eastern. Live coverage on Eurosport is scheduled to begin at 14:00 CET (8am U.S. Eastern).

- BBC LIVE audio stream here. (Thanks, Phil!)

- Tour de France LIVE on ITV4. (English)

- Tour de France LIVE now on Versus. Link at right.

- Tour de France Stage 2 starts in Monaco and travels along the Mediterranean coast through Nice. Here again are three historical video clips of Tour stages involving Monaco: 1952: Stage 12: Sestriere-Monaco (01:03, Pathé Archives), 1953: Monaco-Marseille - via Promenade des Anglais, Nice (0:27, Gaumont), 1955: Monaco to Briançon (0:25, Gaumont).

- Tour de France Stage 2 departs Monaco at 12:15 CET (6:15am U.S. Eastern) and is expected in Brignoles between 17:00 and 17:26 CET (11am and 11:26am U.S. Eastern). Tour de France live coverage on Versus is scheduled to begin at 8:30am U.S. Eastern. Live coverage on Eurosport is scheduled to begin at 13:15 CET (7:15am U.S. Eastern).

Tour de France Stage 2 Profile

- NEW! Tour de France Online game. Free to play. You get to play the directeur sportif. Create your cycling team, train it and compete against players from all over the world on the official stages of the 2009 Tour de France. From the makers of Pro Cycling Manager, Tour de France Online 2009 is much more than the typical cycling fantasy league game and they are offering prize money to the winners. Click banner below or here for more info and to sign up.

- For Tour de France via satellite info, MJ Ray has you covered in our cycling via satellite blog here.

- We recommend you open our Twitter feed in a separate window now. If ever we have a server outage, we will update on Twitter and direct you to a live coverage page on another server.

- Welcome to our live coverage guide for the 2009 Tour de France.

2009 Tour de France LIVE
July 4-26
Official Website
Start List

Stage 2 start: 12:15 CET

Finish: 17:00-17:26 CET
(5pm-5:26pm CET)





Tour de France Online Game
(Be your own Team Director, train your riders, race the 2009 TDF stages. Cash prizes for winners.)

---


(8:30am U.S. Eastern)


(Geo-restricted now?)





(Belgium only)


(Belgium only)


Alternative
(UK)


(France only)


(Netherlands only)


(Italy only)

(more links to come)

(more video links to come if available)

Live audio streaming:

(English)
---
Deutsch - Español
Français - Italiano
Russian
---
Check schedule

Live tickers:


(English)
Deutsch - Español
Français - Italiano

News and photos:


(cycling news)
Yahoo photo gallery (AP/AFP)

Copyright © 2009 www.cyclingfans.com
Submitted by admin on Sat, 07/04/2009 - 05:39
Notes: (latest notes always appear at the top, below sticky notes)

Follow cyclingfans on Twitter and never miss a race. Cyclingfans.com: The #1 source on the internet for live race coverage.

- Your help is much appreciated: Tweet cyclingfans.com Thanks!

Tour de France Stage 2 Profile

- Sunday's Tour de France Stage 2 departs Monaco at 12:15 CET (6:15am U.S. Eastern) and is expected in Brignoles between 17:00 and 17:26 CET (11am and 11:26am U.S. Eastern). Tour de France live coverage on Versus is scheduled to begin at 8:30am U.S. Eastern. Live coverage on Eurosport is scheduled to begin at 13:15 CET (7:15am U.S. Eastern).

- Tour de France LIVE on Versus.com here but buffering and you may need to re-fresh your browser. Click the Continue button in the "Free Version" section. Test run for tomorrow's announced Stage 2 live streaming? They also seem to have some kind of On Demand package for purchase.

- Tour LIVE on SBS.

- Some Eurosport audio feeds (including in English) are also live. (Links under "Live audio streaming" at right.)

- Yesterday we listed some notable start times for today's time trial. (Scroll down to yesterday's post.)

- Flashback: 10 years ago, Lance Armstrong won the 1999 Tour de France prologue. Watch Julich, Cipollini, Armstrong et al compete here. (19:53, Sporza)

Tour de France Stage 1 ITT Profile

- Some Tour de France live video feeds are listed at right. We have more leads and will post anything we find closer to the start of the race. Our live coverage correspondents in the U.S. and Europe monitor potential sources throughout each stage of the race and we also get tips from around the world. Lots more links to come, including video clips after each stage. We will also have daily photos from Fotoreporter Sirotti.

- NEW! Tour de France Online game. Free to play. You get to play the directeur sportif. Create your cycling team, train it and compete against players from all over the world on the official stages of the 2009 Tour de France. From the makers of Pro Cycling Manager, Tour de France Online 2009 is much more than the typical cycling fantasy league game and they are offering prize money to the winners. Click banner below or here for more info and to sign up.

- For Tour de France via satellite info, MJ Ray has you covered in our cycling via satellite blog here.

- We recommend you open our Twitter feed in a separate window now. If ever we have a server outage, we will update on Twitter and direct you to a live coverage page on another server.

- Welcome to our live coverage guide for the 2009 Tour de France.

2009 Tour de France LIVE
July 4-26
Official Website
Start List

Stage 1 start: 16:00 CET
(4pm CET)






Tour de France Online Game
(Be your own Team Director, train your riders, race the 2009 TDF stages. Cash prizes for winners.)

---





(UK)


(Netherlands only)

(more links to come)

(more video links to come if available)

Live audio streaming:

(English)
---
Deutsch - Español
Français - Italiano
Russian
---
Check schedule

Live tickers:


(English)
Deutsch - Español
Français - Italiano

News and photos:


(cycling news)
Yahoo photo gallery (AP/AFP)

Copyright © 2009 www.cyclingfans.com
Submitted by admin on Fri, 07/03/2009 - 22:22

Follow cyclingfans on Twitter and never miss a race. Cyclingfans.com: The #1 source on the internet for live race coverage.
With the "Super Bowl"-level hype out of the way, the Tour de France finally gets underway tomorrow. Unlike the Super Bowl, however, the Tour action and drama will of course continue for 3 weeks. "3 weeks of happiness" I've heard on many an occasion. And this year the course is designed to keep the suspense as long as possible; 3 weeks from tomorrow, a magnificent penultimate stage to Mont Ventoux on the day before the arrival in Paris. Should be fun. -Pete
U.K. correspondent Bernie S. has compiled an extensive list of world TV sources of Tour de France live coverage. Some of them will have live streaming video, with some of those geo-restricted. As always, we will post verified sources in our full Live Online Coverage Guide (early Saturday morning) so that you have the best selection of real options from which to choose. Our live coverage correspondents in the U.S. and Europe will update our listings with the latest sources every day of the race. Now for tomorrow's details:
Stage 1: Monaco - Monaco 15.5km Individual Time Trial
First rider (Van Hummel) departs at 16:00 CET (10am U.S. Eastern) - More times below
Live coverage on Versus: 9:30am U.S. Eastern
Live coverage on Eurosport: 15:30 CET (9:30am U.S. Eastern)
Live video streaming on Sporza: 16:00 CET (10am U.S. Eastern)
Live streaming from other world TV sources: Varies from 15:30 CET (9:30am U.S. Eastern)
Stage 1 Time Trial Profile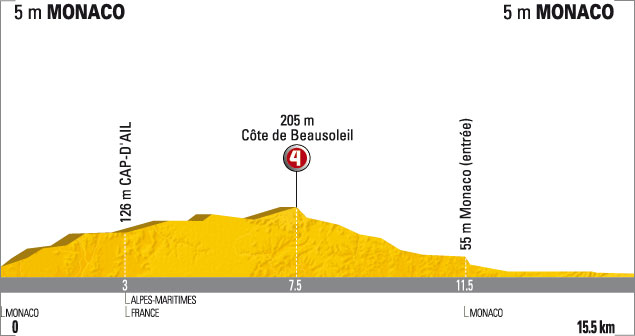 Our full Tour de France Live Online Coverage Guide listing sources of live video, audio and tickers will be posted early Saturday morning.
Partial Start Order and Times: (full times coming...)
Times listed are local. (Times in parentheses are U.S. Eastern)
16:00 (10:00am) Van Hummel
16:17 (10:17am) Armstrong
16:34 (10:34am) Farrar
16:35 (10:35am) Posthuma
16:36 (10:36am) Larsson
16:37 (10:37am) Leipheimer
16:52 (10:52am) Grabsch
16:54 (10:54am) Millar
16:55 (10:55am) Freire
17:38 (11:38am) Zubeldia
17:46 (11:46am) Bruseghin
17:52 (11:52am) Cavendish
17:55 (11:55am) Gesink
17:56 (11:56am) F. Schleck
18:04 (12:04pm) Devolder
18:08 (12:08pm) Pereiro
18:14 (12:14pm) Zabriskie
18:17 (12:17pm) Kloden
18:24 (12:24pm) Boonen
18:28 (12:28pm) Iván Gutiérrez
18:30 (12:30pm) Nibali
18:32 (12:32pm) Rogers
18:34 (12:34pm) Vande Velde
18:35 (12:35pm) Clement
18:36 (12:36pm) A. Schleck
18:39 (12:39pm) Hushovd
18:41:30 (12:41:30pm) Gerdemann
18:43 (12:43pm) Moreau
18:44:30 (12:44:30pm) Karpets
18:46 (12:46pm) Chavanel
18:52 (12:52pm) Luis León Sánchez
18:55 (12:55pm) Pellizotti
18:56:30 (12:56:30pm) Efimkin
18:58 (12:58pm) Kirchen
18:59:30 (12:59:30pm) Astarloza
19:01 (1:01pm) Wiggins
19:02:30 (1:02:30pm) Menchov
19:04 (1:04pm) Cancellara
19:05:30 (1:05:30pm) Contador
19:07 (1:07pm) Evans
19:08:30 (1:08:30pm) Sastre
(source: biciciclismo.com)
Submitted by admin on Thu, 07/02/2009 - 14:08

Follow cyclingfans on Twitter and never miss a race. Cyclingfans.com: The #1 source on the internet for live race coverage.
- Watch Lance Armstrong Eurosport interviews:
Armstrong 'nervous but ready' (02:25)
Mountain stages crucial (02:38)
Armstrong ready for pain (01:48)
Armstrong on potential winners (02:39)
- English commentary: Eurosport UK LIVE audio here. Can be played simultaneously with one of the live video feeds.
- Eurosport France also LIVE.
- Tour de France Teams Presentation LIVE via Eurosport Poland. -Bernie S.
- Eurosport France video streaming LIVE now with the TDF Teams Presentation.
- The 2009 Tour de France Teams Presentation is today, Thursday, and the event will be broadcast live on Eurosport. Each team will be presented to the public, then will ride approximately 1 kilometer along the waterfront at the Quai and Boulevard Albert 1er. We will have photos of the event later today. Festivities are scheduled to begin at 18:00 CET (6pm CET or 12pm U.S. Eastern), with coverage in some Eurosport markets scheduled to begin 15 minutes earlier. We will list any live feeds we find in this space. Stay tuned.