2013 Paris-Tours Results
Submitted by admin on Sun, 10/13/2013 - 09:08

Follow cyclingfans on Twitter and never miss a race. Cyclingfans.com: The #1 destination on the internet for live race coverage.
- This page lists 2013 Paris-Tours Results

- Authon-du-Perche to Tours (235 km) -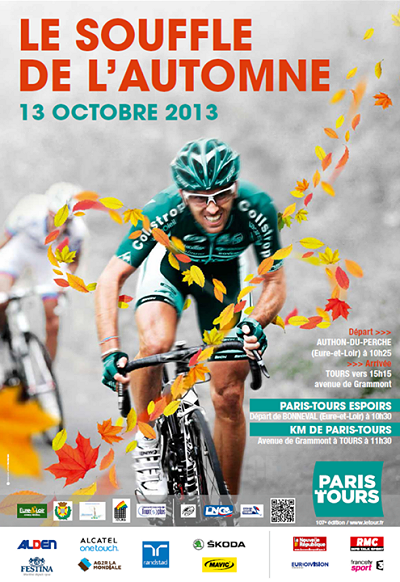 John Degenkolb (Argos-Shimano) won the 2013 Paris-Tours ahead of Michael Morkov and Arnaud Demare. Tyler Farrar was fourth.
| | | | | |
| --- | --- | --- | --- | --- |
| Rank | Name | Nationality | Team | Result |
| 1 | John DEGENKOLB | GER | ARG | 5:29:19 |
| 2 | Michael MORKOV | DEN | TST | +0 |
| 3 | Arnaud DEMARE | FRA | FDJ | +0 |
| 4 | Tyler FARRAR | USA | GRS | +0 |
| 5 | Michael VAN STAEYEN | BEL | TSV | +0 |
| 6 | Heinrich HAUSSLER | AUS | IAM | +0 |
| 7 | Samuel DUMOULIN | FRA | ALM | +0 |
| 8 | Jon ABERASTURI IZAGA | ESP | EUS | +0 |
| 9 | Ioannis TAMOURIDIS | GRE | EUS | +0 |
| 10 | Niki TERPSTRA | NED | OPQ | +0 |
| 11 | Romain HARDY | FRA | COF | +0 |
| 12 | Sylvain CHAVANEL | FRA | OPQ | +0 |
| 13 | Kenneth VAN BILSEN | BEL | TSV | +0 |
| 14 | Lloyd MONDORY | FRA | ALM | +0 |
| 15 | Pieter SERRY | BEL | OPQ | +0 |
| 16 | Peio BILBAO | ESP | EUS | +0 |
| 17 | Jay Robert THOMSON | RSA | MTN | +0 |
| 18 | Bram TANKINK | NED | BEL | +0 |
| 19 | Romain ZINGLE | BEL | COF | +0 |
| 20 | Graeme BROWN | AUS | BEL | +0 |
| 21 | Laurens DE VREESE | BEL | TSV | +0 |
| 22 | Julien SIMON | FRA | SOJ | +0 |
| 23 | Gijs VAN HOECKE | BEL | TSV | +0 |
| 24 | Enrico GASPAROTTO | ITA | AST | +0 |
| 25 | Viacheslav KUZNETSOV | RUS | KAT | +0 |
| 26 | Kristof GODDAERT | BEL | IAM | +0 |
| 27 | Lars Ytting BAK | DEN | LTB | +0 |
| 28 | Rudy MOLARD | FRA | COF | +0 |
| 29 | Romain LEMARCHAND | FRA | COF | +0 |
| 30 | Tanel KANGERT | EST | AST | +0 |
| 31 | Yoann OFFREDO | FRA | FDJ | +0 |
| 32 | Clément KORETZKY | FRA | BSE | +0 |
| 33 | Jean-Luc DELPECH | FRA | BSE | +0 |
| 34 | Christophe PREMONT | BEL | CRE | +0 |
| 35 | Hugo HOULE | CAN | ALM | +0 |
| 36 | Martin VELITS | SVK | OPQ | +0 |
| 37 | Jean-Pierre DRUCKER | LUX | AJW | +0 |
| 38 | Pieter JACOBS | BEL | TSV | +0 |
| 39 | Stéphane ROSSETTO | FRA | BIG | +0 |
| 40 | Thomas VOECKLER | FRA | EUC | +0 |
| 41 | Anthony DELAPLACE | FRA | SOJ | +0 |
| 42 | Adrian SAEZ | ESP | EUS | +0 |
| 43 | Jens DEBUSSCHERE | BEL | LTB | +0 |
| 44 | Laurent PICHON | FRA | FDJ | +0 |
| 45 | Miguel MINGUEZ AYALA | ESP | EUS | +0 |
| 46 | Guillaume LEVARLET | FRA | COF | +0 |
| 47 | Pavel BRUTT | RUS | KAT | +0 |
| 48 | Greg VAN AVERMAET | BEL | BMC | +0 |
| 49 | Zico WAEYTENS | BEL | TSV | +0 |
| 50 | David LELAY | FRA | SOJ | +0 |
| 51 | Evaldas SISKEVICIUS | LTU | SOJ | +0 |
| 52 | Mickael DELAGE | FRA | FDJ | +0 |
| 53 | Cyril LEMOINE | FRA | SOJ | +0 |
| 54 | Geoffroy LEQUATRE | FRA | BSE | +0 |
| 55 | Jean-Lou PAIANI | FRA | SOJ | +0 |
| 56 | Arnaud GERARD | FRA | BSE | +0 |
| 57 | Anthony GESLIN | FRA | FDJ | +0 |
| 58 | Maarten WYNANTS | BEL | BEL | +0 |
| 59 | Björn LEUKEMANS | BEL | VCD | +0 |
| 60 | Gael MALACARNE | FRA | BSE | +0 |
| 61 | Marco BANDIERA | ITA | IAM | +8 |
| 62 | Frantisek RABON | CZE | OPQ | +8 |
| 63 | Bert DE BACKER | BEL | ARG | +8 |
| 64 | Michael SCHÄR | SUI | BMC | +8 |
| 65 | Michel KREDER | NED | GRS | +11 |
| 66 | Lars BOOM | NED | BEL | +11 |
| 67 | Jetse BOL | NED | BEL | +11 |
| 68 | Marco MARCATO | ITA | VCD | +11 |
| 69 | Maarten TJALLINGII | NED | BEL | +11 |
| 70 | Warren BARGUIL | FRA | ARG | +11 |
| 71 | Jonas Aaen JÖRGENSEN | DEN | TST | +13 |
| 72 | Jelle WALLAYS | BEL | TSV | +15 |
| 73 | Ramon SINKELDAM | NED | ARG | +17 |
| 74 | Roy CURVERS | NED | ARG | +29 |
| 75 | Kevin ISTA | BEL | IAM | +33 |
| 76 | Sep VANMARCKE | BEL | BEL | +51 |
| 77 | Reinardt JANSE VAN RENSBURG | RSA | ARG | +51 |
| 78 | Mathieu DRUJON | FRA | BIG | +59 |
| 79 | Julian KERN | GER | ALM | +1:02 |
| 80 | Yoann PAILLOT | FRA | LPM | +1:13 |
| 81 | Silvan DILLIER | SUI | BMC | +1:13 |
| 82 | Maksim RAZUMOV | RUS | KAT | +1:13 |
| 83 | Aliaksandr KUCHYNSKI | BLR | KAT | +1:13 |
| 84 | Matthieu BOULO | FRA | RLM | +1:13 |
| 85 | Bertjan LINDEMAN | NED | VCD | +1:13 |
| 86 | Sébastien HINAULT | FRA | IAM | +1:13 |
| 87 | Renaud DION | FRA | BSE | +1:13 |
| 88 | Armindo FONSECA | FRA | BSE | +1:13 |
| 89 | Justin JULES | FRA | LPM | +1:13 |
| 90 | Rudy KOWALSKI | FRA | RLM | +1:13 |
| 91 | Stijn STEELS | BEL | CRE | +1:13 |
| 92 | Pieter VANSPEYBROUCK | BEL | TSV | +1:13 |
| 93 | José GONÇALVES | POR | LPM | +1:13 |
| 94 | Anders LUND | DEN | TST | +1:13 |
| 95 | Christopher JUUL JENSEN | DEN | TST | +1:13 |
| 96 | Frederik VEUCHELEN | BEL | VCD | +1:13 |
| 97 | Jurgen VAN GOOLEN | BEL | AJW | +1:13 |
| 98 | Frédéric BRUN | FRA | ALM | +1:13 |
| 99 | Marko KUMP | SLO | TST | +1:13 |
| 100 | Angelo TULIK | FRA | EUC | +1:13 |
| 101 | Stig BROECKX | BEL | LTB | +1:54 |
| 102 | Christophe LABORIE | FRA | SOJ | +1:54 |
| 103 | Davide APPOLLONIO | ITA | ALM | +1:54 |
| 104 | Gregory HABEAUX | BEL | AJW | +1:54 |
| 105 | Kevin LALOUETTE | FRA | RLM | +1:54 |
| 106 | Johann VAN ZYL | RSA | MTN | +1:54 |
| 107 | Kris BOECKMANS | BEL | VCD | +1:54 |
| 108 | Stéphane POULHIES | FRA | COF | +1:58 |
| 109 | Joshua BERRY | USA | LPM | +1:58 |
| 110 | James VANLANDSCHOOT | BEL | AJW | +2:19 |
| 111 | Jakub NOVAK | CZE | BMC | +2:19 |
| 112 | Kristian SBARAGLI | ITA | MTN | +2:19 |
| 113 | Klaas SYS | BEL | CRE | +2:19 |
| 114 | Benjamin VERRAES | BEL | AJW | +2:19 |
| 115 | Loïc DESRIAC | FRA | RLM | +2:19 |
| 116 | Jurgen ROELANDTS | BEL | LTB | +2:19 |
| 117 | Nicolas VOGONDY | FRA | AJW | +2:19 |
| 118 | Alexander PORSEV | RUS | KAT | +2:25 |
| 119 | Koldo FERNANDEZ | ESP | GRS | +3:16 |
| 120 | Gediminas BAGDONAS | LTU | ALM | +3:16 |
| 121 | Aleksejs SARAMOTINS | LAT | IAM | +3:16 |
| 122 | Ignatas KONOVALOVAS | LTU | MTN | +3:16 |
| 123 | Martin WESEMANN | RSA | MTN | +3:16 |
| 124 | Marcel AREGGER | SUI | IAM | +3:16 |
| 125 | Robert VRECER | SLO | EUS | +3:16 |
| 126 | Vladimir ISAICHEV | RUS | KAT | +3:16 |
| 127 | Iljo KEISSE | BEL | OPQ | +3:16 |
| 128 | Frans CLAES | BEL | CRE | +3:16 |
| 129 | Franck VERMEULEN | FRA | RLM | +3:16 |
| 130 | Adrien PETIT | FRA | COF | +3:16 |
| 131 | Bryan COQUARD | FRA | EUC | +3:16 |
| 132 | Stefan VAN DIJK | NED | AJW | +3:16 |
| 133 | Gert DOCKX | BEL | LTB | +3:16 |
| 134 | Gert JOEAAR | EST | COF | +3:16 |
| 135 | Martin REIMER | GER | MTN | +3:16 |
| 136 | Karsten KROON | NED | TST | +3:16 |
| 137 | Johan VAN SUMMEREN | BEL | GRS | +3:16 |
| 138 | Guillaume VAN KEIRSBULCK | BEL | OPQ | +3:55 |
| 139 | Nikias ARNDT | GER | ARG | +5:31 |
| 140 | Florian VACHON | FRA | BSE | +5:54 |
| 141 | Jacopo GUARNIERI | ITA | AST | +6:17 |
| 142 | Andrey KASHECHKIN | KAZ | AST | +6:17 |
| 143 | Alex RASMUSSEN | DEN | GRS | +6:17 |
| 144 | Raymond KREDER | NED | GRS | +6:17 |
| 145 | Maxim BELKOV | RUS | KAT | +6:17 |
| 146 | Benjamin GIRAUD | FRA | LPM | +6:17 |
| 147 | Julien ANTOMARCHI | FRA | LPM | +6:17 |
| 148 | Sébastien CHAVANEL | FRA | EUC | +6:19 |
| 149 | Benoît VAUGRENARD | FRA | FDJ | +6:19 |
| 150 | Matthieu LADAGNOUS | FRA | FDJ | +6:19 |
| 151 | Morgan KNEISKY | FRA | RLM | +6:19 |
| 152 | Maxime LE MONTAGNER | FRA | RLM | +6:19 |
| 153 | Gaetan BILLE | BEL | LTB | +6:19 |
| 154 | Lieuwe WESTRA | NED | VCD | +6:19 |
| 155 | Tim DE TROYER | BEL | AJW | +6:19 |
| 156 | Yannick MARTINEZ | FRA | LPM | +6:19 |
| 157 | Grégoire TARRIDE | FRA | LPM | +6:19 |
| 158 | Andrew FENN | GBR | OPQ | +6:19 |
| 159 | Steven TRONET | FRA | BIG | +6:19 |
| 160 | Yannick EIJSSEN | BEL | BMC | +6:19 |
| 161 | Rick FLENS | NED | BEL | +6:19 |
| 162 | Jonathan HIVERT | FRA | SOJ | +6:19 |
| 163 | Mads CHRISTENSEN | DEN | TST | +8:06 |
| 164 | Sebastian LANDER | DEN | BMC | +8:06 |
| 165 | Jonathan BREYNE | BEL | CRE | +8:06 |
| 166 | Julien DUVAL | FRA | RLM | +8:06 |
| 167 | Vincent JEROME | FRA | EUC | +8:09 |
| 168 | Dominic KLEMME | GER | IAM | +8:53 |
| 169 | Alexandre BILLON | FRA | BIG | +9:05 |
| 170 | Kevin VERWAEST | BEL | CRE | +9:05 |
| 171 | Romain BACON | FRA | BIG | +10:08 |
| 172 | Wesley KREDER | NED | VCD | +10:08 |
| 173 | Kenny DE HAES | BEL | LTB | +10:08 |
| 174 | Youcef REGUIGUI | ALG | MTN | +10:08 |
| 175 | Julien BERARD | FRA | ALM | +10:08 |
| 176 | Benoit DRUJON | FRA | BIG | +14:33 |
| DNF | Romain FEILLU | FRA | VCD | |
| DNF | Laurent MANGEL | FRA | FDJ | |
| DNF | Tony HUREL | FRA | EUC | |
| DNF | Bryan NAULLEAU | FRA | EUC | |
| DNF | Alexandre PICHOT | FRA | EUC | |
| DNF | Tom STAMSNIJDER | NED | ARG | |
| DNF | Frederique ROBERT | BEL | LTB | |
| DNF | Dmitriy MURAVYEV | KAZ | AST | |
| DNF | Martijn MAASKANT | NED | GRS | |
| DNF | Sébastien ROSSELER | BEL | GRS | |
| DNF | Gerald CIOLEK | GER | MTN | |
| DNF | Ricardo MESTRE | POR | EUS | |
| DNF | Théo VIMPERE | FRA | BIG | |
| DNF | Koen BARBE | BEL | CRE | |
| DNF | Sébastien DELFOSSE | BEL | CRE | |