Painting the Giro: Cycling art by Rob Ijbema
Submitted by admin on Tue, 05/26/2009 - 18:05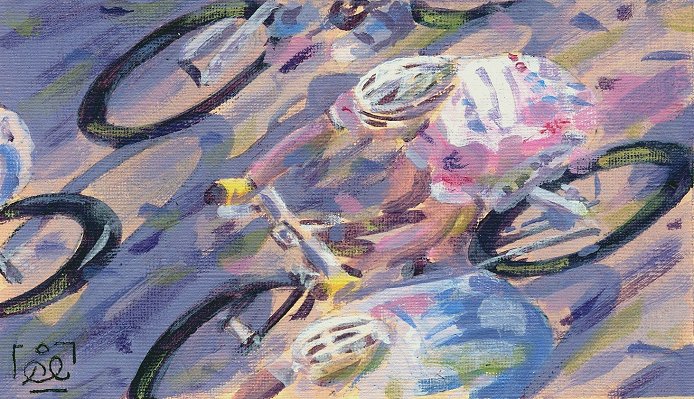 Maglia Rosa, acrylic on paper 5x8"
Mark Cavendish wore the pink jersey for a couple of days.
Copyright © Rob Ijbema
Chicago (cyclingfans.com) - Cycling and art are a great combination. Natural and varying light conditions, the colors of the peloton, motion, and some of the world's most beautiful landscapes as backdrops together give artists plenty of elements with which to work.
Artist and cycling fan Rob Ijbema e-mailed me the following yesterday: "Hi Peter. I'm busy painting the 2009 Giro. Menchov, Di Luca, Cavendish, they are all there, in an impressionistic style." He included a link to his blog, which contains reproductions of his works, and signed off with "Enjoy!"
Well, I'm enjoying Rob's work a lot.
I asked Rob how he became a cycling fan. "I'm Dutch but live and work in Wales, UK. As you know, Holland is a cycling nation and in the past we were spoiled by many good riders: Joop Zoetemelk, Hennie Kuiper, Jan Janssen, etc."
"My main work is painting racing cars and I also do a lot of paintings of the beautiful welsh landscape. A lot of landscape painting is done on location, 'plein air,' this makes you quick and to the point. This freshness I try to keep in my cycling paintings. Really I paint the light on a subject, not the subject itself."
Rob Ijbema also painted the 2008 Tour de France, as well as other races such as Paris-Roubaix.

2009 Giro d'Italia: Columbia-Highroad won the Team Time Trial.
acrylic on paper 5x8"
Copyright © Rob Ijbema

2009 Tour of California: Levi Leipheimer took control in the rain.
acrylic on paper 6x8" sold
Copyright © Rob Ijbema

2008 Tour de France: Carlos Sastre on Alpe d'Huez.
acrylic on paper 5.5x9" sold
Copyright © Rob Ijbema
You can see more of Rob Ijbema's superb work at Painting Le Tour.
-Pete Geyer