Tour de Cycling - Thursday
Submitted by admin on Thu, 10/01/2009 - 15:23
- American Tyler Farrar (Garmin-Slipstream) won Stage 1 today of the Circuit Franco-Belge (to October 4). Stage 2 Tuesday starts in Maubeuge and finishes in Poperinge. The official website is here. Live ticker here.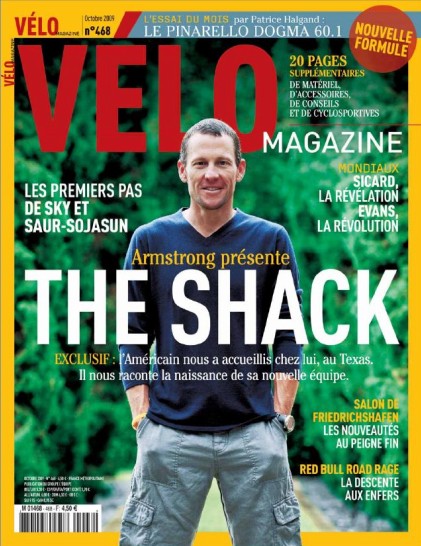 Lance Armstrong's 2010 season schedule is starting to take form...
The October issue of Velo Magazine (French) just hit newsstands and the cover story is an interview with Lance Armstrong regarding his new team, RadioShack, and his plans for the 2010 season.
Velo Magazine and its publisher, L'Equipe, continue to refer to Armstrong's new team as "The Shack" but all indications (most notably UCI press releases) are that the team will be known as RadioShack. Velo Magazine asked Armstrong what the name will be and he said he believes it will indeed be known as RadioShack. The jersey colors are expected to be black, red and white. (These are the longtime colors of RadioShack logos.)
As previously reported, Armstrong's 2010 season will begin in Australia with the Tour Down Under (January 19-24). His first 2010 race in Europe may be the Tour of Murcia (Spain, March 3-7) "or possibly Paris-Nice" (March 7-14) Armstrong told Velo Magazine. (Also, as we reported last February, Armstrong told Eddy Merckx he would race in the 2010 Tour of Qatar (February 7-12).)
In April, Armstrong may race some of the spring classics; "La Fleche Wallonne, Liege-Bastogne-Liege, we're not sure". Armstrong noted the May conflict between the Giro d'Italia (May 8-30) and the Tour of California (May 16-23, previously in February); "RadioShack is an American sponsor but the Giro is good preparation for the Tour de France." The Tour of California will already suffer from less world media exposure going head to head with the Giro; Armstrong racing the Giro would be a huge blow to the American race.
Having previously commented that he would not repeat his 2009 pre-TDF preparation in the U.S., Armstrong told Velo Magazine that in 2010, "June will be more traditional, in Europe." (the Dauphine Libere (June 6-13) has been his favored pre-TDF race in the past but depending on what he does in May, the Tour of Switzerland (June 12-20) or even just training and reconnaissance may be more likely).