2013 E3 Harelbeke Results
Submitted by admin on Fri, 03/22/2013 - 11:20

Follow cyclingfans on Twitter and never miss a race. Cyclingfans.com: The #1 destination on the internet for live race coverage.
- This page lists 2013 E3 Harelbeke results

- Harelbeke to Harelbeke (211 km) -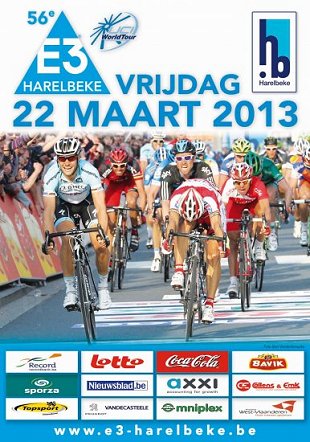 Fabian Cancellara (RadioShack) won the 2013 E3 Harelbeke ahead of Peter Sagan and Daniel Oss.
| | | | | |
| --- | --- | --- | --- | --- |
| Rank | Name | Nationality | Team | Result |
| 1 | Fabian CANCELLARA | SUI | RLT | 5:08:28 |
| 2 | Peter SAGAN | SVK | CAN | +1:04 |
| 3 | Daniel OSS | ITA | BMC | +1:04 |
| 4 | Geraint THOMAS | GBR | SKY | +1:04 |
| 5 | Sebastian LANGEVELD | NED | OGE | +1:08 |
| 6 | Sylvain CHAVANEL | FRA | OPQ | +1:08 |
| 7 | Tom BOONEN | BEL | OPQ | +2:15 |
| 8 | Luca PAOLINI | ITA | KAT | +2:15 |
| 9 | Edvald BOASSON HAGEN | NOR | SKY | +2:15 |
| 10 | Sébastien TURGOT | FRA | EUC | +2:15 |
| 11 | Heinrich HAUSSLER | AUS | IAM | +2:15 |
| 12 | Maxim IGLINSKY | KAZ | AST | +2:15 |
| 13 | Yoann OFFREDO | FRA | FDJ | +2:15 |
| 14 | Jose Joaquin ROJAS GIL | ESP | MOV | +2:15 |
| 15 | Grega BOLE | SLO | VCD | +2:15 |
| 16 | Michael SCHÄR | SUI | BMC | +2:15 |
| 17 | Francisco José VENTOSO ALBERDI | ESP | MOV | +2:15 |
| 18 | Bertjan LINDEMAN | NED | VCD | +2:15 |
| 19 | Guillaume VAN KEIRSBULCK | BEL | OPQ | +2:15 |
| 20 | Kristijan KOREN | SLO | CAN | +2:15 |
| 21 | Grégory RAST | SUI | RLT | +2:15 |
| 22 | Matthieu LADAGNOUS | FRA | FDJ | +2:15 |
| 23 | Ian STANNARD | GBR | SKY | +2:15 |
| 24 | Greg VAN AVERMAET | BEL | BMC | +2:15 |
| 25 | Mirko SELVAGGI | ITA | VCD | +2:15 |
| 26 | Filippo POZZATO | ITA | LAM | +2:15 |
| 27 | Martin ELMIGER | SUI | IAM | +2:15 |
| 28 | Mathew HAYMAN | AUS | SKY | +2:15 |
| 29 | Stijn DEVOLDER | BEL | RLT | +2:15 |
| 30 | Andriy GRIVKO | UKR | AST | +2:15 |
| 31 | Stijn VANDENBERGH | BEL | OPQ | +2:15 |
| 32 | Gustav LARSSON | SWE | IAM | +2:15 |
| 33 | Johan VAN SUMMEREN | BEL | GRS | +2:15 |
| 34 | Andrey AMADOR BAKKAZAKOVA | CRC | MOV | +2:15 |
| 35 | Juan Antonio FLECHA GIANNONI | ESP | VCD | +2:15 |
| 36 | Bernhard EISEL | AUT | SKY | +2:27 |
| 37 | Marco BANDIERA | ITA | IAM | +2:35 |
| 38 | Dmitriy MURAVYEV | KAZ | AST | +2:35 |
| 39 | David BOUCHER | FRA | FDJ | +3:00 |
| 40 | Zdenek STYBAR | CZE | OPQ | +4:05 |
| 41 | Vincent JEROME | FRA | EUC | +4:28 |
| 42 | Luka MEZGEC | SLO | ARG | +5:11 |
| 43 | Pieter JACOBS | BEL | TSV | +5:11 |
| 44 | Tyler FARRAR | USA | GRS | +5:11 |
| 45 | Nico SIJMENS | BEL | COF | +5:11 |
| 46 | Taylor PHINNEY | USA | BMC | +5:11 |
| 47 | Maxime VANTOMME | BEL | CRE | +5:11 |
| 48 DNF | Philippe GILBERT | BEL | BMC | +5:11 |
| 49 | Maarten TJALLINGII | NED | BLA | +5:11 |
| 50 | Jens KEUKELEIRE | BEL | OGE | +5:11 |
| 51 | Sep VANMARCKE | BEL | BLA | +5:11 |
| 52 | Matti BRESCHEL | DEN | TST | +5:11 |
| 53 | Vladimir GUSEV | RUS | KAT | +5:11 |
| 54 | Xavier FLORENCIO CABRE | ESP | KAT | +5:11 |
| 55 | Fabio SABATINI | ITA | CAN | +5:11 |
| 56 | Jan GHYSELINCK | BEL | COF | +5:11 |
| 57 | Sébastien MINARD | FRA | ALM | +5:11 |
| 58 | Maarten WYNANTS | BEL | BLA | +5:11 |
| 59 | David VEILLEUX | CAN | EUC | +5:11 |
| 60 | Jurgen ROELANDTS | BEL | LTB | +5:11 |
| 61 | Egoitz GARCIA ECHEGUIBEL | ESP | COF | +5:11 |
| 62 | Maciej BODNAR | POL | CAN | +5:11 |
| 63 | Arnaud LABBE | FRA | COF | +5:11 |
| 64 | Alexey TSATEVITCH | RUS | KAT | +9:01 |
| 65 | John DEGENKOLB | GER | ARG | +9:01 |
| 66 | Elia VIVIANI | ITA | CAN | +9:46 |
| 67 | Julien FOUCHARD | FRA | COF | +9:46 |
| 68 | Yaroslav POPOVYCH | UKR | RLT | +9:46 |
| 69 | Marcel SIEBERG | GER | LTB | +9:46 |
| 70 | Luke ROWE | GBR | SKY | +9:46 |
| 71 | Lars Ytting BAK | DEN | LTB | +9:46 |
| 72 | Danilo HONDO | GER | RLT | +9:46 |
| 73 | Stuart O'GRADY | AUS | OGE | +9:46 |
| 74 | William BONNET | FRA | FDJ | +9:46 |
| 75 | Jerome COUSIN | FRA | EUC | +9:46 |
| 76 | Andreas KLIER | GER | GRS | +9:46 |
| 77 | Gabriel RASCH | NOR | SKY | +9:46 |
| 78 | Kurt HOVELYNCK | BEL | CRE | +9:46 |
| 79 | Frederik WILLEMS | BEL | LTB | +9:46 |
| 80 | Manuel QUINZIATO | ITA | BMC | +9:46 |
| 81 | Jens DEBUSSCHERE | BEL | LTB | +9:46 |
| 82 | Michal KWIATKOWSKI | POL | OPQ | +9:46 |
| 83 | Fumiyuki BEPPU | JPN | OGE | +12:15 |
| 84 | Anders LUND | DEN | TST | +12:16 |
| 85 | Tomas VAITKUS | LTU | OGE | +12:16 |
| 86 | Matteo TOSATTO | ITA | TST | +12:16 |
| 87 | Steve CHAINEL | FRA | ALM | +12:16 |
| 88 | Damien GAUDIN | FRA | EUC | +12:16 |
| 89 | Florent BARLE | FRA | COF | +12:16 |
| 90 | Laurens DE VREESE | BEL | TSV | +12:16 |
| 91 | Björn LEUKEMANS | BEL | VCD | +12:16 |
| 92 | Adrien PETIT | FRA | COF | +12:16 |
| 93 | Massimo GRAZIATO | ITA | LAM | +12:16 |
| 94 | Gilles DEVILLERS | BEL | CRE | +12:41 |
| 95 | Klaas SYS | BEL | CRE | +12:41 |
| 96 | Koen BARBE | BEL | CRE | +12:41 |
| 97 | Hugo HOULE | CAN | ALM | +12:46 |
| 98 | Christopher JUUL JENSEN | DEN | TST | +12:46 |
| DNF | Iljo KEISSE | BEL | OPQ | |
| DNF | Niki TERPSTRA | NED | OPQ | |
| DNF | Thor HUSHOVD | NOR | BMC | |
| DNF | Klaas LODEWYCK | BEL | BMC | |
| DNF | Markel IRIZAR ARANBURU | ESP | RLT | |
| DNF | Jesse SERGENT | NZL | RLT | |
| DNF | Kenny DE HAES | BEL | LTB | |
| DNF | Tosh VAN DER SANDE | BEL | LTB | |
| DNF | Vicente REYNES MIMO | ESP | LTB | |
| DNF | Salvatore PUCCIO | ITA | SKY | |
| DNF | Davide APPOLLONIO | ITA | ALM | |
| DNF | Gediminas BAGDONAS | LTU | ALM | |
| DNF | Valentin IGLINSKIY | KAZ | ALM | |
| DNF | Borut BOZIC | SLO | AST | |
| DNF | Dmitriy GRUZDEV | KAZ | AST | |
| DNF | Jacopo GUARNIERI | ITA | AST | |
| DNF | Assan BAZAYEV | KAZ | AST | |
| DNF | Ruslan TLEUBAYEV | KAZ | AST | |
| DNF | Lars BOOM | NED | BLA | |
| DNF | Rick FLENS | NED | BLA | |
| DNF | Jos VAN EMDEN | NED | BLA | |
| DNF | Mark RENSHAW | AUS | BLA | |
| DNF | David TANNER | AUS | BLA | |
| DNF | Mauro DA DALTO | ITA | CAN | |
| DNF | Edward KING | USA | CAN | |
| DNF | Alan MARANGONI | ITA | CAN | |
| DNF | Peio BILBAO | ESP | EUS | |
| DNF | Garikoitz BRAVO OIARBIDE | ESP | EUS | |
| DNF | Adrian SAEZ | ESP | EUS | |
| DNF | Juan Jose LOBATO DEL VALLE | ESP | EUS | |
| DNF | Ruben PEREZ MORENO | ESP | EUS | |
| DNF | Alexander SEREBRYAKOV | RUS | EUS | |
| DNF | Ioannis TAMOURIDIS | GRE | EUS | |
| DNF | Steffen RADOCHLA | GER | EUS | |
| DNF | Murilo Antonio FISCHER | BRA | FDJ | |
| DNF | Johan LE BON | FRA | FDJ | |
| DNF | Dominique ROLLIN | CAN | FDJ | |
| DNF | Geoffrey SOUPE | FRA | FDJ | |
| DNF | Martijn MAASKANT | NED | GRS | |
| DNF | David MILLAR | GBR | GRS | |
| DNF | Ramunas NAVARDAUSKAS | LTU | GRS | |
| DNF | Nick NUYENS | BEL | GRS | |
| DNF | Sébastien ROSSELER | BEL | GRS | |
| DNF | Vladimir ISAICHEV | RUS | KAT | |
| DNF | Aliaksandr KUCHYNSKI | BLR | KAT | |
| DNF | Viacheslav KUZNETSOV | RUS | KAT | |
| DNF | Rudiger SELIG | GER | KAT | |
| DNF | Mattia CATTANEO | ITA | LAM | |
| DNF | Davide CIMOLAI | ITA | LAM | |
| DNF | Elia FAVILLI | ITA | LAM | |
| DNF | Andrea PALINI | ITA | LAM | |
| DNF | Davide VIGANO | ITA | LAM | |
| DNF | Alessandro PETACCHI | ITA | LAM | |
| DNF | Alex DOWSETT | GBR | MOV | |
| DNF | Enrique SANZ | ESP | MOV | |
| DNF | Eloy TERUEL ROVIRA | ESP | MOV | |
| DNF | Jesus HERRADA LOPEZ | ESP | MOV | |
| DNF | Giovanni VISCONTI | ITA | MOV | |
| DNF | Aidis KRUOPIS | LTU | OGE | |
| DNF | Luke DURBRIDGE | AUS | OGE | |
| DNF | Jens MOURIS | NED | OGE | |
| DNF | Nikias ARNDT | GER | ARG | |
| DNF | Bert DE BACKER | BEL | ARG | |
| DNF | Koen DE KORT | NED | ARG | |
| DNF | Reinardt JANSE VAN RENSBURG | RSA | ARG | |
| DNF | Ramon SINKELDAM | NED | ARG | |
| DNF | Tom STAMSNIJDER | NED | ARG | |
| DNF | Daniele BENNATI | ITA | TST | |
| DNF | Jonas Aaen JÖRGENSEN | DEN | TST | |
| DNF | Marko KUMP | SLO | TST | |
| DNF | Michael MORKOV | DEN | TST | |
| DNF | Wesley KREDER | NED | VCD | |
| DNF | Wouter MOL | NED | VCD | |
| DNF | Frederik VEUCHELEN | BEL | VCD | |
| DNF | Danilo NAPOLITANO | ITA | AJW | |
| DNF | Tim DE TROYER | BEL | AJW | |
| DNF | Jean-Pierre DRUCKER | LUX | AJW | |
| DNF | Roy JANS | BEL | AJW | |
| DNF | Benjamin VERRAES | BEL | AJW | |
| DNF | Staf SCHEIRLINCKX | BEL | AJW | |
| DNF | Stefan VAN DIJK | NED | AJW | |
| DNF | James VANLANDSCHOOT | BEL | AJW | |
| DNF | Kevin CLAEYS | BEL | CRE | |
| DNF | Sébastien DELFOSSE | BEL | CRE | |
| DNF | Tim DECLERCQ | BEL | TSV | |
| DNF | Yves LAMPAERT | BEL | TSV | |
| DNF | Eliot LIETAER | BEL | TSV | |
| DNF | Stijn NEIRYNCK | BEL | TSV | |
| DNF | Preben VAN HECKE | BEL | TSV | |
| DNF | Jarl SALOMEIN | BEL | TSV | |
| DNF | Gert JOEAAR | EST | COF | |
| DNF | Kristof GODDAERT | BEL | IAM | |
| DNF | Reto HOLLENSTEIN | SUI | IAM | |
| DNF | Pirmin LANG | SUI | IAM | |
| DNF | Dominic KLEMME | GER | IAM | |
| DNF | Yohann GENE | FRA | EUC | |
| DNS | Tony GALLOPIN | FRA | RLT | |
| DNS | Lloyd MONDORY | FRA | ALM | |
| DNS | Egidijus JUODVALKIS | LTU | CRE | |
| DNS | Bjorn THURAU | GER | EUC | |
| DNF | Morgan LAMOISSON | FRA | EUC | |