2013 Criterium International Stage 3 Results
Submitted by admin on Sun, 03/24/2013 - 17:49

Follow cyclingfans on Twitter and never miss a race. Cyclingfans.com: The #1 destination on the internet for live race coverage.
- This page lists 2013 Criterium International results for Stage 3

- Stage 3 (Porto Vecchio to Col de l'Ospedale (176 km)) -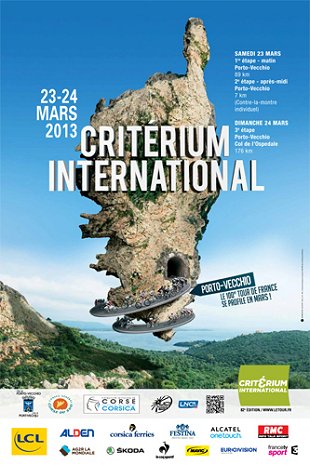 Chris Froome (Sky) won the final stage to Col de l'Ospedale and also took overall victory in the 2013 Criterium International. Previous race leader, Froome's teammate Richie Porte, finished on the final podium in second place. Tejay van Garderen rounded out the podium in third place.
| | | | | |
| --- | --- | --- | --- | --- |
| Rank | Name | Nationality | Team | Result |
| 1 | Christopher FROOME | GBR | SKY | 4:43:38 |
| 2 | Richie PORTE | AUS | SKY | +30 |
| 3 | Bauke MOLLEMA | NED | BLA | +45 |
| 4 | Jean-Christophe PERAUD | FRA | ALM | +45 |
| 5 | Tejay VAN GARDEREN | USA | BMC | +45 |
| 6 | Andrew TALANSKY | USA | GRS | +53 |
| 7 | Johann TSCHOPP | SUI | IAM | +57 |
| 8 | John GADRET | FRA | ALM | +1:07 |
| 9 | Pierrick FEDRIGO | FRA | FDJ | +1:08 |
| 10 | Maxime BOUET | FRA | ALM | +1:08 |
| 11 | Davide MALACARNE | ITA | EUC | +1:32 |
| 12 | Romain BARDET | FRA | ALM | +1:32 |
| 13 | Andreas KLÖDEN | GER | RLT | +1:49 |
| 14 | Jerome COPPEL | FRA | COF | +2:14 |
| 15 | Michael ROGERS | AUS | TST | +2:14 |
| 16 | Amaël MOINARD | FRA | BMC | +2:46 |
| 17 | Marcel WYSS | SUI | IAM | +2:50 |
| 18 | Bob JUNGELS | LUX | RLT | +3:15 |
| 19 | Maxime MONFORT | BEL | RLT | +3:22 |
| 20 | Jonathan HIVERT | FRA | SOJ | +4:07 |
| 21 | Antoine LAVIEU | FRA | LPM | +4:27 |
| 22 | Rémi PAURIOL | FRA | SOJ | +4:27 |
| 23 | Sergio Miguel MOREIRA PAULINHO | POR | TST | +4:59 |
| 24 | Thomas VOECKLER | FRA | EUC | +5:07 |
| 25 | Jesus HERNANDEZ BLAZQUEZ | ESP | TST | +5:45 |
| 26 | Rein TAARAMAE | EST | COF | +6:06 |
| 27 | Jarlinson PANTANO | COL | COL | +6:23 |
| 28 | Vasil KIRYIENKA | BLR | SKY | +6:34 |
| 29 | Benjamin KING | USA | RLT | +6:34 |
| 30 | Brent BOOKWALTER | USA | BMC | +6:34 |
| 31 | Clément KORETZKY | FRA | BSE | +6:34 |
| 32 | Darwin ATAPUMA HURTADO | COL | COL | +6:43 |
| 33 | Jonathan FUMEAUX | SUI | IAM | +7:08 |
| 34 | Anthony ROUX | FRA | FDJ | +9:33 |
| 35 | Guillaume LEVARLET | FRA | COF | +9:33 |
| 36 | Ben HERMANS | BEL | RLT | +9:33 |
| 37 | Fabien SCHMIDT | FRA | SOJ | +9:33 |
| 38 | Tobias LUDVIGSSON | SWE | ARG | +9:33 |
| 39 | Julien EL FARES | FRA | SOJ | +9:33 |
| 40 | Wilco KELDERMAN | NED | BLA | +9:33 |
| 41 | Mathias FRANK | SUI | BMC | +9:33 |
| 42 | Manuele BOARO | ITA | TST | +11:07 |
| 43 | Sébastien REICHENBACH | SUI | IAM | +11:11 |
| 44 | Grégoire TARRIDE | FRA | LPM | +12:08 |
| 45 | Francis MOUREY | FRA | FDJ | +13:12 |
| 46 | Cyril GAUTIER | FRA | EUC | +13:30 |
| 47 | Kanstantsin SIUTSOU | BLR | SKY | +13:30 |
| 48 | Jérémy ROY | FRA | FDJ | +14:06 |
| 49 | Cadel EVANS | AUS | BMC | +14:56 |
| 50 | Rory SUTHERLAND | AUS | TST | +14:56 |
| 51 | Simon GESCHKE | GER | ARG | +14:56 |
| 52 | Michael RODRIGUEZ GALINDO | COL | COL | +17:08 |
| 53 | Bram TANKINK | NED | BLA | +17:08 |
| 54 | Arnaud GERARD | FRA | BSE | +18:28 |
| 55 | Yannick TALABARDON | FRA | SOJ | +19:11 |
| 56 | Andy SCHLECK | LUX | RLT | +21:57 |
| 57 | Ben GASTAUER | LUX | ALM | +21:57 |
| 58 | Anthony DELAPLACE | FRA | SOJ | +21:57 |
| 59 | Christophe RIBLON | FRA | ALM | +21:57 |
| 60 | Wilson Alexander MARENTES TORRES | COL | COL | +22:20 |
| OTL | Florian VACHON | FRA | BSE | |
| OTL | Johannes FRÖHLINGER | GER | ARG | |
| OTL | Marco CORTI | ITA | COL | |
| OTL | Jeffry Johan ROMERO CORREDOR | COL | COL | |
| OTL | Dalivier OSPINA NAVARRO | COL | COL | |
| OTL | Jens VOIGT | GER | RLT | |
| OTL | José GONÇALVES | POR | LPM | |
| OTL | Edwig CAMMAERTS | BEL | COF | |
| OTL | Sebastian LANDER | DEN | BMC | |
| OTL | Laurent DIDIER | LUX | RLT | |
| OTL | Eduardo SEPULVEDA | ARG | BSE | |
| OTL | Romain HARDY | FRA | COF | |
| OTL | Cyril BESSY | FRA | COF | |
| DNF | Dominik NERZ | GER | BMC | |
| DNF | Nacer BOUHANNI | FRA | FDJ | |
| DNF | Alexandre GENIEZ | FRA | FDJ | |
| DNF | Jussi VEIKKANEN | FIN | FDJ | |
| DNF | Jonathan CANTWELL | AUS | TST | |
| DNF | Jay MCCARTHY | AUS | TST | |
| DNF | Joseph Lloyd DOMBROWSKI | USA | SKY | |
| DNF | Jonathan TIERNAN-LOCKE | GBR | SKY | |
| DNF | Xabier ZANDIO ECHAIDE | ESP | SKY | |
| DNF | Axel DOMONT | FRA | ALM | |
| DNF | Julian KERN | GER | ALM | |
| DNF | Jérémy BESCOND | FRA | COF | |
| DNF | Jimmy ENGOULVENT | FRA | SOJ | |
| DNF | Paul POUX | FRA | SOJ | |
| DNF | Yukiya ARASHIRO | JPN | EUC | |
| DNF | Giovanni BERNAUDEAU | FRA | EUC | |
| DNF | Kévin REZA | FRA | EUC | |
| DNF | Pierre ROLLAND | FRA | EUC | |
| DNF | Angelo TULIK | FRA | EUC | |
| DNF | Rohan DENNIS | AUS | GRS | |
| DNF | Caleb FAIRLY | USA | GRS | |
| DNF | Nathan HAAS | AUS | GRS | |
| DNF | Robert HUNTER | RSA | GRS | |
| DNF | Raymond KREDER | NED | GRS | |
| DNF | Steele VON HOFF | AUS | GRS | |
| DNF | Julio Alexis CAMACHO BERNAL | COL | COL | |
| DNF | Warren BARGUIL | FRA | ARG | |
| DNF | Yann HUGUET | FRA | ARG | |
| DNF | Thierry HUPOND | FRA | ARG | |
| DNF | Cheng JI | CHN | ARG | |
| DNF | Matthieu SPRICK | FRA | ARG | |
| DNF | Armindo FONSECA | FRA | BSE | |
| DNF | Florian GUILLOU | FRA | BSE | |
| DNF | Geoffroy LEQUATRE | FRA | BSE | |
| DNF | Pierre-Luc PERRICHON | FRA | BSE | |
| DNF | Theo BOS | NED | BLA | |
| DNF | Graeme BROWN | AUS | BLA | |
| DNF | Juan Manuel GARATE | ESP | BLA | |
| DNF | Matthias BRANDLE | AUT | IAM | |
| DNF | Rémi CUSIN | FRA | IAM | |
| DNF | Alexandr PLIUSCHIN | MDA | IAM | |
| DNF | Patrick SCHELLING | SUI | IAM | |
| DNF | Julien ANTOMARCHI | FRA | LPM | |
| DNF | Justin JULES | FRA | LPM | |
| DNF | Yannick MARTINEZ | FRA | LPM | |
| DNF | Yoann PAILLOT | FRA | LPM | |
| DNF | Thomas ROSTOLLAN | FRA | LPM | |
| DNS | Fabian WEGMANN | GER | GRS | |
General Classification after Stage 3 (Final)

| | | | | |
| --- | --- | --- | --- | --- |
| Rank | Name | Nationality | Team | Result |
| 1 | Christopher FROOME | Great Britain | SKY | 6:55:23 |
| 2 | Richie PORTE | Australia | SKY | +32 |
| 3 | Tejay VAN GARDEREN | United States | BMC | +54 |
| 4 | Bauke MOLLEMA | Netherlands | BLA | +1:00 |
| 5 | Jean-Christophe PERAUD | France | ALM | +1:00 |
| 6 | Andrew TALANSKY | United States | GRS | +1:08 |
| 7 | Maxime BOUET | France | ALM | +1:33 |
| 8 | Pierrick FEDRIGO | France | FDJ | +1:37 |
| 9 | Johann TSCHOPP | Switzerland | IAM | +1:43 |
| 10 | John GADRET | France | ALM | +2:05 |
| 11 | Andreas KLÖDEN | Germany | RLT | +2:06 |
| 12 | Romain BARDET | France | ALM | +2:18 |
| 13 | Davide MALACARNE | Italy | EUC | +2:21 |
| 14 | Jerome COPPEL | France | COF | +2:33 |
| 15 | Michael ROGERS | Australia | TST | +2:43 |
| 16 | Amaël MOINARD | France | BMC | +3:19 |
| 17 | Bob JUNGELS | Luxembourg | RLT | +3:30 |
| 18 | Marcel WYSS | Switzerland | IAM | +3:31 |
| 19 | Maxime MONFORT | Belgium | RLT | +3:51 |
| 20 | Jonathan HIVERT | France | SOJ | +4:35 |
| 21 | Rémi PAURIOL | France | SOJ | +4:58 |
| 22 | Sergio Miguel MOREIRA PAULINHO | Portugal | TST | +5:28 |
| 23 | Antoine LAVIEU | France | LPM | +5:40 |
| 24 | Thomas VOECKLER | France | EUC | +5:40 |
| 25 | Rein TAARAMAE | Estonia | COF | +6:40 |
| 26 | Jesus HERNANDEZ BLAZQUEZ | Spain | TST | +6:54 |
| 27 | Vasil KIRYIENKA | Belarus | SKY | +6:56 |
| 28 | Benjamin KING | United States | RLT | +7:04 |
| 29 | Brent BOOKWALTER | United States | BMC | +7:09 |
| 30 | Jarlinson PANTANO | Colombia | COL | +7:12 |
| 31 | Clément KORETZKY | France | BSE | +7:23 |
| 32 | Jonathan FUMEAUX | Switzerland | IAM | +8:07 |
| 33 | Darwin ATAPUMA HURTADO | Colombia | COL | +8:35 |
| 34 | Wilco KELDERMAN | Netherlands | BLA | +9:55 |
| 35 | Tobias LUDVIGSSON | Sweden | ARG | +9:56 |
| 36 | Anthony ROUX | France | FDJ | +10:02 |
| 37 | Ben HERMANS | Belgium | RLT | +10:04 |
| 38 | Mathias FRANK | Switzerland | BMC | +10:12 |
| 39 | Fabien SCHMIDT | France | SOJ | +10:15 |
| 40 | Julien EL FARES | France | SOJ | +10:20 |
| 41 | Guillaume LEVARLET | France | COF | +10:35 |
| 42 | Manuele BOARO | Italy | TST | +11:16 |
| 43 | Sébastien REICHENBACH | Switzerland | IAM | +12:06 |
| 44 | Grégoire TARRIDE | France | LPM | +12:50 |
| 45 | Kanstantsin SIUTSOU | Belarus | SKY | +14:09 |
| 46 | Cyril GAUTIER | France | EUC | +14:20 |
| 47 | Francis MOUREY | France | FDJ | +14:26 |
| 48 | Jérémy ROY | France | FDJ | +14:36 |
| 49 | Simon GESCHKE | Germany | ARG | +15:26 |
| 50 | Rory SUTHERLAND | Australia | TST | +15:28 |
| 51 | Cadel EVANS | Australia | BMC | +15:49 |
| 52 | Michael RODRIGUEZ GALINDO | Colombia | COL | +18:04 |
| 53 | Bram TANKINK | Netherlands | BLA | +18:26 |
| 54 | Arnaud GERARD | France | BSE | +18:59 |
| 55 | Yannick TALABARDON | France | SOJ | +20:16 |
| 56 | Anthony DELAPLACE | France | SOJ | +22:48 |
| 57 | Andy SCHLECK | Luxembourg | RLT | +22:49 |
| 58 | Ben GASTAUER | Luxembourg | ALM | +23:14 |
| 59 | Christophe RIBLON | France | ALM | +23:17 |
| 60 | Wilson Alexander MARENTES TORRES | Colombia | COL | +23:27 |