2013 Three Days of De Panne Stage 3a Results
Submitted by admin on Thu, 03/28/2013 - 06:18

Follow cyclingfans on Twitter and never miss a race. Cyclingfans.com: The #1 destination on the internet for live race coverage.
- This page lists 2013 Three Days of De Panne results for Stage 3a

- Stage 3a (De Panne to De Panne (112.6 km)) -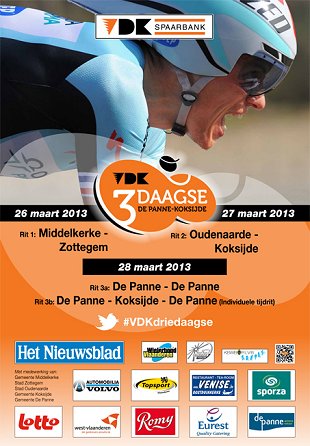 Alexander Kristoff (Katusha) won the morning Stage 3a ahead of Sacha Modolo and Elia Viviani. Kristoff also took over the race lead going into the afternoon final stage time trial.
| | | | | |
| --- | --- | --- | --- | --- |
| Rank | Name | Nationality | Team | Result |
| 1 | Alexander KRISTOFF | NOR | KAT | 2:29:02 |
| 2 | Sacha MODOLO | ITA | BAR | +0 |
| 3 | Elia VIVIANI | ITA | CAN | +0 |
| 4 | Sonny COLBRELLI | ITA | BAR | +0 |
| 5 | Baptiste PLACKAERT | BEL | CRE | +0 |
| 6 | Davide CIMOLAI | ITA | LAM | +0 |
| 7 | Kenny DE HAES | BEL | LTB | +0 |
| 8 | Mark CAVENDISH | GBR | OPQ | +0 |
| 9 | Kenny Robert VAN HUMMEL | NED | VCD | +0 |
| 10 | Alessandro BAZZANA | ITA | UHC | +0 |
| 11 | Francesco CHICCHI | ITA | VIN | +0 |
| 12 | Nicolas VEREECKEN | BEL | SKT | +0 |
| 13 | Tomas VAITKUS | LTU | OGE | +0 |
| 14 | Michael VAN STAEYEN | BEL | TSV | +0 |
| 15 | Danilo NAPOLITANO | ITA | AJW | +0 |
| 16 | Roy JANS | BEL | AJW | +0 |
| 17 | Barry MARKUS | NED | VCD | +0 |
| 18 | Romain FEILLU | FRA | VCD | +0 |
| 19 | Nikias ARNDT | GER | ARG | +0 |
| 20 | Blaz JARC | SLO | TNE | +0 |
| 21 | Clinton Robert AVERY | NZL | CSS | +0 |
| 22 | Arnaud DEMARE | FRA | FDJ | +0 |
| 23 | Andrea GUARDINI | ITA | AST | +0 |
| 24 | Andrea PALINI | ITA | LAM | +0 |
| 25 | Jarl SALOMEIN | BEL | TSV | +0 |
| 26 | David BOUCHER | FRA | FDJ | +0 |
| 27 | Jacobe KEOUGH | USA | UHC | +0 |
| 28 | Tom VAN ASBROECK | BEL | TSV | +0 |
| 29 | Sylvain CHAVANEL | FRA | OPQ | +0 |
| 30 | Maxime VANTOMME | BEL | CRE | +0 |
| 31 | Marco COLEDAN | ITA | BAR | +0 |
| 32 | Elia FAVILLI | ITA | LAM | +0 |
| 33 | Bjorn THURAU | GER | EUC | +0 |
| 34 | Johan LE BON | FRA | FDJ | +0 |
| 35 | Joren SEGERS | BEL | MMM | +0 |
| 36 | Daniel SCHORN | AUT | TNE | +0 |
| 37 | Morgan LAMOISSON | FRA | EUC | +0 |
| 38 | Youcef REGUIGUI | ALG | MTN | +0 |
| 39 | Gijs VAN HOECKE | BEL | TSV | +0 |
| 40 | Niki TERPSTRA | NED | OPQ | +0 |
| 41 | James VANLANDSCHOOT | BEL | AJW | +0 |
| 42 | Luke DURBRIDGE | AUS | OGE | +0 |
| 43 | Kevin CLAEYS | BEL | CRE | +0 |
| 44 | Timothy STEVENS | BEL | MMM | +0 |
| 45 | Vincent JEROME | FRA | EUC | +0 |
| 46 | Lieuwe WESTRA | NED | VCD | +0 |
| 47 | Oscar GATTO | ITA | VIN | +0 |
| 48 | Filippo FORTIN | ITA | BAR | +0 |
| 49 | Benjamin VERRAES | BEL | AJW | +0 |
| 50 | Tom DUMOULIN | NED | ARG | +0 |
| 51 | Kurt HOVELYNCK | BEL | CRE | +0 |
| 52 | Guillaume BOIVIN | CAN | CAN | +0 |
| 53 | Egidijus JUODVALKIS | LTU | CRE | +0 |
| 54 | Mauro DA DALTO | ITA | CAN | +0 |
| 55 | Yves LAMPAERT | BEL | TSV | +0 |
| 56 | Pieter JACOBS | BEL | TSV | +0 |
| 57 | Guillaume VAN KEIRSBULCK | BEL | OPQ | +0 |
| 58 | Massimo GRAZIATO | ITA | LAM | +8 |
| 59 | Marco CANOLA | ITA | BAR | +8 |
| 60 | Nicola BOEM | ITA | BAR | +8 |
| 61 | Andreas STAUFF | GER | MTN | +8 |
| 62 | Vladimir ISAICHEV | RUS | KAT | +8 |
| 63 | Stefan VAN DIJK | NED | AJW | +8 |
| 64 | Reinardt JANSE VAN RENSBURG | RSA | ARG | +8 |
| 65 | Roy CURVERS | NED | ARG | +8 |
| 66 | Mickael DELAGE | FRA | FDJ | +8 |
| 67 | Aidis KRUOPIS | LTU | OGE | +8 |
| 68 | Artur ERSHOV | RUS | RVL | +8 |
| 69 | Martin REIMER | GER | MTN | +8 |
| 70 | Frederik VEUCHELEN | BEL | VCD | +8 |
| 71 | Sébastien TURGOT | FRA | EUC | +8 |
| 72 | Michael VINGERLING | NED | MMM | +8 |
| 73 | Michael HEPBURN | AUS | OGE | +8 |
| 74 | Tim MERTENS | BEL | TSV | +8 |
| 75 | Dmitriy MURAVYEV | KAZ | AST | +8 |
| 76 | Leigh HOWARD | AUS | OGE | +8 |
| 77 | Viacheslav KUZNETSOV | RUS | KAT | +8 |
| 78 | Yohann GENE | FRA | EUC | +8 |
| 79 | Gert STEEGMANS | BEL | OPQ | +8 |
| 80 | Kevin HULSMANS | BEL | VIN | +8 |
| 81 | Pier Paolo DE NEGRI | ITA | VIN | +8 |
| 82 | Gerald CIOLEK | GER | MTN | +8 |
| 83 | Rudiger SELIG | GER | KAT | +8 |
| 84 | Nikolas MAES | BEL | OPQ | +8 |
| 85 | Marco HALLER | AUT | KAT | +8 |
| 86 | Tosh VAN DER SANDE | BEL | LTB | +18 |
| 87 | Markus EICHLER | GER | TNE | +21 |
| 88 | Jonas VANGENECHTEN | BEL | LTB | +22 |
| 89 | William BONNET | FRA | FDJ | +25 |
| 90 | Jacopo GUARNIERI | ITA | AST | +27 |
| 91 | Murilo Antonio FISCHER | BRA | FDJ | +27 |
| 92 | Iljo KEISSE | BEL | OPQ | +27 |
| 93 | Maarten NEYENS | BEL | LTB | +33 |
| 94 | Kess HEYTENS | BEL | MMM | +37 |
| 95 | Anton VOROBYEV | RUS | KAT | +37 |
| 96 | Christopher JONES | USA | UHC | +37 |
| 97 | Jens MOURIS | NED | OGE | +37 |
| 98 | Roman MAIKIN | RUS | RVL | +37 |
| 99 | Boy VAN POPPEL | NED | VCD | +37 |
| 100 | Vicente REYNES MIMO | ESP | LTB | +37 |
| 101 | Edward KING | USA | CAN | +37 |
| 102 | Gregor GAZVODA | SLO | CSS | +37 |
| 103 | Francesco FAILLI | ITA | VIN | +37 |
| 104 | Alan MARANGONI | ITA | CAN | +37 |
| 105 | Bradley POTGIETER | RSA | MTN | +37 |
| 106 | Alphonse VERMOTE | BEL | SKT | +37 |
| 107 | Marius BERNATONIS | LTU | MMM | +37 |
| 108 | David VEILLEUX | CAN | EUC | +37 |
| 109 | Viktor MANAKOV | RUS | RVL | +37 |
| 110 | Pengda JIAO | CHN | CSS | +37 |
| 111 | Andreas SCHILLINGER | GER | TNE | +37 |
| 112 | Rafael ANDRIATO | BRA | VIN | +37 |
| 113 | Matt BRAMMEIER | IRL | CSS | +37 |
| 114 | Chad BEYER | USA | CSS | +37 |
| 115 | Kris BOECKMANS | BEL | VCD | +37 |
| 116 | Luka MEZGEC | SLO | ARG | +37 |
| 117 | Davide VIGANO | ITA | LAM | +37 |
| 118 | Roger KLUGE | GER | TNE | +46 |
| 119 | Koen BARBE | BEL | CRE | +55 |
| 120 | Igor BOEV | RUS | RVL | +55 |
| 121 | Kin San WU | HKG | CSS | +55 |
| 122 | Glenn O'SHEA | AUS | SKT | +55 |
| 123 | Russell DOWNING | GBR | TNE | +55 |
| 124 | Mattia CATTANEO | ITA | LAM | +55 |
| 125 | Christian DELLE STELLE | ITA | BAR | +55 |
| 126 | Steven VAN VOOREN | BEL | SKT | +55 |
| 127 | Marcel KITTEL | GER | ARG | +55 |
| 128 | Zakkari DEMPSTER | AUS | TNE | +55 |
| 129 | Niko EECKHOUT | BEL | SKT | +1:03 |
| 130 | Frederique ROBERT | BEL | LTB | +1:03 |
| 131 | Mattia POZZO | ITA | VIN | +1:05 |
| 132 | Baden COOKE | AUS | OGE | +1:15 |
| 133 | Stuart O'GRADY | AUS | OGE | +1:34 |
| 134 | Reinier HONIG | NED | CRE | +1:42 |
| 135 | Wouter MOL | NED | VCD | +1:42 |
| 136 | Dmitriy GRUZDEV | KAZ | AST | +1:56 |
| 137 | Jeffry LOUDER | USA | UHC | +1:56 |
| 138 | Simone PONZI | ITA | AST | +1:59 |
| 139 | Mike TERPSTRA | NED | MMM | +2:20 |
| 140 | Martin WESEMANN | RSA | MTN | +2:22 |
| 141 | Luca WACKERMANN | ITA | LAM | +4:18 |
| 142 | Ryan ROTH | CAN | CSS | +4:18 |
| 143 | Chan Jae JANG | KOR | CSS | +4:51 |
| 144 | Tim DE TROYER | BEL | AJW | +5:06 |
| 145 | Thomas VANHAECKE | BEL | MMM | +7:38 |
| 146 | Shane ARCHBOLD | NZL | SKT | +7:38 |
| DNF | Preben VAN HECKE | BEL | TSV | |
| DNF | Sam BENNETT | IRL | SKT | |
| DNF | Wouter WIPPERT | NED | MMM | |
| DNF | Valery KAYKOV | RUS | RVL | |
| DNF | Kiel REIJNEN | USA | UHC | |
| DNF | Lucas EUSER | USA | UHC | |
| DNF | Matthieu LADAGNOUS | FRA | FDJ | |
| DNF | Roberto FERRARI | ITA | LAM | |
| DNF | Tom VEELERS | NED | ARG | |
| DNF | Assan BAZAYEV | KAZ | AST | |
| DNF | John MURPHY | USA | UHC | |
| DNS | André GREIPEL | GER | LTB | |
| DNS | Tom BOONEN | BEL | OPQ | |
| DNS | Peter SAGAN | SVK | CAN | |
| DNS | Kristijan KOREN | SLO | CAN | |
| DNS | Alexey LUTSENKO | KAZ | AST | |
| DNS | Luca PAOLINI | ITA | KAT | |
| DNS | Alexey TSATEVITCH | RUS | KAT | |
| DNS | Paul VOSS | GER | TNE | |
| DNS | Maciej BODNAR | POL | CAN | |
General Classification after Stage 3a

| | | | | |
| --- | --- | --- | --- | --- |
| Rank | Name | Nationality | Team | Result |
| 1 | Alexander KRISTOFF | Norway | KAT | 12:16:16 |
| 2 | Arnaud DEMARE | France | FDJ | +4 |
| 3 | Mark CAVENDISH | Great Britain | OPQ | +9 |
| 4 | Sylvain CHAVANEL | France | OPQ | +10 |
| 5 | Maxime VANTOMME | Belgium | CRE | +10 |
| 6 | Niki TERPSTRA | Netherlands | OPQ | +10 |
| 7 | Davide CIMOLAI | Italy | LAM | +15 |
| 8 | Johan LE BON | France | FDJ | +18 |
| 9 | Oscar GATTO | Italy | VIN | +18 |
| 10 | Baptiste PLACKAERT | Belgium | CRE | +19 |
| 11 | Sonny COLBRELLI | Italy | BAR | +19 |
| 12 | Tom VAN ASBROECK | Belgium | TSV | +19 |
| 13 | Nikias ARNDT | Germany | ARG | +19 |
| 14 | David BOUCHER | France | FDJ | +19 |
| 15 | Blaz JARC | Slovenia | TNE | +19 |
| 16 | James VANLANDSCHOOT | Belgium | AJW | +19 |
| 17 | Marco COLEDAN | Italy | BAR | +19 |
| 18 | Kenny DE HAES | Belgium | LTB | +24 |
| 19 | Kurt HOVELYNCK | Belgium | CRE | +24 |
| 20 | Jarl SALOMEIN | Belgium | TSV | +27 |
| 21 | Elia FAVILLI | Italy | LAM | +27 |
| 22 | Guillaume VAN KEIRSBULCK | Belgium | OPQ | +27 |
| 23 | Tom DUMOULIN | Netherlands | ARG | +27 |
| 24 | Gijs VAN HOECKE | Belgium | TSV | +27 |
| 25 | Mauro DA DALTO | Italy | CAN | +27 |
| 26 | Gerald CIOLEK | Germany | MTN | +27 |
| 27 | Lieuwe WESTRA | Netherlands | VCD | +27 |
| 28 | Pier Paolo DE NEGRI | Italy | VIN | +27 |
| 29 | Luke DURBRIDGE | Australia | OGE | +27 |
| 30 | Vincent JEROME | France | EUC | +27 |
| 31 | Pieter JACOBS | Belgium | TSV | +27 |
| 32 | Egidijus JUODVALKIS | Lithuania | CRE | +27 |
| 33 | Yves LAMPAERT | Belgium | TSV | +27 |
| 34 | Rudiger SELIG | Germany | KAT | +32 |
| 35 | Leigh HOWARD | Australia | OGE | +32 |
| 36 | Mickael DELAGE | France | FDJ | +35 |
| 37 | Reinardt JANSE VAN RENSBURG | South Africa | ARG | +35 |
| 38 | Yohann GENE | France | EUC | +35 |
| 39 | Viacheslav KUZNETSOV | Russia | KAT | +35 |
| 40 | Kevin HULSMANS | Belgium | VIN | +35 |
| 41 | Dmitriy MURAVYEV | Kazakhstan | AST | +35 |
| 42 | Nikolas MAES | Belgium | OPQ | +35 |
| 43 | Bjorn THURAU | Germany | EUC | +1:00 |
| 44 | Boy VAN POPPEL | Netherlands | VCD | +1:04 |
| 45 | Francesco FAILLI | Italy | VIN | +1:04 |
| 46 | Vicente REYNES MIMO | Spain | LTB | +1:04 |
| 47 | Alan MARANGONI | Italy | CAN | +1:04 |
| 48 | Roman MAIKIN | Russia | RVL | +1:07 |
| 49 | Christopher JONES | United States | UHC | +1:21 |
| 50 | Edward KING | United States | CAN | +1:21 |
| 51 | Alessandro BAZZANA | Italy | UHC | +1:42 |
| 52 | William BONNET | France | FDJ | +1:42 |
| 53 | Jacopo GUARNIERI | Italy | AST | +1:44 |
| 54 | Murilo Antonio FISCHER | Brazil | FDJ | +2:21 |
| 55 | Davide VIGANO | Italy | LAM | +3:38 |
| 56 | Luka MEZGEC | Slovenia | ARG | +3:57 |
| 57 | Tomas VAITKUS | Lithuania | OGE | +4:22 |
| 58 | Frederique ROBERT | Belgium | LTB | +4:50 |
| 59 | Stuart O'GRADY | Australia | OGE | +4:54 |
| 60 | Martin REIMER | Germany | MTN | +5:39 |
| 61 | Tosh VAN DER SANDE | Belgium | LTB | +6:27 |
| 62 | Mattia CATTANEO | Italy | LAM | +6:53 |
| 63 | Stefan VAN DIJK | Netherlands | AJW | +7:07 |
| 64 | Roy CURVERS | Netherlands | ARG | +7:15 |
| 65 | Jonas VANGENECHTEN | Belgium | LTB | +7:29 |
| 66 | Kevin CLAEYS | Belgium | CRE | +7:47 |
| 67 | Iljo KEISSE | Belgium | OPQ | +8:20 |
| 68 | Alphonse VERMOTE | Belgium | SKT | +8:23 |
| 69 | Elia VIVIANI | Italy | CAN | +8:28 |
| 70 | Andreas STAUFF | Germany | MTN | +8:44 |
| 71 | Andrea PALINI | Italy | LAM | +8:44 |
| 72 | Marco CANOLA | Italy | BAR | +8:49 |
| 73 | Massimo GRAZIATO | Italy | LAM | +9:16 |
| 74 | Sacha MODOLO | Italy | BAR | +9:24 |
| 75 | Guillaume BOIVIN | Canada | CAN | +9:34 |
| 76 | Sébastien TURGOT | France | EUC | +9:55 |
| 77 | Wouter MOL | Netherlands | VCD | +10:35 |
| 78 | Mattia POZZO | Italy | VIN | +10:37 |
| 79 | David VEILLEUX | Canada | EUC | +10:48 |
| 80 | Zakkari DEMPSTER | Australia | TNE | +11:03 |
| 81 | Kess HEYTENS | Belgium | MMM | +11:41 |
| 82 | Dmitriy GRUZDEV | Kazakhstan | AST | +11:58 |
| 83 | Andreas SCHILLINGER | Germany | TNE | +12:08 |
| 84 | Kris BOECKMANS | Belgium | VCD | +12:12 |
| 85 | Koen BARBE | Belgium | CRE | +12:16 |
| 86 | Anton VOROBYEV | Russia | KAT | +14:35 |
| 87 | Francesco CHICCHI | Italy | VIN | +14:59 |
| 88 | Romain FEILLU | France | VCD | +15:03 |
| 89 | Jacobe KEOUGH | United States | UHC | +15:03 |
| 90 | Michael VAN STAEYEN | Belgium | TSV | +15:03 |
| 91 | Clinton Robert AVERY | New Zealand | CSS | +15:03 |
| 92 | Kenny Robert VAN HUMMEL | Netherlands | VCD | +15:08 |
| 93 | Roy JANS | Belgium | AJW | +15:08 |
| 94 | Andrea GUARDINI | Italy | AST | +15:11 |
| 95 | Daniel SCHORN | Austria | TNE | +15:11 |
| 96 | Aidis KRUOPIS | Lithuania | OGE | +15:16 |
| 97 | Artur ERSHOV | Russia | RVL | +15:19 |
| 98 | Timothy STEVENS | Belgium | MMM | +15:28 |
| 99 | Vladimir ISAICHEV | Russia | KAT | +15:43 |
| 100 | Viktor MANAKOV | Russia | RVL | +15:48 |
| 101 | Matt BRAMMEIER | Ireland | CSS | +15:48 |
| 102 | Frederik VEUCHELEN | Belgium | VCD | +15:49 |
| 103 | Nicolas VEREECKEN | Belgium | SKT | +15:51 |
| 104 | Filippo FORTIN | Italy | BAR | +15:55 |
| 105 | Christian DELLE STELLE | Italy | BAR | +16:36 |
| 106 | Roger KLUGE | Germany | TNE | +16:38 |
| 107 | Michael HEPBURN | Australia | OGE | +16:43 |
| 108 | Gert STEEGMANS | Belgium | OPQ | +16:46 |
| 109 | Mike TERPSTRA | Netherlands | MMM | +16:56 |
| 110 | Jens MOURIS | Netherlands | OGE | +17:05 |
| 111 | Marco HALLER | Austria | KAT | +18:10 |
| 112 | Nicola BOEM | Italy | BAR | +18:12 |
| 113 | Maarten NEYENS | Belgium | LTB | +18:37 |
| 114 | Marius BERNATONIS | Lithuania | MMM | +18:41 |
| 115 | Russell DOWNING | Great Britain | TNE | +18:57 |
| 116 | Reinier HONIG | Netherlands | CRE | +18:57 |
| 117 | Martin WESEMANN | South Africa | MTN | +19:00 |
| 118 | Thomas VANHAECKE | Belgium | MMM | +19:15 |
| 119 | Simone PONZI | Italy | AST | +20:03 |
| 120 | Baden COOKE | Australia | OGE | +21:57 |
| 121 | Danilo NAPOLITANO | Italy | AJW | +22:20 |
| 122 | Benjamin VERRAES | Belgium | AJW | +22:28 |
| 123 | Glenn O'SHEA | Australia | SKT | +22:57 |
| 124 | Igor BOEV | Russia | RVL | +22:57 |
| 125 | Tim DE TROYER | Belgium | AJW | +23:10 |
| 126 | Steven VAN VOOREN | Belgium | SKT | +23:13 |
| 127 | Morgan LAMOISSON | France | EUC | +24:31 |
| 128 | Rafael ANDRIATO | Brazil | VIN | +25:08 |
| 129 | Chad BEYER | United States | CSS | +25:08 |
| 130 | Kin San WU | Hong Kong, China | CSS | +25:26 |
| 131 | Marcel KITTEL | Germany | ARG | +25:26 |
| 132 | Barry MARKUS | Netherlands | VCD | +26:16 |
| 133 | Youcef REGUIGUI | Algeria | MTN | +26:16 |
| 134 | Niko EECKHOUT | Belgium | SKT | +26:21 |
| 135 | Tim MERTENS | Belgium | TSV | +26:24 |
| 136 | Markus EICHLER | Germany | TNE | +26:37 |
| 137 | Gregor GAZVODA | Slovenia | CSS | +26:53 |
| 138 | Bradley POTGIETER | South Africa | MTN | +26:53 |
| 139 | Jeffry LOUDER | United States | UHC | +28:12 |
| 140 | Ryan ROTH | Canada | CSS | +30:34 |
| 141 | Luca WACKERMANN | Italy | LAM | +30:34 |
| 142 | Joren SEGERS | Belgium | MMM | +33:33 |
| 143 | Michael VINGERLING | Netherlands | MMM | +33:41 |
| 144 | Pengda JIAO | China | CSS | +34:10 |
| 145 | Chan Jae JANG | Korea | CSS | +38:24 |
| 146 | Shane ARCHBOLD | New Zealand | SKT | +43:29 |