2013 Paris-Roubaix Results
Submitted by admin on Sun, 04/07/2013 - 09:24

Follow cyclingfans on Twitter and never miss a race. Cyclingfans.com: The #1 destination on the internet for live race coverage.
- This page lists 2013 Paris-Roubaix results

- Compiegne to Roubaix (254.5 km) -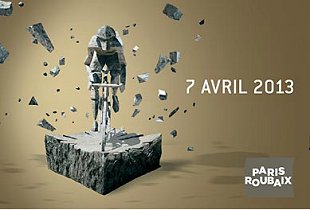 Fabian Cancellara (RadioShack), in a brilliant show of power and tactics, eliminated his rivals one after another and by groups until only one, Sep Vanmarcke, was left. Cancellara then outsprinted Vanmarcke in the Roubaix velodrome to take his third victory in the "Hell of the North". Niki Terpstra rounded out the podium in third place.
| | | | | |
| --- | --- | --- | --- | --- |
| Rank | Name | Nationality | Team | Result |
| 1 | Fabian CANCELLARA | SUI | RLT | 5:45:33 |
| 2 | Sep VANMARCKE | BEL | BLA | +0 |
| 3 | Niki TERPSTRA | NED | OPQ | +31 |
| 4 | Greg VAN AVERMAET | BEL | BMC | +31 |
| 5 | Damien GAUDIN | FRA | EUC | +31 |
| 6 | Zdenek STYBAR | CZE | OPQ | +39 |
| 7 | Sebastian LANGEVELD | NED | OGE | +39 |
| 8 | Juan Antonio FLECHA GIANNONI | ESP | VCD | +39 |
| 9 | Alexander KRISTOFF | NOR | KAT | +50 |
| 10 | Sébastien TURGOT | FRA | EUC | +50 |
| 11 | Heinrich HAUSSLER | AUS | IAM | +50 |
| 12 | Bernhard EISEL | AUT | SKY | +50 |
| 13 | Maarten WYNANTS | BEL | BLA | +50 |
| 14 | Lars BOOM | NED | BLA | +50 |
| 15 | Matti BRESCHEL | DEN | TST | +50 |
| 16 | Björn LEUKEMANS | BEL | VCD | +50 |
| 17 | Steve CHAINEL | FRA | ALM | +50 |
| 18 | Maarten TJALLINGII | NED | BLA | +50 |
| 19 | Sylvain CHAVANEL | FRA | OPQ | +50 |
| 20 | Stijn VANDENBERGH | BEL | OPQ | +50 |
| 21 | Luca PAOLINI | ITA | KAT | +1:00 |
| 22 | Filippo POZZATO | ITA | LAM | +2:52 |
| 23 | Taylor PHINNEY | USA | BMC | +3:13 |
| 24 | Marcel SIEBERG | GER | LTB | +3:13 |
| 25 | Ramon SINKELDAM | NED | ARG | +3:13 |
| 26 | Johan LE BON | FRA | FDJ | +3:17 |
| 27 | Lloyd MONDORY | FRA | ALM | +3:17 |
| 28 | John DEGENKOLB | GER | ARG | +3:29 |
| 29 | Adrien PETIT | FRA | COF | +3:29 |
| 30 | Robert WAGNER | GER | BLA | +3:29 |
| 31 | Jacopo GUARNIERI | ITA | AST | +3:29 |
| 32 | Fabio SABATINI | ITA | CAN | +3:29 |
| 33 | Roger KLUGE | GER | TNE | +3:29 |
| 34 | Michael SCHÄR | SUI | BMC | +3:29 |
| 35 | Thor HUSHOVD | NOR | BMC | +3:29 |
| 36 | Tom VEELERS | NED | ARG | +3:29 |
| 37 | Francisco José VENTOSO ALBERDI | ESP | MOV | +3:29 |
| 38 | Iljo KEISSE | BEL | OPQ | +3:29 |
| 39 | Marco BANDIERA | ITA | IAM | +3:29 |
| 40 | Gael MALACARNE | FRA | BSE | +3:29 |
| 41 | Martin ELMIGER | SUI | IAM | +3:29 |
| 42 | Sébastien HINAULT | FRA | IAM | +3:29 |
| 43 | Jurgen ROELANDTS | BEL | LTB | +3:29 |
| 44 | Bert DE BACKER | BEL | ARG | +3:29 |
| 45 | Sébastien MINARD | FRA | ALM | +3:29 |
| 46 | Jens KEUKELEIRE | BEL | OGE | +3:29 |
| 47 | Edvald BOASSON HAGEN | NOR | SKY | +3:29 |
| 48 | Bjorn THURAU | GER | EUC | +3:29 |
| 49 | Vladimir GUSEV | RUS | KAT | +3:32 |
| 50 | Johan VAN SUMMEREN | BEL | GRS | +3:32 |
| 51 | Ian STANNARD | GBR | SKY | +3:32 |
| 52 | Mathew HAYMAN | AUS | SKY | +3:32 |
| 53 | Hayden ROULSTON | NZL | RLT | +6:07 |
| 54 | Stijn DEVOLDER | BEL | RLT | +6:11 |
| 55 | Gert STEEGMANS | BEL | OPQ | +6:11 |
| 56 | Maciej BODNAR | POL | CAN | +6:11 |
| 57 | Kris BOECKMANS | BEL | VCD | +6:11 |
| 58 | Tyler FARRAR | USA | GRS | +8:37 |
| 59 | Jose Joaquin ROJAS GIL | ESP | MOV | +10:27 |
| 60 | Ioannis TAMOURIDIS | GRE | EUS | +10:27 |
| 61 | Yauheni HUTAROVICH | BLR | ALM | +10:27 |
| 62 | Florent BARLE | FRA | COF | +10:27 |
| 63 | José Ivan GUTIERREZ PALACIOS | ESP | MOV | +10:27 |
| 64 | Rudiger SELIG | GER | KAT | +10:27 |
| 65 | Pierre-Luc PERRICHON | FRA | BSE | +10:27 |
| 66 | Jos VAN EMDEN | NED | BLA | +10:27 |
| 67 | Viacheslav KUZNETSOV | RUS | KAT | +10:27 |
| 68 | André GREIPEL | GER | LTB | +10:27 |
| 69 | Arnaud LABBE | FRA | COF | +10:27 |
| 70 | Jack BAUER | NZL | GRS | +10:27 |
| 71 | Manuel QUINZIATO | ITA | BMC | +10:27 |
| 72 | William BONNET | FRA | FDJ | +10:30 |
| 73 | Martijn MAASKANT | NED | GRS | +13:16 |
| 74 | Nikolas MAES | BEL | OPQ | +13:42 |
| 75 | Clément KORETZKY | FRA | BSE | +13:42 |
| 76 | Dmitriy MURAVYEV | KAZ | AST | +14:34 |
| 77 | Cyril LEMOINE | FRA | SOJ | +14:34 |
| 78 | Roy CURVERS | NED | ARG | +14:34 |
| 79 | Geraint THOMAS | GBR | SKY | +14:34 |
| 80 | Jesse SERGENT | NZL | RLT | +14:34 |
| 81 | Boy VAN POPPEL | NED | VCD | +14:34 |
| 82 | Imanol ERVITI | ESP | MOV | +14:34 |
| 83 | Kristijan KOREN | SLO | CAN | +14:34 |
| 84 | Bob JUNGELS | LUX | RLT | +14:34 |
| 85 | Benoit JARRIER | FRA | BSE | +14:34 |
| 86 | Grégory RAST | SUI | RLT | +14:38 |
| 87 | Matteo TOSATTO | ITA | TST | +14:38 |
| 88 | Yohann GENE | FRA | EUC | +14:38 |
| 89 | Andrea PALINI | ITA | LAM | +14:38 |
| 90 | Arnaud DEMARE | FRA | FDJ | +14:40 |
| 91 | Wesley KREDER | NED | VCD | +14:40 |
| 92 | Jonathan CANTWELL | AUS | TST | +14:40 |
| 93 | Vegard Stake LAENGEN | NOR | BSE | +14:40 |
| 94 | Jonas Aaen JÖRGENSEN | DEN | TST | +14:40 |
| 95 | Jan BARTA | CZE | TNE | +19:12 |
| 96 | Stuart O'GRADY | AUS | OGE | +20:37 |
| 97 | Gabriel RASCH | NOR | SKY | +20:37 |
| 98 | Anders LUND | DEN | TST | +20:37 |
| 99 | Ricardo GARCIA AMBROA | ESP | EUS | +20:37 |
| 100 | Yannick TALABARDON | FRA | SOJ | +20:37 |
| 101 | Yaroslav POPOVYCH | UKR | RLT | +20:37 |
| 102 | Gediminas BAGDONAS | LTU | ALM | +20:37 |
| 103 | Michael MORKOV | DEN | TST | +25:31 |
| 104 | Lucas Sebastian HAEDO | ARG | CAN | +25:31 |
| 105 | Marko KUMP | SLO | TST | +25:31 |
| 106 | Dominic KLEMME | GER | IAM | +25:31 |
| 107 | Andreas SCHILLINGER | GER | TNE | +25:31 |
| 108 | Zakkari DEMPSTER | AUS | TNE | +25:31 |
| 109 | Luke ROWE | GBR | SKY | +26:16 |
| 110 | Luke DURBRIDGE | AUS | OGE | +26:16 |
| 111 | Edward KING | USA | CAN | +26:16 |
| 112 | William CLARKE | AUS | ARG | +26:16 |
| 113 | Arman KAMYSHEV | KAZ | AST | +26:16 |
| 114 | Jetse BOL | NED | BLA | +26:16 |
| 115 | Russell DOWNING | GBR | TNE | +26:16 |
| 116 | Andrea GUARDINI | ITA | AST | +26:16 |
| 117 | Morgan LAMOISSON | FRA | EUC | +26:16 |
| 118 | Christopher JUUL JENSEN | DEN | TST | +26:16 |
| OTL | Tom STAMSNIJDER | NED | ARG | +43:59 |
| DSQ | Giovanni VISCONTI | ITA | MOV | |
| DNF | Guillaume VAN KEIRSBULCK | BEL | OPQ | |
| DNF | Sébastien CHAVANEL | FRA | EUC | |
| DNF | Jerome COUSIN | FRA | EUC | |
| DNF | David VEILLEUX | CAN | EUC | |
| DNF | Markel IRIZAR ARANBURU | ESP | RLT | |
| DNF | Marcus BURGHARDT | GER | BMC | |
| DNF | Daniel OSS | ITA | BMC | |
| DNF | Danilo WYSS | SUI | BMC | |
| DNF | Salvatore PUCCIO | ITA | SKY | |
| DNF | Rick FLENS | NED | BLA | |
| DNF | Marco HALLER | AUT | KAT | |
| DNF | Vladimir ISAICHEV | RUS | KAT | |
| DNF | Gatis SMUKULIS | LAT | KAT | |
| DNF | Andreas KLIER | GER | GRS | |
| DNF | Raymond KREDER | NED | GRS | |
| DNF | Jacob RATHE | USA | GRS | |
| DNF | Sébastien ROSSELER | BEL | GRS | |
| DNF | Matthieu LADAGNOUS | FRA | FDJ | |
| DNF | David BOUCHER | FRA | FDJ | |
| DNF | Mickael DELAGE | FRA | FDJ | |
| DNF | Murilo Antonio FISCHER | BRA | FDJ | |
| DNF | Yoann OFFREDO | FRA | FDJ | |
| DNF | Lars Ytting BAK | DEN | LTB | |
| DNF | Kenny DE HAES | BEL | LTB | |
| DNF | Jens DEBUSSCHERE | BEL | LTB | |
| DNF | Greg HENDERSON | NZL | LTB | |
| DNF | Vicente REYNES MIMO | ESP | LTB | |
| DNF | Borut BOZIC | SLO | AST | |
| DNF | Evan HUFFMAN | USA | AST | |
| DNF | Ruslan TLEUBAYEV | KAZ | AST | |
| DNF | Fumiyuki BEPPU | JPN | OGE | |
| DNF | Baden COOKE | AUS | OGE | |
| DNF | Mitchell DOCKER | AUS | OGE | |
| DNF | Jens MOURIS | NED | OGE | |
| DNF | Bertjan LINDEMAN | NED | VCD | |
| DNF | Mirko SELVAGGI | ITA | VCD | |
| DNF | Frederik VEUCHELEN | BEL | VCD | |
| DNF | Elia FAVILLI | ITA | LAM | |
| DNF | Massimo GRAZIATO | ITA | LAM | |
| DNF | Alessandro PETACCHI | ITA | LAM | |
| DNF | Maximiliano Ariel RICHEZE | ARG | LAM | |
| DNF | Davide VIGANO | ITA | LAM | |
| DNF | Luca WACKERMANN | ITA | LAM | |
| DNF | Kristof GODDAERT | BEL | IAM | |
| DNF | Gustav LARSSON | SWE | IAM | |
| DNF | Aleksejs SARAMOTINS | LAT | IAM | |
| DNF | Koen DE KORT | NED | ARG | |
| DNF | Davide APPOLLONIO | ITA | ALM | |
| DNF | Hugo HOULE | CAN | ALM | |
| DNF | Valentin IGLINSKIY | KAZ | ALM | |
| DNF | Jimmy ENGOULVENT | FRA | SOJ | |
| DNF | Maxime DANIEL | FRA | SOJ | |
| DNF | Christophe LABORIE | FRA | SOJ | |
| DNF | Rony MARTIAS | FRA | SOJ | |
| DNF | Jean-Lou PAIANI | FRA | SOJ | |
| DNF | Evaldas SISKEVICIUS | LTU | SOJ | |
| DNF | Guillaume BOIVIN | CAN | CAN | |
| DNF | Mauro DA DALTO | ITA | CAN | |
| DNF | Alan MARANGONI | ITA | CAN | |
| DNF | Egoitz GARCIA ECHEGUIBEL | ESP | COF | |
| DNF | Jan GHYSELINCK | BEL | COF | |
| DNF | Gert JOEAAR | EST | COF | |
| DNF | Nico SIJMENS | BEL | COF | |
| DNF | Romain ZINGLE | BEL | COF | |
| DNF | Markus EICHLER | GER | TNE | |
| DNF | Blaz JARC | SLO | TNE | |
| DNF | Alexander WETTERHALL | SWE | TNE | |
| DNF | Alex DOWSETT | GBR | MOV | |
| DNF | Jesus HERRADA LOPEZ | ESP | MOV | |
| DNF | Eloy TERUEL ROVIRA | ESP | MOV | |
| DNF | Jean-Luc DELPECH | FRA | BSE | |
| DNF | Florian VACHON | FRA | BSE | |
| DNF | Benjamin LE MONTAGNER | FRA | BSE | |
| DNF | Peio BILBAO | ESP | EUS | |
| DNF | Juan Jose OROZ UGALDE | ESP | EUS | |
| DNF | Steffen RADOCHLA | GER | EUS | |
| DNF | Adrian SAEZ | ESP | EUS | |
| DNF | André SCHULZE | GER | EUS | |