2013 Brabantse Pijl - La Flèche Brabançonne Results
Submitted by admin on Wed, 04/10/2013 - 10:31

Follow cyclingfans on Twitter and never miss a race. Cyclingfans.com: The #1 destination on the internet for live race coverage.
- This page lists 2013 De Brabantse Pijl - La Fleche Brabanconne Results

- Leuven to Overijse (199.9 km) -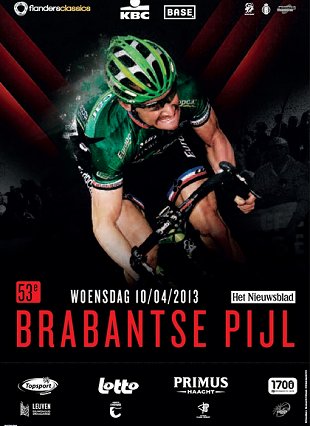 Peter Sagan (Cannondale) won the 2013 Brabantse Pijl, outsprinting world champion Philippe Gilbert for the victory. Bjorn Leukemans was third. Sylvain Chavanel finished just off the podium in fourth.
| | | | | |
| --- | --- | --- | --- | --- |
| Rank | Name | Nationality | Team | Result |
| 1 | Peter SAGAN | SVK | CAN | 4:45:05 |
| 2 | Philippe GILBERT | BEL | BMC | +0 |
| 3 | Björn LEUKEMANS | BEL | VCD | +4 |
| 4 | Sylvain CHAVANEL | FRA | OPQ | +9 |
| 5 | Simon GESCHKE | GER | ARG | +9 |
| 6 | Greg VAN AVERMAET | BEL | BMC | +11 |
| 7 | Davide MALACARNE | ITA | EUC | +17 |
| 8 | Stijn DEVOLDER | BEL | RLT | +19 |
| 9 | Paul VOSS | GER | TNE | +22 |
| 10 | Kenny DE HAES | BEL | LTB | +25 |
| 11 | Nikolas MAES | BEL | OPQ | +28 |
| 12 | Sergey LAGUTIN | UZB | VCD | +54 |
| 13 | Tony GALLOPIN | FRA | RLT | +57 |
| 14 | Thomas VOECKLER | FRA | EUC | +57 |
| 15 | Danilo WYSS | SUI | BMC | +57 |
| 16 | Michel KREDER | NED | GRS | +57 |
| 17 | Pieter SERRY | BEL | OPQ | +57 |
| 18 | Romain ZINGLE | BEL | COF | +57 |
| 19 | Tim WELLENS | BEL | LTB | +57 |
| 20 | Nicolas EDET | FRA | COF | +57 |
| 21 | Maxime VANTOMME | BEL | CRE | +57 |
| 22 | Vincent JEROME | FRA | EUC | +57 |
| 23 | Thomas DEKKER | NED | GRS | +57 |
| 24 | Nicki SÖRENSEN | DEN | TST | +57 |
| 25 | Francois PARISIEN | CAN | ARG | +57 |
| 26 | Scott THWAITES | GBR | TNE | +57 |
| 27 | Matthias BRANDLE | AUT | IAM | +57 |
| 28 | Karsten KROON | NED | TST | +57 |
| 29 | Alessandro BAZZANA | ITA | UHC | +1:03 |
| 30 | Kévin REZA | FRA | EUC | +1:03 |
| 31 | Daniel SCHORN | AUT | TNE | +1:03 |
| 32 | Jérôme PINEAU | FRA | OPQ | +1:03 |
| 33 | Thierry HUPOND | FRA | ARG | +1:03 |
| 34 | Jurgen VAN GOOLEN | BEL | AJW | +1:06 |
| 35 | Kevin DE WEERT | BEL | OPQ | +1:06 |
| 36 | David DE LA CRUZ MELGAREJO | ESP | TNE | +1:06 |
| 37 | Laurens DE VREESE | BEL | TSV | +1:06 |
| 38 | Yukiya ARASHIRO | JPN | EUC | +1:06 |
| 39 | Reinier HONIG | NED | CRE | +1:06 |
| 40 | Sébastien DELFOSSE | BEL | CRE | +1:06 |
| 41 | Tosh VAN DER SANDE | BEL | LTB | +1:06 |
| 42 | Sander ARMEE | BEL | TSV | +1:06 |
| 43 | Marco MARCATO | ITA | VCD | +1:06 |
| 44 | Xavier FLORENCIO CABRE | ESP | KAT | +1:06 |
| 45 | Pier Paolo DE NEGRI | ITA | VIN | +1:06 |
| 46 | Simon SPILAK | SLO | KAT | +1:06 |
| 47 | Martin VELITS | SVK | OPQ | +1:06 |
| 48 | Wouter POELS | NED | VCD | +1:14 |
| 49 | Reto HOLLENSTEIN | SUI | IAM | +1:16 |
| 50 | Pieter JACOBS | BEL | TSV | +1:16 |
| 51 | Kristof VANDEWALLE | BEL | OPQ | +1:16 |
| 52 | Damiano CARUSO | ITA | CAN | +1:16 |
| 53 | Moreno MOSER | ITA | CAN | +1:16 |
| 54 | Lukasz OWSIAN | POL | CCC | +1:16 |
| 55 | Julien VERMOTE | BEL | OPQ | +1:16 |
| 56 | Jan BAKELANTS | BEL | RLT | +1:16 |
| 57 | Gerald CIOLEK | GER | MTN | +1:16 |
| 58 | Benjamin KING | USA | RLT | +1:16 |
| 59 | Fabio TABORRE | ITA | VIN | +1:31 |
| 60 | Johannes FRÖHLINGER | GER | ARG | +2:17 |
| 61 | Jay MCCARTHY | AUS | TST | +2:17 |
| 62 | Nico SIJMENS | BEL | COF | +2:29 |
| 63 | Preben VAN HECKE | BEL | TSV | +2:29 |
| 64 | Jonathan FUMEAUX | SUI | IAM | +4:22 |
| 65 | Pirmin LANG | SUI | IAM | +4:22 |
| 66 | Kristian SBARAGLI | ITA | MTN | +5:06 |
| 67 | Sander HELVEN | BEL | TSV | +5:09 |
| 68 | Rob RUIJGH | NED | VCD | +5:18 |
| 69 | Klaas LODEWYCK | BEL | BMC | +5:18 |
| 70 | Martin KOHLER | SUI | BMC | +5:18 |
| 71 | Patrick SCHELLING | SUI | IAM | +5:18 |
| 72 | Sergey KLIMOV | RUS | RVL | +5:26 |
| 73 | Olivier KAISEN | BEL | LTB | +5:26 |
| 74 | Ryota NISHIZONO | JPN | CSS | +5:26 |
| 75 | Pim LIGTHART | NED | VCD | +5:26 |
| 76 | Adrian HONKISZ | POL | CCC | +5:26 |
| 77 | Gaetan BILLE | BEL | LTB | +5:26 |
| 78 | Arthur VAN OVERBERGHE | BEL | TSV | +5:26 |
| 79 | Arnaud LABBE | FRA | COF | +5:26 |
| 80 | Andrei SOLOMENNIKOV | RUS | RVL | +5:26 |
| 81 | Sergei CHERNETSKI | RUS | KAT | +5:26 |
| 82 | Alexandr PLIUSCHIN | MDA | IAM | +5:26 |
| 83 | Bartlomiej MATYSIAK | POL | CCC | +5:26 |
| 84 | Will ROUTLEY | CAN | AJW | +5:26 |
| 85 | Christopher JONES | USA | UHC | +5:26 |
| 86 | Alexander RYBAKOV | RUS | RVL | +5:26 |
| 87 | Lucas EUSER | USA | UHC | +5:26 |
| 88 | Jurgen VAN DE WALLE | BEL | LTB | +5:26 |
| 89 | Stefano BORCHI | ITA | VIN | +5:26 |
| 90 | Pavel BRUTT | RUS | KAT | +5:26 |
| 91 | Albert TIMMER | NED | ARG | +5:26 |
| 92 | Kevin HULSMANS | BEL | VIN | +5:26 |
| 93 | Kristof GODDAERT | BEL | IAM | +8:13 |
| 94 | Gilles DEVILLERS | BEL | CRE | +8:13 |
| 95 | Dirk BELLEMAKERS | NED | LTB | +8:13 |
| 96 | Nathan HAAS | AUS | GRS | +8:13 |
| 97 | Marcel AREGGER | SUI | IAM | +8:13 |
| 98 | Stefano AGOSTINI | ITA | CAN | +8:13 |
| 99 | Tiziano DALL'ANTONIA | ITA | CAN | +8:13 |
| 100 | Lucas Sebastian HAEDO | ARG | CAN | +8:13 |
| 101 | Edward KING | USA | CAN | +8:13 |
| 102 | Davide REBELLIN | ITA | CCC | +8:13 |
| 103 | Chad BEYER | USA | CSS | +8:13 |
| 104 | Jarl SALOMEIN | BEL | TSV | +8:13 |
| 105 | Christophe PREMONT | BEL | CRE | +8:13 |
| 106 | Ben HERMANS | BEL | RLT | +8:13 |
| 107 | Klaas SYS | BEL | CRE | +8:13 |
| 108 | Jonathan MCEVOY | GBR | TNE | +8:13 |
| 109 | Nicolas VOGONDY | FRA | AJW | +8:13 |
| 110 | Roman MAIKIN | RUS | RVL | +8:13 |
| 111 | Angelo TULIK | FRA | EUC | +8:13 |
| 112 | Jan GHYSELINCK | BEL | COF | +8:29 |
| 113 | Jaroslaw MARYCZ | POL | CCC | +11:49 |
| 114 | Mateusz TACIAK | POL | CCC | +11:49 |
| 115 | Ryan ROTH | CAN | CSS | +11:49 |
| DNF | Sébastien CHAVANEL | FRA | EUC | |
| DNF | Tony HUREL | FRA | EUC | |
| DNF | Adam BLYTHE | GBR | BMC | |
| DNF | Yannick EIJSSEN | BEL | BMC | |
| DNF | Daniele RATTO | ITA | CAN | |
| DNF | Daniel MARTIN | IRL | GRS | |
| DNF | Caleb FAIRLY | USA | GRS | |
| DNF | Alex RASMUSSEN | DEN | GRS | |
| DNF | Steele VON HOFF | AUS | GRS | |
| DNF | Mikhail IGNATYEV | RUS | KAT | |
| DNF | Timofey KRITSKIY | RUS | KAT | |
| DNF | Alexander PORSEV | RUS | KAT | |
| DNF | Rudiger SELIG | GER | KAT | |
| DNF | Dennis VANENDERT | BEL | LTB | |
| DNF | Bob JUNGELS | LUX | RLT | |
| DNF | Thomas DAMUSEAU | FRA | ARG | |
| DNF | Reinardt JANSE VAN RENSBURG | RSA | ARG | |
| DNF | Matthieu SPRICK | FRA | ARG | |
| DNF | Jonathan CANTWELL | AUS | TST | |
| DNF | Jonas Aaen JÖRGENSEN | DEN | TST | |
| DNF | Marko KUMP | SLO | TST | |
| DNF | Takashi MIYAZAWA | JPN | TST | |
| DNF | Thomas DE GENDT | BEL | VCD | |
| DNF | Frederik VEUCHELEN | BEL | VCD | |
| DNF | Danilo NAPOLITANO | ITA | AJW | |
| DNF | Jérôme GILBERT | BEL | AJW | |
| DNF | Gregory HABEAUX | BEL | AJW | |
| DNF | Staf SCHEIRLINCKX | BEL | AJW | |
| DNF | Steven CAETHOVEN | BEL | AJW | |
| DNF | Matt BRAMMEIER | IRL | CSS | |
| DNF | Gang XU | CHN | CSS | |
| DNF | Wang Yip TANG | HKG | CSS | |
| DNF | Chan Jae JANG | KOR | CSS | |
| DNF | Craig LEWIS | USA | CSS | |
| DNF | Florent BARLE | FRA | COF | |
| DNF | Koen BARBE | BEL | CRE | |
| DNF | Joeri BUEKEN | BEL | CRE | |
| DNF | Ignatas KONOVALOVAS | LTU | MTN | |
| DNF | Bradley POTGIETER | RSA | MTN | |
| DNF | Youcef REGUIGUI | ALG | MTN | |
| DNF | Martin REIMER | GER | MTN | |
| DNF | Jim SONGEZO | RSA | MTN | |
| DNF | Andreas STAUFF | GER | MTN | |
| DNF | Adrian KUREK | POL | CCC | |
| DNF | Gennadiy TATARINOV | RUS | RVL | |
| DNF | Valery KAYKOV | RUS | RVL | |
| DNF | Alexander MIRONOV | RUS | RVL | |
| DNF | Ralf MATZKA | GER | TNE | |
| DNF | Erick ROWSELL | GBR | TNE | |
| DNF | Michael SCHWARZMANN | GER | TNE | |
| DNF | Tom VAN ASBROECK | BEL | TSV | |
| DNF | Benjamin DAY | AUS | UHC | |
| DNF | Marc DE MAAR | AHO | UHC | |
| DNF | Philip DEIGNAN | IRL | UHC | |
| DNF | Jeffry LOUDER | USA | UHC | |
| DNF | Kiel REIJNEN | USA | UHC | |
| DNF | Roberto DE PATRE | ITA | VIN | |
| DNF | Michele MERLO | ITA | VIN | |
| DNF | Junya SANO | JPN | VIN | |