2013 Tour de Romandie Prologue Results
Submitted by admin on Tue, 04/23/2013 - 10:29

Follow cyclingfans on Twitter and never miss a race. Cyclingfans.com: The #1 destination on the internet for live race coverage.
- This page lists 2013 Tour de Romandie results for Prologue

- Prologue (Le Chable to Bruson (7.45 km)) -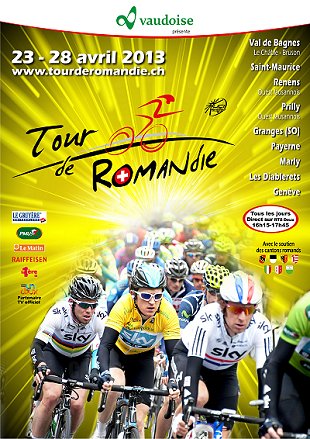 Christopher Froome (Sky) won the prologue, besting Garmin's Andrew Talansky by 6 seconds. Robert Kiserlovski was third, followed by Richie Porte in fourth.
| | | | | |
| --- | --- | --- | --- | --- |
| Rank | Name | Nationality | Team | Result |
| 1 | Christopher FROOME | GBR | SKY | 13:15 |
| 2 | Andrew TALANSKY | USA | GRS | +6 |
| 3 | Robert KISERLOVSKI | CRO | RLT | +13 |
| 4 | Richie PORTE | AUS | SKY | +15 |
| 5 | Rui Alberto FARIA DA COSTA | POR | MOV | +16 |
| 6 | Thibaut PINOT | FRA | FDJ | +17 |
| 7 | Stef CLEMENT | NED | BLA | +17 |
| 8 | Alejandro VALVERDE BELMONTE | ESP | MOV | +17 |
| 9 | Thomas DANIELSON | USA | GRS | +17 |
| 10 | Wilco KELDERMAN | NED | BLA | +18 |
| 11 | Moreno MOSER | ITA | CAN | +18 |
| 12 | Carlos Alberto BETANCUR GOMEZ | COL | ALM | +19 |
| 13 | David LOPEZ GARCIA | ESP | SKY | +22 |
| 14 | Sylvester SZMYD | POL | MOV | +26 |
| 15 | Ruben PLAZA MOLINA | ESP | MOV | +26 |
| 16 | Tony MARTIN | GER | OPQ | +29 |
| 17 | Manuele BOARO | ITA | TST | +29 |
| 18 | Janez BRAJKOVIC | SLO | AST | +30 |
| 19 | Steven KRUIJSWIJK | NED | BLA | +31 |
| 20 | Alexsandr DYACHENKO | KAZ | AST | +31 |
| 21 | Steve MORABITO | SUI | BMC | +32 |
| 22 | Rafal MAJKA | POL | TST | +33 |
| 23 | Tom DUMOULIN | NED | ARG | +33 |
| 24 | Gianni MEERSMAN | BEL | OPQ | +33 |
| 25 | Evgeny PETROV | RUS | TST | +33 |
| 26 | Marcel WYSS | SUI | IAM | +34 |
| 27 | Eros CAPECCHI | ITA | MOV | +34 |
| 28 | Tiago MACHADO | POR | RLT | +34 |
| 29 | Robert GESINK | NED | BLA | +35 |
| 30 | Lieuwe WESTRA | NED | VCD | +35 |
| 31 | Jean-Christophe PERAUD | FRA | ALM | +37 |
| 32 | Jurgen VAN DEN BROECK | BEL | LTB | +40 |
| 33 | Vasil KIRYIENKA | BLR | SKY | +43 |
| 34 | José RUJANO GUILLEN | VEN | VCD | +45 |
| 35 | Peter KENNAUGH | GBR | SKY | +46 |
| 36 | Reto HOLLENSTEIN | SUI | IAM | +46 |
| 37 | Damiano CUNEGO | ITA | LAM | +47 |
| 38 | Enrico GASPAROTTO | ITA | AST | +47 |
| 39 | Pierrick FEDRIGO | FRA | FDJ | +47 |
| 40 | Peter STETINA | USA | GRS | +48 |
| 41 | Marco PINOTTI | ITA | BMC | +48 |
| 42 | Joshua EDMONDSON | GBR | SKY | +48 |
| 43 | Igor ANTON HERNANDEZ | ESP | EUS | +48 |
| 44 | Nelson Filipe SANTOS SIMOES OLIVEIRA | POR | RLT | +49 |
| 45 | Romain SICARD | FRA | EUS | +50 |
| 46 | Simone STORTONI | ITA | LAM | +50 |
| 47 | Rohan DENNIS | AUS | GRS | +50 |
| 48 | Ryder HESJEDAL | CAN | GRS | +51 |
| 49 | Simon SPILAK | SLO | KAT | +51 |
| 50 | Roman KREUZIGER | CZE | TST | +51 |
| 51 | Maxime BOUET | FRA | ALM | +52 |
| 52 | Francis DE GREEF | BEL | LTB | +53 |
| 53 | Tobias LUDVIGSSON | SWE | ARG | +53 |
| 54 | Petr IGNATENKO | RUS | KAT | +53 |
| 55 | Michael ALBASINI | SUI | OGE | +54 |
| 56 | Johann TSCHOPP | SUI | IAM | +56 |
| 57 | George BENNETT | NZL | RLT | +56 |
| 58 | Adriano MALORI | ITA | LAM | +56 |
| 59 | John GADRET | FRA | ALM | +58 |
| 60 | Juan Manuel GARATE | ESP | BLA | +59 |
| 61 | Ramunas NAVARDAUSKAS | LTU | GRS | +59 |
| 62 | Sébastien REICHENBACH | SUI | IAM | +1:00 |
| 63 | Pierre ROLLAND | FRA | EUC | +1:01 |
| 64 | Mads CHRISTENSEN | DEN | TST | +1:01 |
| 65 | Ivan BASSO | ITA | CAN | +1:02 |
| 66 | Luke DURBRIDGE | AUS | OGE | +1:03 |
| 67 | Egor SILIN | RUS | AST | +1:05 |
| 68 | Rinaldo NOCENTINI | ITA | ALM | +1:05 |
| 69 | Gaetan BILLE | BEL | LTB | +1:05 |
| 70 | Hubert DUPONT | FRA | ALM | +1:05 |
| 71 | Brent BOOKWALTER | USA | BMC | +1:06 |
| 72 | Jose Rodolfo SERPA PEREZ | COL | LAM | +1:08 |
| 73 | Andriy GRIVKO | UKR | AST | +1:08 |
| 74 | Gustav LARSSON | SWE | IAM | +1:09 |
| 75 | Daniel MORENO FERNANDEZ | ESP | KAT | +1:10 |
| 76 | Laurent MANGEL | FRA | FDJ | +1:11 |
| 77 | Francesco GAVAZZI | ITA | AST | +1:11 |
| 78 | Dmitry KOZONTCHUK | RUS | KAT | +1:11 |
| 79 | Wouter POELS | NED | VCD | +1:12 |
| 80 | Garikoitz BRAVO OIARBIDE | ESP | EUS | +1:13 |
| 81 | Jan BAKELANTS | BEL | RLT | +1:13 |
| 82 | Jack BOBRIDGE | AUS | BLA | +1:13 |
| 83 | Gianluca BRAMBILLA | ITA | OPQ | +1:13 |
| 84 | Alessandro DE MARCHI | ITA | CAN | +1:14 |
| 85 | Julien BERARD | FRA | ALM | +1:14 |
| 86 | Francis MOUREY | FRA | FDJ | +1:15 |
| 87 | Peter VELITS | SVK | OPQ | +1:15 |
| 88 | Mathias FRANK | SUI | BMC | +1:15 |
| 89 | Matthias BRANDLE | AUT | IAM | +1:16 |
| 90 | Chris Anker SÖRENSEN | DEN | TST | +1:17 |
| 91 | David VEILLEUX | CAN | EUC | +1:18 |
| 92 | Kristof VANDEWALLE | BEL | OPQ | +1:18 |
| 93 | Jurgen VAN DE WALLE | BEL | LTB | +1:19 |
| 94 | Peio BILBAO | ESP | EUS | +1:20 |
| 95 | Imanol ERVITI | ESP | MOV | +1:21 |
| 96 | Jonathan FUMEAUX | SUI | IAM | +1:22 |
| 97 | Cédric PINEAU | FRA | FDJ | +1:22 |
| 98 | Mikel ASTARLOZA CHAURREAU | ESP | EUS | +1:23 |
| 99 | Andrey ZEITS | KAZ | AST | +1:23 |
| 100 | Brian BULGAC | NED | LTB | +1:24 |
| 101 | Alan MARANGONI | ITA | CAN | +1:24 |
| 102 | Bram TANKINK | NED | BLA | +1:25 |
| 103 | Alexandre GENIEZ | FRA | FDJ | +1:26 |
| 104 | Oliver ZAUGG | SUI | TST | +1:27 |
| 105 | Julien VERMOTE | BEL | OPQ | +1:27 |
| 106 | Georg PREIDLER | AUT | ARG | +1:28 |
| 107 | Reinardt JANSE VAN RENSBURG | RSA | ARG | +1:32 |
| 108 | Cameron WURF | AUS | CAN | +1:32 |
| 109 | Matteo BONO | ITA | LAM | +1:32 |
| 110 | Rémi CUSIN | FRA | IAM | +1:32 |
| 111 | Vladimir GUSEV | RUS | KAT | +1:32 |
| 112 | Matteo MONTAGUTI | ITA | ALM | +1:33 |
| 113 | Vladimir KARPETS | RUS | MOV | +1:34 |
| 114 | Perrig QUEMENEUR | FRA | EUC | +1:36 |
| 115 | Luka MEZGEC | SLO | ARG | +1:36 |
| 116 | Johnny HOOGERLAND | NED | VCD | +1:36 |
| 117 | Michael MATTHEWS | AUS | OGE | +1:38 |
| 118 | Dmitriy GRUZDEV | KAZ | AST | +1:38 |
| 119 | Marc GOOS | NED | BLA | +1:39 |
| 120 | Brett LANCASTER | AUS | OGE | +1:39 |
| 121 | Benjamin NOVAL GONZALEZ | ESP | TST | +1:41 |
| 122 | Danilo WYSS | SUI | BMC | +1:41 |
| 123 | Lachlan David MORTON | AUS | GRS | +1:42 |
| 124 | Sergey LAGUTIN | UZB | VCD | +1:42 |
| 125 | Pavel BRUTT | RUS | KAT | +1:43 |
| 126 | Manuele MORI | ITA | LAM | +1:43 |
| 127 | Christian VANDEVELDE | USA | GRS | +1:44 |
| 128 | Adrian SAEZ | ESP | EUS | +1:44 |
| 129 | Paolo LONGO BORGHINI | ITA | CAN | +1:44 |
| 130 | Anthony CHARTEAU | FRA | EUC | +1:45 |
| 131 | Cyril GAUTIER | FRA | EUC | +1:45 |
| 132 | Juan Jose LOBATO DEL VALLE | ESP | EUS | +1:45 |
| 133 | Wesley SULZBERGER | AUS | OGE | +1:45 |
| 134 | Johannes FRÖHLINGER | GER | ARG | +1:45 |
| 135 | Kévin REZA | FRA | EUC | +1:45 |
| 136 | Yann HUGUET | FRA | ARG | +1:46 |
| 137 | Thomas ROHREGGER | AUT | RLT | +1:46 |
| 138 | Mikel LANDA MEANA | ESP | EUS | +1:47 |
| 139 | Jérémy ROY | FRA | FDJ | +1:49 |
| 140 | Frederik WILLEMS | BEL | LTB | +1:50 |
| 141 | Xavier FLORENCIO CABRE | ESP | KAT | +1:54 |
| 142 | Dominik NERZ | GER | BMC | +1:54 |
| 143 | Grégory RAST | SUI | RLT | +1:54 |
| 144 | Fabio SABATINI | ITA | CAN | +1:54 |
| 145 | Martijn KEIZER | NED | VCD | +1:54 |
| 146 | Rob RUIJGH | NED | VCD | +1:56 |
| 147 | Christopher SUTTON | AUS | SKY | +1:56 |
| 148 | Arthur VICHOT | FRA | FDJ | +1:56 |
| 149 | Pablo LASTRAS GARCIA | ESP | MOV | +1:57 |
| 150 | Yukiya ARASHIRO | JPN | EUC | +2:02 |
| 151 | Giacomo NIZZOLO | ITA | RLT | +2:05 |
| 152 | Patrick GRETSCH | GER | ARG | +2:06 |
| 153 | Bert GRABSCH | GER | OPQ | +2:06 |
| 154 | Travis MEYER | AUS | OGE | +2:07 |
| 155 | Kristijan DURASEK | CRO | LAM | +2:09 |
| 156 | Gabriel RASCH | NOR | SKY | +2:10 |
| 157 | Roberto FERRARI | ITA | LAM | +2:11 |
| 158 | Dennis VANENDERT | BEL | LTB | +2:16 |
| 159 | Kenny DE HAES | BEL | LTB | +2:19 |
| 160 | Marco MARCATO | ITA | VCD | +2:19 |
| 161 | Elia VIVIANI | ITA | CAN | +2:29 |
| 162 | Matthew Harley GOSS | AUS | OGE | +2:30 |
| 163 | Svein TUFT | CAN | OGE | +2:32 |
| 164 | Marcus BURGHARDT | GER | BMC | +2:49 |
| 165 | Mark CAVENDISH | GBR | OPQ | +2:50 |
| 166 | Aliaksandr KUCHYNSKI | BLR | KAT | +3:11 |
| 167 | Morgan LAMOISSON | FRA | EUC | +3:21 |
| 168 | Adam BLYTHE | GBR | BMC | +3:45 |
General Classification after Prologue

| | | | | |
| --- | --- | --- | --- | --- |
| Rank | Name | Nationality | Team | Result |
| 1 | Christopher FROOME | Great Britain | SKY | 13:15 |
| 2 | Andrew TALANSKY | United States | GRS | +6 |
| 3 | Robert KISERLOVSKI | Croatia | RLT | +13 |
| 4 | Richie PORTE | Australia | SKY | +15 |
| 5 | Rui Alberto FARIA DA COSTA | Portugal | MOV | +16 |
| 6 | Thibaut PINOT | France | FDJ | +17 |
| 7 | Stef CLEMENT | Netherlands | BLA | +17 |
| 8 | Alejandro VALVERDE BELMONTE | Spain | MOV | +17 |
| 9 | Thomas DANIELSON | United States | GRS | +17 |
| 10 | Wilco KELDERMAN | Netherlands | BLA | +18 |
| 11 | Moreno MOSER | Italy | CAN | +18 |
| 12 | Carlos Alberto BETANCUR GOMEZ | Colombia | ALM | +19 |
| 13 | David LOPEZ GARCIA | Spain | SKY | +22 |
| 14 | Sylvester SZMYD | Poland | MOV | +26 |
| 15 | Ruben PLAZA MOLINA | Spain | MOV | +26 |
| 16 | Tony MARTIN | Germany | OPQ | +29 |
| 17 | Manuele BOARO | Italy | TST | +29 |
| 18 | Janez BRAJKOVIC | Slovenia | AST | +30 |
| 19 | Steven KRUIJSWIJK | Netherlands | BLA | +31 |
| 20 | Alexsandr DYACHENKO | Kazakhstan | AST | +31 |
| 21 | Steve MORABITO | Switzerland | BMC | +32 |
| 22 | Rafal MAJKA | Poland | TST | +33 |
| 23 | Tom DUMOULIN | Netherlands | ARG | +33 |
| 24 | Gianni MEERSMAN | Belgium | OPQ | +33 |
| 25 | Evgeny PETROV | Russia | TST | +33 |
| 26 | Marcel WYSS | Switzerland | IAM | +34 |
| 27 | Eros CAPECCHI | Italy | MOV | +34 |
| 28 | Tiago MACHADO | Portugal | RLT | +34 |
| 29 | Robert GESINK | Netherlands | BLA | +35 |
| 30 | Lieuwe WESTRA | Netherlands | VCD | +35 |
| 31 | Jean-Christophe PERAUD | France | ALM | +37 |
| 32 | Jurgen VAN DEN BROECK | Belgium | LTB | +40 |
| 33 | Vasil KIRYIENKA | Belarus | SKY | +43 |
| 34 | José RUJANO GUILLEN | Venezuela | VCD | +45 |
| 35 | Peter KENNAUGH | Great Britain | SKY | +46 |
| 36 | Reto HOLLENSTEIN | Switzerland | IAM | +46 |
| 37 | Damiano CUNEGO | Italy | LAM | +47 |
| 38 | Enrico GASPAROTTO | Italy | AST | +47 |
| 39 | Pierrick FEDRIGO | France | FDJ | +47 |
| 40 | Peter STETINA | United States | GRS | +48 |
| 41 | Marco PINOTTI | Italy | BMC | +48 |
| 42 | Joshua EDMONDSON | Great Britain | SKY | +48 |
| 43 | Igor ANTON HERNANDEZ | Spain | EUS | +48 |
| 44 | Nelson Filipe SANTOS SIMOES OLIVEIRA | Portugal | RLT | +49 |
| 45 | Romain SICARD | France | EUS | +50 |
| 46 | Simone STORTONI | Italy | LAM | +50 |
| 47 | Rohan DENNIS | Australia | GRS | +50 |
| 48 | Ryder HESJEDAL | Canada | GRS | +51 |
| 49 | Simon SPILAK | Slovenia | KAT | +51 |
| 50 | Roman KREUZIGER | Czech Republic | TST | +51 |
| 51 | Maxime BOUET | France | ALM | +52 |
| 52 | Francis DE GREEF | Belgium | LTB | +53 |
| 53 | Tobias LUDVIGSSON | Sweden | ARG | +53 |
| 54 | Petr IGNATENKO | Russia | KAT | +53 |
| 55 | Michael ALBASINI | Switzerland | OGE | +54 |
| 56 | Johann TSCHOPP | Switzerland | IAM | +56 |
| 57 | George BENNETT | New Zealand | RLT | +56 |
| 58 | Adriano MALORI | Italy | LAM | +56 |
| 59 | John GADRET | France | ALM | +58 |
| 60 | Juan Manuel GARATE | Spain | BLA | +59 |
| 61 | Ramunas NAVARDAUSKAS | Lithuania | GRS | +59 |
| 62 | Sébastien REICHENBACH | Switzerland | IAM | +1:00 |
| 63 | Pierre ROLLAND | France | EUC | +1:01 |
| 64 | Mads CHRISTENSEN | Denmark | TST | +1:01 |
| 65 | Ivan BASSO | Italy | CAN | +1:02 |
| 66 | Luke DURBRIDGE | Australia | OGE | +1:03 |
| 67 | Egor SILIN | Russia | AST | +1:05 |
| 68 | Rinaldo NOCENTINI | Italy | ALM | +1:05 |
| 69 | Gaetan BILLE | Belgium | LTB | +1:05 |
| 70 | Hubert DUPONT | France | ALM | +1:05 |
| 71 | Brent BOOKWALTER | United States | BMC | +1:06 |
| 72 | Jose Rodolfo SERPA PEREZ | Colombia | LAM | +1:08 |
| 73 | Andriy GRIVKO | Ukraine | AST | +1:08 |
| 74 | Gustav LARSSON | Sweden | IAM | +1:09 |
| 75 | Daniel MORENO FERNANDEZ | Spain | KAT | +1:10 |
| 76 | Laurent MANGEL | France | FDJ | +1:11 |
| 77 | Francesco GAVAZZI | Italy | AST | +1:11 |
| 78 | Dmitry KOZONTCHUK | Russia | KAT | +1:11 |
| 79 | Wouter POELS | Netherlands | VCD | +1:12 |
| 80 | Garikoitz BRAVO OIARBIDE | Spain | EUS | +1:13 |
| 81 | Jan BAKELANTS | Belgium | RLT | +1:13 |
| 82 | Jack BOBRIDGE | Australia | BLA | +1:13 |
| 83 | Gianluca BRAMBILLA | Italy | OPQ | +1:13 |
| 84 | Alessandro DE MARCHI | Italy | CAN | +1:14 |
| 85 | Julien BERARD | France | ALM | +1:14 |
| 86 | Francis MOUREY | France | FDJ | +1:15 |
| 87 | Peter VELITS | Slovakia | OPQ | +1:15 |
| 88 | Mathias FRANK | Switzerland | BMC | +1:15 |
| 89 | Matthias BRANDLE | Austria | IAM | +1:16 |
| 90 | Chris Anker SÖRENSEN | Denmark | TST | +1:17 |
| 91 | David VEILLEUX | Canada | EUC | +1:18 |
| 92 | Kristof VANDEWALLE | Belgium | OPQ | +1:18 |
| 93 | Jurgen VAN DE WALLE | Belgium | LTB | +1:19 |
| 94 | Peio BILBAO | Spain | EUS | +1:20 |
| 95 | Imanol ERVITI | Spain | MOV | +1:21 |
| 96 | Jonathan FUMEAUX | Switzerland | IAM | +1:22 |
| 97 | Cédric PINEAU | France | FDJ | +1:22 |
| 98 | Mikel ASTARLOZA CHAURREAU | Spain | EUS | +1:23 |
| 99 | Andrey ZEITS | Kazakhstan | AST | +1:23 |
| 100 | Brian BULGAC | Netherlands | LTB | +1:24 |
| 101 | Alan MARANGONI | Italy | CAN | +1:24 |
| 102 | Bram TANKINK | Netherlands | BLA | +1:25 |
| 103 | Alexandre GENIEZ | France | FDJ | +1:26 |
| 104 | Oliver ZAUGG | Switzerland | TST | +1:27 |
| 105 | Julien VERMOTE | Belgium | OPQ | +1:27 |
| 106 | Georg PREIDLER | Austria | ARG | +1:28 |
| 107 | Reinardt JANSE VAN RENSBURG | South Africa | ARG | +1:32 |
| 108 | Cameron WURF | Australia | CAN | +1:32 |
| 109 | Matteo BONO | Italy | LAM | +1:32 |
| 110 | Rémi CUSIN | France | IAM | +1:32 |
| 111 | Vladimir GUSEV | Russia | KAT | +1:32 |
| 112 | Matteo MONTAGUTI | Italy | ALM | +1:33 |
| 113 | Vladimir KARPETS | Russia | MOV | +1:34 |
| 114 | Perrig QUEMENEUR | France | EUC | +1:36 |
| 115 | Luka MEZGEC | Slovenia | ARG | +1:36 |
| 116 | Johnny HOOGERLAND | Netherlands | VCD | +1:36 |
| 117 | Michael MATTHEWS | Australia | OGE | +1:38 |
| 118 | Dmitriy GRUZDEV | Kazakhstan | AST | +1:38 |
| 119 | Marc GOOS | Netherlands | BLA | +1:39 |
| 120 | Brett LANCASTER | Australia | OGE | +1:39 |
| 121 | Benjamin NOVAL GONZALEZ | Spain | TST | +1:41 |
| 122 | Danilo WYSS | Switzerland | BMC | +1:41 |
| 123 | Lachlan David MORTON | Australia | GRS | +1:42 |
| 124 | Sergey LAGUTIN | Uzbekistan | VCD | +1:42 |
| 125 | Pavel BRUTT | Russia | KAT | +1:43 |
| 126 | Manuele MORI | Italy | LAM | +1:43 |
| 127 | Christian VANDEVELDE | United States | GRS | +1:44 |
| 128 | Adrian SAEZ | Spain | EUS | +1:44 |
| 129 | Paolo LONGO BORGHINI | Italy | CAN | +1:44 |
| 130 | Anthony CHARTEAU | France | EUC | +1:45 |
| 131 | Cyril GAUTIER | France | EUC | +1:45 |
| 132 | Juan Jose LOBATO DEL VALLE | Spain | EUS | +1:45 |
| 133 | Wesley SULZBERGER | Australia | OGE | +1:45 |
| 134 | Johannes FRÖHLINGER | Germany | ARG | +1:45 |
| 135 | Kévin REZA | France | EUC | +1:45 |
| 136 | Yann HUGUET | France | ARG | +1:46 |
| 137 | Thomas ROHREGGER | Austria | RLT | +1:46 |
| 138 | Mikel LANDA MEANA | Spain | EUS | +1:47 |
| 139 | Jérémy ROY | France | FDJ | +1:49 |
| 140 | Frederik WILLEMS | Belgium | LTB | +1:50 |
| 141 | Xavier FLORENCIO CABRE | Spain | KAT | +1:54 |
| 142 | Dominik NERZ | Germany | BMC | +1:54 |
| 143 | Grégory RAST | Switzerland | RLT | +1:54 |
| 144 | Fabio SABATINI | Italy | CAN | +1:54 |
| 145 | Martijn KEIZER | Netherlands | VCD | +1:54 |
| 146 | Rob RUIJGH | Netherlands | VCD | +1:56 |
| 147 | Christopher SUTTON | Australia | SKY | +1:56 |
| 148 | Arthur VICHOT | France | FDJ | +1:56 |
| 149 | Pablo LASTRAS GARCIA | Spain | MOV | +1:57 |
| 150 | Yukiya ARASHIRO | Japan | EUC | +2:02 |
| 151 | Giacomo NIZZOLO | Italy | RLT | +2:05 |
| 152 | Patrick GRETSCH | Germany | ARG | +2:06 |
| 153 | Bert GRABSCH | Germany | OPQ | +2:06 |
| 154 | Travis MEYER | Australia | OGE | +2:07 |
| 155 | Kristijan DURASEK | Croatia | LAM | +2:09 |
| 156 | Gabriel RASCH | Norway | SKY | +2:10 |
| 157 | Roberto FERRARI | Italy | LAM | +2:11 |
| 158 | Dennis VANENDERT | Belgium | LTB | +2:16 |
| 159 | Kenny DE HAES | Belgium | LTB | +2:19 |
| 160 | Marco MARCATO | Italy | VCD | +2:19 |
| 161 | Elia VIVIANI | Italy | CAN | +2:29 |
| 162 | Matthew Harley GOSS | Australia | OGE | +2:30 |
| 163 | Svein TUFT | Canada | OGE | +2:32 |
| 164 | Marcus BURGHARDT | Germany | BMC | +2:49 |
| 165 | Mark CAVENDISH | Great Britain | OPQ | +2:50 |
| 166 | Aliaksandr KUCHYNSKI | Belarus | KAT | +3:11 |
| 167 | Morgan LAMOISSON | France | EUC | +3:21 |
| 168 | Adam BLYTHE | Great Britain | BMC | +3:45 |