2013 Four Days of Dunkirk Stage 5 Results
Submitted by admin on Sun, 05/05/2013 - 12:30

Follow cyclingfans on Twitter and never miss a race. Cyclingfans.com: The #1 destination on the internet for live race coverage.
- This page lists 2013 Four Days of Dunkirk results for Stage 5

- Stage 5 (Estaires to Dunkerque (164.1 km)) -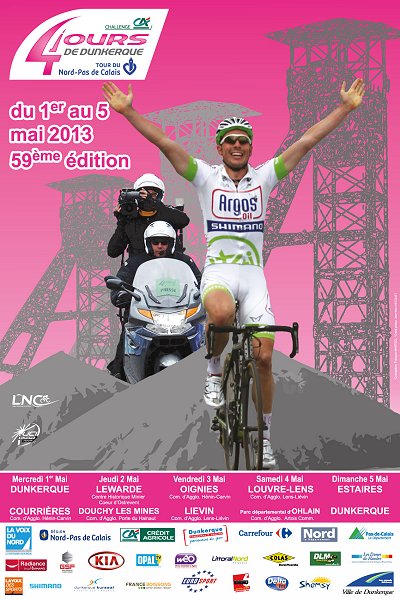 Yannick Martinez (La Pomme Marseille) won the final stage of the 2013 Four Days of Dunkirk, beating Matthias Friedemann and Benoit Drujon to the line. Arnaud Demare (FDJ) won the overall ahead of Florian Vachon and Ramon Sinkeldam.
| | | | | |
| --- | --- | --- | --- | --- |
| Rank | Name | Nationality | Team | Result |
| 1 | Yannick MARTINEZ | FRA | LPM | 3:41:28 |
| 2 | Matthias FRIEDEMANN | GER | CSS | +0 |
| 3 | Benoit DRUJON | FRA | BIG | +0 |
| 4 | Adrien PETIT | FRA | COF | +0 |
| 5 | Kenny Robert VAN HUMMEL | NED | VCD | +0 |
| 6 | Stefan VAN DIJK | NED | AJW | +0 |
| 7 | Ramon SINKELDAM | NED | ARG | +0 |
| 8 | Danny VAN POPPEL | NED | VCD | +0 |
| 9 | Clinton Robert AVERY | NZL | CSS | +0 |
| 10 | Kenneth VAN BILSEN | BEL | TSV | +0 |
| 11 | Martin REIMER | GER | MTN | +0 |
| 12 | Michael VAN STAEYEN | BEL | TSV | +0 |
| 13 | Raymond KREDER | NED | GRS | +0 |
| 14 | Kevin PEETERS | BEL | CRE | +0 |
| 15 | Armindo FONSECA | FRA | BSE | +0 |
| 16 | Angelo TULIK | FRA | EUC | +0 |
| 17 | Arnaud DEMARE | FRA | FDJ | +0 |
| 18 | Tom VAN ASBROECK | BEL | TSV | +0 |
| 19 | Yohann GENE | FRA | EUC | +0 |
| 20 | Geoffrey SOUPE | FRA | FDJ | +0 |
| 21 | Matteo PELUCCHI | ITA | IAM | +0 |
| 22 | Steele VON HOFF | AUS | GRS | +0 |
| 23 | Morgan KNEISKY | FRA | RLM | +0 |
| 24 | Ruslan TLEUBAYEV | KAZ | AST | +0 |
| 25 | Samuel DUMOULIN | FRA | ALM | +0 |
| 26 | Jacopo GUARNIERI | ITA | AST | +0 |
| 27 | Evaldas SISKEVICIUS | LTU | SOJ | +0 |
| 28 | Gediminas BAGDONAS | LTU | ALM | +0 |
| 29 | Julien EL FARES | FRA | SOJ | +0 |
| 30 | Sébastien HINAULT | FRA | IAM | +0 |
| 31 | Mickael DELAGE | FRA | FDJ | +0 |
| 32 | Jurgen VAN GOOLEN | BEL | AJW | +0 |
| 33 | Nikita NOVIKOV | RUS | VCD | +0 |
| 34 | Florian VACHON | FRA | BSE | +0 |
| 35 | Steven CAETHOVEN | BEL | AJW | +0 |
| 36 | José GONÇALVES | POR | LPM | +0 |
| 37 | Martin ELMIGER | SUI | IAM | +0 |
| 38 | Yves LAMPAERT | BEL | TSV | +0 |
| 39 | Maxime DANIEL | FRA | SOJ | +0 |
| 40 | Sébastien MINARD | FRA | ALM | +0 |
| 41 | Jan GHYSELINCK | BEL | COF | +0 |
| 42 | Egidijus JUODVALKIS | LTU | CRE | +0 |
| 43 | Dominic KLEMME | GER | IAM | +0 |
| 44 | Jean-Marc BIDEAU | FRA | BSE | +0 |
| 45 | Valentin IGLINSKIY | KAZ | ALM | +0 |
| 46 | Geoffroy LEQUATRE | FRA | BSE | +0 |
| 47 | Wouter MOL | NED | VCD | +0 |
| 48 | Jacobus VENTER | RSA | MTN | +0 |
| 49 | Matthieu BOULO | FRA | RLM | +0 |
| 50 | Thomas PETERSON | USA | ARG | +0 |
| 51 | Jean-Lou PAIANI | FRA | SOJ | +0 |
| 52 | Perrig QUEMENEUR | FRA | EUC | +0 |
| 53 | Julien DUVAL | FRA | RLM | +0 |
| 54 | Christophe RIBLON | FRA | ALM | +0 |
| 55 | Gregor GAZVODA | SLO | CSS | +0 |
| 56 | Yoann PAILLOT | FRA | LPM | +0 |
| 57 | Thierry HUPOND | FRA | ARG | +0 |
| 58 | Gijs VAN HOECKE | BEL | TSV | +0 |
| 59 | Jean-Pierre DRUCKER | LUX | AJW | +0 |
| 60 | Marcel AREGGER | SUI | IAM | +0 |
| 61 | Wesley KREDER | NED | VCD | +0 |
| 62 | Dimitri LE BOULCH | FRA | BIG | +0 |
| 63 | Michel KREDER | NED | GRS | +0 |
| 64 | Jonathan BREYNE | BEL | CRE | +0 |
| 65 | Cyrille PATOUX | FRA | RLM | +0 |
| 66 | Vincent JEROME | FRA | EUC | +0 |
| 67 | Julien ANTOMARCHI | FRA | LPM | +0 |
| 68 | Alex RASMUSSEN | DEN | GRS | +0 |
| 69 | Arnaud LABBE | FRA | COF | +0 |
| 70 | Romain LEMARCHAND | FRA | COF | +0 |
| 71 | Edwig CAMMAERTS | BEL | COF | +0 |
| 72 | Grégoire TARRIDE | FRA | LPM | +14 |
| 73 | Kevin LALOUETTE | FRA | RLM | +14 |
| 74 | Arman KAMYSHEV | KAZ | AST | +14 |
| 75 | Steven TRONET | FRA | BIG | +14 |
| 76 | Jay Robert THOMSON | RSA | MTN | +17 |
| 77 | Flavien DASSONVILLE | FRA | BIG | +18 |
| 78 | Tristan VALENTIN | FRA | COF | +21 |
| 79 | Biel KADRI | FRA | ALM | +23 |
| 80 | Loïc DESRIAC | FRA | RLM | +23 |
| 81 | Kevin CLAEYS | BEL | CRE | +23 |
| 82 | Frédéric AMORISON | BEL | CRE | +23 |
| 83 | Boy VAN POPPEL | NED | VCD | +23 |
| 84 | Franck BOUYER | FRA | EUC | +23 |
| 85 | Bertjan LINDEMAN | NED | VCD | +23 |
| 86 | William CLARKE | AUS | ARG | +23 |
| 87 | Mathieu DRUJON | FRA | BIG | +23 |
| 88 | Klaas SYS | BEL | CRE | +23 |
| 89 | Florian GUILLOU | FRA | BSE | +23 |
| 90 | Gael MALACARNE | FRA | BSE | +23 |
| 91 | Mart OJAVEE | EST | CSS | +23 |
| 92 | Hugo HOULE | CAN | ALM | +23 |
| 93 | Arnaud GERARD | FRA | BSE | +23 |
| 94 | Jérémie GALLAND | FRA | SOJ | +23 |
| 95 | Yoann OFFREDO | FRA | FDJ | +29 |
| 96 | David BOUCHER | FRA | FDJ | +57 |
| 97 | Matthieu LADAGNOUS | FRA | FDJ | +59 |
| 98 | Benoît VAUGRENARD | FRA | FDJ | +59 |
| 99 | Anthony GESLIN | FRA | FDJ | +59 |
| 100 | Ignatas KONOVALOVAS | LTU | MTN | +1:16 |
| 101 | Chun Kai FENG | TPE | CSS | +1:21 |
| 102 | David LELAY | FRA | SOJ | +2:00 |
| 103 | Yan Dong XING | CHN | ARG | +2:49 |
| 104 | Thomas DEGAND | BEL | AJW | +2:49 |
| 105 | Nicolas VOGONDY | FRA | AJW | +2:49 |
| 106 | Lloyd MONDORY | FRA | ALM | +2:49 |
| 107 | Martijn MAASKANT | NED | GRS | +4:12 |
| 108 | Koldo FERNANDEZ | ESP | GRS | +4:12 |
| 109 | Marco BANDIERA | ITA | IAM | +4:12 |
| 110 | Sébastien ROSSELER | BEL | GRS | +4:12 |
| 111 | Jacob RATHE | USA | GRS | +4:12 |
| 112 | Romain BACON | FRA | BIG | +4:15 |
| 113 | Sébastien TURGOT | FRA | EUC | +5:06 |
| DNF | Roy CURVERS | NED | ARG | |
| DNF | Romain HARDY | FRA | COF | |
| DNF | Rudy KOWALSKI | FRA | RLM | |
| DNS | Sven VANDOUSSELAERE | BEL | TSV | |
General Classification after Stage 5 (Final)

| | | | | |
| --- | --- | --- | --- | --- |
| Rank | Name | Nationality | Team | Result |
| 1 | Arnaud DEMARE | France | FDJ | 20:37:21 |
| 2 | Florian VACHON | France | BSE | +16 |
| 3 | Ramon SINKELDAM | Netherlands | ARG | +26 |
| 4 | Julien EL FARES | France | SOJ | +26 |
| 5 | Armindo FONSECA | France | BSE | +30 |
| 6 | Samuel DUMOULIN | France | ALM | +30 |
| 7 | Sébastien HINAULT | France | IAM | +30 |
| 8 | Martin ELMIGER | Switzerland | IAM | +30 |
| 9 | Michel KREDER | Netherlands | GRS | +30 |
| 10 | Geoffrey SOUPE | France | FDJ | +31 |
| 11 | Evaldas SISKEVICIUS | Lithuania | SOJ | +39 |
| 12 | Jacobus VENTER | South Africa | MTN | +40 |
| 13 | José GONÇALVES | Portugal | LPM | +42 |
| 14 | Nikita NOVIKOV | Russia | VCD | +45 |
| 15 | Jurgen VAN GOOLEN | Belgium | AJW | +45 |
| 16 | Perrig QUEMENEUR | France | EUC | +45 |
| 17 | Julien ANTOMARCHI | France | LPM | +45 |
| 18 | Matthieu BOULO | France | RLM | +51 |
| 19 | Dominic KLEMME | Germany | IAM | +51 |
| 20 | Christophe RIBLON | France | ALM | +57 |
| 21 | Angelo TULIK | France | EUC | +58 |
| 22 | Gijs VAN HOECKE | Belgium | TSV | +58 |
| 23 | Matthias FRIEDEMANN | Germany | CSS | +1:08 |
| 24 | Geoffroy LEQUATRE | France | BSE | +1:12 |
| 25 | Yves LAMPAERT | Belgium | TSV | +1:13 |
| 26 | Stefan VAN DIJK | Netherlands | AJW | +1:14 |
| 27 | Steven CAETHOVEN | Belgium | AJW | +1:14 |
| 28 | Egidijus JUODVALKIS | Lithuania | CRE | +1:14 |
| 29 | Sébastien MINARD | France | ALM | +1:14 |
| 30 | Thierry HUPOND | France | ARG | +1:14 |
| 31 | Valentin IGLINSKIY | Kazakhstan | ALM | +1:14 |
| 32 | Dimitri LE BOULCH | France | BIG | +1:14 |
| 33 | Marcel AREGGER | Switzerland | IAM | +1:14 |
| 34 | Adrien PETIT | France | COF | +1:23 |
| 35 | Martin REIMER | Germany | MTN | +1:26 |
| 36 | Flavien DASSONVILLE | France | BIG | +1:27 |
| 37 | Grégoire TARRIDE | France | LPM | +1:28 |
| 38 | Mathieu DRUJON | France | BIG | +1:37 |
| 39 | Loïc DESRIAC | France | RLM | +1:37 |
| 40 | Franck BOUYER | France | EUC | +1:37 |
| 41 | Edwig CAMMAERTS | Belgium | COF | +1:48 |
| 42 | Romain LEMARCHAND | France | COF | +2:00 |
| 43 | Arman KAMYSHEV | Kazakhstan | AST | +2:43 |
| 44 | Jérémie GALLAND | France | SOJ | +2:47 |
| 45 | Yannick MARTINEZ | France | LPM | +2:56 |
| 46 | Kevin LALOUETTE | France | RLM | +3:05 |
| 47 | Benoît VAUGRENARD | France | FDJ | +3:08 |
| 48 | Gael MALACARNE | France | BSE | +3:29 |
| 49 | Steele VON HOFF | Australia | GRS | +3:54 |
| 50 | Alex RASMUSSEN | Denmark | GRS | +3:54 |
| 51 | Anthony GESLIN | France | FDJ | +4:53 |
| 52 | David LELAY | France | SOJ | +5:02 |
| 53 | Jacob RATHE | United States | GRS | +5:03 |
| 54 | Mickael DELAGE | France | FDJ | +5:12 |
| 55 | Koldo FERNANDEZ | Spain | GRS | +6:48 |
| 56 | Sébastien TURGOT | France | EUC | +7:03 |
| 57 | Gregor GAZVODA | Slovenia | CSS | +7:36 |
| 58 | Tom VAN ASBROECK | Belgium | TSV | +9:49 |
| 59 | Florian GUILLOU | France | BSE | +10:12 |
| 60 | Raymond KREDER | Netherlands | GRS | +10:27 |
| 61 | Yoann PAILLOT | France | LPM | +10:27 |
| 62 | Wesley KREDER | Netherlands | VCD | +10:27 |
| 63 | Jean-Marc BIDEAU | France | BSE | +10:27 |
| 64 | Steven TRONET | France | BIG | +10:41 |
| 65 | Klaas SYS | Belgium | CRE | +10:50 |
| 66 | Boy VAN POPPEL | Netherlands | VCD | +11:18 |
| 67 | Cyrille PATOUX | France | RLM | +11:28 |
| 68 | Julien DUVAL | France | RLM | +11:31 |
| 69 | Ignatas KONOVALOVAS | Lithuania | MTN | +11:43 |
| 70 | Vincent JEROME | France | EUC | +12:38 |
| 71 | Morgan KNEISKY | France | RLM | +13:31 |
| 72 | Lloyd MONDORY | France | ALM | +13:44 |
| 73 | Kenny Robert VAN HUMMEL | Netherlands | VCD | +13:58 |
| 74 | Yohann GENE | France | EUC | +14:07 |
| 75 | Michael VAN STAEYEN | Belgium | TSV | +14:08 |
| 76 | Jan GHYSELINCK | Belgium | COF | +14:08 |
| 77 | Arnaud LABBE | France | COF | +14:08 |
| 78 | Jean-Pierre DRUCKER | Luxembourg | AJW | +14:08 |
| 79 | Jean-Lou PAIANI | France | SOJ | +14:12 |
| 80 | Tristan VALENTIN | France | COF | +14:29 |
| 81 | Arnaud GERARD | France | BSE | +14:31 |
| 82 | Frédéric AMORISON | Belgium | CRE | +14:31 |
| 83 | Gediminas BAGDONAS | Lithuania | ALM | +14:46 |
| 84 | Danny VAN POPPEL | Netherlands | VCD | +14:52 |
| 85 | William CLARKE | Australia | ARG | +15:20 |
| 86 | Chun Kai FENG | Chinese Taipei | CSS | +15:25 |
| 87 | Sébastien ROSSELER | Belgium | GRS | +15:28 |
| 88 | Biel KADRI | France | ALM | +15:47 |
| 89 | Yoann OFFREDO | France | FDJ | +15:57 |
| 90 | Bertjan LINDEMAN | Netherlands | VCD | +16:06 |
| 91 | Matthieu LADAGNOUS | France | FDJ | +16:27 |
| 92 | Benoit DRUJON | France | BIG | +18:47 |
| 93 | Wouter MOL | Netherlands | VCD | +18:51 |
| 94 | Kenneth VAN BILSEN | Belgium | TSV | +19:34 |
| 95 | Clinton Robert AVERY | New Zealand | CSS | +19:37 |
| 96 | Jay Robert THOMSON | South Africa | MTN | +19:37 |
| 97 | Kevin CLAEYS | Belgium | CRE | +19:39 |
| 98 | Matteo PELUCCHI | Italy | IAM | +19:40 |
| 99 | Martijn MAASKANT | Netherlands | GRS | +20:44 |
| 100 | Kevin PEETERS | Belgium | CRE | +22:25 |
| 101 | Hugo HOULE | Canada | ALM | +22:46 |
| 102 | Maxime DANIEL | France | SOJ | +22:50 |
| 103 | Nicolas VOGONDY | France | AJW | +23:00 |
| 104 | Jacopo GUARNIERI | Italy | AST | +23:58 |
| 105 | Mart OJAVEE | Estonia | CSS | +25:15 |
| 106 | Thomas DEGAND | Belgium | AJW | +26:04 |
| 107 | Marco BANDIERA | Italy | IAM | +29:04 |
| 108 | David BOUCHER | France | FDJ | +30:48 |
| 109 | Ruslan TLEUBAYEV | Kazakhstan | AST | +32:45 |
| 110 | Romain BACON | France | BIG | +33:43 |
| 111 | Jonathan BREYNE | Belgium | CRE | +34:36 |
| 112 | Thomas PETERSON | United States | ARG | +39:39 |
| 113 | Yan Dong XING | China | ARG | +56:35 |