2013 Giro d'Italia Stage 6 Results
Submitted by admin on Thu, 05/09/2013 - 10:26

Follow cyclingfans on Twitter and never miss a race. Cyclingfans.com: The #1 destination on the internet for live race coverage.
- This page lists 2013 Giro d'Italia results for Stage 6

- Stage 6 (Mola di Bari to Margherita di Savoia (169 km)) -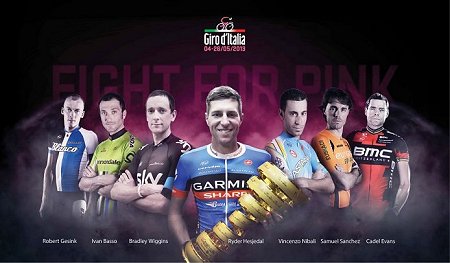 Mark Cavendish (Omega Pharma-Quickstep) won Stage 6, outsprinting Elia Viviani and Matthew Goss. It was Cavendish's second victory in the race. French national champion Nacer Bouhanni was fourth. Luca Paolini remains overall race leader.
| | | | | |
| --- | --- | --- | --- | --- |
| Rank | Name | Nationality | Team | Result |
| 1 | Mark CAVENDISH | GBR | OPQ | 3:56:03 |
| 2 | Elia VIVIANI | ITA | CAN | +0 |
| 3 | Matthew Harley GOSS | AUS | OGE | +0 |
| 4 | Nacer BOUHANNI | FRA | FDJ | +0 |
| 5 | Mattia GAVAZZI | ITA | AND | +0 |
| 6 | Manuel BELLETTI | ITA | ALM | +0 |
| 7 | Davide APPOLLONIO | ITA | ALM | +0 |
| 8 | Giacomo NIZZOLO | ITA | RLT | +0 |
| 9 | Matti BRESCHEL | DEN | TST | +0 |
| 10 | Roberto FERRARI | ITA | LAM | +0 |
| 11 | Edwin Alcibiades AVILA VANEGAS | COL | COL | +0 |
| 12 | Kenny DE HAES | BEL | LTB | +0 |
| 13 | Adam BLYTHE | GBR | BMC | +0 |
| 14 | Iljo KEISSE | BEL | OPQ | +0 |
| 15 | Ioannis TAMOURIDIS | GRE | EUS | +0 |
| 16 | Stefano PIRAZZI | ITA | BAR | +0 |
| 17 | Francisco José VENTOSO ALBERDI | ESP | MOV | +0 |
| 18 | John DEGENKOLB | GER | ARG | +0 |
| 19 | Arnold JEANNESSON | FRA | FDJ | +0 |
| 20 | Pavel BRUTT | RUS | KAT | +0 |
| 21 | Luca PAOLINI | ITA | KAT | +0 |
| 22 | Sacha MODOLO | ITA | BAR | +0 |
| 23 | Giairo ERMETI | ITA | AND | +0 |
| 24 | Gert STEEGMANS | BEL | OPQ | +0 |
| 25 | Koen DE KORT | NED | ARG | +0 |
| 26 | Robert HUNTER | RSA | GRS | +0 |
| 27 | Gert DOCKX | BEL | LTB | +0 |
| 28 | Dirk BELLEMAKERS | NED | LTB | +0 |
| 29 | Cadel EVANS | AUS | BMC | +0 |
| 30 | Michele SCARPONI | ITA | LAM | +0 |
| 31 | Paolo LONGO BORGHINI | ITA | CAN | +0 |
| 32 | Giampaolo CARUSO | ITA | KAT | +0 |
| 33 | Lars Ytting BAK | DEN | LTB | +0 |
| 34 | Dalivier OSPINA NAVARRO | COL | COL | +0 |
| 35 | Daniele BENNATI | ITA | TST | +0 |
| 36 | Alessandro VANOTTI | ITA | AST | +0 |
| 37 | Vincenzo NIBALI | ITA | AST | +0 |
| 38 | Przemyslaw NIEMIEC | POL | LAM | +0 |
| 39 | Steve MORABITO | SUI | BMC | +0 |
| 40 | Mauro SANTAMBROGIO | ITA | VIN | +0 |
| 41 | Alex DOWSETT | GBR | MOV | +0 |
| 42 | Nelson Filipe SANTOS SIMOES OLIVEIRA | POR | RLT | +0 |
| 43 | Tanel KANGERT | EST | AST | +0 |
| 44 | Peter STETINA | USA | GRS | +0 |
| 45 | Oscar GATTO | ITA | VIN | +0 |
| 46 | Sonny COLBRELLI | ITA | BAR | +0 |
| 47 | Francesco CHICCHI | ITA | VIN | +0 |
| 48 | Diego ROSA | ITA | AND | +0 |
| 49 | Guillaume BONNAFOND | FRA | ALM | +0 |
| 50 | Ivan SANTAROMITA | ITA | BMC | +0 |
| 51 | Carlos Alberto BETANCUR GOMEZ | COL | ALM | +0 |
| 52 | Ryder HESJEDAL | CAN | GRS | +0 |
| 53 | Damiano CARUSO | ITA | CAN | +0 |
| 54 | Jackson RODRIGUEZ | VEN | AND | +0 |
| 55 | Daniele PIETROPOLLI | ITA | LAM | +0 |
| 56 | Andrey ZEITS | KAZ | AST | +0 |
| 57 | Jens KEUKELEIRE | BEL | OGE | +0 |
| 58 | Yury TROFIMOV | RUS | KAT | +0 |
| 59 | Bruno PIRES | POR | TST | +0 |
| 60 | Mattia CATTANEO | ITA | LAM | +0 |
| 61 | Robert KISERLOVSKI | CRO | RLT | +0 |
| 62 | Egoi MARTINEZ DE ESTEBAN | ESP | EUS | +0 |
| 63 | Francis DE GREEF | BEL | LTB | +0 |
| 64 | Maarten WYNANTS | BEL | BLA | +0 |
| 65 | Robert GESINK | NED | BLA | +0 |
| 66 | Danilo WYSS | SUI | BMC | +0 |
| 67 | Franco PELLIZOTTI | ITA | AND | +0 |
| 68 | Paul MARTENS | GER | BLA | +0 |
| 69 | Maarten TJALLINGII | NED | BLA | +0 |
| 70 | Murilo Antonio FISCHER | BRA | FDJ | +0 |
| 71 | Luke DURBRIDGE | AUS | OGE | +0 |
| 72 | Fredrik Carl Wilhelm KESSIAKOFF | SWE | AST | +0 |
| 73 | Dominique ROLLIN | CAN | FDJ | +0 |
| 74 | Christian KNEES | GER | SKY | +0 |
| 75 | Thomas DANIELSON | USA | GRS | +0 |
| 76 | Francis MOUREY | FRA | FDJ | +0 |
| 77 | Sergio Luis HENAO MONTOYA | COL | SKY | +0 |
| 78 | Vicente REYNES MIMO | ESP | LTB | +0 |
| 79 | Kanstantsin SIUTSOU | BLR | SKY | +0 |
| 80 | Bradley WIGGINS | GBR | SKY | +0 |
| 81 | Steven KRUIJSWIJK | NED | BLA | +0 |
| 82 | Anthony ROUX | FRA | FDJ | +0 |
| 83 | Juan Manuel GARATE | ESP | BLA | +0 |
| 84 | Jesse SERGENT | NZL | RLT | +0 |
| 85 | Danilo HONDO | GER | RLT | +0 |
| 86 | Fabio ARU | ITA | AST | +0 |
| 87 | Matteo TRENTIN | ITA | OPQ | +0 |
| 88 | Rafal MAJKA | POL | TST | +0 |
| 89 | Thomas DAMUSEAU | FRA | ARG | +0 |
| 90 | Rigoberto URAN URAN | COL | SKY | +0 |
| 91 | Wilco KELDERMAN | NED | BLA | +0 |
| 92 | Christian MEIER | CAN | OGE | +0 |
| 93 | Rafael VALLS FERRI | ESP | VCD | +0 |
| 94 | Fabio SABATINI | ITA | CAN | +0 |
| 95 | Carlos Julian QUINTERO | COL | COL | +0 |
| 96 | Manuele BOARO | ITA | TST | +0 |
| 97 | Samuel SANCHEZ GONZALEZ | ESP | EUS | +0 |
| 98 | Cristiano SALERNO | ITA | CAN | +0 |
| 99 | Darwin ATAPUMA HURTADO | COL | COL | +0 |
| 100 | Cayetano José SARMIENTO TUNARROSA | COL | CAN | +0 |
| 101 | Tiago MACHADO | POR | RLT | +0 |
| 102 | Pieter WEENING | NED | OGE | +0 |
| 103 | Christian VANDEVELDE | USA | GRS | +0 |
| 104 | Michal GOLAS | POL | OPQ | +0 |
| 105 | Frederik VEUCHELEN | BEL | VCD | +0 |
| 106 | Ben GASTAUER | LUX | ALM | +0 |
| 107 | Jose Rodolfo SERPA PEREZ | COL | LAM | +0 |
| 108 | Jorge AZANZA SOTO | ESP | EUS | +0 |
| 109 | Benat INTXAUSTI ELORRIAGA | ESP | MOV | +0 |
| 110 | Salvatore PUCCIO | ITA | SKY | +0 |
| 111 | Gorka VERDUGO MARCOTEGUI | ESP | EUS | +0 |
| 112 | Cameron WURF | AUS | CAN | +0 |
| 113 | Evgeny PETROV | RUS | TST | +0 |
| 114 | Dario CATALDO | ITA | SKY | +0 |
| 115 | Filippo POZZATO | ITA | LAM | +0 |
| 116 | Petr IGNATENKO | RUS | KAT | +0 |
| 117 | Kristijan DURASEK | CRO | LAM | +0 |
| 118 | Domenico POZZOVIVO | ITA | ALM | +0 |
| 119 | Fabio Andres DUARTE AREVALO | COL | COL | +0 |
| 120 | Dmitriy GRUZDEV | KAZ | AST | +0 |
| 121 | Rory SUTHERLAND | AUS | TST | +0 |
| 122 | Tiziano DALL'ANTONIA | ITA | CAN | +0 |
| 123 | Hayden ROULSTON | NZL | RLT | +0 |
| 124 | Simone STORTONI | ITA | LAM | +0 |
| 125 | Frederik WILLEMS | BEL | LTB | +0 |
| 126 | Stefano LOCATELLI | ITA | BAR | +0 |
| 127 | Vladimir KARPETS | RUS | MOV | +0 |
| 128 | Fabio TABORRE | ITA | VIN | +0 |
| 129 | Francesco Manuel BONGIORNO | ITA | BAR | +0 |
| 130 | Hubert DUPONT | FRA | ALM | +0 |
| 131 | Danilo DI LUCA | ITA | VIN | +0 |
| 132 | George BENNETT | NZL | RLT | +0 |
| 133 | Mads CHRISTENSEN | DEN | TST | +0 |
| 134 | Taylor PHINNEY | USA | BMC | +0 |
| 135 | Edoardo ZARDINI | ITA | BAR | +0 |
| 136 | Luka MEZGEC | SLO | ARG | +0 |
| 137 | Brett LANCASTER | AUS | OGE | +0 |
| 138 | Willem WAUTERS | BEL | VCD | +0 |
| 139 | Angel VICIOSO ARCOS | ESP | KAT | +0 |
| 140 | Thomas DEKKER | NED | GRS | +0 |
| 141 | José HERRADA LOPEZ | ESP | MOV | +0 |
| 142 | Karsten KROON | NED | TST | +0 |
| 143 | Rafael ANDRIATO | BRA | VIN | +0 |
| 144 | Tomas Aurelio GIL MARTINEZ | VEN | AND | +0 |
| 145 | Juan Jose COBO ACEBO | ESP | MOV | +0 |
| 146 | Johan LE BON | FRA | FDJ | +0 |
| 147 | Jarlinson PANTANO | COL | COL | +0 |
| 148 | Xabier ZANDIO ECHAIDE | ESP | SKY | +0 |
| 149 | Stef CLEMENT | NED | BLA | +0 |
| 150 | Matteo RABOTTINI | ITA | VIN | +0 |
| 151 | Enrico BATTAGLIN | ITA | BAR | +0 |
| 152 | Robert VRECER | SLO | EUS | +0 |
| 153 | Julien BERARD | FRA | ALM | +0 |
| 154 | Leonardo Fabio DUQUE | COL | COL | +0 |
| 155 | Robinson Eduardo CHALAPUD GOMEZ | COL | COL | +0 |
| 156 | Bert DE BACKER | BEL | ARG | +0 |
| 157 | Emanuele SELLA | ITA | AND | +0 |
| 158 | Rob RUIJGH | NED | VCD | +0 |
| 159 | Alan MARANGONI | ITA | CAN | +0 |
| 160 | Miguel MINGUEZ AYALA | ESP | EUS | +0 |
| 161 | Martijn KEIZER | NED | VCD | +0 |
| 162 | Valerio AGNOLI | ITA | AST | +0 |
| 163 | Brian BULGAC | NED | LTB | +0 |
| 164 | Stefano GARZELLI | ITA | VIN | +0 |
| 165 | Stephen CUMMINGS | GBR | BMC | +26 |
| 166 | Svein TUFT | CAN | OGE | +30 |
| 167 | Yaroslav POPOVYCH | UKR | RLT | +34 |
| 168 | Fabio FELLINE | ITA | AND | +34 |
| 169 | Leigh HOWARD | AUS | OGE | +37 |
| 170 | Albert TIMMER | NED | ARG | +59 |
| 171 | Jens MOURIS | NED | OGE | +59 |
| 172 | Marco MARCATO | ITA | VCD | +1:01 |
| 173 | Julien VERMOTE | BEL | OPQ | +1:05 |
| 174 | Jérôme PINEAU | FRA | OPQ | +1:05 |
| 175 | Danny PATE | USA | SKY | +1:29 |
| 176 | Nicola BOEM | ITA | BAR | +1:49 |
| 177 | Vladimir GUSEV | RUS | KAT | +4:10 |
| 178 | Maxim BELKOV | RUS | KAT | +4:10 |
| 179 | Paolo TIRALONGO | ITA | AST | +4:10 |
| 180 | David MILLAR | GBR | GRS | +4:10 |
| 181 | Ramunas NAVARDAUSKAS | LTU | GRS | +4:10 |
| 182 | Adam HANSEN | AUS | LTB | +4:10 |
| 183 | Serge PAUWELS | BEL | OPQ | +4:10 |
| 184 | Maurits LAMMERTINK | NED | VCD | +4:10 |
| 185 | Eros CAPECCHI | ITA | MOV | +4:10 |
| 186 | Giovanni VISCONTI | ITA | MOV | +4:20 |
| 187 | Tobias LUDVIGSSON | SWE | ARG | +4:51 |
| 188 | Klaas LODEWYCK | BEL | BMC | +5:02 |
| 189 | Daniel OSS | ITA | BMC | +5:02 |
| 190 | Patrick GRETSCH | GER | ARG | +5:02 |
| 191 | Marco CANOLA | ITA | BAR | +5:28 |
| 192 | Laurent PICHON | FRA | FDJ | +6:38 |
| 193 | Sylvain GEORGES | FRA | ALM | +6:38 |
| 194 | Miguel Angel RUBIANO CHAVEZ | COL | AND | +6:40 |
| 195 | Gianluca BRAMBILLA | ITA | OPQ | +6:40 |
| 196 | Dmitry KOZONTCHUK | RUS | KAT | +6:40 |
| 197 | Alessandro PRONI | ITA | VIN | +6:47 |
| 198 | Wilson Alexander MARENTES TORRES | COL | COL | +7:01 |
| 199 | Pim LIGTHART | NED | VCD | +7:01 |
| 200 | Ricardo MESTRE | POR | EUS | +7:01 |
| 201 | Grega BOLE | SLO | VCD | +7:01 |
| 202 | Jack BOBRIDGE | AUS | BLA | +7:19 |
| 203 | Nathan HAAS | AUS | GRS | +7:19 |
| 204 | Pablo LASTRAS GARCIA | ESP | MOV | +9:20 |
| DNS | Cheng JI | CHN | ARG | |
General Classification after Stage 6

| | | | | |
| --- | --- | --- | --- | --- |
| Rank | Name | Nationality | Team | Result |
| 1 | Luca PAOLINI | Italy | KAT | 23:52:42 |
| 2 | Rigoberto URAN URAN | Colombia | SKY | +17 |
| 3 | Benat INTXAUSTI ELORRIAGA | Spain | MOV | +26 |
| 4 | Vincenzo NIBALI | Italy | AST | +31 |
| 5 | Ryder HESJEDAL | Canada | GRS | +34 |
| 6 | Bradley WIGGINS | Great Britain | SKY | +34 |
| 7 | Giampaolo CARUSO | Italy | KAT | +36 |
| 8 | Sergio Luis HENAO MONTOYA | Colombia | SKY | +37 |
| 9 | Mauro SANTAMBROGIO | Italy | VIN | +39 |
| 10 | Cadel EVANS | Australia | BMC | +42 |
| 11 | Thomas DANIELSON | United States | GRS | +42 |
| 12 | Robert GESINK | Netherlands | BLA | +45 |
| 13 | Yury TROFIMOV | Russia | KAT | +46 |
| 14 | Ivan SANTAROMITA | Italy | BMC | +54 |
| 15 | Pieter WEENING | Netherlands | OGE | +55 |
| 16 | Robert KISERLOVSKI | Croatia | RLT | +1:00 |
| 17 | Fabio ARU | Italy | AST | +1:15 |
| 18 | Samuel SANCHEZ GONZALEZ | Spain | EUS | +1:18 |
| 19 | Steven KRUIJSWIJK | Netherlands | BLA | +1:19 |
| 20 | Michele SCARPONI | Italy | LAM | +1:23 |
| 21 | Przemyslaw NIEMIEC | Poland | LAM | +1:23 |
| 22 | Rafael VALLS FERRI | Spain | VCD | +1:25 |
| 23 | Rafal MAJKA | Poland | TST | +1:34 |
| 24 | Franco PELLIZOTTI | Italy | AND | +1:37 |
| 25 | Michal GOLAS | Poland | OPQ | +1:39 |
| 26 | Carlos Alberto BETANCUR GOMEZ | Colombia | ALM | +1:41 |
| 27 | Domenico POZZOVIVO | Italy | ALM | +1:41 |
| 28 | Steve MORABITO | Switzerland | BMC | +1:49 |
| 29 | Jorge AZANZA SOTO | Spain | EUS | +1:52 |
| 30 | Danilo DI LUCA | Italy | VIN | +2:15 |
| 31 | Peter STETINA | United States | GRS | +2:18 |
| 32 | Wilco KELDERMAN | Netherlands | BLA | +2:21 |
| 33 | Diego ROSA | Italy | AND | +2:24 |
| 34 | Jose Rodolfo SERPA PEREZ | Colombia | LAM | +2:32 |
| 35 | Damiano CARUSO | Italy | CAN | +2:38 |
| 36 | Juan Manuel GARATE | Spain | BLA | +2:42 |
| 37 | Evgeny PETROV | Russia | TST | +2:46 |
| 38 | Arnold JEANNESSON | France | FDJ | +2:48 |
| 39 | Tiago MACHADO | Portugal | RLT | +2:53 |
| 40 | Francesco Manuel BONGIORNO | Italy | BAR | +2:55 |
| 41 | Rory SUTHERLAND | Australia | TST | +2:57 |
| 42 | Darwin ATAPUMA HURTADO | Colombia | COL | +2:59 |
| 43 | Francis DE GREEF | Belgium | LTB | +3:03 |
| 44 | Cayetano José SARMIENTO TUNARROSA | Colombia | CAN | +3:04 |
| 45 | Stefano PIRAZZI | Italy | BAR | +3:06 |
| 46 | Fabio Andres DUARTE AREVALO | Colombia | COL | +3:06 |
| 47 | Enrico BATTAGLIN | Italy | BAR | +3:07 |
| 48 | Francis MOUREY | France | FDJ | +3:09 |
| 49 | Petr IGNATENKO | Russia | KAT | +3:18 |
| 50 | Tanel KANGERT | Estonia | AST | +3:20 |
| 51 | Vladimir KARPETS | Russia | MOV | +3:36 |
| 52 | Fabio FELLINE | Italy | AND | +5:11 |
| 53 | Giovanni VISCONTI | Italy | MOV | +5:12 |
| 54 | Simone STORTONI | Italy | LAM | +5:24 |
| 55 | Francisco José VENTOSO ALBERDI | Spain | MOV | +6:39 |
| 56 | Emanuele SELLA | Italy | AND | +6:52 |
| 57 | Bruno PIRES | Portugal | TST | +7:35 |
| 58 | Danilo HONDO | Germany | RLT | +7:37 |
| 59 | Kanstantsin SIUTSOU | Belarus | SKY | +7:54 |
| 60 | Matteo RABOTTINI | Italy | VIN | +8:56 |
| 61 | Egoi MARTINEZ DE ESTEBAN | Spain | EUS | +9:08 |
| 62 | Stefano LOCATELLI | Italy | BAR | +9:09 |
| 63 | Miguel Angel RUBIANO CHAVEZ | Colombia | AND | +9:19 |
| 64 | Edoardo ZARDINI | Italy | BAR | +9:19 |
| 65 | Hubert DUPONT | France | ALM | +9:39 |
| 66 | Jarlinson PANTANO | Colombia | COL | +10:26 |
| 67 | Cristiano SALERNO | Italy | CAN | +11:35 |
| 68 | Angel VICIOSO ARCOS | Spain | KAT | +12:25 |
| 69 | Kristijan DURASEK | Croatia | LAM | +12:56 |
| 70 | Frederik VEUCHELEN | Belgium | VCD | +13:08 |
| 71 | Mads CHRISTENSEN | Denmark | TST | +13:17 |
| 72 | Gorka VERDUGO MARCOTEGUI | Spain | EUS | +13:19 |
| 73 | Leonardo Fabio DUQUE | Colombia | COL | +13:30 |
| 74 | Danilo WYSS | Switzerland | BMC | +13:57 |
| 75 | Marco MARCATO | Italy | VCD | +14:15 |
| 76 | Jens KEUKELEIRE | Belgium | OGE | +14:39 |
| 77 | Ben GASTAUER | Luxembourg | ALM | +15:26 |
| 78 | Paolo LONGO BORGHINI | Italy | CAN | +15:27 |
| 79 | José HERRADA LOPEZ | Spain | MOV | +16:07 |
| 80 | Robinson Eduardo CHALAPUD GOMEZ | Colombia | COL | +16:11 |
| 81 | Andrey ZEITS | Kazakhstan | AST | +17:08 |
| 82 | Rob RUIJGH | Netherlands | VCD | +17:10 |
| 83 | Jackson RODRIGUEZ | Venezuela | AND | +17:15 |
| 84 | Adam HANSEN | Australia | LTB | +19:21 |
| 85 | Vicente REYNES MIMO | Spain | LTB | +19:36 |
| 86 | Alessandro VANOTTI | Italy | AST | +21:07 |
| 87 | Salvatore PUCCIO | Italy | SKY | +21:13 |
| 88 | Guillaume BONNAFOND | France | ALM | +21:36 |
| 89 | Martijn KEIZER | Netherlands | VCD | +22:49 |
| 90 | Serge PAUWELS | Belgium | OPQ | +23:27 |
| 91 | Valerio AGNOLI | Italy | AST | +24:01 |
| 92 | Nelson Filipe SANTOS SIMOES OLIVEIRA | Portugal | RLT | +24:45 |
| 93 | Christian KNEES | Germany | SKY | +24:52 |
| 94 | Carlos Julian QUINTERO | Colombia | COL | +25:23 |
| 95 | Elia VIVIANI | Italy | CAN | +25:28 |
| 96 | Paul MARTENS | Germany | BLA | +25:41 |
| 97 | Sylvain GEORGES | France | ALM | +25:49 |
| 98 | Tiziano DALL'ANTONIA | Italy | CAN | +25:56 |
| 99 | Matteo TRENTIN | Italy | OPQ | +26:09 |
| 100 | John DEGENKOLB | Germany | ARG | +26:14 |
| 101 | Grega BOLE | Slovenia | VCD | +26:21 |
| 102 | Lars Ytting BAK | Denmark | LTB | +26:21 |
| 103 | Ramunas NAVARDAUSKAS | Lithuania | GRS | +26:23 |
| 104 | Sonny COLBRELLI | Italy | BAR | +26:25 |
| 105 | George BENNETT | New Zealand | RLT | +26:30 |
| 106 | Robert VRECER | Slovenia | EUS | +26:41 |
| 107 | Karsten KROON | Netherlands | TST | +27:11 |
| 108 | Koen DE KORT | Netherlands | ARG | +27:23 |
| 109 | Mattia CATTANEO | Italy | LAM | +27:25 |
| 110 | Daniele BENNATI | Italy | TST | +27:30 |
| 111 | Dalivier OSPINA NAVARRO | Colombia | COL | +27:31 |
| 112 | Brett LANCASTER | Australia | OGE | +27:48 |
| 113 | Thomas DAMUSEAU | France | ARG | +27:49 |
| 114 | Nicola BOEM | Italy | BAR | +27:51 |
| 115 | Sacha MODOLO | Italy | BAR | +27:57 |
| 116 | Filippo POZZATO | Italy | LAM | +28:10 |
| 117 | Gert DOCKX | Belgium | LTB | +28:42 |
| 118 | Daniele PIETROPOLLI | Italy | LAM | +30:17 |
| 119 | Murilo Antonio FISCHER | Brazil | FDJ | +30:23 |
| 120 | Cameron WURF | Australia | CAN | +30:45 |
| 121 | Matti BRESCHEL | Denmark | TST | +30:51 |
| 122 | Johan LE BON | France | FDJ | +30:52 |
| 123 | Matthew Harley GOSS | Australia | OGE | +31:31 |
| 124 | Stefano GARZELLI | Italy | VIN | +31:48 |
| 125 | Giacomo NIZZOLO | Italy | RLT | +31:54 |
| 126 | Mark CAVENDISH | Great Britain | OPQ | +32:06 |
| 127 | Anthony ROUX | France | FDJ | +32:06 |
| 128 | Paolo TIRALONGO | Italy | AST | +32:06 |
| 129 | Giairo ERMETI | Italy | AND | +32:14 |
| 130 | Luka MEZGEC | Slovenia | ARG | +32:24 |
| 131 | Dominique ROLLIN | Canada | FDJ | +32:25 |
| 132 | Stef CLEMENT | Netherlands | BLA | +32:26 |
| 133 | Fabio SABATINI | Italy | CAN | +32:33 |
| 134 | Oscar GATTO | Italy | VIN | +32:56 |
| 135 | Dirk BELLEMAKERS | Netherlands | LTB | +32:58 |
| 136 | Christian VANDEVELDE | United States | GRS | +33:00 |
| 137 | Alessandro PRONI | Italy | VIN | +33:30 |
| 138 | Marco CANOLA | Italy | BAR | +33:34 |
| 139 | Patrick GRETSCH | Germany | ARG | +34:23 |
| 140 | Maurits LAMMERTINK | Netherlands | VCD | +34:47 |
| 141 | Roberto FERRARI | Italy | LAM | +34:49 |
| 142 | Albert TIMMER | Netherlands | ARG | +35:26 |
| 143 | Manuele BOARO | Italy | TST | +35:40 |
| 144 | Jérôme PINEAU | France | OPQ | +36:25 |
| 145 | Daniel OSS | Italy | BMC | +36:50 |
| 146 | Julien VERMOTE | Belgium | OPQ | +36:56 |
| 147 | Hayden ROULSTON | New Zealand | RLT | +36:57 |
| 148 | Pablo LASTRAS GARCIA | Spain | MOV | +37:14 |
| 149 | Juan Jose COBO ACEBO | Spain | MOV | +37:16 |
| 150 | Fabio TABORRE | Italy | VIN | +37:39 |
| 151 | Christian MEIER | Canada | OGE | +37:51 |
| 152 | Fredrik Carl Wilhelm KESSIAKOFF | Sweden | AST | +38:15 |
| 153 | Vladimir GUSEV | Russia | KAT | +38:27 |
| 154 | Alan MARANGONI | Italy | CAN | +38:28 |
| 155 | Luke DURBRIDGE | Australia | OGE | +38:29 |
| 156 | Willem WAUTERS | Belgium | VCD | +38:29 |
| 157 | Pavel BRUTT | Russia | KAT | +38:51 |
| 158 | Tobias LUDVIGSSON | Sweden | ARG | +39:16 |
| 159 | Julien BERARD | France | ALM | +39:17 |
| 160 | Gianluca BRAMBILLA | Italy | OPQ | +39:20 |
| 161 | Alex DOWSETT | Great Britain | MOV | +40:23 |
| 162 | Thomas DEKKER | Netherlands | GRS | +41:19 |
| 163 | Svein TUFT | Canada | OGE | +41:22 |
| 164 | Maarten WYNANTS | Belgium | BLA | +41:32 |
| 165 | Taylor PHINNEY | United States | BMC | +41:37 |
| 166 | Frederik WILLEMS | Belgium | LTB | +42:00 |
| 167 | Nacer BOUHANNI | France | FDJ | +42:03 |
| 168 | Leigh HOWARD | Australia | OGE | +42:18 |
| 169 | Manuel BELLETTI | Italy | ALM | +42:38 |
| 170 | Xabier ZANDIO ECHAIDE | Spain | SKY | +43:59 |
| 171 | Iljo KEISSE | Belgium | OPQ | +44:39 |
| 172 | Stephen CUMMINGS | Great Britain | BMC | +44:54 |
| 173 | Ioannis TAMOURIDIS | Greece | EUS | +45:10 |
| 174 | Danny PATE | United States | SKY | +45:28 |
| 175 | Maarten TJALLINGII | Netherlands | BLA | +45:36 |
| 176 | Edwin Alcibiades AVILA VANEGAS | Colombia | COL | +45:41 |
| 177 | Robert HUNTER | South Africa | GRS | +46:02 |
| 178 | Dmitriy GRUZDEV | Kazakhstan | AST | +46:05 |
| 179 | Tomas Aurelio GIL MARTINEZ | Venezuela | AND | +46:25 |
| 180 | Jesse SERGENT | New Zealand | RLT | +46:57 |
| 181 | Jens MOURIS | Netherlands | OGE | +47:17 |
| 182 | Davide APPOLLONIO | Italy | ALM | +47:30 |
| 183 | Bert DE BACKER | Belgium | ARG | +47:38 |
| 184 | Gert STEEGMANS | Belgium | OPQ | +47:47 |
| 185 | Brian BULGAC | Netherlands | LTB | +47:52 |
| 186 | Dmitry KOZONTCHUK | Russia | KAT | +48:34 |
| 187 | Yaroslav POPOVYCH | Ukraine | RLT | +49:26 |
| 188 | Adam BLYTHE | Great Britain | BMC | +49:39 |
| 189 | Eros CAPECCHI | Italy | MOV | +50:23 |
| 190 | Nathan HAAS | Australia | GRS | +51:35 |
| 191 | David MILLAR | Great Britain | GRS | +51:49 |
| 192 | Ricardo MESTRE | Portugal | EUS | +52:05 |
| 193 | Francesco CHICCHI | Italy | VIN | +53:20 |
| 194 | Kenny DE HAES | Belgium | LTB | +53:23 |
| 195 | Klaas LODEWYCK | Belgium | BMC | +54:41 |
| 196 | Rafael ANDRIATO | Brazil | VIN | +56:43 |
| 197 | Wilson Alexander MARENTES TORRES | Colombia | COL | +57:14 |
| 198 | Dario CATALDO | Italy | SKY | +57:41 |
| 199 | Laurent PICHON | France | FDJ | +59:54 |
| 200 | Miguel MINGUEZ AYALA | Spain | EUS | +1:00:27 |
| 201 | Maxim BELKOV | Russia | KAT | +1:00:34 |
| 202 | Mattia GAVAZZI | Italy | AND | +1:00:51 |
| 203 | Jack BOBRIDGE | Australia | BLA | +1:02:25 |
| 204 | Pim LIGTHART | Netherlands | VCD | +1:05:14 |