2013 Tour of California Stage 5 Results
Submitted by admin on Thu, 05/16/2013 - 18:02

Follow cyclingfans on Twitter and never miss a race. Cyclingfans.com: The #1 destination on the internet for live race coverage.
- This page lists 2013 Tour of California results for Stage 5

- Stage 5 (Santa Barbara to Avila Beach (185.7 km)) -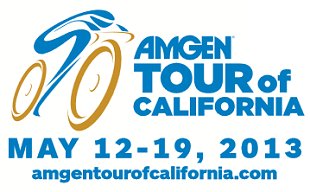 With a late attack, Jens Voigt (RadioShack) rode to a solo victory on Stage 5, with Tyler Farrar leading the chase group across the line 6 seconds later. Thor Hushovd finished third and Peter Sagan fourth. Tejay van Garderen (BMC) took over the lead in the general classification. He leads Michael Rogers by 42 seconds and previous race leader Janier Alexis Acevedo by 50 seconds.
| | | | | |
| --- | --- | --- | --- | --- |
| Rank | Name | Nationality | Team | Result |
| 1 | Jens VOIGT | GER | RLT | 4:41:16 |
| 2 | Tyler FARRAR | USA | GRS | +6 |
| 3 | Thor HUSHOVD | NOR | BMC | +6 |
| 4 | Peter SAGAN | SVK | CAN | +6 |
| 5 | Michael MATTHEWS | AUS | OGE | +6 |
| 6 | Jay MCCARTHY | AUS | TST | +6 |
| 7 | Alexander CANDELARIO | USA | OPM | +6 |
| 8 | Michael ROGERS | AUS | TST | +6 |
| 9 | Markel IRIZAR ARANBURU | ESP | RLT | +6 |
| 10 | Tejay VAN GARDEREN | USA | BMC | +6 |
| 11 | Cameron MEYER | AUS | OGE | +6 |
| 12 | Thomas DE GENDT | BEL | VCD | +6 |
| 13 | Jonas Aaen JÖRGENSEN | DEN | TST | +6 |
| 14 | Matthew BUSCHE | USA | RLT | +6 |
| 15 | Michael SCHÄR | SUI | BMC | +14 |
| 16 | Baden COOKE | AUS | OGE | +14 |
| 17 | Jacobe KEOUGH | USA | UHC | +1:04 |
| 18 | Matt BRAMMEIER | IRL | CSS | +1:04 |
| 19 | Francisco MANCEBO PEREZ | ESP | 5HR | +1:07 |
| 20 | Kris BOECKMANS | BEL | VCD | +1:07 |
| 21 | Chad HAGA | USA | OPM | +1:07 |
| 22 | Mathias FRANK | SUI | BMC | +1:07 |
| 23 | Jasper STUYVEN | BEL | BLS | +1:07 |
| 24 | Sylvain CHAVANEL | FRA | OPQ | +1:07 |
| 25 | Laurent DIDIER | LUX | RLT | +1:07 |
| 26 | Philip DEIGNAN | IRL | UHC | +1:07 |
| 27 | Brian VANDBORG | DEN | CAN | +1:07 |
| 28 | Lieuwe WESTRA | NED | VCD | +1:07 |
| 29 | Javier Alexis ACEVEDO COLLE | COL | JSH | +1:07 |
| 30 | Chad BEYER | USA | CSS | +1:07 |
| 31 | Ken HANSON | USA | OPM | +1:07 |
| 32 | Oliver ZAUGG | SUI | TST | +1:07 |
| 33 | Lucas Sebastian HAEDO | ARG | CAN | +1:07 |
| 34 | Nathaniel ENGLISH | USA | 5HR | +1:07 |
| 35 | Luis ROMERO AMARAN | CUB | JSH | +1:07 |
| 36 | Guillaume BOIVIN | CAN | CAN | +1:07 |
| 37 | Paul VOSS | GER | TNE | +1:07 |
| 38 | Antoine DUCHESNE | CAN | BLS | +1:07 |
| 39 | David DE LA CRUZ MELGAREJO | ESP | TNE | +1:07 |
| 40 | Lawson CRADDOCK | USA | BLS | +1:07 |
| 41 | Edward KING | USA | CAN | +1:07 |
| 42 | John MURPHY | USA | UHC | +1:07 |
| 43 | Wesley KREDER | NED | VCD | +1:07 |
| 44 | Marc DE MAAR | AHO | UHC | +1:07 |
| 45 | Bob JUNGELS | LUX | RLT | +1:07 |
| 46 | Bobbie TRAKSEL | NED | CSS | +1:07 |
| 47 | Leopold KONIG | CZE | TNE | +1:07 |
| 48 | Boy VAN POPPEL | NED | VCD | +1:07 |
| 49 | Marco PINOTTI | ITA | BMC | +1:07 |
| 50 | Haimar ZUBELDIA AGIRRE | ESP | RLT | +1:07 |
| 51 | Andy SCHLECK | LUX | RLT | +1:07 |
| 52 | Amaël MOINARD | FRA | BMC | +1:07 |
| 53 | Gianni MEERSMAN | BEL | OPQ | +1:07 |
| 54 | Jacob RATHE | USA | GRS | +1:07 |
| 55 | Matteo TOSATTO | ITA | TST | +1:07 |
| 56 | Michael MORKOV | DEN | TST | +1:07 |
| 57 | Alex HOWES | USA | GRS | +1:07 |
| 58 | Caleb FAIRLY | USA | GRS | +1:07 |
| 59 | Lucas EUSER | USA | UHC | +1:07 |
| 60 | Juan Antonio FLECHA GIANNONI | ESP | VCD | +1:07 |
| 61 | Ryan EASTMAN | USA | BLS | +1:07 |
| 62 | Brent BOOKWALTER | USA | BMC | +1:07 |
| 63 | Kevin DE WEERT | BEL | OPQ | +1:07 |
| 64 | Wesley SULZBERGER | AUS | OGE | +1:07 |
| 65 | Kristijan KOREN | SLO | CAN | +1:07 |
| 66 | Rohan DENNIS | AUS | GRS | +1:07 |
| 67 | Bertjan LINDEMAN | NED | VCD | +1:07 |
| 68 | Tanner PUTT | USA | BLS | +1:07 |
| 69 | David WILLIAMS | USA | 5HR | +1:07 |
| 70 | Maciej BODNAR | POL | CAN | +1:07 |
| 71 | José Joao PIMENTA COSTA MENDES | POR | TNE | +1:07 |
| 72 | Bartosz HUZARSKI | POL | TNE | +1:07 |
| 73 | Guillaume VAN KEIRSBULCK | BEL | OPQ | +1:07 |
| 74 | Gavin MANNION | USA | BLS | +1:07 |
| 75 | Robert SWEETING | USA | 5HR | +1:07 |
| 76 | Jeremy VENNELL | NZL | BPC | +1:07 |
| 77 | Ryan ROTH | CAN | CSS | +1:07 |
| 78 | Nathan BROWN | USA | BLS | +1:07 |
| 79 | Daniel SCHORN | AUT | TNE | +1:07 |
| 80 | Chun Kai FENG | TPE | CSS | +1:48 |
| 81 | Mitchell DOCKER | AUS | OGE | +1:56 |
| 82 | Travis MEYER | AUS | OGE | +1:56 |
| 83 | Zakkari DEMPSTER | AUS | TNE | +1:56 |
| 84 | Ben JACQUES-MAYNES | USA | JSH | +2:06 |
| 85 | Christopher JONES | USA | UHC | +2:08 |
| 86 | Aldo Ino ILESIC | SLO | UHC | +2:42 |
| 87 | Shawn MILNE | USA | 5HR | +15:16 |
| 88 | Frank Kevin PIPP | USA | BPC | +15:16 |
| 89 | James STEMPER | USA | 5HR | +15:16 |
| 90 | Thomas SOLADAY | USA | OPM | +15:16 |
| 91 | Max JENKINS | USA | 5HR | +15:16 |
| 92 | Carter JONES | USA | BPC | +15:16 |
| 93 | James ORAM | NZL | BLS | +15:16 |
| 94 | Tyler WREN | USA | JSH | +15:16 |
| 95 | Michael TORCKLER | NZL | BPC | +15:16 |
| 96 | Jonathan Patrick MC CARTY | USA | BPC | +15:16 |
| 97 | Scott ZWIZANSKI | USA | OPM | +15:16 |
| 98 | Marsh COOPER | CAN | OPM | +15:16 |
| 99 | Gregor GAZVODA | SLO | CSS | +15:16 |
| 100 | Cesare BENEDETTI | ITA | TNE | +15:16 |
| 101 | James DRISCOLL | USA | JSH | +15:16 |
| 102 | David ZABRISKIE | USA | GRS | +15:16 |
| 103 | Jeffry LOUDER | USA | UHC | +15:16 |
| 104 | Kin San WU | HKG | CSS | +15:16 |
| 105 | Christopher BALDWIN | USA | BPC | +15:16 |
| 106 | Chris BUTLER | USA | CSS | +18:33 |
| 107 | Jason MCCARTNEY | USA | BPC | +18:33 |
| 108 | Carson MILLER | USA | JSH | +18:33 |
| 109 | Carlos VERONA QUINTANILLA | ESP | OPQ | +18:33 |
| 110 | Jesse ANTHONY | USA | OPM | +18:33 |
| 111 | Johan VAN SUMMEREN | BEL | GRS | +18:33 |
| 112 | Timothy DUGGAN | USA | TST | +18:37 |
| 113 | Lachlan David MORTON | AUS | GRS | +18:37 |
| DNF | Jonathan CANTWELL | AUS | TST | |
General Classification after Stage 5

| | | | | |
| --- | --- | --- | --- | --- |
| Rank | Name | Nationality | Team | Result |
| 1 | Tejay VAN GARDEREN | United States | BMC | 21:55:32 |
| 2 | Michael ROGERS | Australia | TST | +42 |
| 3 | Javier Alexis ACEVEDO COLLE | Colombia | JSH | +50 |
| 4 | Matthew BUSCHE | United States | RLT | +1:04 |
| 5 | Philip DEIGNAN | Ireland | UHC | +1:17 |
| 6 | Cameron MEYER | Australia | OGE | +1:29 |
| 7 | Mathias FRANK | Switzerland | BMC | +1:35 |
| 8 | Francisco MANCEBO PEREZ | Spain | 5HR | +1:53 |
| 9 | Chad HAGA | United States | OPM | +2:03 |
| 10 | Lawson CRADDOCK | United States | BLS | +2:22 |
| 11 | Marc DE MAAR | Netherlands Antilles | UHC | +2:46 |
| 12 | Lucas EUSER | United States | UHC | +3:17 |
| 13 | Nathaniel ENGLISH | United States | 5HR | +3:26 |
| 14 | Leopold KONIG | Czech Republic | TNE | +4:32 |
| 15 | Laurent DIDIER | Luxembourg | RLT | +4:52 |
| 16 | Edward KING | United States | CAN | +5:07 |
| 17 | David DE LA CRUZ MELGAREJO | Spain | TNE | +5:23 |
| 18 | Brian VANDBORG | Denmark | CAN | +5:57 |
| 19 | Tanner PUTT | United States | BLS | +6:38 |
| 20 | Haimar ZUBELDIA AGIRRE | Spain | RLT | +6:56 |
| 21 | Chad BEYER | United States | CSS | +7:22 |
| 22 | Bartosz HUZARSKI | Poland | TNE | +8:37 |
| 23 | Lieuwe WESTRA | Netherlands | VCD | +10:09 |
| 24 | Andy SCHLECK | Luxembourg | RLT | +10:11 |
| 25 | Michael SCHÄR | Switzerland | BMC | +11:20 |
| 26 | Alexander CANDELARIO | United States | OPM | +11:25 |
| 27 | Brent BOOKWALTER | United States | BMC | +11:44 |
| 28 | Jeremy VENNELL | New Zealand | BPC | +13:17 |
| 29 | Jacob RATHE | United States | GRS | +13:18 |
| 30 | Gavin MANNION | United States | BLS | +13:34 |
| 31 | Juan Antonio FLECHA GIANNONI | Spain | VCD | +13:40 |
| 32 | Amaël MOINARD | France | BMC | +13:46 |
| 33 | Jens VOIGT | Germany | RLT | +14:37 |
| 34 | Mitchell DOCKER | Australia | OGE | +14:56 |
| 35 | Paul VOSS | Germany | TNE | +16:06 |
| 36 | Gianni MEERSMAN | Belgium | OPQ | +16:14 |
| 37 | Luis ROMERO AMARAN | Cuba | JSH | +16:34 |
| 38 | Jasper STUYVEN | Belgium | BLS | +17:26 |
| 39 | Max JENKINS | United States | 5HR | +17:26 |
| 40 | Ryan ROTH | Canada | CSS | +18:00 |
| 41 | Christopher BALDWIN | United States | BPC | +18:14 |
| 42 | Baden COOKE | Australia | OGE | +18:57 |
| 43 | Peter SAGAN | Slovakia | CAN | +19:23 |
| 44 | Nathan BROWN | United States | BLS | +20:00 |
| 45 | Oliver ZAUGG | Switzerland | TST | +20:11 |
| 46 | José Joao PIMENTA COSTA MENDES | Portugal | TNE | +20:18 |
| 47 | Lachlan David MORTON | Australia | GRS | +21:39 |
| 48 | Markel IRIZAR ARANBURU | Spain | RLT | +21:45 |
| 49 | Tyler FARRAR | United States | GRS | +22:08 |
| 50 | Michael TORCKLER | New Zealand | BPC | +22:12 |
| 51 | Chris BUTLER | United States | CSS | +22:25 |
| 52 | Sylvain CHAVANEL | France | OPQ | +22:44 |
| 53 | Wesley SULZBERGER | Australia | OGE | +22:48 |
| 54 | Jay MCCARTHY | Australia | TST | +22:51 |
| 55 | Caleb FAIRLY | United States | GRS | +23:26 |
| 56 | Michael MORKOV | Denmark | TST | +23:29 |
| 57 | Bob JUNGELS | Luxembourg | RLT | +23:45 |
| 58 | Carter JONES | United States | BPC | +25:06 |
| 59 | Ben JACQUES-MAYNES | United States | JSH | +25:06 |
| 60 | David ZABRISKIE | United States | GRS | +25:13 |
| 61 | Michael MATTHEWS | Australia | OGE | +25:19 |
| 62 | Alex HOWES | United States | GRS | +25:27 |
| 63 | Boy VAN POPPEL | Netherlands | VCD | +25:58 |
| 64 | Antoine DUCHESNE | Canada | BLS | +26:24 |
| 65 | Ken HANSON | United States | OPM | +26:30 |
| 66 | Marco PINOTTI | Italy | BMC | +26:44 |
| 67 | Rohan DENNIS | Australia | GRS | +26:45 |
| 68 | Kevin DE WEERT | Belgium | OPQ | +27:13 |
| 69 | James STEMPER | United States | 5HR | +27:22 |
| 70 | Jonas Aaen JÖRGENSEN | Denmark | TST | +27:59 |
| 71 | Guillaume VAN KEIRSBULCK | Belgium | OPQ | +28:49 |
| 72 | Chun Kai FENG | Chinese Taipei | CSS | +29:06 |
| 73 | Matt BRAMMEIER | Ireland | CSS | +29:08 |
| 74 | Daniel SCHORN | Austria | TNE | +29:23 |
| 75 | Kristijan KOREN | Slovenia | CAN | +29:43 |
| 76 | Ryan EASTMAN | United States | BLS | +29:46 |
| 77 | Jeffry LOUDER | United States | UHC | +30:19 |
| 78 | Thomas DE GENDT | Belgium | VCD | +30:30 |
| 79 | Lucas Sebastian HAEDO | Argentina | CAN | +30:50 |
| 80 | Jonathan Patrick MC CARTY | United States | BPC | +32:24 |
| 81 | Matteo TOSATTO | Italy | TST | +32:30 |
| 82 | Maciej BODNAR | Poland | CAN | +33:18 |
| 83 | David WILLIAMS | United States | 5HR | +33:20 |
| 84 | Robert SWEETING | United States | 5HR | +33:39 |
| 85 | Christopher JONES | United States | UHC | +33:59 |
| 86 | Bertjan LINDEMAN | Netherlands | VCD | +34:04 |
| 87 | Travis MEYER | Australia | OGE | +35:12 |
| 88 | Zakkari DEMPSTER | Australia | TNE | +38:08 |
| 89 | Guillaume BOIVIN | Canada | CAN | +39:12 |
| 90 | Thor HUSHOVD | Norway | BMC | +39:45 |
| 91 | Timothy DUGGAN | United States | TST | +39:49 |
| 92 | Carlos VERONA QUINTANILLA | Spain | OPQ | +40:41 |
| 93 | Jesse ANTHONY | United States | OPM | +41:27 |
| 94 | Tyler WREN | United States | JSH | +42:00 |
| 95 | Shawn MILNE | United States | 5HR | +42:34 |
| 96 | Jacobe KEOUGH | United States | UHC | +42:42 |
| 97 | John MURPHY | United States | UHC | +42:45 |
| 98 | Cesare BENEDETTI | Italy | TNE | +43:55 |
| 99 | Frank Kevin PIPP | United States | BPC | +44:02 |
| 100 | Kin San WU | Hong Kong, China | CSS | +45:41 |
| 101 | Thomas SOLADAY | United States | OPM | +46:22 |
| 102 | Aldo Ino ILESIC | Slovenia | UHC | +46:56 |
| 103 | Scott ZWIZANSKI | United States | OPM | +47:18 |
| 104 | Marsh COOPER | Canada | OPM | +50:03 |
| 105 | Gregor GAZVODA | Slovenia | CSS | +55:16 |
| 106 | James ORAM | New Zealand | BLS | +55:35 |
| 107 | James DRISCOLL | United States | JSH | +56:04 |
| 108 | Kris BOECKMANS | Belgium | VCD | +56:47 |
| 109 | Jason MCCARTNEY | United States | BPC | +58:48 |
| 110 | Wesley KREDER | Netherlands | VCD | +1:00:24 |
| 111 | Bobbie TRAKSEL | Netherlands | CSS | +1:00:48 |
| 112 | Johan VAN SUMMEREN | Belgium | GRS | +1:00:59 |
| 113 | Carson MILLER | United States | JSH | +1:05:43 |