Oprah's interview with Lance Armstrong "LIVE" online
Submitted by pete geyer on Sat, 01/19/2013 - 05:34

Follow cyclingfans on Twitter and never miss a race. Cyclingfans.com: The #1 destination on the internet for live race coverage.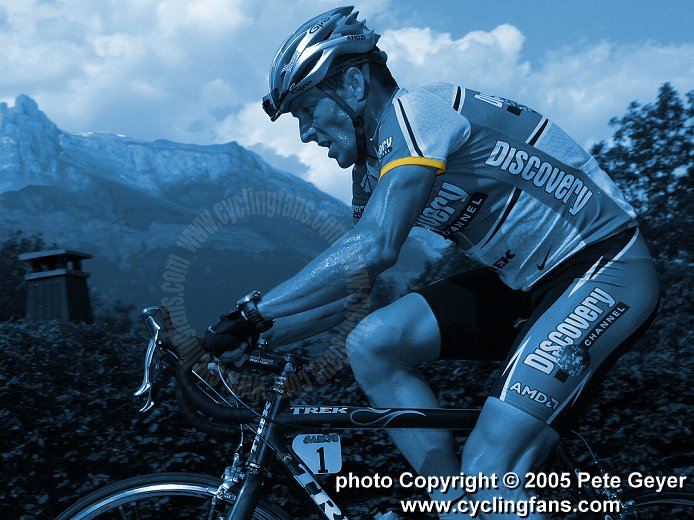 Lance Armstrong, 2005
photo Copyright © 2005 Pete Geyer/www.cyclingfans.com

- Videos: CNN coverage including video clips
- Videos: Video clips from Parts 1 and 2. (Currently geo-restricted)
- Part 2 ON NOW here.
- Videos: Video clips from Part 1. (Currently geo-restricted)
- ON NOW here.
- Expected video feeds here and here. (To be broadcast in two parts, Thursday and Friday. The interview was taped on Monday.) Start times and more info below. Possibly more feeds to come.
- Video: Oprah is interviewed on CBS about her Armstrong interview ("The biggest interview I've ever done.") (CBS, 12:34)
- Oprah Winfrey's interview with Lance Armstrong, taped on Monday, is now scheduled to air over two nights due to the length of the interview (2.5+ hours) and a desire to broadcast as much of the interview as possible. Armstrong has reportedly admitted to doping during his career and Winfrey has said she and her team were "mesmerized" by some of Armstrong's answers to her questions. (CBS/Washington Post) There have been separate reports that Armstrong may testify against cycling officials alleged to have been complicit in the doping or cover-ups. (NY Times) It would seem unlikely that Armstrong would get into much detail on that in the Oprah interview but we'll see. Part 1 of "Oprah and Lance Armstrong: The Worldwide Exclusive" will air Thursday, January 17 with Part 2 on Friday, January 18. The interview will be broadcast on the OWN Network (Oprah Winfrey Network) and also streamed online worldwide each day at 9pm ET (3:00am CET). If the interview is available On Demand after the broadcasts, I will post those here as well for you to watch at your leisure. More info and a brief video teaser here.
"Live" online streaming: Oprah and Lance Armstrong: The Worldwide Exclusive:
Thursday, January 17 and Friday, January 18
9:00pm ET (3:00am CET)

LIVE video feeds
oprah.com
(Thursday and Friday at 9:00pm ET)
(3:00am CET)
Alternative
Alternative