2015 Grand Prix Cycliste la Marseillaise
Submitted by admin on Tue, 01/27/2015 - 14:17

Follow cyclingfans on Twitter and never miss a race. Cyclingfans.com: The #1 destination on the internet for live race coverage.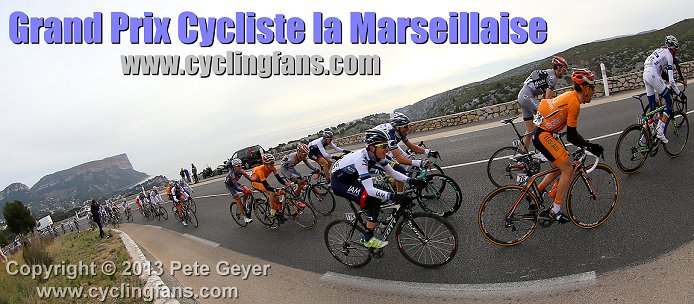 The peloton rides along the Mediterranean (Col de la Gineste) during the G.P. Cycliste la Marseillaise.
Copyright © 2013 Pete Geyer/www.cyclingfans.com
- Text/image updates LIVE here. Official site here.
- The 2015 GP la Marseillaise is being held Sunday, February 1.
- Video: 2014 Grand Prix Cycliste la Marseillaise Highlights (Vélo101, French, 05:03)
- Time permitting, I will post photos. -Pete
- Official site is here. The race is organized by the La Marseillaise newspaper. They have posted an article on this year's race here.
- The 2014 Grand Prix Cycliste La Marseillaise is being run Sunday, February 2. This race is the traditional European season opener (thus the name Grand Prix d'Ouverture La Marseillaise). There is no live TV coverage.