La Course by Le Tour de France: Jolien D'hoore and Lotto Belisol Ladies Team
Submitted by mary topping on Sun, 07/06/2014 - 07:32

Follow cyclingfans on Twitter and never miss a race. Cyclingfans.com: The #1 destination on the internet for live race coverage.
- La Course by Le Tour de France: Jolien D'hoore and Lotto Belisol Ladies Team.
- See also: Tour de France LIVE
- There are 20 teams entered in the La Course by Le Tour de France, a race for the women that will be held in Paris on the final day of the men's Tour de France. There are 20 stages in the TDF before the final day. So each day of the men's TDF leading up to Paris, we will feature one women's team and rider for La Course.
Jolien D'hoore
Lotto Belisol Ladies http://www.lottobelisol.be/
Twitter: @JolienDhoore – Bachelor fysiotherapy @UGent | track and road cyclist @LB_Ladies | former Belgian, European & junior World Champion | London 2012 Olympian
Strengths on the bike: sprinting
Age: 24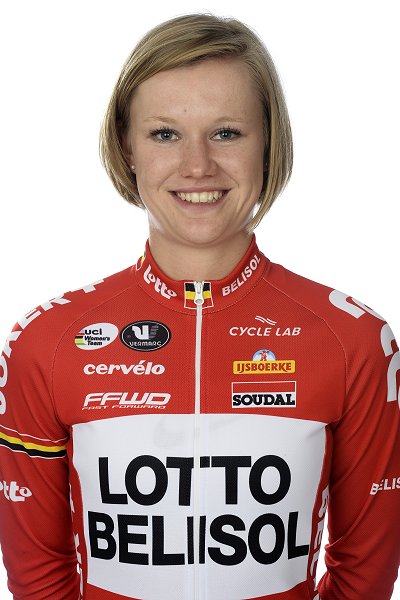 When she first took up cycling at age twelve Jolien D'hoore loved it straightaway. At that time she may not have imagined she'd become the elite Belgian road race champion not just once but twice, in 2012 and 2014. Perhaps that became a goal after she won the junior road world and Belgian national championships at age 18. With that resume she turned professional the following year in 2009. Since earning junior national titles in track she continued to compete in the velodrome, coming away with victories among many podium results at World Cup and other events. On the road she prefers one day contests; her favorite race is Ronde van Vlaanderen. A physiotherapy student, she put school on hold for a year to prepare for the 2012 Olympics where she earned fifth in the omnium. This season she won the single-day Diamond Tour.
To spot D'hoore in the finale at La Course, watch for her country's black, gold, and red colors on a Lotto Belisol Ladies kit. When she considers what she most looks forward to about racing La Course, what comes to mind is the atmosphere. It's likely that includes Champs-Élysées cobblestones.
The Belgian-based Lotto Belisol Ladies team consists of 15 athletes who ride under the direction of manager Dany Schoonbaert. Eight teammates are Belgian. Each of the remaining seven hails from a different country. Among them is Emma Pooley from Great Britain, one of the founders of Le Tour Entier, a movement to create a women's Tour de France. Pooley is also the current British time trial champion. Australian national track champion Amy Cure joined the roster this season. Lotto, the Belgian national lottery enterprise, has supported cycling for thirty years; Belisol manufactures doors and windows. A junior women's team also races under the same sponsors.
Self-description in three words: happy, ambitious, reliable
Favorite activities off the bike: shopping, hanging out with friends
Gluten-free or pasta lover? pasta
What's on my iPod: Am I wrong?, Nico & Vinz
What's on my bucket list: road trip through the USA
Cycling career goals: a medal at the Olympics and/or the world championships
Post pro cycling plans: getting my master degree and start to work as a sport scientist or physiotherapist
by Mary Topping
(photo courtesy Lotto Belisol Ladies team)