Laurent Fignon: Tour de France champion, race organizer, broadcaster
Submitted by pete geyer on Fri, 08/31/2012 - 16:33

Follow cyclingfans on Twitter and never miss a race. Cyclingfans.com: The #1 destination on the internet for live race coverage.
Laurent Fignon: A photo essay
(originally published August 31, 2011)
- He won the Tour de France twice, in 1983 and 1984, but as Laurent Fignon knew, he is most remembered for losing the 1989 Tour to Greg LeMond by just 8 seconds.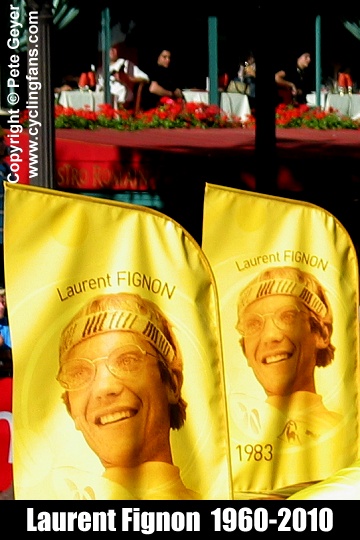 Fignon died August 31, 2010 following a courageous battle with cancer. A champion bike racer, race organizer and television and radio broadcaster, Fignon broadcast his last Tour just over a month before his death, his voice gravelly due to treatment but filled, as ever, with passionate analysis.
As with fellow Frenchman and cycling great Bernard Hinault, "warm and fuzzy" wasn't Fignon's style. He thought rival bike racers should....race their bikes, battling at every opportunity, not waiting for one another due to a dropped chain and certainly not crossing the finish line arm in arm. I think Fignon would have appreciated the 2011 Tour, with Andy Schleck's bold attack and Cadel Evans's monster chase on the Galibier.
When I landed in Paris July 12, 1989, I was unaware that Fignon and LeMond were battling it out on the roads of the Tour de France, repeatedly taking the yellow jersey from one another. I knew of LeMond, the first American to win the Tour in 1986, and I knew the name Merckx from French classes in school but that was about all I knew about this sport. On Sunday, July 23, 1989, taking a break from job and apartment hunting, I turned on French TV and watched live as LeMond stunned Fignon, and the world, by taking back the jersey on the final stage time trial from Versailles to Paris. That broadcast literally was my introduction to bike racing.
I was ecstatic that LeMond had won the race and, it is true, I long associated Fignon with being the one who lost the Tour by just 8 seconds. It wasn't until years later that I learned that Fignon had won Milan-San Remo and the Giro d'Italia that year.
Fignon retired as a bike racer in 1993 and I didn't snap my first photos of the Tour until 1996 so other than on TV late in his career, I mostly missed out on Fignon the bike racer. (I took the above photo on the Champs-Elysees at the finish of the 2003 Tour which celebrated the centenary edition of the race.)
As I became more involved in the sport, I followed Fignon's career as a broadcaster and race organizer, though when I took my first photos of Paris-Nice, in March 2003, Fignon had just sold that race to TDF organizer A.S.O., but not before storming out of negotiations with A.S.O. in a cafe near the Gare du Nord in Paris!
After Fignon's death, Eurosport's David Harmon told a story on the air about an exchange one time between Fignon and former French champ Laurent Jalabert. They were in disagreement on something and Fignon, his competitiveness taking over, finally said to Jalabert: "Look Laurent, with all the respect I have for you as a cyclist, I won two Tours and you haven't."
Indeed Laurent Fignon won the Tour de France twice. And the Giro. Stages in all three Grand Tours. And Milan-San Remo (twice). And the Fleche Wallonne...
I have dug deep into the photo archives of Reuters below to illustrate Fignon's career as bike racer, race organizer and broadcaster.
Fignon was a great competitor and personality and the sport needs more like him.
- Pete
- Note: High resolution versions of all photos can be viewed by clicking the "high resolution" link under each photo.
Photos by Fotoreporter Sirotti and Reuters - Editor: Pete Geyer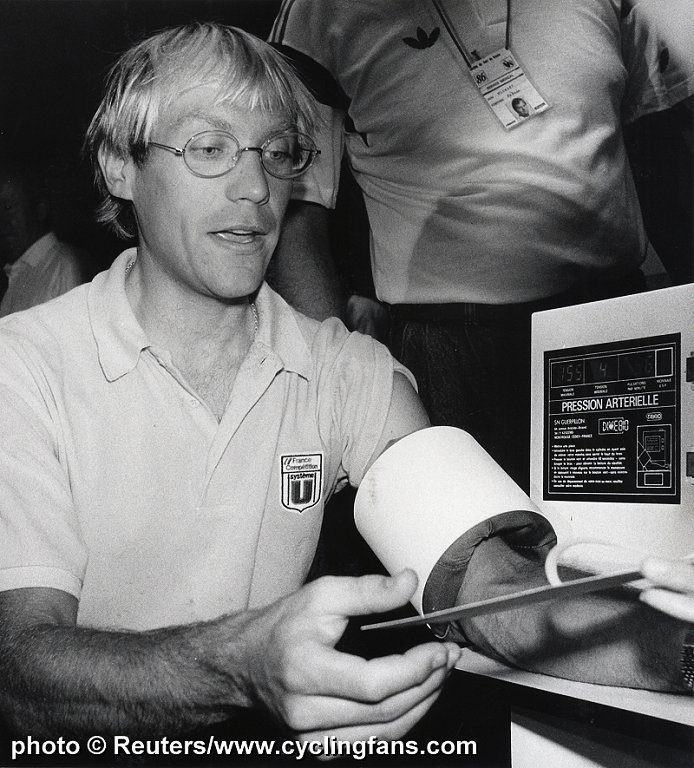 1986 Tour de France: Two-time Tour de France champion (1983, 1984) Laurent Fignon has his blood pressure checked before the start of the race on July 3, 1986.
- Click for high resolution -
photo Copyright © Reuters/cyclingfans.com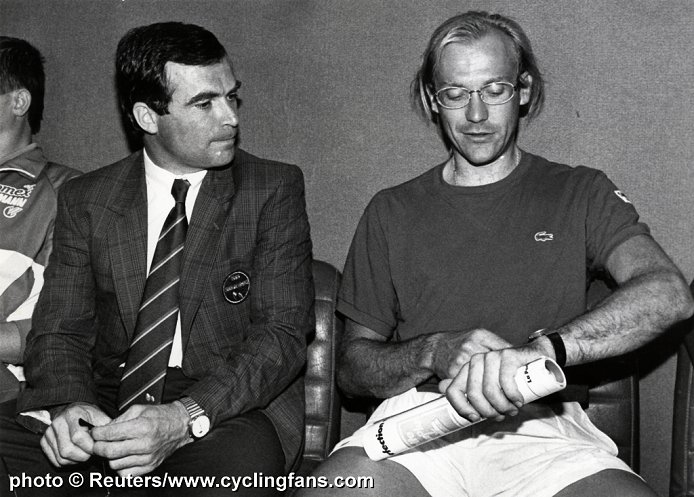 1989 Tour de France: Laurent Fignon checks his watch as 5-time Tour champion Bernard Hinault looks on at the airport in Lille after Stage 4. Hinault is retired as a rider but works for the Société du Tour de France, organizers of the race. American Greg LeMond would win the next day's Individual Time Trial (73km from Dinard to Rennes) to grab the yellow jersey on Stage 5.
- Click for high resolution -
photo Copyright © Reuters/cyclingfans.com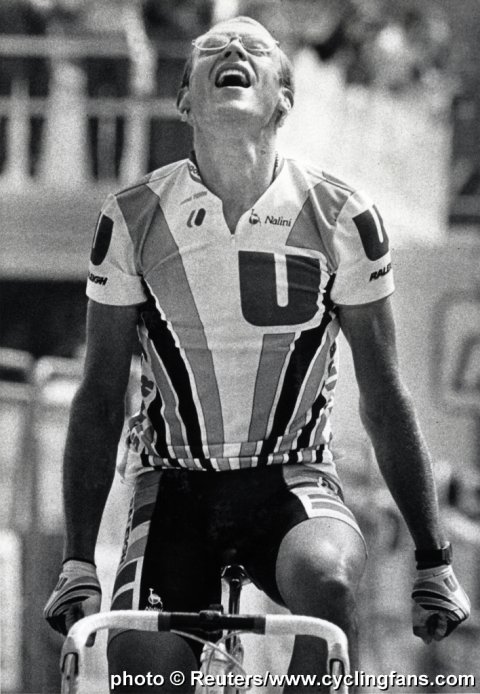 1989 Tour de France: He didn't win Stage 10 to Superbagnères, Robert Millar did, but Fignon would take the yellow jersey from LeMond and hold it for 4 days before LeMond would take it back after the Stage 15 Time trial.
- Click for high resolution -
photo Copyright © Reuters/cyclingfans.com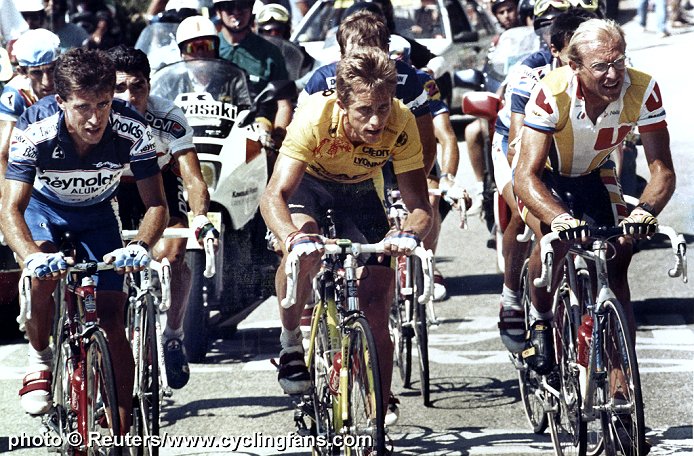 1989 Tour de France: Defending champion Pedro Delgado, race leader Greg LeMond, and Laurent Fignon, riding side by side, lead a small group up Alpe d'Huez on Stage 17. Gert-Jan Theunisse would win the stage and Fignon would take the yellow jersey back from LeMond.
- Click for high resolution -
photo Copyright © Reuters/cyclingfans.com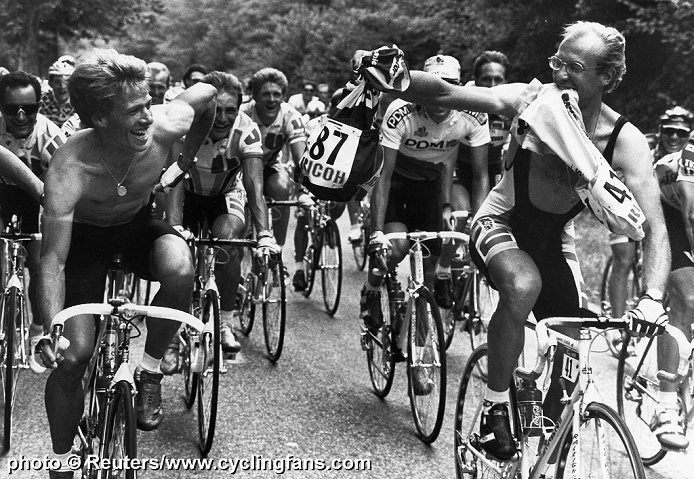 1989 Tour de France: It is the penultimate stage of the Tour with only the next day's final stage time trial from Versailles to Paris to go. With a 50 second advantage over LeMond, Fignon is relaxed enough to swap jerseys with Teun Van Vliet of the Netherlands.
- Click for high resolution -
photo Copyright © Reuters/cyclingfans.com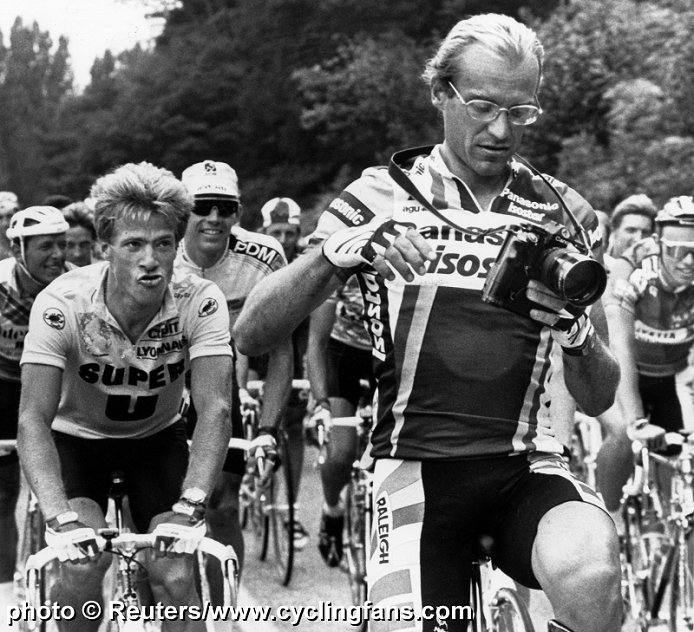 1989 Tour de France: With Van Vliet wearing his yellow jersey, Fignon prepares to take photos of the photographers on motos. The scene was similar to the traditional and mostly ceremonial final stage of the Tour each year. But there was one stage remaining, the final time trial, and Greg LeMond had his own ideas. And after that final stage, Fignon would give up the jersey for real with LeMond winning the race by just 8 seconds after 3 weeks of racing.
- Click for high resolution -
photo Copyright © Reuters/cyclingfans.com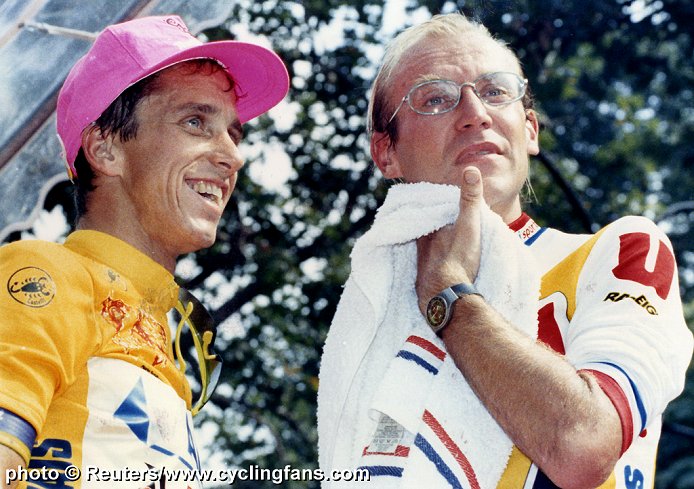 1989 Tour de France: An ecstatic LeMond and a stunned Fignon on the final podium in Paris.
- Click for high resolution -
photo Copyright © Reuters/cyclingfans.com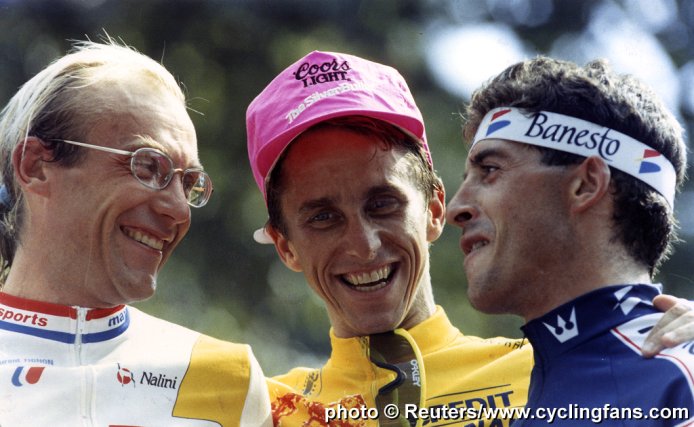 1989 Tour de France: Fignon nonetheless found a moment to smile on the podium with LeMond and Pedro Delgado.
- Click for high resolution -
photo Copyright © Reuters/cyclingfans.com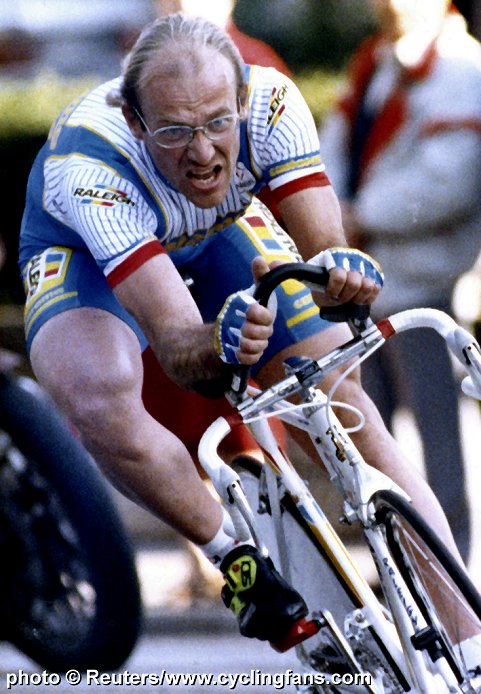 1990 Paris-Nice: Laurent Fignon competes in the prologue.
- Click for high resolution -
photo Copyright © Reuters/cyclingfans.com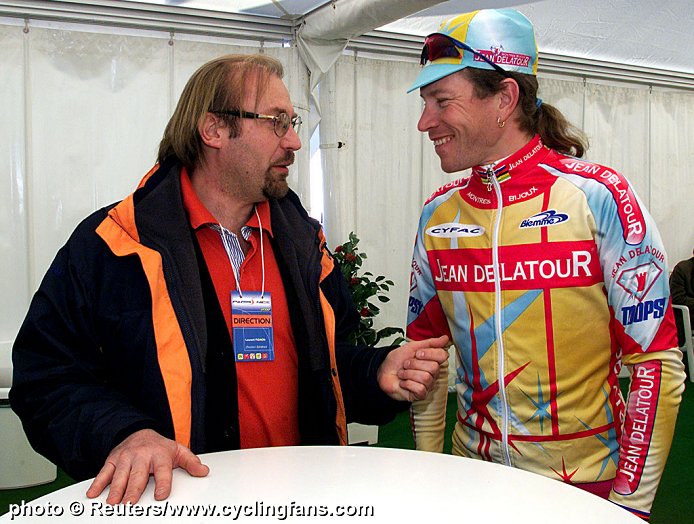 2000 Paris-Nice: After retiring as a rider, Laurent Fignon became a race organizer. Here, at Paris-Nice, he speaks to Laurent Brochard (Jean Delatour). Two years later, Fignon sold the race to the Tour de France organizer, Amaury Sport Organization (ASO).
- Click for high resolution -
photo Copyright © Reuters/cyclingfans.com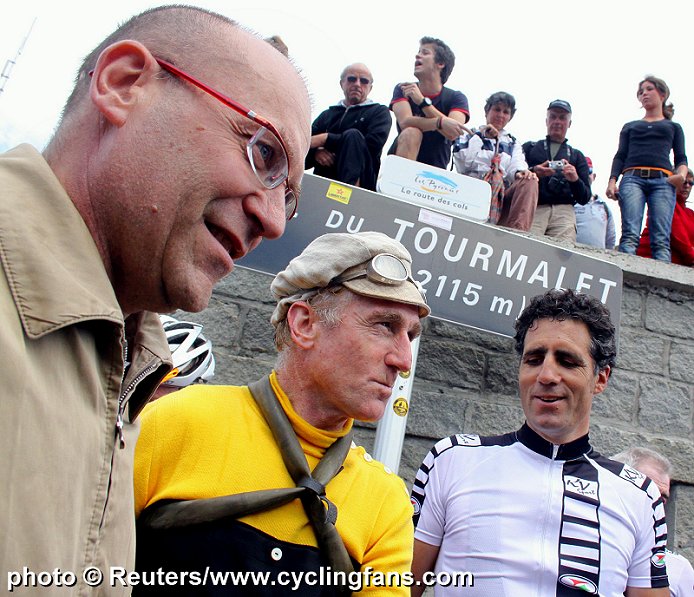 2010 Tour de France: Fignon the broadcaster with fellow cycling greats Sean Kelly and Miguel Indurain on the Tourmalet during the second rest day.
- Click for high resolution -
photo Copyright © Reuters/cyclingfans.com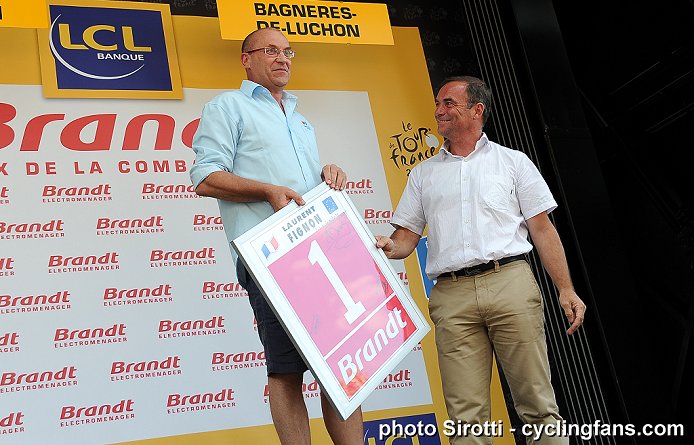 2010 Tour de France: Bernard Hinault presents Fignon a special combativity prize after Stage 15. Fignon continued to commentate for France TV despite suffering from cancer and treatments.
- Click for high resolution -
photo Copyright © 2010 Fotoreporter Sirotti/cyclingfans.com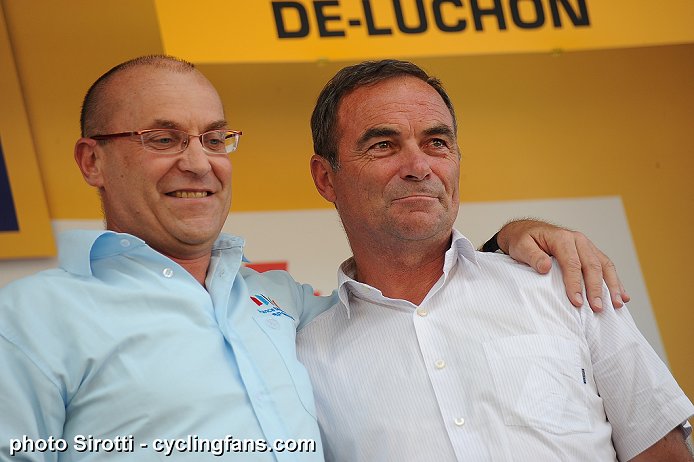 2010 Tour de France: Fignon smiles while Hinault's eyes betray his emotions. Fignon has already told those closest to him in the sport that he knows he will not win his fight against cancer.
- Click for high resolution -
photo Copyright © 2010 Fotoreporter Sirotti/cyclingfans.com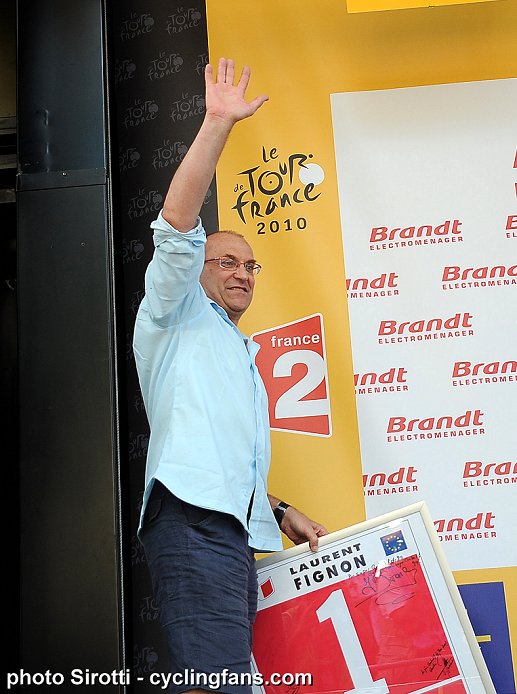 2010 Tour de France: Fignon waves to the crowd as he exits the podium.
- Click for high resolution -
photo Copyright © 2010 Fotoreporter Sirotti/cyclingfans.com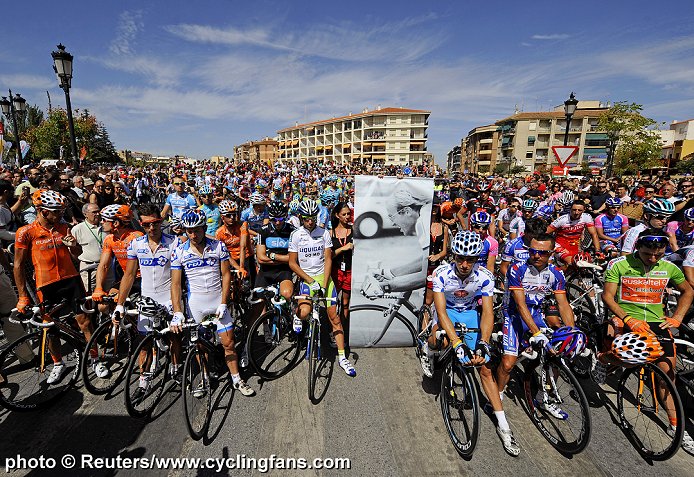 2010 Vuelta a Espana: The peloton observes a moment of silence in memory of Laurent Fignon before Stage 5.
- Click for high resolution -
photo Copyright © Reuters/cyclingfans.com