La Course by Le Tour de France: Rachel Neylan and Australian National Team
Submitted by mary topping on Sat, 07/12/2014 - 08:45

Follow cyclingfans on Twitter and never miss a race. Cyclingfans.com: The #1 destination on the internet for live race coverage.
- La Course by Le Tour de France: Rachel Neylan and Australian National Team.
- See also: Tour de France LIVE
- There are 20 teams entered in the La Course by Le Tour de France, a race for the women that will be held in Paris on the final day of the men's Tour de France. There are 20 stages in the TDF before the final day. So each day of the men's TDF leading up to Paris, we will feature one women's team and rider for La Course.
Rachel Neylan
Australian National Team http://www.cycling.org.au/
Twitter: @rachneylan – Professional Aussie Cyclist & 2012 World Championship Silver Medalist. Dream, believe, be passionate, work hard and revel in the freedom to do it.
Strengths on the bike: Climber
Age: 32
Nickname: Rachie/Rachele/Rac
Website: http://www.rachelneylan.com/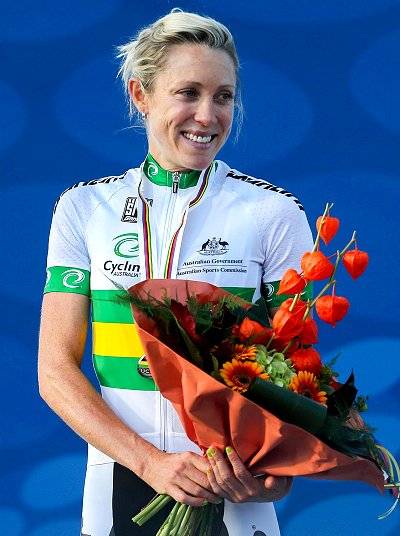 On her website Rachel Neylan writes: "…there is simply nothing that can replace grabbing an opportunity with both hands and investing pure hard work." She personally knows that's true. Initially a track and field hurdler and runner, at age 25 she dedicated herself to pursuing a world-class cycling career. Within five years she rose from new recruit in the national talent identification program to silver medalist at the 2012 UCI Road World Championships. The same year her efforts yielded third in the Australian and Oceania road championships. As ever, her heart burns to wear green and gold at the Olympic Games. She has a bachelor's degree in physiotherapy.
Neylan is eager to represent Australia as well as the sport of women's cycling at La Course by Le Tour de France. "I am looking forward to the opportunity to showcase our sport on the world stage!" she says. "To show all the cycling and non-cycling fans across the world that women's racing is fast, dynamic, professional and a wonderful inspiring and entertaining product waiting to blossom globally!"
Cycling Australia nurtures talent from the club scene up to its elite High Performance program. Historically super strong in track cycling, Australia turns out an ever-growing number of prize-winning road racers and in 2013 the country ranked fifth of 65 nations in the UCI women's elite standings. Every year Cycling Australia recognizes male and female cyclists in each discipline; Neylan received the award for female road cyclist of the year in 2012. Additional Australian National Team athletes expected at La Course include 19 year-old Jessica Mundy, Lizzie Williams who recently returned to cycling after a 10-year break, U23 national time trial champion Jenelle Crooks, new recruit Louisa Lobigs, and a sixth rider to be confirmed.
Self-description in three words: Passionate, opportunistic, driven
Favorite activities off the bike: Spending time with friends and family, a good café with a newspaper or book, yoga, reading, cooking, exploring new places
Gluten-free or pasta lover? Definitely G free. I love experimenting with making my own training food with super food and gluten-free ingredients.
What's on my iPod: I am not an Ipod user - I love Spotify! Everything gets a run…from my old high school loves of 90's punk and grunge (nirvana, offspring, foo fighters, green day) dance music for interval training (Tiesto, Avici and Armen van Buren) mellow tunes like Ben Harper and Jack Johnson for recovery time, even don't mind a good classical piece, I love piano!
What's on my bucket list: To pay it forward for all those who have helped me. Assist in a third world bicycle program. To do the Croc Trophee. Climb a high mountain in Nepal. Run a marathon. To learn and perform ballet. To watch Eddie Vedder live again. To play "The Man from Snowy River" theme song on the piano.
Cycling career goals: Australian team for Rio 2016
Post pro cycling plans: To connect the dots between health and sport / physical activity within the corporate sector - to look at culture change in regard to health behaviour helping enable organisations to become more productive through health and wellbeing strategies.
by Mary Topping
(photo courtesy Rachel Neylan)