La Course by Le Tour de France: Tatiana Antoshina and RusVelo Team
Submitted by mary topping on Tue, 07/22/2014 - 13:53

Follow cyclingfans on Twitter and never miss a race. Cyclingfans.com: The #1 destination on the internet for live race coverage.
- La Course by Le Tour de France: Tatiana Antoshina and RusVelo Team.
- See also: Tour de France LIVE
- There are 20 teams entered in the La Course by Le Tour de France, a race for the women that will be held in Paris on the final day of the men's Tour de France. There are 20 stages in the TDF before the final day. So each day of the men's TDF leading up to Paris, we will feature one women's team and rider for La Course.
Tatiana Antoshina
RusVelo http://rusvelo.pro/
Twitter: I'm not into social networking, to tell the truth. Between the virtual and the real I'd definitely go for the latter.
Strengths on the bike: I'm a time trialist capable of riding well in stage races.
Age: 32
Nickname: "Anto," but normally it's used by the Italians who started calling me that.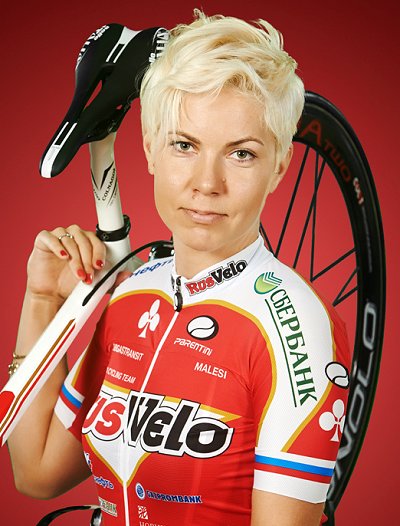 She holds nothing back. A five-time Russian national time trial champion, Tatiana Antoshina also finds opportunities on the road by racing aggressively. In June she added a national road title to her race against the clock gold by striking out on a solo attack and using her power to stay away. At the 2012 Olympics Antoshina competed for Russia. In 2013 she ranked ninth in the world on the UCI's road standings after collecting a number of general classification podiums in multi-day events with first at the Tour de l'Ardèche. The Trophée d'Or and Gracia-Orlova overall tour victories went to Antoshina in 2011.
Illness affected this fast lady during July's Giro Donne. So she's not sure what to expect from her legs when La Course by le Tour de France begins. "It's hard to say at the moment, as I fell ill in the Giro, and haven't fully recovered as yet," she says. "At least I hope to be fully fit by then." Returning to top form would be a stellar gift for Antoshina who will celebrate her birthday during the Champs Élysées race.
The Russian RusVelo team became part of the women's peloton in 2012. It was launched as an expansion of the Russian Global Cycling Project, a nationwide development program created in 2008. Now ranked seventh in the UCI road team standings, so far its ten riders have claimed eight victories this season. Olga Zabelinskaya, bronze medalist in the 2012 Olympic road and time trial events, won the overall at Vuelta Internacional Femenina a Costa Rica where RusVelo also topped the team classification. Teammate Inga Cilvinaite won that Central American race last year. The multi-talented squad includes one-day and time trial specialists, climbers, and previous track medalists. Mountain bike and cyclocross prizewinner Iva Lechner just joined the team, which Mikhail Rostovtsev directs.
Self-description in three words: Kind-hearted, open-hearted, hard-working
Favorite activities off the bike: Walking my dog and listening to opera singers
Gluten-free or pasta lover? I love pasta...but have to limit eating it to three times a year
What's on my iPod: Just everything, from classics to rap
What's on my bucket list: I'm neither in a hurry nor dragging my feet behind life. I live here and now and focus on things I do at the moment.
Cycling career goals: When I reach my goals, you'll be the first to know what I've been aiming at, in retrospect.
Post pro cycling plans: As I've said, I live here and now.

by Mary Topping
(photo courtesy RusVelo team)