2013 Tour of Alberta LIVE
Submitted by admin on Thu, 07/10/2014 - 08:27

Follow cyclingfans on Twitter and never miss a race. Cyclingfans.com: The #1 destination on the internet for live race coverage.
- 2013 Tour of Alberta Stage 5 Live Online Coverage Guide -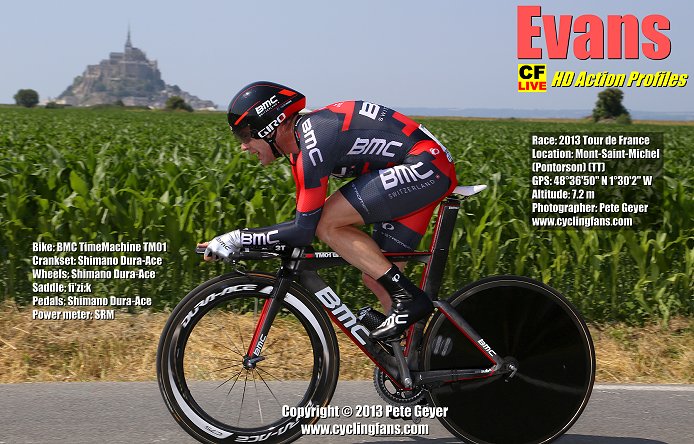 Cadel Evans (BMC Racing), 2013 Tour de France, photographed by Pete Geyer, www.cyclingfans.com
photo Copyright © 2013 Pete Geyer
- Click for High Definition - more on Cadel Evans -
Stage Map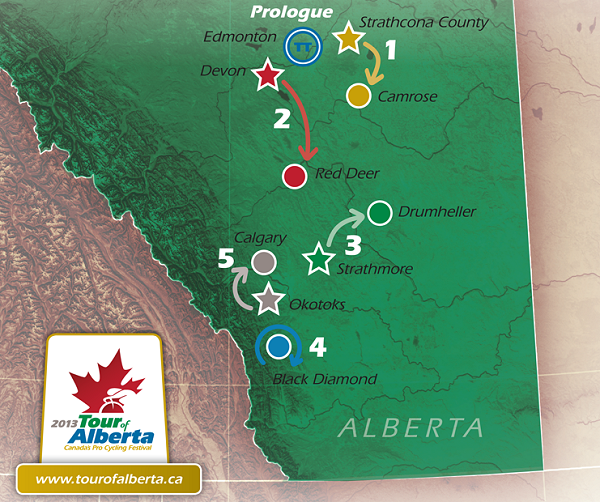 Stage 5 Profile

Cyclingfans.com TourTracker w/live profile, gaps, etc.
Notes: (latest notes always appear at the top)

- The route for the 2014 Tour of Alberta has been announced. Details here. (July 10)

- Teams have been announced for the 2014 Tour of Alberta, the second edition of the race. More here. (June 17)

- Organizers have announced the official stage start and finish cities for the 2014 Tour of Alberta. More here. (April 23, 2014)

- Will the Tour of Alberta switch directions for the 2014 edition of the race? More here. (April 9, 2014)

- Videos: Tour of Alberta videos

- Results: 2013 Tour of Alberta Stage 5 Results




- Rohan Dennis (Garmin-Sharp) won the 2013 Tour of Alberta, the inaugural edition of the race.

- LIVE video here. (English, TourTracker)

- TourTracker tracking LIVE above with live profile, breakaway, chase, peloton gaps, etc.

- TourTracker also LIVE here with text commentary.

- Next update as live coverage gets underway.

- Stage 5 map, profile and info here.

- Results: 2013 Tour of Alberta Stage 4 Results

- Sunday's Tour of Alberta Stage 5 departs Okotoks at 1:10pm MDT and is expected at the finish at Calgary at around 4:15pm MDT. Tour of Alberta live streaming video should get underway at around 3pm MDT.

- Results: 2013 Tour of Alberta Stage 3 Results

- Saturday's Tour of Alberta Stage 4 (the Black Diamond Loop) departs Black Diamond at 12:10pm MDT and is expected at the finish at Black Diamond/Foothills at around 4:15pm MDT. Tour of Alberta live streaming video should get underway at around 3pm MDT.

- Results: 2013 Tour of Alberta Stage 2 Results

- Eurosport have announced that they have cancelled the live broadcast for Tour of Alberta Stage 2 "due to quality issues with the feed"... Eurosport's tweet on this is here.

- Results: 2013 Tour of Alberta Stage 1 Results

- Thursday's Tour of Alberta Stage 2 departs Devon at 10:50am MDT and is expected at the finish at Red Deer at around 3:10pm MDT. Tour of Alberta live streaming video should get underway at around 2pm MDT.

- Results: 2013 Tour of Alberta Prologue Results

- Wednesday's Tour of Alberta Stage 1 departs Strathcona County at 11:15am MDT and is expected at the finish at Camrose at around 3:35pm MDT. Tour of Alberta live streaming video should get underway at around 2pm MDT.

- As with the Vuelta, TourTracker joins us for Tour of Alberta.

- Video: Tour of Alberta short teaser

- Video: Tour of Alberta race promo


Cadel Evans HD action profile
Copyright © 2013 Pete Geyer/www.cyclingfans.com

- Sportsnet (Canada) and Eurosport are among the broadcasters providing live coverage of the 2013 Tour of Alberta. Note that Eurosport is not scheduled to show the prologue live.

- 2013 sees the inaugural edition of the Tour of Alberta. Riders expected on the start line include Cadel Evans, Peter Sagan, Ryder Hesjedal, Robert Gesink, Brent Bookwalter, Marcus Burghardt, Luka Mezgec, Ted King, Tom Slagter, Jack Bobridge, Jetse Bol, Thomas Dekker, Fumiyuki Beppu, David Millar, Christian Vandevelde, David Zabriskie, Fred Rodriguez, Jeremy Powers, Ryan Anderson, Chad Haga, Ben Day, Davide Frattini, Jeff Louder, Tom Zirbel, Francisco Mancebo, Shawn Milne,...

NOTE: If you believe you may not be seeing the latest content on this page, try clearing your browser's cache (or try a different browser).


- Tuesday's Tour of Alberta Prologue, a 7.8km Individual Time Trial at Edmonton, gets underway at 6:15pm MDT. *Tour of Alberta live streaming video is uncertain for the prologue. Canada's Sportsnet One TV is scheduled to show full live coverage but as to a live stream, we'll see. Eurosport's scheduled live coverage begins with Wednesday's Stage 1.


- More info and links to come.

- We will update here with the best and latest live feeds at broadcast time.

- Welcome to our live coverage guide for the 2013 Tour of Alberta.

2013 Tour of Alberta LIVE
September 3-8, Canada
Official Website
Start List


Stage 5 starts at 1:10pm MDT
(3:10pm U.S. Eastern)
(21:10pm CET)

Finish at around 4:15pm MDT
(6:15pm U.S. Eastern)
(00:15am CET)

Live video from 3:00pm MDT
(5:00pm U.S. Eastern)
(23:00pm CET)




---

Tour of Alberta Live Coverage


(Sportsnet Canada)


(Eurosport live stream)
Alternative
Alternative

(watch online)

Live audio streaming:

(--)


(TourTracker tracking and ticker)

News and photos:


(cycling news)
Yahoo photo gallery (AP/AFP)

Copyright © 2013 www.cyclingfans.com
Tour of Alberta Stage Profiles
(coming)
Tour of Alberta Photos
(coming)
Tour of Alberta Results
(coming)