La Course by Le Tour de France: Vera Koedooder and Bigla Cycling Team
Submitted by mary topping on Fri, 07/11/2014 - 08:45

Follow cyclingfans on Twitter and never miss a race. Cyclingfans.com: The #1 destination on the internet for live race coverage.
- La Course by Le Tour de France: Vera Koedooder and Bigla Cycling Team.
- See also: Tour de France LIVE
- There are 20 teams entered in the La Course by Le Tour de France, a race for the women that will be held in Paris on the final day of the men's Tour de France. There are 20 stages in the TDF before the final day. So each day of the men's TDF leading up to Paris, we will feature one women's team and rider for La Course.
Vera Koedooder
Bigla Cycling Team http://www.bigla-cycling-team.ch/
Twitter: @Vera_Koedooder – Professional cyclist @Bigla_Cycling Team Switzerland | 2x Junior World champ | Participated @London2012 | NOC*NSF AthletesCommission member | Like to play piano
Strengths on the bike: wind - aggressive/attacking racing-style & (team) time trial
Age: 30
Nickname: Cowkiller
Website: www.verakoedooder.nl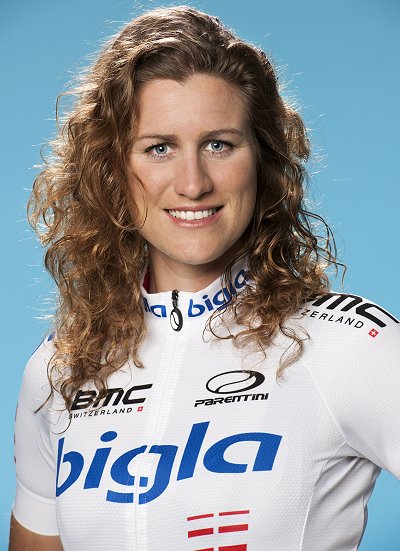 She's collected scores of medals and represented Holland at dozens of world competitions. She's now racing bikes in her fourteenth professional season. And still, winning a race for the first time and attacking to create opportunities never gets boring for Vera Koedooder. This season the Dutch rider won a stage and placed second overall in the Energiewacht Tour. She recently added the Noordwijk Classic to her victory list. That long resume includes two track world championships, two track World Cup wins, a dozen Dutch track and road titles, numerous criterium and classics victories, and sixth place at the 2012 Olympic Games in the team pursuit. As a girl Koedooder loved speed skating and grew up in a cycling household. Looking ahead, she would like to raise her own family.
Find Koedooder at La Course by Le Tour de France by looking for a tall rider. At 183 cm from head to toe, she'll be able to soak in what she's most looking forward to: "The great amazing atmosphere with all the spectators!"
For ten years Bigla AG, a Swiss furniture company that relies on renewable energy, has sponsored women's cycling. The Finnish and Austrian road race champions, Lotta Lepistö and Jacqueline Hahn, race on the Bigla Cycling Team which is managed by Emil Zimmermann. Lepistö also holds her country's time trial title. In addition to 12 elite riders the organization supports a development team containing the U23 Austrian road champion, Verena Eberhardt. One development rider began cycling at age 30; several on the elite team started in their mid-twenties. The international team includes former Swiss road champion Emilie Aubry, 2013 Oceania time trial winner Taryn Heather, and former German track champion Elke Gebhardt.
Self-description in three words: open - spontaneous - determination
Favorite activities off the bike: playing piano
Gluten-free or pasta lover? Gluten-free since a couple of months after a food-screening...
What's on my iPod: Really different kinds of music! Dance, pop, classic & relaxing. Like Avicii, U2, Ludovico Einaudi, Michael Jackson, Enya & soundtrack music.
What's on my bucket list: Too much! Life's too short for my bucket list I guess…
Cycling career goals: To get the most out of it! Continuing to win big races and going to World Championships Road & TT.
Post pro cycling plans: Duathlon, running and hope to raise children

Vera Koedooder
photo Copyright © Mareike Engelbrecht

Vera Koedooder
photo Copyright © Mareike Engelbrecht
by Mary Topping
(photos courtesy Bigla Cycling Team (portrait) and Mareike Engelbrecht (action shots))