Cycling news
Submitted by pete geyer on Sun, 02/07/2010 - 15:52

2010 Etoile de Bessèges official poster

2010 Etoile de Besseges video highlights below

Stage 5 Sunday: Gagnieres to Besseges, 145 km
Start time: Neutral zone start at 12:55 CET (6:55am U.S. Eastern), race starts at 13:00 CET
Links below, including videos

Stage 4 Saturday: Ales to Ales, 140.5 km
Start time: Neutral zone start at 12:30 CET (6:30am U.S. Eastern), race starts at 12:40 CET
Links below, including videos

Stage 3 Friday: Pont Saint Esprit to Bagnols sur Ceze, 148.3 km
Start time: Neutral zone start at 12:20 CET (6:20am U.S. Eastern), race starts at 12:30 CET
Links below, including videos

Stage 2 Thursday: Nimes to Saint Ambroix 141.3 km
Start time: 13:00 CET (7am U.S. Eastern)
Weather: Rain
Links below, including videos


Montpellier (cyclingfans.com) - February 3, 2010: The European road racing season continues today with the start of the 40th edition of the Etoile de Bessèges here in the south of France. Spectators should turn out in good numbers but there is no live television coverage. The situation will be reversed next week at the Tour of Qatar where there will be at least limited live television coverage but not much in the way of spectators. As Bessèges race organizer Roland Fangille observed in today's L'Equipe, "In Qatar, not even a cat will be roadside to watch the race." There will be camels, however, he noted.

And yet as recently as December 20, Fangille wasn't sure there would be an Etoile de Bessèges this year, with one race partner having departed and another having cut its financial support in half. This desperate situation continues to repeat itself at races throughout France, including the Dauphine Libere which now is being taken over by Tour organizer A.S.O. (And of course this is not limited to France. In the U.S., the Tour de Georgia is "on hold" for another year, the future of the Tour of Missouri is again in question, and the Tour of California is moving to May in search of better days.)

For now anyway, the Etoile de Bessèges continues on.

More information and links (including video) as the race progresses. -Pete

Official website (more or less)
Team Sky Besseges Race Guide

Live radio coverage
(French, brief hourly updates
from the race course after the news
at the top of each hour, not
continuous coverage)

Live text updates (infrequent)

Videos
Stage 2 highlights (05:08)

Stage 3 highlights (05:11)
(Thanks, Matt!)

(Thanks Bernie S. for video research)
Submitted by admin on Sun, 02/07/2010 - 07:16
2010 Tour of Qatar Stage 1 Team Time Trial results:
1. Team Sky
2. Cervelo Test Team (penalized)
2. Garmin-Transitions
3. Team Saxo Bank
4. Team HTC-Columbia
5. Quick Step
6. Saur-Sojasun
7. Liquigas
8. BMC Racing Team
9. Vacansoleil
10. Team Milram
11. Team Katusha
12. Omega Pharma-Lotto
13. Topsport Vlaanderen
14. AG2R-La mondiale
15. Trek Livestrong U23
16. Cervelo Test Team
Edvald Boasson Hagen (Sky) is the first race leader.
Submitted by admin on Tue, 02/02/2010 - 16:50
- More details for the 2010 Critérium International were unveiled today. What was already known was that the race will be based at Porto-Vecchio on the island of Corsica instead of in Charleville-Mezieres and the Ardennes and that Lance Armstrong and Cadel Evans are expected on the start line. The format, 3 stages over two days on a weekend (March 27-28 this year), will remain the same. However, organizer A.S.O. has moved the climbing stage to day 1, with the sprinters' stage moving to the morning of day 2. The race concludes with its traditional afternoon time trial on the Sunday.

2010 Critérium International Official Poster
Lance Armstrong last rode the Critérium International in 2004 (photo below), finishing 3rd overall behind winner Jens Voigt. Voigt has won the CI a record-tying 5 times (the other 5-time winner is Frenchman Raymond Poulidor).

2004 Critérium International: Lance Armstrong in the afternoon time trial on Day 2
Copyright © Pete Geyer/www.cyclingfans.com
Route details are awaiting final authorization but Stage 1 looks to be spectacular, passing through Bonifacio at the southern tip of the island, Sartene and Propriano on the way to the finishing climb on the col de l'Ospedale. For a map and more info, visit the official site here.
Submitted by admin on Tue, 02/02/2010 - 11:58
- The second edition of the Ladies Tour of Qatar starts tomorrow, February 3, and runs through February 5.

2010 Ladies Tour of Qatar official poster
Run over 3 stages and covering a total of 304 km, there is 18,689 euros ($26,100) of prize money, including 1,128 euros ($1,575) for the overall winner.
15 teams will be competing, including Arcolris-Nederland, Cervelo Test Team, Giant Pro Cycling, Lotto-LadiesTeam, RedSun Cycling Team, Safi-Pasta Zara Manhattan, Team Columbia HTC Women, Team MTN, and national teams from Germany, Australia, France, Italy, the Netherlands, Switzerland, and the U.S.A. Team U.S.A. are bringing Lauren Tamayo, Amber Rais, Shelley Olds, Sinead Miller, Janel Holcomb, and Katharine Carroll, with Alison Starnes, Devon Haskell, and Megan Guarnier listed as alternates.
Official Website
Start List (provisional)
Submitted by admin on Thu, 01/21/2010 - 12:23

2010 Paris-Nice official poster design
- The route for the 68th edition of Paris-Nice, the "Race to the Sun," was unveiled today in Versailles. The race, March 7-14, will begin with an 8km individual time trial at Montfort-l'Amaury in the department of Yvelines, southwest of Paris. The 2010 edition marks the first year of a 4-year agreement with the department.
Stage 4 will finish with a climb to Mende, finish town for Stage 12 of the 2010 Tour de France. Stage 6 includes a climb of the col de Vence, a long descent and a short climb to the finish. The final stage around Nice will include climbs of La Turbie and of course the Col d'Eze. Alberto Contador (Astana), winner in 2007 and race leader in 2009 before bonking, will be the big favorite.
Stages:
March 7: Prologue: Montfort-l'Amaury (8 km)
March 8: Stage 1: Saint-Arnoult-en-Yvelines to Contres (201.5 km)
March 9: Stage 2: Contres to Limoges (203.5 km)
March 10: Stage 3: Saint-Junien to Aurillac (208 km)
March 11: Stage 4: Maurs-la-Jolie to Mende (172 km)
March 12: Stage 5: Pernes-les-Fontaines to Aix-en-Provence (153.5 km)
March 13: Stage 6: Peynier to Tourrettes-sur-Loup (220 km)
March 14: Stage 7: Nice to Nice (119 km)
Submitted by admin on Mon, 12/14/2009 - 12:41
- 2010 Vuelta a Espana: The route for the 2010 Vuelta will be presented this Wednesday, December 16 in Seville. The presentation is scheduled to get underway at 12:00 CET (6am U.S. Eastern), with the route simultaneously being published online. We'll post links before Wednesday's presentation.
- Cyclocross: Video clips of the weekend's cyclocross events are available online:
Druivencross Overijse Final lap (07:16)
Submitted by admin on Mon, 11/23/2009 - 18:21
- Team RadioShack manager, Johan Bruyneel, today announced the final roster for the 2010 squad - 26 riders from 16 different countries.
The riders, in alphabetical order:
Submitted by admin on Thu, 10/29/2009 - 11:04
- The Six Days of Grenoble (track cycling) starts this evening. We are not aware of any live video streaming for this event, unfortunately. - Official Website -
- The November issue of Velo Magazine hit newsstands in France yesterday. It contains more details regarding the selection of Alberto Contador as Velo d'Or winner for the third consecutive year.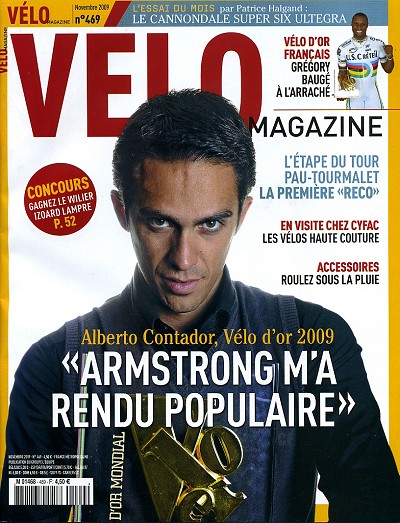 November 2009 Velo Magazine, Alberto Contador Velo d'Or issue:
"Armstrong made me popular"
The 2009 Velo d'Or jury was composed of 16 journalists from around the world. This year, each member of this international jury ranked their top 5 picks for "rider of the year". A rider earned 5 points for each #1 pick he received, 4 points for each #2 pick he received and so on. All the points were tallied up and the results were as follows:
1. Alberto Contador - 69 points
2. Mark Cavendish - 49
3. Fabian Cancellara - 32
4. Cadel Evans, Andy Schleck, tie - 22
6. Lance Armstrong - 19
7. Alejandro Valverde - 18
8. Denis Menchov - 6
9. Tom Boonen - 2
10 Thor Hushovd - 1
The jury was made up of Klaus Angermann (Germany, Wiesbadener Kurier), Rupert Guinness (Australia, The Sydney Morning Herald), Michael Kasper (Austria, ORF-Radio), Joel Godaert (Belgium, La Derniere Heure), Hector Urrego (Colombia, Cyclisme RCN), Josu Garai (Spain, Marca), Gilles Simon (France, Velo Magazine), Jeremy Whittle (Great Britain, The Times), Raymond Kerckhoffs (Holland, De Telegraaf), Pier Bergonzi (Italy, La Gazzetta dello Sport), Nobuhito Kubo (Japan, Cycle Sport), Marcel Gilles (Luxembourg, RTL), Christophe Wyrzykowski (Poland, Eurosport Polska), Matvey Voznesenski (Russia, Canal Sport), Martin Born (Switzerland, Tages Anzeiger), and John Wilcockson (USA, Velo News).
Of the 16 journalists, 9 had Contador as their #1 pick, 5 had Cavendish as their #1 pick, 1 (Kasper) had Armstrong as his #1 pick, and 1 (Wilcockson) had Cancellara as #1.
Submitted by admin on Sun, 10/25/2009 - 14:06
Montpellier (cyclingfans.com) - Astana's Alberto Contador, winner of the 2009 Tour de France, has won the prestigious Velo d'Or ("golden bicycle") award for the third time, tying the record of consecutive wins held by Lance Armstrong, overall a 5-time winner. The award is given annually to the rider considered to have performed best during the year. Created by the French Velo Magazine in 1992, the Velo d'Or winner is selected by an international panel of journalists who individually rank their top 3 candidates for the award. A point system results in an overall score for each rider that was named by journalists, the rider with the most overall points winning the award. Voting was closed on September 29 meaning that Philippe Gilbert's fantastic run in October was not considered.
Contador flew to Paris this afternoon and was presented his Velo d'Or trophy live on France TV's Stade2 program. During the program, Contador acknowledges that he will need to train hard on cobblestones before the 2010 Tour de France. When asked when he will make a decision on which team to race for next season, he indicated that a lot will happen in the next week. He presumably was referring to reports that he would soon meet with Astana officials to learn of their plans for him for 2010. Contador has long been linked to the Caisse d'Epargne, Garmin-Slipstream and Quick Step teams; Caisse is considered the front runner should the 2009 Tour champion decide to leave Astana. He became free to leave Astana when the team recently missed an administrative deadline related to its ProTour license registration for the 2010 season.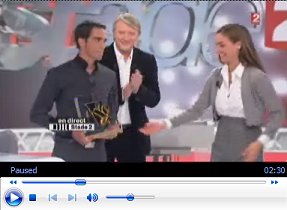 Alberto Contador wins the 2009 Velo d'Or (France 2)

France TV also played a video document with highlights of Contador's 2009 season, including his bonk at Paris-Nice while wearing the leader jersey, and his career which has included an inspiring return from a near fatal accident.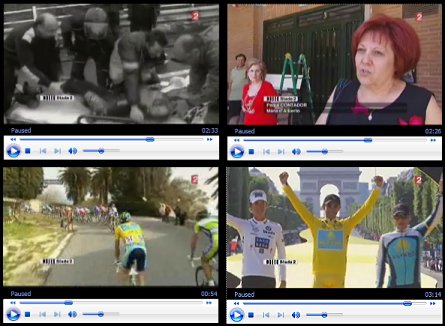 Alberto Contador, season and career highlights (France 2)
A Velo d'Or is also given annually to the top French rider as picked by a panel of French journalists. Track star Gregory Bauge won the 2009 award.
Submitted by admin on Sun, 10/25/2009 - 09:07
- GVA Trophy Cyclocross LIVE now (links below) as well as alternative here which opens in media player. (Thanks, Bernie)
- More live video streams (hopefully) for GVA Trophy Cyclocross Koppenberg as the race gets underway.
Sport.be live feed (Thanks, Jirka!)
(15:00 CET (10am U.S. Eastern))
Sporza live feed
(14:45 CET (9:45am U.S. Eastern))
- GVA Trophy Cyclocross Koppenberg (at Oudenaarde, Belgium) will be shown LIVE on Sporza, with coverage scheduled to start at 14:45 CET (9:45am U.S. Eastern). The Elite Men's race starts 15 minutes later, at 15:00 CET. Note that in Europe we have set our clocks back 1 hour last night, so New York is 5 hours behind Europe until next weekend. - Official Website -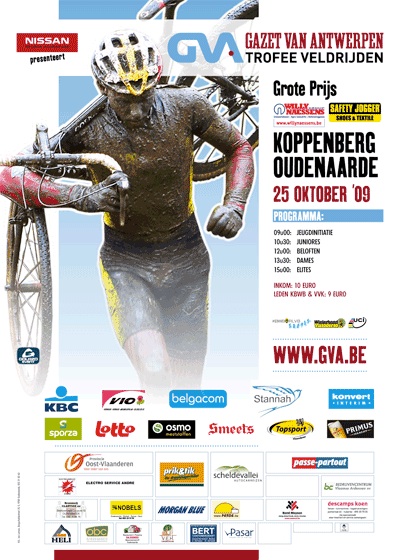 GVA (Gazet van Antwerpen) Trophy Cyclocross - Koppenberg Oudenaarde Official Poster